Abstract
Indonesian Lampung Robusta coffee green beans were roasted at eight roasting levels (green bean, early yellow, brown, 1st crack done, very light, light, medium, and dark), followed by grinding and brewing. The physical properties of ground coffee and chemical properties of brewed coffee were analyzed. The resulting data were mapped in order to investigate the critical roasting level. It was observed that major alterations for physicochemical properties of coffee happened after "first crack" roasting level (when water activity (Aw) of bean decreased from 0.22 to 0.15). This cracking is defined as popping sound of the bean during roasting. Continuous formation of melanoidins under low Aw (< 0.15) was followed by slow degradation of chlorogenic acid (5-CQA) and total phenolic compounds. Caffeine was stable during roasting, while antioxidant activity slightly decreased. The "first crack" was determined to be the critical roasting level to produce roasted coffee beans containing high concentrations of phenolics.
This is a preview of subscription content, log in to check access.
Access options
Buy single article
Instant access to the full article PDF.
US$ 39.95
Price includes VAT for USA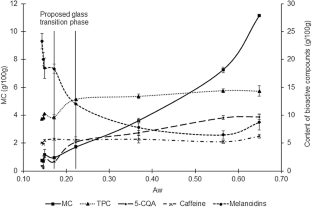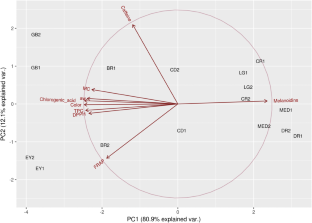 References
Amarasinghe UA, Hoanh CT, Dhaeze D, Hung TQ. Toward sustainable coffee production in Vietnam: more coffee with less water. Agric. Syst. 136: 96–105 (2015)

Andriot I, Le Quéré JC, Guichard E. Interactions between coffee melanoidins and flavour compounds: impact of freeze-drying (method and time) and roasting degree of coffee on melanoidins retention capacity. Food Chem. 85: 289–94 (2004)

AOAC. Official Methods of Analysis of AOAC Intl. 19th ed. Method 979.12. Association of Official Analytical Chemists, Maryland, USA (2012)

Bae J-H, Park J-H, Im S-S, Song D-K. Coffee and health. Integr. Med. Res 3: 189–191 (2014)

Bartel C, Mesias M, Morales FJ. Investigation on the extractability of melanoidins in portioned espresso coffee. Food Res. Int. 67: 356–65 (2015)

BeMiller JN, Huber KC. Carbihydrates. In: Damodaran S, Parkin KL, Fennema OR (Ed.), Fennema's food chemistry. CRC Press, Inc., Boca Raton, pp. 83–154 (2008)

Ding M, Bhupathiraju SN, Chen M, van Dam RM, Hu FB. Caffeinated and decaffeinated coffee consumption and risk of type 2 diabetes: a systematicreview and a dose-response meta-analysis. Diabetes Care 37: 569–86 (2014)

DiNunzio JE. Determination of caffeine in beverages by High Performance Liquid Chromatography. J. Chem. Educ. 62: 446 (1985)

Fadai NT, Melrose J, Please CP, Schulman A, Van Gorder RA. A heat and mass transfer study of coffee bean roasting. Int. J. Heat Mass Trans. 104: 787–99 (2017)

Gloess AN, Vietri A, Wieland F, Smrke S, Schönbächler B, López JAS, Petrozzi S, Bongers S, Koziorowski T, Yeretzian C. Evidence of different flavour formation dynamics by roasting coffee from different origins: on-line analysis with PTR-ToF-MS. Int. J. Mass Spectrom. 365–366: 324–37 (2014)

Hečimović I, Belščak-Cvitanović A, Horžić D, Komes D. Comparative study of polyphenols and caffeine in different coffee varieties affected by the degree of roasting. Food Chem. 129: 991–1000 (2011)

Iaccheri E, Laghi L, Cevoli C, Berardinelli A, Ragni L, Romani S, Rocculi P. Different analytical approaches for the study of water features in green and roasted coffee beans. J. Food Eng. 146: 28–35 (2015)

International Coffee Organization. Total production by all exporting countries. http://www.ico.org/prices/po-production.pdf. Accessed Dec 6, 2017.

Liang N, Xue W, Kennepohl P, Kitts DD. Interactions between major chlorogenic acid isomers and chemical changes in coffee brew that affect antioxidant activities. Food Chem. 213: 251–259 (2016)

Li B, Zhang C, Peng L, Liang Z, Yan X, Zhu Y, Liu Y. Comparison of essential oil composition and phenolic acid content of selected Salvia species measured by GC-MS and HPLC methods. Ind. Crop. Prod. 69: 329–334 (2015)

Li J, Seibold P, Chang-Claude J, Flesch-Janys D, Liu J, Czene K. Coffee consumption modifies risk of estrogen-receptor negative breast cancer. Breast Cancer Res. 13: R49 (2011)

Liu Y, Kitts DD. Confirmation that the Maillard reaction is the principle contributor to the antioxidant capacity of coffee brews. Food Res. Int. 44: 2418–24 (2011)

Ludwig IA, Sánchez L, Paz De Peña M, Cid C. Contribution of volatile compounds to the antioxidant capacity of coffee. Food Res. Int. 61: 67–74 (2014)

Massini R, Nicoli MC, Cassara A, Lerici CR. Study on physical and physico-chemical changes of coffee beans during roasting. Note 1. Ital. J. Food Sci. 3: 123–32 (1990)

Rivera W, Velasco X, Gálvez C, Rincón C, Rosales A, Arango P. Effect of the roasting process on glass transition and phase transition of Colombian Arabic coffee beans. Procedia Food Sci. 1: 385–90 (2011)

Rodrigues NP, Bragagnolo N. Identification and quantification of bioactive compounds in coffee brews by HPLC-DAD-MSn. J. Food Compos. Anal. 32: 105–15 (2013)

Schenker S, Handschin S, Frey B, Perren R, Escher R. Pore structure of coffee beans. J. Food Sci. 65: 452–57 (2000)

Shetty K, Curtis OF, Levin RE, Witkowsky R, Ang W. Prevention of vitrification aßociated with in vitro shoot culture of oregano. (Origanum Vulgare) by Pseudomonas spp. J. Plant Physiol. 147: 447–51 (1995)

Van der Werf R, Marcic C, Khalil A, Sigrist S, Marchioni E. ABTS radical scavenging capacity in green and roasted coffee extracts. Lebensm.-Wiss. Technol. 58: 77–85 (2014)

Vignoli JA, Bassoli DG, Benassi MT. Antioxidant activity, polyphenols, caffeine and melanoidins in soluble coffee: the influence of processing conditions and raw material. Food Chem. 124: 863–68 (2011)

Vignoli JA, Viegas MC, Bassoli DG, Benassi MdT. Roasting process affects differently the bioactive compounds and the antioxidant activity of Arabica and Robusta coffees. Food Res. Int. 61: 279–85 (2014)

Wang X, Lim LT. Investigation of CO2 precursors in roasted coffee. Food Chem. 219: 185–92 (2017)

Yu X, Bao Z, Zou J, Dong J. Coffee consumption and risk of cancers: a meta-analysis of cohort studies. BMC Cancer 11: 96 (2011)

Zanin RC, Corso MP, Kitzberger CSG, Scholz MBdosS, Benassi MdeT. Good cup quality roasted coffees show wide variation in chlorogenic acids content. Lebensm.-Wiss. Technol. 74, 480–483 (2016)

Zhang Z, Hu G, Caballero B, Appel L, Chen L. Habitual coffee consumption and risk of hypertension: a systematic review and meta-analysis of prospective observational studies. Am. J. Clin. Nutr. 93(6): 1–8 (2011)
Acknowledgements
The authors thank the Ministry of Research, Technology and Higher Education of the Republic of Indonesia for financial support [grant numbers 079/SP2H/LT/DRPM/II/2016, February 17th 2016]. The authors also acknowledge Aneka Coffee Industry-Indonesia for providing Robusta coffee beans and a roaster machine.
Ethics declarations
Conflict of interest
The authors whose names are listed above state that they have no conflict in terms of either financial interest or non-financial interest.
About this article
Cite this article
Herawati, D., Giriwono, P.E., Dewi, F.N.A. et al. Critical roasting level determines bioactive content and antioxidant activity of Robusta coffee beans. Food Sci Biotechnol 28, 7–14 (2019). https://doi.org/10.1007/s10068-018-0442-x
Received:

Revised:

Accepted:

Published:

Issue Date:
Keywords
Roasted coffee

Roasting

Water activity

Bioactive compounds

Antioxidant activity