Abstract
Horse gram hydrolysate (HGH) with different degree of hydrolysis (DH) (20, 25, 35, 40, and 45%) was prepared from whole horse gram flour using alcalase. The amino acid composition of HGH showed the presence of essential amino acids. The alcalase hydrolysis (DH ≥ 20%) increased protein solubility with a notable difference in the pH range of 3–5 (p < 0.05). The emulsifying activity and stability of HGH improved with increase in pH, especially at DH ≥ 25% (p < 0.05). With increase in DH, the foaming properties reduced while the antioxidant and angiotensin I-converting enzyme inhibitory activities increased. Sensory evaluation showed no significant difference (p > 0.05) in preference between control soup and soup mixed with HGH. Thus, these results suggest the possibility of HGH to be used as an appropriate functional ingredient with different food applications including in management of oxidative stress as well as in controlling hypertension .
This is a preview of subscription content, log in to check access.
Access options
Buy single article
Instant access to the full article PDF.
US$ 39.95
Price includes VAT for USA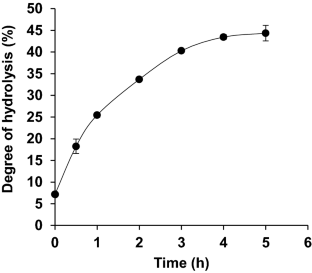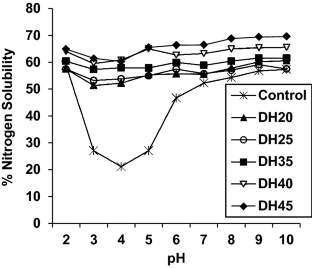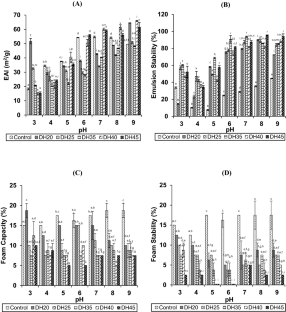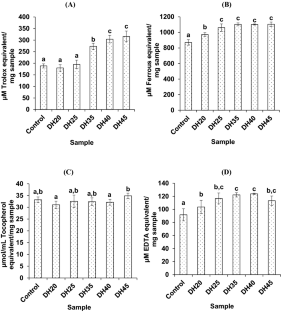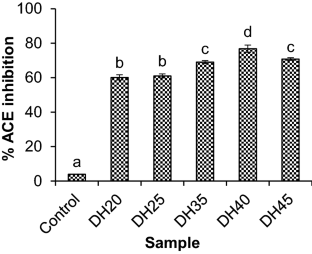 References
Adler-Nissen J. Determination of the degree of hydrolysis of food protein hydrolysates by trinitrobenzenesulfonic acid. J Agric Food Chem. 27: 1256–1262 (1979)

AOAC Official Method of Analysis of AOAC Int. 17th ed. Association of Official Analytical Chemists, Washington, USA (2000)

Barac M, Cabrilo S, Stanojevic S, Pesic M, Pavlicevic M, Zlatkovic B, Jankovic M. Functional properties of protein hydrolysates from pea (Pisum sativum, L) seeds. Int J Food Sci Technol. 47: 1457–1467 (2012)

Benzie IF, Strain JJ. The ferric reducing ability of plasma (FRAP) as a measure of "antioxidant power": the FRAP assay. Anal Biochem. 239: 70–76 (1996)

Bhat ZF, Kumar S, Bhat HF. Bioactive peptides of animal origin: a review. J Food Sci Technol. 52: 5377–5392 (2015)

Boschin G, Scigliuolo GM, Resta D, Arnoldi A. ACE-inhibitory activity of enzymatic protein hydrolysates from lupin and other legumes. Food Chem. 145: 34–40 (2014)

Chalamaiah M, Rao GN, Rao DG, Jyothirmayi T. Protein hydrolysates from meriga (Cirrhinus mrigala) egg and evaluation of their functional properties. Food Chem. 120: 652–657 (2010)

Chi CF, Wang B, Wang YM, Zhang B, Deng SG. Isolation and characterization of three antioxidant peptides from protein hydrolysate of bluefin leatherjacket (Navodon septentrionalis) heads. J Funct Foods. 12:1–10 (2015)

Corrêa APF, Daroit DJ, Coelho J, Meira SMM, Lopes FC, Segalin J, Risso PH, Brandelli A. Antioxidant, antihypertensive and antimicrobial properties of ovine milk caseinate hydrolysed with a microbial protease. J Sci Food Agric. 91: 2247–2254 (2011)

Decker EA, Welch B. Role of ferritin as a lipid oxidation catalyst in muscle food. J Agric Food Chem. 38: 674–677 (1990)

Ghribi AM, Sila A, Przybylski R, Nedjar-Arroume N, Makhlouf I, Blecker C, Attia H, Dhulster P, Bougatef A, Besbes S. Purification and identification of novel antioxidant peptides from enzymatic hydrolysate of chickpea (Cicer arietinum L.) protein concentrate. J Funct Foods. 12: 516–525 (2015a)

Ghribi AM, Gafsi IM, Sila A, Blecker C, Danthine S, Attia H, Bougatef A, Besbes S. Effects of enzymatic hydrolysis on conformational and functional properties of chickpea protein isolate. Food Chem. 187: 322–330 (2015b)

Ghumman A, Kaur A, Singh N. Impact of germination on flour, protein and starch characteristics of lentil (Lens culinari) and horse gram (Macrotyloma uniflorum L.) lines. LWT - Food Sci Technol. 65: 137–144 (2016)

Guan X, Yao H, Chen Z, Shan L, Zhang M. Some functional properties of oat bran protein concentrate modified by trypsin. Food Chem. 101: 163–170 (2007)

Hernández-Ledesma B, Del Mar Contreras M, Recio I. Antihypertensive peptides: Production, bioavailability and incorporation into foods. Adv Colloid Interface Sci. 165: 23–35 (2011)

Jamdar SN, Rajalakshmi V, Pednekar MD, Juan F, Yardi V, Sharma A. Influence of degree of hydrolysis on functional properties, antioxidant activity and ACE inhibitory activity of peanut protein hydrolysate. Food Chem. 121: 178–184 (2010)

Kaur M, Singh N. Studies on functional, thermal and pasting properties of flours from different chickpea (Cicer arietinum L.) cultivars. Food Chem. 91: 403–411 (2005)

Li GH, Le GW, Liu H, Shi YH. Mung-bean protein hydrolysates obtained with alcalase exhibit angiotensin I-converting enzyme inhibitory activity. Food Sci Technol Int. 11: 281–287 (2005)

Liu Q, Kong B, Xiong YL, Xia X. Antioxidant activity and functional properties of porcine plasma protein hydrolysate as influenced by the degree of hydrolysis. Food Chem. 118: 403–410 (2010)

Moktan K, Ojha P. Quality evaluation of physical properties, antinutritional factors, and antioxidant activity of bread fortified with germinated horse gram (Dolichus uniflorus) flour. Food Sci Nutr. 4: 766–771 (2016)

Pihlanto A, Akkanen S, Korhonen HJ. ACE-inhibitory and antioxidant properties of potato (Solanum tuberosum). Food Chem. 109: 104–112 (2008)

Prasad SK, Singh MK. Horse gram- an underutilized nutraceutical pulse crop: a review. J Food Sci Technol. 52: 2489–2499 (2014)

Prieto P, Pineda M, Aguilar M. Spectrophotometric quantitation of antioxidant capacity through the formation of a phosphomolybdenum complex:Specific application to the determination of vitamin E. Anal Biochem. 341: 337–341 (1999)

Re R, Pellegrini N, Proteggente A, Pannala A, Yang M, Rice-Evans C. Antioxidant activity applying an improved ABTS radical cation decolorization assay. Free Radic Biol Med. 26: 1231–1237 (1999)

Roessler EB, Pangborn RM, Sidel JL, Stone H. Expanded statistical tables for estimating significance in paired-preference, paired-difference, duo-trio and triangle tests. J Food Sci. 43: 940–947 (1978)

Sasikala VB, Ravi V, Narasimha HV. Textural changes of green gram (Phaseolus aureus) and horse gram (Dolichos biflorus) as affected by soaking and cooking. J Texture Stud 42: 10–19 (2011)

Sreerama YN, Neelam DA, Sashikala VB, Pratape VM. Distribution of nutrients and antinutrients in milled fractions of chickpea and horse gram: Seed coat phenolics and their distinct modes of enzyme inhibition. J Agric Food Chem. 58: 4322–4330 (2010)

Sreerama YN, Sasikala VB, Pratape VM. Nutritional implications and flour functionality of popped/expanded horse gram. Food Chem. 108: 891–899 (2008)

Wani IA, Sogi DS, Gill BS. Physico-chemical and functional properties of native and hydrolysed protein isolates from Indian black gram (Phaseolus mungo L.) cultivars. LWT - Food Sci Technol. 60: 848–854 (2015)

Wasswa J, Tang J, Gu X, Yuan X. Influence of the extent of enzymatic hydrolysis on the functional properties of protein hydrolysate from grass carp (Ctenopharyngodon idella) skin. Food Chem. 104:1698–1704 (2007)

Wouters AGB, Rombouts I, Fierens E, Brijs K, Delcour JA. Relevance of the functional properties of enzymatic plant protein hydrolysates in food systems. Compr Rev Food Sci Food Saf. 15: 786–800 (2016)

Zhang J, Yao Y, Ye X, Fang Z, Chen J, Wu D, Liu D, Hu Y. Effect of cooking temperatures on protein hydrolysates and sensory quality in crucian carp (Carassius auratus) soup. J Food Sci Technol. 50: 542–548 (2013)
Acknowledgements
Authors would like to thank Department of Biotechnology (DBT), India for funding this research (DBT-JRF/2011-12/205).
Ethics declarations
Conflict of interest
The authors declare that they have no conflict of interest.
About this article
Cite this article
Bhaskar, B., Ananthanarayan, L. & Jamdar, S.N. Effect of enzymatic hydrolysis on the functional, antioxidant, and angiotensin I-converting enzyme (ACE) inhibitory properties of whole horse gram flour. Food Sci Biotechnol 28, 43–52 (2019). https://doi.org/10.1007/s10068-018-0440-z
Received:

Revised:

Accepted:

Published:

Issue Date:
Keywords
Horse gram hydrolysate

Enzymatic hydrolysis

Alcalase

Functional properties

Antioxidant

ACE inhibitory