Abstract
In this current study, comparative study between the effect of electrolyzed water and ultrapure water on the extraction of apricot protein was conducted. The results revealed that under the condition of same pH (pH = 9.5), the extraction efficiency of electrolyzed water on apricot protein was superior to that of ultrapure water. Moreover, apricot protein (EAP) extracted by electrolyzed water displayed preferable foaming capacity and emulsion stability. The foaming capacity and emulsion stability of EAP were 11.17% and 36.33 min, for UAP, only 4.75% and 23.88 min, respectively. Meanwhile, compared to UAP, the secondary structure of EAP was more orderly, in which the orderly structures of α-helix and β-sheet were 7.5 and 60.2%, while the disorderly structures of β-turn and random coil were 8.4 and 23.8%. This work provided a novel extraction strategy, which could improve the extraction rate and minimize the destruction of the structure and functional properties of apricot protein.
This is a preview of subscription content, log in to check access.
Access options
Buy single article
Instant access to the full article PDF.
US$ 39.95
Price includes VAT for USA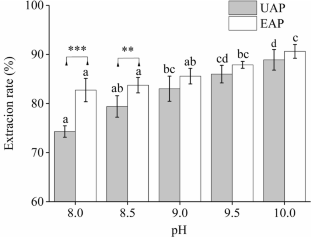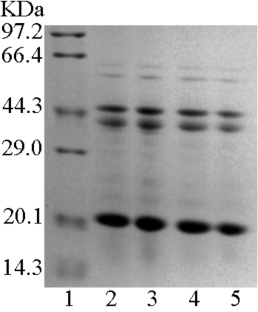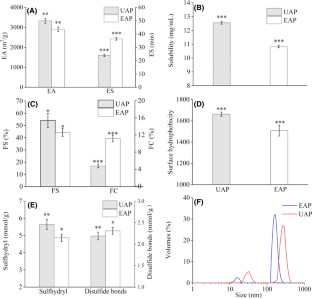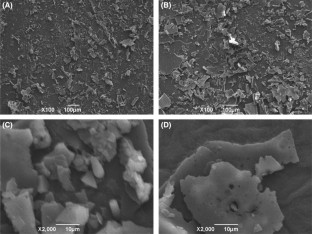 References
Aider M, Gnatko E, Benali M, Plutakhin G, Kastyuchik A. Electro-activated aqueous solutions: Theory and application in the food industry and biotechnology. Innov. Food Sci. Emerg. 15:38–49 (2012)

AOAC. Official Methods of Analysis. 15th ed. Analysis of Association of Official Analytical Chemists. Arlington, VA, USA (2005)

AOAC. Official Methods of Analysis. 16th ed. Method 960.47. Amino Acids in Vitamin Preparations Microbiological Methods. Arlington, VA, USA (1960)

Bandyopadhyay K, Misra G,Ghosh S. Preparation and characterisation of protein hydrolysates from Indian defatted rice bran meal. J. Oleo Sci. 57: 47–52 (2008)

Bera MB, Mukherjee RK. Solubility, emulsifying, and foaming properties of rice bran protein concentrates. J. Food Sci. 54: 142–145 (1989)

Beveridge T, Toma SJ, Nakai S. Determination of SH and S–S groups in some food proteins using Ellman's reagent. J. Food Sci. 39: 49–51 (1974)

Bradford MM. A rapid and sensitive method for the quantitation of microgram quantities of protein utilizing the principle of protein-dye binding. Anal. Biochem. 72: 248–254 (1976)

Guo RR, Pan SY, Wang KX. Comparing research on functionality of rice protein extracted by alkali and enzyme. Food Sci. Technol. 26: 173–174 (2005)

Jiang J, Chen J, Xiong YL. Structural and emulsifying properties of soy protein isolate subjected to acid and alkaline pH-shifting processes. J. Agric. Food Chem. 57: 7576–7583 (2009)

Jiang L, Lin T, Zhao XH, Gao MX. Extraction of protein from rice dreg using purifying and enzyme treating. J. Food Sci. 36: 179–186 (2011)

Junming LWJJX. Research advance in methods of extraction and technologies of separation and purification for protein. Adv. Fine Petrochem. 11: 52–58 (2010)

Khalid E, Babiker E, Tinay AE. Solubility and functional properties of sesame seed proteins as influenced by pH and/or salt concentration. Food Chem. 82: 361–366 (2003)

Li Y, Jongberg S, Andersen ML, Davies MJ, Lund MN. Quinone-induced protein modifications: kinetic preference for reaction of 1,2-benzoquinones with thiol groups in proteins. Free Radic. Biol. Med. 97: 148–157 (2016)

Mine Y. Effect of dry heat and mild alkaline treatment on functional properties of egg white proteins. J. Agric. Food Chem. 45: 2924–2928 (1997)

Nakai S, Ho L, Helbig N, Kato A, Tung MA. Relationship between hydrophobicity and emulsifying properties of some plant proteins. Can. Inst. Food Sci. Technol. J. 13: 23–27 (1980)

Panyam D, Kilara A. Enhancing the functionality of food proteins by enzymatic modification. Trends Food Sci. Technol. 7: 120–125 (1996)

Park C, Raines RT. Adjacent cysteine residues as a redox switch. Protein Eng. 14: 939–942 (2001)

Pearce KN, Kinsella JE. Emulsifying properties of proteins: evaluation of a turbidimetric technique. J. Agric. Food Chem. 26: 716–723 (1978)

Pei H. Strong electrolytic water and its application in food industry. J. Chin. Inst. Food Sci. Technol. 9: 268–271 (2011)

Roncero J, Álvarez-Ortí M, Pardo-Giménez A, Gómez R, Rabadán A, Pardo J. Almond virgin oil: parameters of regulated physicochemical quality and stability. Riv. Ital. Sostanze Grasse. 93: 237–243 (2016)

Shaposhnik VA,Kesore K. An early history of electrodialysis with permselective membranes. J. Membr. Sci. 136: 35–39 (1997)

Shen Q, Huang B, Shao J, Peng Q, Ma L, Gu L. Mechanism discussion of interaction between enzyme and several compounds with circular dichroism method. J. Sun Yat-sen Univ. 45: 62–64 (2006)

Tang S, Hettiarachchy N, Horax R, Eswaranandam S. Physicochemical properties and functionality of rice bran protein hydrolyzate prepared from heat-stabilized defatted rice bran with the aid of enzymes. J. Food Sci. 68: 152–157 (2003)

Tao GS, Hu ZY, Han ZT, Zhang JL, Zhang HH. An experimental research into the effect of alkaline electrolyzed water on blood lipid. Chin. J. Geriatr. Care 1: 18–20 (2003)

Toge Y,Miyashita K. Lipid extraction with electrolyzed cathode water from marine products. J. Oleo Sci. 52: 1–6 (2002)

Venkatachalam M, Roux KH,Sathe SK. Biochemical characterization of soluble proteins in pecan [Carya illinoinensis (Wangenh.) K. Koch]. J. Agric. Food hem. 56: 8103–8110 (2008)

Wang XJ, Feng H, Li ZY. Effects of electrolyzed water pretreatment on hydrolysis of corn stove and switchgrass. J Chem Eng Chin Univ. 26: 174–179 (2012)

Zhou C, Qi W, Neil LE, Carpenter JF. Concomitant Raman spectroscopy and dynamic light scattering for characterization of therapeutic proteins at high concentrations. Anal. Biochem. 472: 7–20 (2015)
Acknowledgements
This work was financially supported by the following funds: Construction project of Youth Science and technology innovation leader in Corps (2016BC001); the Open Project from Beijing Advanced Innovation Center for Food Nutrition and Human Health, Beijing Technology and Business University (BTBU) (No. 20181007); Key project of Hubei Provincial Department of Education (No. D20171406) and the National Natural Science Foundation of China (No. 31401644).
About this article
Cite this article
Li, Z., Zhou, B., Li, X. et al. Effect of alkaline electrolyzed water on physicochemical and structural properties of apricot protein isolate. Food Sci Biotechnol 28, 15–23 (2019). https://doi.org/10.1007/s10068-018-0439-5
Received:

Revised:

Accepted:

Published:

Issue Date:
Keywords
Apricot

Protein

Extraction rate