Abstract
The aim of this study was to evaluate the effects of green tea contents (0, 5, 10, and 15%) on texturization and antioxidant properties of textured vegetable protein (TVP) by using a twin-screw extruder. Extrusion conditions were fixed at 140 °C barrel temperature, 50% moisture content, 100 g/min feed rate, and 200 rpm screw speed. The integrity index, hardness, and cutting strength of TVP significantly (P < 0.05) increased with the increase in green tea levels, while cohesiveness, springiness, water holding capacity, and nitrogen solubility index (NSI) significantly (P < 0.05) decreased. Increasing the amount of green tea resulted in better DPPH radical scavenging activity, higher total phenolic, total flavonoid, catechins, and caffeine contents. The (−)-epigallocatechin gallate, (−)-epicatechin, (−)-epigallocatechin, and (−)-epicatechin gallate contents of TVP significantly (P < 0.05) decreased, compared to that of raw materials. The incorporation of green tea in TVP can negatively affect expansion and NSI while positively affect texturization and antioxidant properties.
This is a preview of subscription content, log in to check access.
Access options
Buy single article
Instant access to the full article PDF.
US$ 39.95
Price includes VAT for USA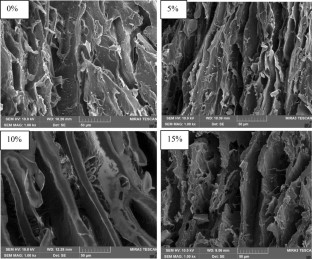 References
Aleksandar Y, Andrea S, Shannon HN, Michael N. Influence of the extrusion parameters on the physical properties of chickpea and barley TVP. Food Sci. Biotechnol. 26: 393–399 (2017)

Ananingsih VK, Amber S, Zhou WB. Green tea catechins during food processing and storage: A review on stability and detection. Food Res. Int. 50: 469–479 (2013)

Angela C. Protein-protein interaction of soy protein isolate from extrusion processing. (2007) http://hdl.handle.net/10355/5099.

AOAC. Official Method of Analysis of AOAC Intl. 15th ed. Association of Official Analytical Chemists, Arlington, VA, USA (1990).

Asgar MA, Fazilah A, Huda N, Bhat R, Karim AA. Nonmeat protein alternatives as meat extenders and meat analogs. Comp. Rev. Food Sci. Food Safety 9: 513–529 (2010)

Barry S. A Ninhydrin based assay to quantitate the total protein content of tissue samples. Analyt. Biochem. 292: 125–129 (2001)

Baskaran V, Bhattacharya S. Nutritional status of the protein of corn-soy based extruded products evaluated by rat bioassay. Plant Food Hum. Nut. 59: 101–104 (2004)

Cho SY, Ryu GH. Effects on quality characteristics of extruded meat analog by addition tuna sawdust. J. Korean Soc. Food Sci. Nutr. 46: 465–472 (2017)

Ghorpade VM, Bhatnagar S, Hanna MA. Structural characteristics of corn starches extruded with soy protein isolate or wheat gluten. Plant Food Hum. Nut. 51: 109–123 (1997)

Guy R. Extrusion cooking: technologies and applications. (1st ed.). USA. (2001)

Iwo MO, Van ZDJ, Stolp W, Ngoddy PO. Effect of extrusion cooking of soy-sweet potato mixtures on available lysine content and browning index of extrudates. J. Food Eng. 62: 143–150 (2004)

Korus, J. Gumul D, Czechowska K. Effect of extrusion on the phenolic composition and antioxidant activity of dry beans of Phaseolus vulgaris L. Food Technol. Biotechnol. 45: 139–146 (2007)

Kinsella JE, Franzen KL. Texturized proteins: Frabrication, flavoring, and nutrition. CRC Crit Rev Food Sci Nutr. 10: 147–207 (1978)

Lee DS, Kim Y, Song Y, Lee JH, Lee S, Yoo SH. Development of a gluten-free rice noodle by utilizing protein-polyphenol interaction between soyprotein isolate and extract of Acanthopanax sessiliflorus. J Sci Food Agric. 96: 1037–1043 (2016)

Li M, Lee TC. Effect of extrusion temperature on solubility and molecular weight distribution of wheat proteins. J Agric Food Chem. 44: 763–768 (1996)

Li M, Zhang JH, Zhu KX, Peng W, Zhang SK, Wang B, Zhou HM. Effect of superfine green tea powder on the thermodynamic, rheological and fresh noodle making properties of wheat flour. LWT-Food Sci Tech. 46: 23–28 (2012)

Lin S, Huff HE, Hsieh F. Extrusion process parameters, sensory characteristics, and structural properties of a high moisture soy protein meat analog. J. Food Sci. 67: 1066–1072 (2002)

Lu TM, Lee CC, Mau JL, Lin SD. Quality and antioxidant property of green tea sponge cake. Food Chem. 119: 1090–1095 (2010)

Macdonald RS, Joseph P, Hsieh FH. Soy protein isolate extruded with high moisture retains high nutritional quality. J. Agri. Food Chem. 57: 3550–3555 (2009)

Manoi K, Rizvi SSH. Physiochemical changes in whey protein concentrate texturized by reactive supercritical fluid extrusion. J. Food Eng. 95: 627–635 (2009)

Ning JM, Hou GG, Sun JJ, Wan XC, Dubat A. Effect of green tea powder on the quality attributes and antioxidant activity of whole-wheat flour pan bread. LWT - Food Sci. Technol. 79, 342–348 (2017).

Ning L. Texturization of soy protein via twin-screw extrusion. (1993) http://hdl.handle.net/2142/21658.

Ning L, Villota R. Influence of 7S and 11S globulins on the extrusion performance of soy protein concentrates. J. Food Process. Pres. 18: 421–436 (1994)

Nishinari K, Fang K, Guo S, Philips GO. Soy proteins: A review on composition, aggregation and emulsification. Food Hydrocoll. 39: 301–318 (2014)

Norajit K, Gu BJ, Ryu GH. Effects of the addition of hemp powder on the physicochemical properties and energy bar qualities of extruded rice. Food Chemistry 129: 1919–1925 (2011)

Park JH, Chatpaisarn A, Ryu GH. Effects of gluten and moisture contents on texturization of extruded soy protein isolate. J. Korean Soc. Food Sci. Nutr. 46: 473–480 (2017)

Petitot M, Abecassis J, Micarda V. Structuring of pasta components during processing: impact on starch and protein digestibility and allergenicity. Trends in Food Sci. Technol. 20: 521–532 (2009)

Ramos S. Effects of dietary flavonoids on apoptotic pathways related to cancer chemoprevention. J. Nutr. Biochem. 18: 427–442 (2007)

Riaz MN, Texas A. Handbook of food proteins. (1st ed.). Woodhead Publishing (Chapter 15) (2011)

Shen XJ, Han JY, Ryu GH. Effects of the addition of green tea powder on the quality and antioxidant properties of vacuum-puffed and deep-fried Yukwa. LWT - Food Sci. Technol. 55: 362–367 (2014)

Song YW, Yoo SH. Quality improvement of a rice-substituted fried noodle by utilizing the protein-polyphenol interaction between a pea protein isolate and green tea (Camellia sinensis) extract. Food chem. 235: 181–187 (2017)

Tucker G, Plunkett A, Ainsworth P, Ding QB, Marson H. The effect of extrusion conditions on the functional and physical properties of wheat-based expanded snacks. J Food Eng. 73: 142–148 (2006)

Wu W, Clifford M, Howell NK. The effect of instant green tea on the foaming and rheological properties of egg albumen proteins. J Sci Food Agric. 87: 1810–1819 (2007)

Yu L, Ramaswamy HS. Frying characteristics of protein-enriched snack food from extruded corn flour-soy protein isolate feed mix. Institute of Food Technologists Annual Meeting, Chicago, USA (2010)

Yu L. Extrusion processing of protein rich food formulations. (2011) http://digitool.library.mcgill.ca/webclient/StreamGate?folder_id=0&dvs=1498366512390~165.

Yu L, Ramaswamy HS, Boye J. Twin-screw extrusion of corn flour and soy protein isolate blends: a response surface analysis. Food Bioprocess Technol. 5: 485–497 (2012)

Yuan HB. The study and application of tea dietary fiber. Zhejiang Agri. Sci. 5: 1010–1015 (2010)
Acknowledgements
This research was supported by Basic Science Research Program through the National Research Foundation (NRF) funded by the Ministry of Education, Science and Technology (2016H1C1A1035974).
Ethics declarations
Conflict of interest
The authors state no conflict of interest.
About this article
Cite this article
Ma, X., Ryu, G. Effects of green tea contents on the quality and antioxidant properties of textured vegetable protein by extrusion-cooking. Food Sci Biotechnol 28, 67–74 (2019). https://doi.org/10.1007/s10068-018-0437-7
Received:

Revised:

Accepted:

Published:

Issue Date:
Keywords
Textured vegetable protein

Extrusion

Green tea