Abstract
The purpose of this study was to determine the antidiabetic effect of an extract of nutricultured Brassica napus containing vanadium (BECV). The BECV was prepared following nutriculture of B. napus with a Jeju water vanadium concentrate for 7 day. The BECV was administered to db/db mice for 8 weeks at different dosages (0.028, 0.14, and 0.7 μg/kg; as vanadium concentration in BECV). After 8 weeks, the BECV results showed mouse blood glucose concentrations to significantly decrease, in a dose-dependent manner, compared with the results for control mice. In addition, the concentrations of triglyceride, total cholesterol, and glycated hemoglobin were significantly lower after 8 weeks of administration of 0.7 μg/kg BECV. Therefore, the BECV may have protective effects against type 2 diabetes.
This is a preview of subscription content, log in to check access.
Access options
Buy single article
Instant access to the full article PDF.
US$ 39.95
Price includes VAT for USA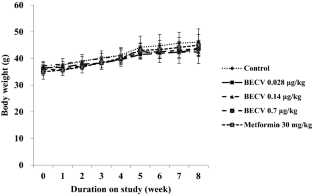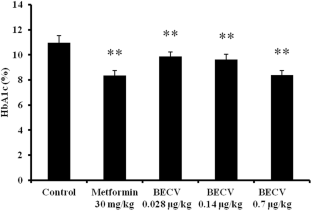 References
Ashiq U, Jamal RA, Mahroof-Tahir M, Maqsood ZT, Khan KM, Omer I, Choudhary MI. Enzyme inhibition, radical scavenging, and spectroscopic studies of vanadium(IV)-hydrazide complexes. J. Enzym. Inh. Med. Chem. 24: 1336–1343 (2009)

Bendayan M, Gingras D. Effects of vanadate administration on blood glucose and insulin levels as well as on the exocrine pancreatic function in streptozotocindiabetic rats. Diabetologia. 32: 561–567 (1989)

Bhuiyan MS, Fukunaga K. Cardioprotection by vanadium compounds targeting Akt-mediated signaling. J Pharmacol Sci. 110: 1–13 (2009)

Bollen M, Miralpeix M, Ventura F, Toth B, Bartrons R, Stalmans W. Oral administration of vanadate to streptozotocin-diabetic rats restores the glucose-induced activation of liver glycogen synthase. Biochem. J. 267: 269–271 (1990)

Bornfeldt KE, Tabas I. Insulin resistance, hyperglycemia, and atherosclerosis. Cell Metab. 14: 575–585 (2011)

Brichard SM, Bailey CJ, Henquin JC. Marked improvement of glucose homeostasis in diabetic ob/ob mice given oral vanadate. Diabetes. 39: 1326–1332 (1990)

Brichard SM, Lederer J, Henquin JC. The insulin-like properties of vanadium: A curiosity or a perspective for the treatment of diabetes? Diabete Metab. 17: 435–440 (1991)

Brichard SM, Pottier AM, Henquin JC. Long term improvement of glucose homeostasis by vanadate in obese hyperinsulinemic fa/fa rats. Endocrinology. 125: 2510–2516 (1989)

Domingo JL, Gomez M, Sanchez DJ, Llobet JM, Keen CL. Toxicology of vanadium compounds in diabetic rats: The action of chelating agents on vanadium accumulation. Mol. Cell. Biochem. 153: 233–240 (1995)

Eledrisi MS, Alshanti MS, Shah MF, Brolosy B, Jaha N. Overview of the diagnosis and management of diabetic ketoacidosis. Afr J Med Sci. 331: 243–251 (2006)

Florkowski C. HbA1c as a diagnostic test for diabetes mellitus-reviewing the evidence. Clin Biochem Rev. 34: 75–83 (2013)

Ghosh S, Suryawanshi SA. Effect of vinca rosea extracts in treatment of alloxan diabetes in male albino rats. Indian J. Ex. Biol. 39: 748–758 (2001)

Greer JJ, Ware DP, Lefer DJ. Myocardial infarction and heart failure in the db/db diabetic mouse. Am. J. Physiol Heart Circ Physiol. 290: H146–H153 (2006)

Heyliger CE, Tahiliani AG, McNeill JH. Effect of vanadate on elevated glucose and depressed cardiac performance of diabetic rats. Science. 227: 1474–1477 (1985)

Hwang SL, Chang HW. Natural vanadium-containing Jeju ground water stimulates glucose uptake through the activation of AMP-activated protein kinase in L6 myotubes. Mol. Cell. Biochem. 360: 401–409 (2012)

McNeill JH, Yuen VG, Hoveyda HR, Orvig C. Bis(maltolato)-oxovanadium (IV) is a potent insulin mimic. Med. Chem. 35: 1489–1491 (1992)

Meyerovitch I, Farfel Z, Sack J, Shechter Y. Oral administration of vanadate normalizes blood glucose levels in streptozotocin-treated rats. J. Biol. Chem. 262: 6658–6662 (1987)

Meyerovitch J, Rothenberg P, Shechter Y, Bonner-Weir S, Kahn CR. Vanadate normalizes hyperglycemia in two mouse models of non-insulin-dependent diabetes mellitus. J. Clin. Invest. 87: 1286–1294 (1991)

Nyane NA, Tlaila TB, Malefane TG, Ndwandwe DE. Owira PO. Metformin-like antidiabetic, cardio-protective and non-glycemic effects of naringenin: Molecular and pharmacological insights. Eur. J. Pharmacol. 803: 103–111 (2017)

Park SJ, Youn CK, Hyun JW, You HJ. The anti-obesity effect of natural vanadium-containing Jeju ground water. Biol. Trace. Elem. Res. 151: 294–300 (2013)

Patel DK, Prasad SK, Kumar R, Hemalatha S. An overview on antidiabetic medicinal plants having insulin mimetic property. Asian Pac J Trop Biomed. 2: 320–330 (2012)

Posner BI, Faure R, Burgess JW, Bevan AP, Lachance D, Zhang-Sun G, Fantus IG, Ng JB, Hall DA, Lum BS, Shaver A. Peroxovanadium compounds. A new class of potent phosphotyrosine phosphatase inhibitors which are insulin mimetics. J. Biol. Chem. 269: 4596–4604 (1994)

Poucheret P, Verma S, Grynpas MD, McNeill JH. Vanadium and diabetes. Mol. Cell. Biochem. 188: 73–80 (1998)

Pugazhenthi S, Angel JF, Khandelwal RL. Long-term effects of vanadate treatment on glycogen metabolizing and lipogenic enzymes of liver in genetically diabetic (db/db) mice. Metabolism. 40: 941–946 (1991)

Qin B, Nagasaki M, Ren M, Bajotto G, Oshida Y, Sato Y. Cinnamon extract (traditional herb) potentiates in vivo insulin-regulated glucose utilization via enhancing insulin signaling in rats. Diabetes Res. Clinl. Practice. 62: 139–148 (2003)

Ramanadham S, Mongold JJ, Brownsey RW, Cros GH, McNeill JH. Oral vanadyl sulfate in treatment of diabetes mellitus in rats. Am. J. Physiol. 257: H904–H911 (1989)

Rao BK, Kesavulu MM, Apparao C. Antihyperglycemic activity of Momordica cymbalaria in alloxan diabetic rats. J. Ethnopharmacol. 78: 67–71 (2001)

Reul BA, Amin SS, Buchet JP, Ongemba LN, Crans DC, Brichard SM. Effects of vanadium complexes with organic ligands on glucose metabolism: a comparison study in diabetic rats. Brit. J. Pharmacol. 126: 4674–4677 (1999)

Sakurai H, Tsuchiya K, Nukatsuka M, Sofue M,- Kawada J. Insulin-like effects of vanadyl ion in streptozotocin-induced diabetic rats. J. Endocrinol. 126: 451–459 (1990)

Sekar N, Kanthasamy A, William S, Balasubramaniya N, Govindasamy S. Antioxidant effect of vanadate on experimental diabetic rats. Acta Diabetol. Lat. 27: 285–293 (1990)

Sekar N, Kanthasamy A, William S, Subramanian S, Govindasamy S. Insulin actions of vanadate in diabetic rats. Pharmacol. Res. 22: 207–217 (1989)

Shisheva A, Ikonomov O, Shechter Y. The protein tyrosine phosphatase inhibitor, pervanadate, is a powerful antidiabetic agent in streptozotocin-treated diabetic rats. Endocrinology. 134: 507–510 (1994)

Srivastava AK. Section Review-Oncologic, Endocrine & Metabolic:Potential use of vanadium compounds in the treatment of diabetes mellitus. Expert Opin. Investig. Drugs. 4: 525–536 (1995)

Strout HV, Vicario PP, Biswas C, Superstein R, Brady EJ, Pilch PF, Berger J. Vanadate treatment of streptozotocin diabetic rats restores expression of the insulin responsive glucose transporter in skeletal muscle. Endocrinology. 126: 2728–2732 (1990)

Vigneri R, Goldfine, ID. Role of metformin in treatment of diabetes mellitus. Diabetes Care. 10: 118–122 (1987)
Acknowledgements
This research was financially supported by the Ministry of Trade, Industry & Energy (MOTIE), Korea Institute for Advancement of Technology (KIAT) and Jeju Institute for Regional Program Evaluation (GWIRPE) through the Leading Industry Development for Economic Region [No. R0000359].
About this article
Cite this article
Yun, J., Park, S., Choi, G. et al. Antidiabetic effect of an extract of nutricultured Brassica napus containing vanadium from a Jeju water concentrate. Food Sci Biotechnol 28, 209–214 (2019). https://doi.org/10.1007/s10068-018-0436-8
Received:

Revised:

Accepted:

Published:

Issue Date:
Keywords
Vanadium

Brassica napus extract

Antidiabetic effect

db/db mouse