Abstract
Acidic electrolyzed water (AEW) was used for collards sanitization. In the AEW (pH of 3.6; 230 mg/L chlorine) generator, the rates of brine inflow and catholyte outflow were 2.73 and 442 mL/min, respectively. Following treatment of the collards with the AEW alone (5 min), the counts of aerobic bacterial contaminants were reduced by 1.91 log CFU/g, whereas 2.22 log CFU/g reduction was noted by the AEW soaking (5 min) followed by a corona discharge plasma jet treatment (1 min). In a similar manner, the counts of yeasts and mold contaminants were reduced (1.48 and 1.75 log CFU/g, respectively). The combination treatment exhibited an additive effect on the microbial inactivation. The combined treatment did not affect significantly the DPPH-radical scavenging activity and sensory properties (appearance, color and flavor) of the collards compared to negative controls. However, significant alterations in the levels of total phenolics and ascorbic acid were observed post-treatment.
This is a preview of subscription content, log in to check access.
Access options
Buy single article
Instant access to the full article PDF.
US$ 39.95
Price includes VAT for USA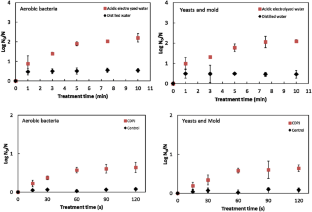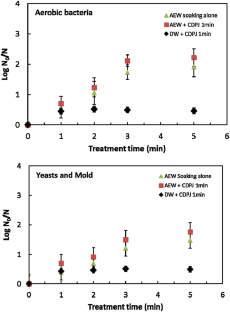 References
Al-Qadiri HM, Al-Holy MA, Shiroodi SG, Ovissipour M, Govindan BN, Al-Alami N, Sablani SS, Rasco B. Effect of acidic electrolyzed water-induced bacterial inhibition and injury in live clam (Venerupis philippinarum) and mussel (Mytilus edulis). Int. J. Food Microbiol. 231: 48–53 (2016)

AOAC. Official Method of Analysis of AOAC Intl. 18th ed. Method 967.21. Association of Official Analytical Chemists, Gaithersburg, MD, USA (2005)

Blois MS. Antioxidant determination by the use of a stable free radical. Nature 181: 1199–1200 (1958)

Busta FF. Practical implications of injured microorganisms in food. J. Milk Food Technol. 39: 138–145 (1976)

Deng S, Ruan R, Mok CK, Huang G, Lin X, Chen P. Inactivation of Escherichia coli on almonds using nonthermal plasma. J. Food Sci. 72: M62–M66 (2007)

Ding T, Ge Z, Shi J, Xu YT, Jones CL, Liu DH. Impact of slightly acidic electrolyzed water (SAEW) and ultrasound on microbial loads and quality of fresh fruits. LWT - Food Sci. Technol. 60(Part 2): 1195–1199 (2015)

Fan X, Niemira BA, Sokorai KJB. Sensorial, nutritional and microbiological quality of fresh cilantro leaves as influenced by ionizing radiation and storage. Food Res. Int. 36: 713–719 (2003)

Food and Agriculture Organization (FAO)/World Health Organization (WHO). Microbiological risk assessment series: Microbiological hazards in fresh fruit and vegetables (2008). Available at http://www.who.int/foodsafety

Forghani F, Oh DH. Hurdle enhancement of slightly acidic electrolyzed water antimicrobial efficacy on Chinese cabbage, lettuce, sesame leaf and spinach using ultrasonication and water wash. Food Microbiol. 36: 40–45 (2013)

Forsythe SJ. Methods of detection and characterization. 2nd ed., pp. 224–265. In: The Microbiology of Safe Food. Forsythe SJ (ed). John Wiley and Sons, Inc., New York, USA (2010)

Hao JX, Liu HJ, Liu R, Dalai WY, Zhao RP, Chen TP, Li L. Efficacy of slightly acidic electrolyzed water (SAEW) for reducing microbial contamination on fresh-cut cilantro. J. Food Safety 31: 28–34 (2011)

Ignarro LJ, Balestrieri ML, Napoli C. Nutrition, physical activity, and cardiovascular disease: an update. Cardiovasc. Res. 73 (2): 326–340 (2007)

Issa-Zacharia A, Kamitani Y, Miwa N, Muhimbula H, Iwasaki K. Application of slightly acidic electrolyzed water as a potential non-thermal food sanitizer for decontamination of fresh ready-to-eat vegetables and sprouts. Food Control 22: 601–607 (2011)

Jeong J, Kim C, Yoon J. The effect of electrode material on the generation of oxidants and microbial inactivation in the electrochemical disinfection processes. Water Res. 43: 895–901 (2009)

Johnston LM, Jaykus LA, Moll D, Martinez MC, Anciso J, Mora B, Moe CL. A field study of the microbiological quality of fresh produce. J. Food Protect. 68: 1840–1847 (2005)

KFDA. Korean food standards codex (Vol. 2). Chungbuk, Korea: Korea Food and Drug Administration, 9.3.1.1–9.3.18.2 (2011)

Kim JW, Puligundla P, Mok C. Microbial decontamination of dried laver using corona discharge plasma jet (CDPJ). J. Food Eng. 161: 24–32 (2015)

Koide S, Shitanda D, Note M, Cao W. Effects of mildly heated, slightly acidic electrolyzed water on the disinfection and physicochemical properties of sliced carrot. Food Control 22: 452–456 (2011)

Korkmaz M, Polat M. Irradiation of fresh fruit and vegetables. pp. 387–428. In: Improving the safety of fresh fruit and vegetables. Jongen W (ed). Woodhead Publishing Limited, Cambridge, England (2005)

Luo K, Kim SY, Wang J, Oh DH. A combined hurdle approach of slightly acidic electrolyzed water simultaneous with ultrasound to inactivate Bacillus cereus on potato. LWT - Food Sci. Technol. 73: 615–621 (2016)

Maffei DF, de Arruda Silveira NF, Catanozi MPLM. Microbiological quality of organic and conventional vegetables sold in Brazil. Food Control 29: 226–230 (2013)

Misra NN, Pankaj SK, Segat A, Ishikawa K. Cold plasma interactions with enzymes in foods and model systems. Trends Food Sci. Technol. 55: 39–47 (2016)

Monnin A, Lee J, Pascall MA. Efficacy of neutral electrolyzed water for sanitization of cutting boards used in the preparation of foods. J. Food Eng. 110: 541–546 (2012)

Parish ME, Beuchat LR, Suslow TV, Harris LJ, Garret EH, Farber JM, Busta FF. Methods to reduce/eliminate pathogens from fresh and fresh-cut produce. Compr. Rev. Food Sci. F. 2(Suppl): 161–178 (2003)

Pignata C, D'Angelo D, Fea E, Gill G. A review on microbiological decontamination of fresh produce with nonthermal plasma. J. Appl. Microbiol. 122: 1438–1455 (2017)

Puligundla P, Kim JW, Mok C. Broccoli sprout washing with electrolyzed water: Effects on microbiological and physicochemical characteristics. LWT - Food Sci. Technol. 92: 600–606 (2018)

Puligundla P, Kim JW, Mok C. Effect of corona discharge plasma jet treatment on decontamination and sprouting of rapeseed (Brassica napus L.) seeds. Food Control 71: 376–382 (2017)

Rahman SME, Khan I, Oh DH (2016). Electrolyzed water as a novel sanitizer in the food industry: current trends and future perspectives. Compr. Rev. Food Sci. F. 15: 471–490.

Singleton VL, Rossi JA. Colorimetry of total phenolics with phosphomolybdic-phosphotungstic acid reagents. Am. J. Enol. Viticult. 16: 144–158 (1965)

Van Haute S, Sampers I, Holvoet K, Uyttendaele M. Physicochemical quality and chemical safety of chlorine as a reconditioning agent and wash water disinfectant for fresh-cut lettuce washing. Appl. Environ. Microbiol. 79: 2850–2861 (2013)

Whitaker JR. Enzymes: monitors of food stability and quality. Trends Food Sci. Technol. 2: 94–97 (1991)

Wu VCH. A review of microbial injury and recovery methods in food. Food Microbiol. 25: 735–744 (2008).
Acknowledgements
This study was supported by the Ottogi Foundation, Korea (Grant No. 2016-0066).
Ethics declarations
Conflict of interest
All authors declare that they have no conflict of interest.
About this article
Cite this article
Seo, J., Puligundla, P. & Mok, C. Decontamination of collards (Brassica oleracea var. acephala L.) using electrolyzed water and corona discharge plasma jet. Food Sci Biotechnol 28, 147–153 (2019). https://doi.org/10.1007/s10068-018-0435-9
Received:

Revised:

Accepted:

Published:

Issue Date:
Keywords
Collard

Decontamination

Electrolyzed water

Corona discharge plasma jet

Sensory quality