Abstract
Non-alcoholic fatty liver disease (NAFLD) is one of the most common liver disorders. Possible links have been recently found between the gut-microbiota and the host metabolism in development of NAFLD and obesity. Therefore, understanding the changes in intestinal microbiota during the progression of NAFLD, is important. In this study, the effect of Kombucha tea (KT), obtained by microbial fermentation of sugared black tea, was investigated on gut-microbiota during the progression of NAFLD. The results indicated a decrease in Erysipelotrichia class by treatment with KT in comparison to the methionine/choline-deficient (MCD)-fed db/db mice. Allobaculum, Turicibacter, and Clostridium genera, were only detected in MCD-fed db/db mice and were decreased after treatment with KT, whereas Lactobacillus was more abundant in MCD + KT-fed mice than in MCD only-fed mice and Mucispirillum, was found only in the MCD + KT-fed mice group. Our results demonstrated that the change of intestinal microbiota was influenced by KT intake, contributing to combat NAFLD.
Access options
Buy single article
Instant access to the full article PDF.
US$ 39.95
Tax calculation will be finalised during checkout.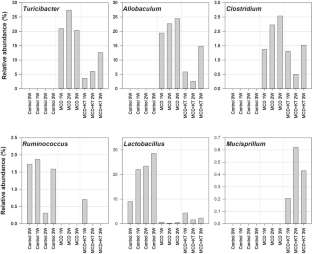 References
Abu-Shanab A, Quigley EM. The role of the gut microbiota in nonalcoholic fatty liver disease. Nat. Rev. Gastroenterol. Hepat. 7: 691-701 (2010)

Aloulou A, Hamden K, Elloumi D, Ali MB, Hargafi K, Jaouadi B, Ayadi F, Elfeki A, Ammar E. Hypoglycemic and antilipidemic properties of Kombucha tea in alloxan-induced diabetic rats. BMC Complement Altern. Med. 12: 63–71 (2012)

Birkenfeld AL, Shulman GI. Nonalcoholic fatty liver disease, hepatic insulin resistance, and type 2 diabetes. Hepatology 59: 713–723 (2014)

Brennan AM, Mantzoros CS. Drug Insight: the role of leptin in human physiology and pathophysiology—emerging clinical applications. Nat. Rev. Endocrinol. 2: 318–327 (2006)

Chu S-C, Chen C. Effects of origins and fermentation time on the antioxidant activities of Kombucha. Food Chem. 98: 502–507 (2006)

Compare D, Coccoli P, Rocco A, Nardone O, De Maria S, Cartenì M, Nardone G. Gut–liver axis: the impact of gut microbiota on non alcoholic fatty liver disease. Nutr. Metab. Cardiovasc. Dis. 22: 471–476 (2012)

Daubioul CA, Taper HS, Laurent D, Delzenne NM. Dietary oligofructose lessens hepatic steatosis, but does not prevent hypertriglyceridemia in obese Zucker rats. J. Nutr. 130: 1314–1319 (2000)

Drenick EJ, Fisler J, Johnson D. Hepatic steatosis after intestinal bypass—prevention and reversal by metronidazole, irrespective of protein-calorie malnutrition. Gastroenterology 82: 535–548 (1982)

Guarner F, Malagelada J-R. Gut flora in health and disease. Lancet 361: 512-519 (2003)

Hyun J, Lee Y, Wang S, Kim J, Kim J, Cha J, Seo Y-S, Jung Y. Kombucha tea prevents obese mice from developing hepatic steatosis and liver damage. Food Sci. Biotechnol. 25: 861–866 (2016)

Jarrell J, Cal T, Bennett JW. The Kombucha consortia of yeasts and bacteria. Mycologist 14: 166–170 (2000)

Jayabalan R, Chen P-N, Hsieh Y-S, Prabhakaran K, Pitchai P, Marimuthu S, Thangaraj P, Swaminathan K, Yun SE. Effect of solvent fractions of Kombucha tea on viability and invasiveness of cancer cells—characterization of dimethyl 2-(2-hydroxy-2-methoxypropylidine) malonate and vitexin. Indian J. Biotechnol. 10 : 75–82 (2011)

Ley RE. Obesity and the human microbiome. Curr. Opin. Gastroenterol. 26: 5–11 (2010)

Li C, Nie S-P, Zhu K-X, Ding Q, Li C, Xiong T, Xie M-Y. Lactobacillus plantarum NCU116 improves liver function, oxidative stress and lipid metabolism in rats with high fat diet induced non-alcoholic fatty liver disease. Food Funct. 5: 3216–3223 (2014)

Loomba R, Sanyal AJ. The global NAFLD epidemic. Nat. Rev. Gastroenterol. Hepatol. 10: 686–690 (2013)

Luckey T. Introduction to intestinal microecology. Am. J. Clin. Nutr. 25: 1292–1294 (1972)

Machado MV, Cortez-Pinto H. Gut microbiota and nonalcoholic fatty liver disease. Ann. Hepatol. 11: 440–449 (2012)

Machado MV, Diehl AM. Pathogenesis of nonalcoholic steatohepatitis. Gastroenterology 150: 1769–1777 (2016)

Mouzaki M, Comelli EM, Arendt BM, Bonengel J, Fung SK, Fischer SE, McGilvray ID, Allard JP. Intestinal microbiota in patients with nonalcoholic fatty liver disease. Hepatology 58: 120–127 (2013)

Nseir W, Hellou E, Assy N. Role of diet and lifestyle changes in nonalcoholic fatty liver disease. World J. Gastroenterol. 20: 9338–9344 (2014)

Qin J, Li R, Raes J, Arumugam M, Burgdorf KS, Manichanh C, Nielsen T, Pons N, Levenez F, Yamada T. A human gut microbial gene catalogue established by metagenomic sequencing. Nature 464: 59-65 (2010)

Raman M, Ahmed I, Gillevet PM, Probert CS, Ratcliffe NM, Smith S, Greenwood R, Sikaroodi M, Lam V, Crotty P. Fecal microbiome and volatile organic compound metabolome in obese humans with nonalcoholic fatty liver disease. Clin. Gastroenterol. Hepatol. 11: 868–875 (2013)

Ravussin Y, Koren O, Spor A, LeDuc C, Gutman R, Stombaugh J, Knight R, Ley RE, Leibel RL. Responses of gut microbiota to diet composition and weight loss in lean and obese mice. Obesity 20: 738–747 (2012)

Schnabl B, Brenner DA. Interactions between the intestinal microbiome and liver diseases. Gastroenterology 146: 1513–1524 (2014)

Schwiertz A, Taras D, Schäfer K, Beijer S, Bos NA, Donus C, Hardt PD. Microbiota and SCFA in lean and overweight healthy subjects. Obesity 18: 190–195 (2010)

Serino M, Luche E, Gres S, Baylac A, Bergé M, Cenac C, Waget A, Klopp P, Iacovoni J, Klopp C. Metabolic adaptation to a high-fat diet is associated with a change in the gut microbiota. Gut 61: 543–553 (2012)

Spencer MD, Hamp TJ, Reid RW, Fischer LM, Zeisel SH, Fodor AA. Association between composition of the human gastrointestinal microbiome and development of fatty liver with choline deficiency. Gastroenterology 140: 976–986 (2011)

Sreeramulu G, Zhu Y, Knol W. Kombucha fermentation and its antimicrobial activity. J. Agric. Food Chem. 48: 2589–2594 (2000)

Toye A, Dumas M, Blancher C, Rothwell A, Fearnside J, Wilder S, Bihoreau M, Cloarec O, Azzouzi I, Young S. Subtle metabolic and liver gene transcriptional changes underlie diet-induced fatty liver susceptibility in insulin-resistant mice. Diabetologia 50: 1867–1879 (2007)

Turnbaugh PJ, Hamady M, Yatsunenko T, Cantarel BL, Duncan A, Ley RE, Sogin ML, Jones WJ, Roe BA, Affourtit JP. A core gut microbiome in obese and lean twins. Nature 457: 480–484 (2009)

Turnbaugh PJ, Ley RE, Hamady M, Fraser-Liggett CM, Knight R, Gordon JI. The human microbiome project. Nature 449: 804–810 (2007)

Wieland A, Frank D, Harnke B, Bambha K. Systematic review: microbial dysbiosis and nonalcoholic fatty liver disease. Aliment. Pharmacol. Ther. 42: 1051–1063 (2015)

Wigg A, Roberts-Thomson I, Dymock R, McCarthy P, Grose R, Cummins A. The role of small intestinal bacterial overgrowth, intestinal permeability, endotoxaemia, and tumour necrosis factor α in the pathogenesis of non-alcoholic steatohepatitis. Gut 48: 206–211 (2001)

Wong VW, Tse CH, Lam TT, Wong GL, Chim AM, Chu WC, Yeung DK, Law PT, Kwan HS, Yu J, Sung JJ. Molecular characterization of the fecal microbiota in patients with nonalcoholic steatohepatitis—A longitudinal study. PLoS One 8: e62885 (2013)

Woting A, Pfeiffer N, Loh G, Klaus S, Blaut M. Clostridium ramosum promotes high-fat diet-induced obesity in gnotobiotic mouse models. MBio 5: e01530-01514 (2014)

Zhu L, Baker SS, Gill C, Liu W, Alkhouri R, Baker RD, Gill SR. Characterization of gut microbiomes in nonalcoholic steatohepatitis (NASH) patients: a connection between endogenous alcohol and NASH. Hepatology 57: 601–609 (2013)
Acknowledgements
This work was supported by a 2-year Research Grant of Pusan National University (Y.-S.S.).
Ethics declarations
Conflict of interest
The authors declare no conflict of interest.
About this article
Cite this article
Jung, Y., Kim, I., Mannaa, M. et al. Effect of Kombucha on gut-microbiota in mouse having non-alcoholic fatty liver disease. Food Sci Biotechnol 28, 261–267 (2019). https://doi.org/10.1007/s10068-018-0433-y
Received:

Revised:

Accepted:

Published:

Issue Date:
Keywords
Gut-microbiota

Kombucha tea

Liver protection

Non-alcoholic fatty liver disease