Abstract
Korean red ginseng is a traditional health food frequently used to prevent or treat various diseases worldwide. In this study, we evaluated the immunomodulatory activities of eleven compounds (1–11) isolated from Korean red ginseng, focusing on T cell function. First, the effects of the eleven compounds were studied on the regulation of IL-2, a potent T cell growth factor. Compounds 5, 7, and 9 significantly increased IL-2 secretion in phorbol 12-myristate 13-acetate (PMA)/ionomycin (Io)-induced EL-4 T cells. Next, we examined the effects of compounds 5, 7, and 9 on the regulation of transcription factors related to IL-2 production in T cells. Compound 9 significantly increased the PMA/Io-induced promoter activity of nuclear factor of activated T cells (NF-AT) in EL-4 T cells, but did not have any significant effects on the promoters of NF- κB. These results suggest that compound 9 activates T cell function via the regulation of NF-AT-mediated IL-2 production.
This is a preview of subscription content, log in to check access.
Access options
Buy single article
Instant access to the full article PDF.
US$ 39.95
Price includes VAT for USA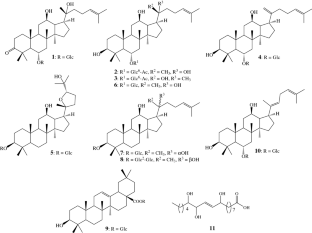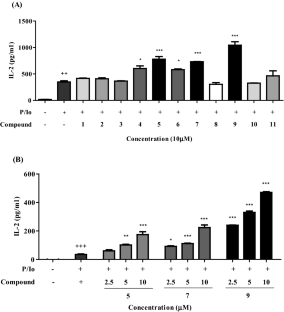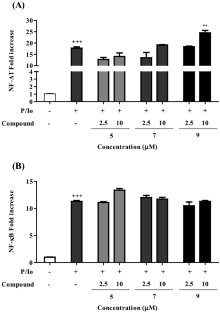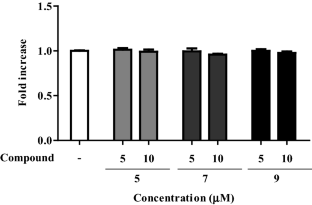 References
Atopkina LN, Malinovskaya GV, Elyakov GB, Uvarova NI, Woerdenbag HJ, Koulman A, Pras N, Potier P. Cytotoxicity of natural ginseng glycosides and semisynthetic analogues. Planta Med. 65:30–34 (1999)

Attele AS, Wu JA, Yuan C-S. Ginseng pharmacology: multiple constituents and multiple actions. Biochem. Pharmacol. 58:1685–1693 (1999)

Chen F, Sun Y, Zheng SL, Qin Y, McClements DJ, Hu JN, Deng ZY. Antitumor and immunomodulatory effects of ginsenoside Rh2 and its octyl ester derivative in H22 tumor-bearing mice. J. Funct. Foods 32:382–390 (2017)

Gaffen SL, Liu KD. Overview of interleukin-2 function, production and clinical applications. Cytokine. 28:109–123 (2004)

He LX, Ren JW, Liu R, Chen QH, Zhao J, Wu X, Zhang ZF, Wang JB, Pettinato G, Li Y. Ginseng (Panax ginseng Meyer) oligopeptides regulate innate and adaptive immune responses in mice via increased macrophage phagocytosis capacity, NK cell activity and Th cells secretion. Food Funct. 8:3523–3532 (2017)

Jia L, Zhao Y, Liang XJ. Current evaluation of the millennium phytomedicine-ginseng (II): Collected chemical entities, modern pharmacology, and clinical applications emanated from traditional Chinese medicine. Curr. Med. Chem. 16:2924–2942 (2009)

Jiang Z, Yang Y, Yang Y, Zhang Y, Yue Z, Pan Z, Ren X. Ginsenoside Rg3 attenuates cisplatin resistance in lung cancer by downregulating PD-L1 and resuming immune. Biomed. Pharmacother. 96:378-383 (2017)

Kang S, Min H. Ginseng, the'immunity boost': the effects of Panax ginseng on immune system. J. Ginseng Res. 36:354 (2012)

Kara EE, Comerford I, Fenix KA, Bastow CR, Gregor CE, McKenzie DR, McColl SR. Tailored immune responses: novel effector helper T cell subsets in protective immunity. PLoS Pathog. 10:e1003905 (2014)

Kim HP, Imbert J, Leonard WJ. Both integrated and differential regulation of components of the IL-2/IL-2 receptor system. Cytokine Growth Factor 17:349–366 (2006)

Lee J-H, Han Y. Ginsenoside Rg1 helps mice resist to disseminated candidiasis by Th1 type differentiation of CD4 + T cell. Int. Immunopharmacol 6:1424–1430 (2006)

Liu JO. Calmodulin‐dependent phosphatase, kinases, and transcriptional corepressors involved in T‐cell activation. Immunol. Rev. 228:184–198 (2009)

Macian F. NFAT proteins: key regulators of T-cell development and function. Nat. Rev. Immunol. 5:472–484 (2005)

Maloy KJ, Powrie F, Regulatory T cells in the control of immune pathology. Nat. Immunol. 2:816–822 (2001)

Park JU, Kang BY, Lee HJ, Kim S, Bae D, Park JH, Kim YR Tetradecanol reduces EL-4 T cell growth by the down regulation of NF-κB mediated IL-2 secretion. Eur. J. Pharmacol. 799:135–142 (2017a)

Park JU, Kang BY, Lee HJ, Kim S, Bae D, Park JH, Kim YR. Tetradecanol reduces EL-4 T cell growth by the down regulation of NF-κB mediated IL-2 secretion. Eur. J. Pharmacol. 799:135–142 (2017b)

Read KA, Powell MD, McDonald PW, Oestreich KJ. IL-2, IL-7, and IL-15: Multistage regulators of CD4 + T helper cell differentiation. Exp. Hematol. 44:799–808 (2016)

Rochman Y, Spolski R, Leonard WJ. New insights into the regulation of T cells by γc family cytokines. Nat Rev Immunol 9:480-490

Sarikahya NB, Nalbantsoy A, Top H, Gokturk RS, Sumbul H, Kirmizigul S. Immunomodulatory, hemolytic and cytotoxic activity potentials of triterpenoid saponins from eight Cephalaria species. Phytomedicine 38:135–144 (2018)

Shi Q, Shi X, Zuo G, Xiong W, Li H, Guo P, Wang F, Chen Y, Li J, Chen DL. Anticancer effect of 20 (S)-ginsenoside Rh2 on HepG2 liver carcinoma cells: Activating GSK-3β and degrading β-catenin. Oncol. Rep. 36:2059–2070 (2016)

Sim GC, Martin-Orozco N, Jin L, Yang Y, Wu S, Washington E, Sanders D, Lacey C, Wang Y, Vence L. IL-2 therapy promotes suppressive ICOS + Treg expansion in melanoma patients. J. Clin. Investig. 124:99–110 (2014)

Sim GC, Radvanyi L. The IL-2 cytokine family in cancer immunotherapy. Cytokine Growth Factor Rev. 25:377–390 (2014)

Smith KA. Interleukin-2. Curr. Opin. Immunol. 4:271–276 (1992)

Vinh LB, Lee Y, Han YK, Kang JS, Park JU, Kim YR, Yang SY, Kim YH Two new dammarane-type triterpene saponins from Korean red ginseng and their anti-inflammatory effects. Bioorg. Med. Chem. Lett. 27:5149–5153 (2017)

Wang C, He H, Dou G, Li J, Zhang X, Jiang M, Li P, Huang X, Chen H, Li L. Ginsenoside 20 (S)-Rh2 induces apoptosis and differentiation of acute myeloid leukemia cells: role of orphan nuclear receptor Nur77. J. Agric. Food Chem. 65:7687–7697 (2017)

Williams MA, Tyznik AJ, Bevan MJ. Interleukin-2 signals during priming are required for secondary expansion of CD8 + memory T cells. Nature 441:890 (2006)

Yang Z, Chen A, Sun H, Ye Y, Fang W Ginsenoside Rd elicits Th1 and Th2 immune responses to ovalbumin in mice. Vaccine 25:161–169 (2007)
Acknowledgements
This research was financially supported by the Priority Research Center Program (Code: 2009-0093815) through the National Research Foundation of Korea (NRF) funded by the Ministry of Education, Science and Technology Korea.
Ethics declarations
Conflict of interest
The authors declare that they have no competing interests.
Electronic supplementary material
Below is the link to the electronic supplementary material.
About this article
Cite this article
Vinh, L.B., Park, J.U., Duy, L.X. et al. Ginsenosides from Korean red ginseng modulate T cell function via the regulation of NF-AT-mediated IL-2 production. Food Sci Biotechnol 28, 237–242 (2019). https://doi.org/10.1007/s10068-018-0428-8
Received:

Revised:

Accepted:

Published:

Issue Date:
Keywords
Panax ginseng

Korean red ginseng

Ginsenosides

IL-2