Abstract
Orostachys malacophyllus var. iwarenge was extracted with water, 30 and 70% ethyl alcohol. The ethyl alcohol extracts showed higher total phenol contents and greater antioxidant effects than the water extract. Treatment with the 70% alcohol extract inhibited reactive oxygen species (ROS) production and lipid accumulation during 3T3-L1 adipogenesis. Furthermore, the 70% extract inhibited the mRNA and protein expressions of the pro-oxidant enzyme NADPH oxidase 4 and of the NADPH-producing enzyme glucose-6-phosphate dehydrogenase. The mRNA and protein expressions of antioxidant enzymes, such as copper-zinc superoxide dismutase and manganese superoxide dismutase increased in cells treated with the 70% alcohol extract. In addition, this extract suppressed the mRNA and protein levels of adipogenic transcription factors and of their marker genes. These results indicate that O. malacophyllus extracts inhibit lipid accumulation and ROS production by controlling adipogenic factors and pro-/anti-oxidant enzyme responses.
This is a preview of subscription content, log in to check access.
Access options
Buy single article
Instant access to the full article PDF.
US$ 39.95
Price includes VAT for USA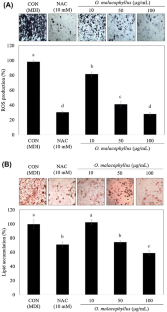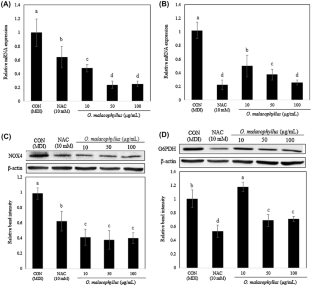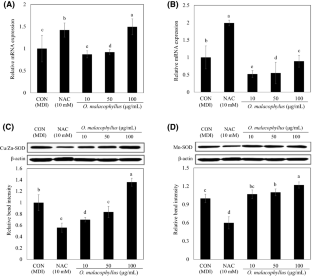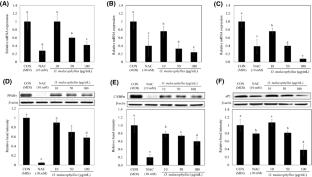 References
Adachi T, Toishi T, Wu H, Kamiya T, Hara H. 2009. Expression of extracellular superoxide dismutase during adipose differentiation in 3T3-L1 cells. Redox Rep. 14: 34–40 (2009)

Calzadilla P, Sapochnik D, Cosentino S, Diz V, Dicelio L, Calvo JC, Guerra LN. 2011. N-Acetylcysteine reduces makers of differentiation in 3T3-L1 adipocytes. Int. J. Mol. Sci. 12: 6936–6951 (2011)

Csaki LS, Reue K. Lipins: multifunctional lipid metabolism proteins. Annu. Rev. Nutr. 30: 257–272 (2010)

Evans JL, Goldfine ID, Maddux BA, Grodsky GM. Are oxidative stress-activated signaling pathways mediators of insulin resistance and beta-cell dysfunction? Diabetes 52: 1–8 (2003).

Fève B. Adipogenesis: cellular and molecular aspects. Best Pract. Res. Clin. Endocrinol. Metab. 19: 483–499 (2005)

Furukawa S, Fujita T, Shimabukuro M, Iwaki M, Yamada Y, Nakajima Y, Nakayama O, Makishima M, Matsuda M, Shimomura I. Increased oxidative stress in obesity and its impact on metabolic syndrome. J. Clin. Invest. 114: 1752–1761 (2004)

Hong EY, Kim GH. Comparison of extraction conditions for phenolic, flavonoid content and determination of rosmarinic acid from Perilla frutescens var. acuta. Int. J. Food Sci. Technol. 47: 1353–1359 (2010)

Jeong CH, Kwak JH, Kim JH, Choi GN, Kim DO, Heo HJ. Neuronal cell protective and antioxidant effects of phenolics obtained from Zanthoxylum piperitum leaf using in vitro model system. Food Chem. 125: 417–422 (2011)

Jeong JH, Ryu DS, Suk DH, Lee DS. Anti-inflammatory effects of ethanol extract from Orostachys japonicus on modulation of signal pathways in LPS-stimulated RAW 264.7 cells. BMB Reports 44: 399–404 (2011)

Kopelman PG. Obesity as a medical problem. Nature 404: 635–643 (2000)

Kruger NJ, von Schaewen A. The oxidative pentose phosphate pathway: structure and organisation. Curr. Opin. Plant Biol. 6: 236–246 (2003)

Lee H, Lee YJ, Choi H, Ko EH, Kim JW. Reactive oxygen species facilitate adipocyte differentiation by accelerating mitotic clonal expansion. J. Biol. Chem. 284: 10601–10609 (2009)

Lee OH, Seo MJ, Choi HS, Lee BY. Pycnogenol inhibits lipid accumulation in 3T3-L1 adipocytes with the modulation of reactive oxygen species (ROS) production associated with antioxidant enzyme responses. Phytother. Res. 26: 403–411 (2012)

Lee YJ, Seo MJ, Lee OH, Kim KJ, Lee BY. Hesperitin inhibits lipid accumulation and ROS production adipocyte differentiation in 3T3-L1 cells. J. Food Biochem. 41: e12348 (2016)

Li G, Min BS, Zheng C, Lee J, Ow SR, Ahn KS, Lee BK. Neuroprotective and free radical scavenging activities of phenolic compounds from Hovenia dulcis. Arch. Pharm. Res. 28: 804–809 (2005)

Liu GS, Chan EC, Higuchi M, Dusting GJ, Jiang F. Redox mechanisms in regulation of adipocyte differentiation: beyond a general stress response. Cells 1: 976–993 (2012)

McCord JM, Fridovich I. Superoxide dismutase: the first twenty years. 1968–1988. Free Radic. Biol. Med. 5: 363–369 (1988)

Meister A. Glutathione metabolism and its selective modification. J. Biol. Chem. 263: 17205–17208 (1988)

Park HJ, Han SY, Kun YP, Sook HR, Hae YC, Jae SC. 1991. Flavonoids from the whole plants of Orostachys japonicus. Arch. Pharm. Res. 14: 167–171 (2007)

Park J, Choe SS, Choi AH, Kim KH, Yoon MJ, Suganami T, Ogawa Y, Kim J. B. Increase in glucose-6-phosphate dehydrogenase in adipocytes stimulates oxidative stress and inflammatory signals. Diabetes 55: 2939–2949 (2006)

Park J, Rho HK, Kim KH, Choe SS, Lee YS, Kim JB. Overexpression of glucose-6-phosphate dehydrogenase is associated with lipid dysregulation and insulin resistance in obesity. Mol. Cell Biol. 25: 5146–5157 (2005)

Re R, Pellegrini N, Proteggente A, Pannala A, Yang M, Rice-Evans C. Anti-oxidant activity applying an improved ABTS radical cation decolorization assay. Free Rad. Biol. Med. 26:1231–1237 (1999)

Rosen ED, Walkey CJ, Puigserver P, Spiegelman BM. Transcriptional regulation of adipogenesis. Genes Dev. 14: 1293–1307 (2000)

Ryu DS, Baek GO, Kim EY, Kim KH, Lee DS. Effects of polysaccharides derived from Orostachys japonicus on induction of cell cycle arrest and apoptotic cell death in human colon cancer cells. BMB Reports 43: 750–755 (2009)

Seo MJ, Choi HS, Lee OH, Lee BY. Grateloupia lanceolata (Okamura) Kawaguchi, the edible red seaweed, inhibits lipid accumulation and reactive oxygen species production during differentiation in 3T3-L1 cells. Phytother. Res. 27: 655–663 (2013)

Seo MJ, Seo YJ, Pan CH, Lee OH, Kim KJ, Lee BY. Fucoxanthin suppressed lipid accumulation and ROS production during differentiation in 3T3-L1 adipocytes. Phytother. Res. 30: 1802–1808 (2016)

Singleton VL, Rossi JA. Colorimetry of total phenolics with phosphomolybdic-phosphotungstic acid reagents. Am. J. Enol. Vitic. 16: 144–158 (1965)

Son JE, Lee BH, Nam TG, Im S, Chung DK, Lee JM, Chun OK, Kim DO. Flavonols from the ripe fruits of Opuntia ficus-indica var. Saboten protect neuronal PC-12 cells against oxidative stresss. J. Food Biochem. 38: 518–526 (2014)

Storch J, Thumser AEA. The fatty acid transport function of fatty acid-binding proteins. Biochimica et Biophysica Acta (BBA) - Mol. Cell Biol. Lipids 1486(1): 28–44 (2000)

Tanaka T, Yoshida N, Kishimoto T, Akira S. Defective adipocyte differentiation in mice lacking the C/EBP-beta and/or C/EBP-delta gene. EMBO J. 16: 7432–7443 (1997)

Tontonoz P, Hu E, Spiegelman BM. Stimulation of adipogenesis in fibroblasts by PPARγ2, a lipid-activated transcription factor. Cell 79(7): 1147–1156 (1994)

Vincent HK, Bourguignon CM, Vincent KR, Weltman AL, Bryant M, Taylor AG. Antioxidant supplementation lowers exercise-induced oxidative stress in young overweight adults. Obesity 14: 2224–2235 (2006)

Vincent HK, Taylor AG. Biomarkers and potential mechanisms of obesity-induced oxidant stress in humans. Int. J. Obes. 30(3): 400–418 (2006)

Wang, W., Zhang, Y., Lu, W., & Liu, K. Mitochondrial reactive oxygen species regulate adipocyte differentiation of mesenchymal stem cells in hematopoietic stress induced by arabinosylcytosine. PloS One 10: e0120629 (2015).

Westcott ND, Muir AD. Process for extracting lignans from flaxeed. United States Patent, 5, 705. 618 (1998)

Yoon Y, Kim KS, Hong SG, Kang BJ, Lee MY, Cho DW. Protective effects of Orostachys japonicus A. Berger (Crossuloceae) on H2O2–induced apoptosis in GTI-1 mouse hypothalamic neuronal cell line. J. Ethnopharmacol. 69: 73–78 (2000)

Zhao BS, Roundtree IA, He C. Post-transcriptional gene regulation by mRNA modifications. Nature Review Mol. Cell Biol. 18: 31–42 (2017)
Acknowledgements
This work was supported by the National Research Foundation of Korea (NRF) Grant funded by the Korea Government (No. 2016R1A2B4014740).
About this article
Cite this article
Jang, M., Choi, H. & Kim, G. Inhibitory effects of Orostachys malacophyllus var. iwarenge extracts on reactive oxygen species production and lipid accumulation during 3T3-L1 adipocyte differentiation. Food Sci Biotechnol 28, 227–236 (2019). https://doi.org/10.1007/s10068-018-0426-x
Received:

Revised:

Accepted:

Published:

Issue Date:
Keywords
Orostachys malacophyllus

Antioxidant

3T3-L1 cells

Reactive oxygen species

Adipocyte differentiation