Abstract
Cheongguk-jang is a Korean traditional food produced by natural fermentation of boiled soybean. In cheongguk-jang, bacilli are dominant bacteria and produce highly viscous poly-γ-glutamic acid (γ-PGA), which improves human health functions. The purpose of this experiment was to find maximum production condition for the γ-PGA content during fermentation of cheongguk-jang with Bacillus subtilis 168. The most viscous cheongguk-jang was produced when soybean was cooked at 121 °C for 60 min in the presence of 50%(w/w) added water, followed by fermentation at 40 °C for 2 days. Additional conditions for maximum production of γ-PGA were the addition of 0.1%(w/w) FeCl3·6H2O, 3.0%(w/w) lactose and 3.0%(w/w) yeast extract as nutrients of inorganic salts, carbon source and nitrogen source, respectively. The three conditions did not show cumulative effect on the γ-PGA production and the addition of iron salt induced the most γ-PGA (0.97 ± 0.05%(w/w)), which corresponded to 2.7 times of the content in control cheongguk-jang.
This is a preview of subscription content, log in to check access.
Access options
Buy single article
Instant access to the full article PDF.
US$ 39.95
Price includes VAT for USA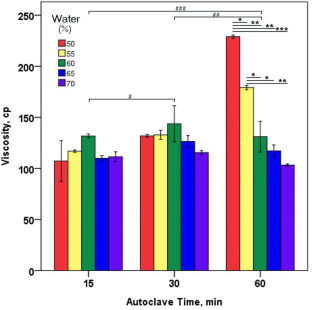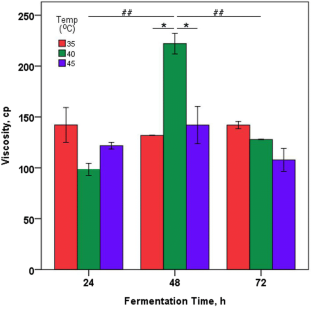 References
Ashiuchi M, Kamei T, Baek DH, Shin SY, Sung MH, Soda K, Yagi T, Misono H. Isolation of Bacillus subtilis (chungkookjang), a poly-γ-glutamate producer with high genetic competence. Appl. Microbiol. Biotechnol. 57: 764–769 (2001)

Baek HI, Jung SY, Ha KC, Kim HM, Choi EK, Jung SJ, Park EO, Shin SW, Kim MG, Yun SK, Kwon DY, Yang HJ, Kim MJ, Kang HJ, Kim JH, Jeong DY, Jo SW, Cho BH, Chae SW. Effect of Chongkukjang on histamine-induced skin wheal response: a randomized, double-blind, placebo-controlled trial. J. Ethnic Foods 2: 52–57 (2015)

Baek LM, Park LY, Park KS, Lee SH. Effect of starter cultures on the fermentative characteristics of Cheonggukjang. Kor. J. Food Sci. Technol. 40: 400–405 (2008)

Bajaj IB, Lele SS, Singhal RS. Enhanced production of poly (gamma-glutamic acid) from Bacillus licheniformis NCIM 2324 in solid state fermentation. J. Ind. Microbiol. Biotechnol. 35: 1581–1586 (2008)

Bajaj IB, Singhal RS. Enhanced production of poly (γ-glutamic acid) from Bacillus licheniformis NCIM 2324 by using metabolic precursors. Appl. Biochem. Biotechnol. 159: 133–141 (2009)

Bang BH, Rhee MS, Kim KP, Yi DH. Influences of culture medium components on the production poly (γ-glutamic acid) by Bacillus subtilis GS-2 isolated Chungkookjang. Korean J. Food Nutr. 25: 677–684 (2012)

Chen J, Shi F, Zhang B, Zhu F, Cao W, Xu Z, Xu G, Cen P. Effects of cultivation conditions on the production of gamma-PGA with Bacillus subtilis ZJU-7. Appl. Biochem. Biotechnol. 160: 370–377 (2010)

Cheng C, Asada Y, Aida T. Production of γ-polyglutamic acid by Bacillus licheniformis A35 under denitrifying conditions. Agric. Biol. Chem. 53: 2369–2375 (1989)

Davaatseren M, Hwang JT, Ho Park J, Kim MS, Wang S, Sung M. Poly-γ-glutamic acid attenuates angiogenesis and inflammation in experimental colitis. Mediators Inflamm. 2013: 982383 (2013)

Feng J, Shi Q, Zhou G, Wang L, Chen A, Xie X, Huang X, Hu W. Improved production of poly-γ-glutamic acid with low molecular weight under high ferric ion concentration stress in Bacillus licheniformis ATCC 9945a. Process Biochem. 56: 30–36 (2017)

Francis F, Sabu A, Nampoothiri KM, Ramachandran S, Ghosh S, Szakacs G, Pandey A. Use of response surface methodology for optimizing process parameters for the production of α-amylase by Aspergillus oryzae. Biochem. Eng. J. 15: 107–115 (2003)

Goto A, Kunioka M. Biosynthesis and hydrolysis of poly(gamma-glutamic acid) from Bacillus subtilis IF03335. Biosci. Biotechnol. Biochem. 56: 1031–1035 (1992)

Hara T, Ueda S. Regulation of poly glutamate production in Bacillus subtilis (natto): transformation of high pga productivity. Agric. Biol. Chem. 46: 2275–2281 (1982)

Inatsu Y, Keitarou K, Yoshifumi I. Characterization of Bacillus subtilis strains isolated form fermented soybean foods in Southeast Asia: Comparison with B. subtilis (natto) starter strains. Jpn. Agric. Res. Q. 36: 169–175 (2002)

Jian X, Shouwen C, Ziniu Y. Optimization of process parameters for poly γ-glutamate production under solid state fermentation from Bacillus subtilis CCTCC202048. Process Biochem. 40: 3075–3081 (2005)

Kim TW, Lee TY, Bae HC, Hahm JH, Kim YH, Park C, Kang TH, Kim CJ, Sung MH, Poo H. Oral Administration of high molecular mass poly-γ-glutamate induces NK Cell-Mediated Antitumor Immunity. J. Immunol. 179: 775–780 (2007)

Lee BY, Kim DM, Kim KH. Physico-chemical properties of viscous substance extracted from Chungkook-jang. Kor. J. Food Sci. Technol. 23: 599–604 (1991)

Lee EH, Son WC, Lee SE, Kim BH. Anti-Obesity Effects of poly-γ-glutamic acid with or without isoflavones on high-fat diet induced obese mice. Biosci. Biotechnol. Biochem. 77: 1694–702 (2013)

Lee MY, Park SY, Jung KO, Park KY, Kim SD. Quality and functional characteristics of Chungkukjang prepared with various Bacillus sp. isolated from traditional Chungkukjang. J. Food Sci. 70: M191–M196 (2005)

Luo Z, Guo Y, Liu J, Qiu H, Zhao M, Zou W, Li S. Microbial synthesis of poly-γ-glutamic acid: current progress, challenges, and future perspectives. Biotechnol. Biofuels 9: 134 (2016)

Nie G, Zhu Z, Liu F, Nie Z, Ye Y, Yue W. Co-Production of nattokinase and poly (γ-glutamic acid) under solid-state fermentation using soybean and rice husk. Braz. Arch. Biol. Technol. 58: 718–724 (2015)

Oh SM, Jang EK, Seo JH, Ryu MJ, Lee SP. Characterization of γ-polyglutamic acid produced from the solid-state fermentation of soybean milk cake using Bacillus sp. Food Sci. Biotechnol. 16: 509–514 (2007)

Park C, Choi JC, Choi YH, Nakamura H, Shimanouchi K, Horiuchi T, Misono H, Sewaki T, Soda K, Ashiuchi M, Sung MH. Synthesis of super-high-molecular-weight poly-γ-glutamic acid by Bacillus subtilis subsp. chungkookjang. J. Mol. Catal. B Enzym. 35: 128–133 (2005)

Peng Y, Jiang B, Zhang T, Mu W, Miao M, Hua Y. High-level production of poly(γ-glutamic acid) by a newly isolated glutamate-independent strain, Bacillus methylotrophicus. Process Biochem. 50: 329–335 (2015)

Regestein Nee Meissner L, Arndt J, Palmen TG, Jestel T, Mitsunaga H, Fukusaki E, Buchs J. Investigation of poly(gamma-glutamic acid) production via online determination of viscosity and oxygen transfer rate in shake flasks. J. Biol. Eng. 11: 1–16 (2017)

Richard A, Margaritis A. Rheology, oxygen transfer, and molecular weight characteristics of poly(glutamic acid) fermentation by Bacillus subtilis. Biotechnol. Bioeng. 82: 299–305 (2003)

Seo JH, Kim CS, Lee SP. Physicochemical properties of poly-γ-glutamic acid produced by a novel Bacillus subtilis HA isolated from Cheonggukjang. J. Food Sci. Nutr. 13: 354–361 (2008)

Shih IL, Van YT. The production of poly-(gamma-glutamic acid) from microorganisms and its various applications. Bioresour. Technol. 79: 207–225 (2001)

Shin EJ, Sung MJ, Park JH, Yang HJ, Kim MS, Hur HJ, Hwang JT. Poly-γ-glutamic acid induces apoptosis via reduction of COX-2 expression in TPA-induced HT-29 human colorectal cancer cells. Int. J. Mol. Sci. 16: 7577–7586 (2015)

Sirisansaneeyakul S, Cao MF, Kongklom N, Chuensangjun C, Shi ZP, Chisti Y. Microbial production of poly-gamma-glutamic acid. World J. Microbiol. Biotechnol. 33: 8 (2017)

Tanimoto H, Mori M, Motoki M, Torii K, Kadowaki M, Noguchi T. Natto mucilage containing poly-gamma-glutamic acid increases soluble calcium in the rat small intestine. Biosci. Biotechnol. Biochem. 65: 516–521 (2001)

Wang FQ, Liang JZ, Xiao W, Wang W, Fu DW. Improved production of poly-gamma-glutamate by newly Bacillus subtilis 115. J. Biobased Mater. Bio. 11: 159–168 (2017)

Wei B, Cha SY, Kang M, Kim YJ, Cho CW, Rhee YK, Hong HD, Jang HK. Antiviral activity of Chongkukjang extracts against influenza A virus in vitro and in vivo. J. Ethnic Foods 2: 47–51 (2015)

Yang EI, Kim YS. Physiological properties of viscous substance from Cheonggukjang. J. Agric. Life Sci. 44: 10–14 (2013)

Zhang H, Zhu J, Zhu X, Cai J, Zhang A, Hong Y, Huang J, Huang L, Xu Z. High-level exogenous glutamic acid-independent production of poly-(γ-glutamic acid) with organic acid addition in a new isolated Bacillus subtilis C10. Bioresour. Technol. 116: 241–246 (2012)
About this article
Cite this article
Ratha, P., Jhon, D. Factors increasing poly-γ-glutamic acid content of cheongguk-jang fermented by Bacillus subtilis 168. Food Sci Biotechnol 28, 103–110 (2019). https://doi.org/10.1007/s10068-018-0424-z
Received:

Revised:

Accepted:

Published:

Issue Date:
Keywords
Bacillus subtilis 168

Cheongguk-jang

Fermentation

Poly-γ-glutamic acid