Abstract
Sulforaphane is a significant chemopreventive compound which is the predominant glucosinolate in broccoli sprouts. However, the existence of the epithiospecifier protein could direct the hydrolysis of glucosinolates toward sulforaphane nitrile formation instead of sulforaphane. Therefore, the study aimed on improving the yielding of sulforaphane in broccoli sprouts with a new method of the united hydrolysis of cruciferous sprouts. According to the results, the addition of radish, rocket and rape sprouts to broccoli sprouts could promote the hydrolysis of the glucoraphanin to anticancer effective sulforaphane to 2.03, 2.32 and 1.95-fold, respectively, compared to single broccoli sprouts. Meanwhile, the formation of non-bioactive sulforaphane nitrile in these three groups decreased greatly. However, the addition of mustard sprouts had no positive effect. These observations could make a contribution to the potential chemoprotective effects of broccoli sprouts.
This is a preview of subscription content, log in to check access.
Access options
Buy single article
Instant access to the full article PDF.
US$ 39.95
Price includes VAT for USA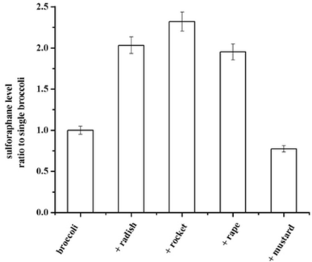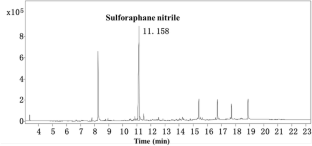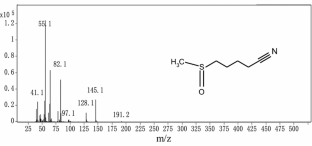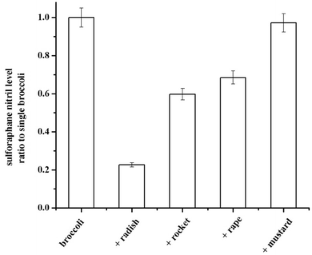 Abbreviations
ESP:

Epithiospecifier protein

TFA:

Trifluoroacetic acid

HPLC/Q-TOF/MS:

High performance liquid chromatography/quadrupole-time of flight mass spectrometer

GC:

Gas chromatography
References
1.

Ambrosone, C.B., McCann, S.E., Freudenheim, J.L., Marshall, J.R., Zhang, Y., and Shields, P.G. Breast cancer risk in premenopausal women is inversely associated with consumption of Broccoli, a source of isothiocyanates, but is not modified by GST genotype. Nutrition. 134: 1134–1138 (2004)

2.

Lippmann, D., Lehmann, C., Florian, S., Barknowitz, G., Haack, M., Mewis, I., Wiesner, M., Schreiner, M., Glatt, H., Brigelius-Flohé, R., and Kipp, A.P. Glucosinolates from pak choi and broccoli induce enzymes and inhibit inflammation and colon cancer differently. Food and Function 5:1073–1081 (2014)

3.

Wang, N., Shen, L., Qiu, S., Wang, X., Wang, K., Hao, J., and Xu, M. Analysis of the isothiocyanates present in three Chinese Brassica vegetable seeds and their potential anticancer bioactivities. European Food Research and Technology. 231: 951–958 (2010)

4.

Hanschen, F. S., & Schreiner, M. Isothiocyanates, nitriles, and epithionitriles from glucosinolates are affected by genotype and developmental stage in Brassica oleracea varieties. Front Plant Sci. 8: 1095 (2017)

5.

Vaughn, SF. and Berhow, MA. Glucosinolate hydrolysis products from various plant sources: pH effects, isolation, and purification. Industrial Crops and Products. 21: 193–202 (2005)

6.

Radošević, K., Srček, V.G., Bubalo, M.C., Brnčić, S.R., Takács, K., and Redovniković, I.R. Assessment of glucosinolates, antioxidative and antiproliferative activity of broccoli and collard extracts. Journal of Food Composition and Analysis. 61: 59–66 (2017)

7.

Zhang, Y. and Tang, L. Discovery and development of sulforaphane as a cancer chemopreventive phytochemical. Acta Pharmacologica Sinica. 28: 1343–1354 (2007)

8.

Liang, H., Lai, B., and Yuan, Q. Sulforaphane induces cell-cycle arrest and apoptosis in cultured human lung adenocarcinoma LTEP-A2 cells and retards growth of LTEP-A2 xenografts in vivo. Journal of Natural Products. 71: 1911–1914 (2008)

9.

Li, R., Song, D., Vriesekoop, F., Cheng, L., Yuan, Q., and Liang, H. Glucoraphenin, sulforaphene, and antiproliferative capacity of radish sprouts in germinating and thermal processes. European Food Research and Technology. 243: 547–554 (2017)

10.

Hoffmann and Bremer, S. Modulation of drug metabolizing enzymes by dietary doses of sulforaphane; role in its anti-hypertensive and anti-oxidant effect in spontaneously hypertensive rats. Journal of Clinical Toxicology. 6: (2016)

11.

Angeloni, C., Leoncini, E., Malaguti, M., Angelini, S., Hrelia, P., and Hrelia, S. modulation of phase II enzymes by sulforaphane: implications for its cardioprotective potential. Journal of Agricultural and Food Chemistry. 57: 5615–5622 (2009)

12.

Bahadoran, Z., Mirmiran, P., and Azizi, F. Potential efficacy of broccoli sprouts as a unique supplement for management of type 2 diabetes and its complications. Journal of Medicinal Food. 16: 375–382 (2013)

13.

Matusheski, N.V. and Jeffery, E.H. Comparison of the bioactivity of two glucoraphanin hydrolysis products found in broccoli, sulforaphane and sulforaphane nitrile. Journal of Agricultural & Food Chemistry. 49: 5743–5749 (2001)

14.

Matusheski, N.V., Swarup, R., Juvik, J.A., Mithen, R., Bennett, M., and Jeffery, E.H. Epithiospecifier Protein from Broccoli (Brassica oleracea L. ssp. italica) Inhibits Formation of the Anticancer Agent Sulforaphane. Journal of Agriculturaland Food Chemistry. 54: 2069–2076 (2006)

15.

Wang, G.C., Farnham, M., and Jeffery, E.H. Impact of thermal processing on sulforaphane yield from Broccoli (Brassica oleracea L. ssp. italica). Journal of Agricultural and Food Chemistry. 60: 6743–6748 (2012)

16.

Dosz, E.B. and Jeffery, E.H. Modifying the processing and handling of frozen broccoli for increased sulforaphane formation. Journal of Food Science. 58: 1459–1463 (2013)

17.

Clarke, J.D., Hsu, A., Riedl, K., Bella, D., Schwartz, S.J., Stevens, J.F., and Ho, E. Bioavailability and inter-conversion of sulforaphane and erucin in human subjects consuming broccoli sprouts or broccoli supplement in a cross-over study design. Pharmacological Research. 64: 456–463 (2011)

18.

Song, D., Liang, H., Kuang, P., Tang, P., Hu, G., and Yuan, Q. Instability and structural change of 4-Methylsulfinyl-3-butenyl isothiocyanate in the hydrolytic process. Journal of Agricultural and Food Chemistry. 61: 5097–5102 (2013)

19.

Guo, L., Yang, R., Wang, Z., Guo, Q., and Gu, Z. Glucoraphanin, sulforaphane and myrosinase activity in germinating broccoli sprouts as affected by growth temperature and plant organs. Journal of Functional Foods. 5: 70–77 (2014)

20.

Judson, H.G. and Barrell, G.K. The incidence of goitre in newborn lambs from ewes fed fodder radish, rape or Italian ryegrass with or without iodine supplementation. Proceedings of the New Zealand Society of Animal Production. 71: 66–70 (2011)

21.

Ghawi, S.K., Methven, L., and Niranjan, K. The potential to intensify sulforaphane formation in cooked broccoli (Brassica oleracea var. italica) using mustard seeds (Sinapis alba). Food Chemistry. 138: 1734–1741 (2013)
Acknowledgements
This work was supported by the fund of the Beijing Laboratory for Food Quality and Safety (Beijing Technology and Business University), the Beijing Natural Science Foundation (2162030), the Beijing Natural Science Foundation-Beijing Municipal Education Commission Joint Funding project (KZ201710020014), the National Natural Science Foundation of China (21606014), the Double First-rate Program (ylkxj03) and the 111 Project (B13005).
Electronic supplementary material
Below is the link to the electronic supplementary material.
About this article
Cite this article
Liang, H., Wei, Y., Li, R. et al. Intensifying sulforaphane formation in broccoli sprouts by using other cruciferous sprouts additions. Food Sci Biotechnol 27, 957–962 (2018). https://doi.org/10.1007/s10068-018-0347-8
Received:

Revised:

Accepted:

Published:

Issue Date:
Keywords
Broccoli sprouts

Sulforaphane

Glucoraphanin

Addition

Hydrolysis