Abstract
We performed a systematic review of cardiovascular risk factors in idiopathic inflammatory myopathies (IIMs) and their cardiovascular outcomes, including acute coronary syndrome and stroke. A qualitative systematic review was conducted from January 1956 to December 2022 according to the PRISMA protocol using three electronic databases: PubMed, Web of Science, and Scopus. The studies were analyzed based on the following eligibility criteria: at least one combination of the terms described in the search strategy appeared in the title, written in English, Portuguese, or Spanish, and addressed risk factors for cardiovascular diseases in IIMs. Brief reports, reviews, papers addressing juvenile IIMs, congress proceedings, monographs, and dissertations were excluded. Twenty articles were included. According to the literature, most patients with IIMs are middle-aged North American or Asian women, with dyslipidemia and hypertension. The prevalence of the cardiovascular risk factors was generally low in IIMs, but with a high incidence of acute myocardial infarction. Further theoretical and prospective studies are needed to define the actual impact of each variable (e.g., hypertension, diabetes, smoking, alcoholism, obesity, and dyslipidemia) on the cardiovascular risk of patients with IIMs.
Access options
Buy single article
Instant access to the full article PDF.
USD 39.95
Price excludes VAT (USA)
Tax calculation will be finalised during checkout.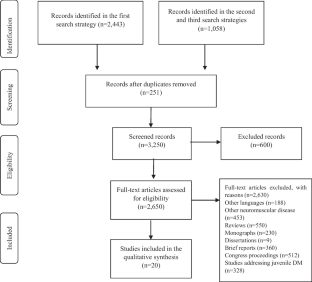 References
Lundberg I, Fujimoto M, Vencovsky J et al (2021) Idiopathic inflammatory myopathies. Nat Rev Dis Primers 7:86. https://doi.org/10.1038/s41572-021-00321-x

Cavagna L, Araguás-Trallero E, Meloni F et al (2019) Influence of antisynthetase antibodies specificities on antisynthetase syndrome clinical spectrum time course. J Clin Med 8:2013. https://doi.org/10.3390/jcm8112013

Mammen A, Chung T, Christopher-Stine L et al (2011) Autoantibodies against 3-hydroxy-3-methylglutaryl-coenzyme A reductase in patients with statin-associated autoimmune myopathy. Arthritis Rheum 63:713–721. https://doi.org/10.1002/art.30156

Párraga Prieto C, Ibrahim F, Campbell R, Chinoy H, Galloway J, Gordon P (2021) Similar risk of cardiovascular events in idiopathic inflammatory myopathy and rheumatoid arthritis in the first 5 years after diagnosis. Clin Rheumatol 40:231–238. https://doi.org/10.1007/s10067-020-05237-7

Oreska S, Storkanova H, Kudlicka J et al (2022) Cardiovascular risk in myositis patients compared to the general population: preliminary data from a single-center cross-sectional study. Front Med (Lausanne) 9:861419. https://doi.org/10.3389/fmed.2022.861419

de Moraes MT, de Souza FH, de Barros TB, Shinjo SK (2013) Analysis of metabolic syndrome in adult dermatomyositis with a focus on cardiovascular disease. Arthritis Care Res (Hoboken) 65:793–799. https://doi.org/10.1002/acr.21879

D'Silva KM, Li L, Lu N, Ogdie A, Avina-Zubieta JA, Choi HK (2021) Persistent premature mortality gap in dermatomyositis and polymyositis: a United Kingdom general population-based cohort study. Rheumatology 60:2653–2660. https://doi.org/10.1093/rheumatology/keaa661

Zhou S, Lai J, Wu C et al (2022) Myocardial involvement is not rare in anti-melanoma differentiation-associated gene 5 antibody-positive dermatomyositis/clinically amyopathic dermatomyositis: a retrospective study. Front Immunol 13:928861. https://doi.org/10.3389/fimmu.2022.928861

Kuo CF, See LC, Yu KH et al (2011) Incidence, cancer risk and mortality of dermatomyositis and polymyositis in Taiwan: a nationwide population study. Br J Dermatol 165:1273–1279

Silva MG, Borba EF, Mello SBV, Shinjo SK (2016) Serum adipocytokine profile and metabolic syndrome in young adult female dermatomyositis patients. Clinics 71:709–714

Tisseverasinghe A, Bernatsky S, Pineau CA (2009) Arterial events in persons with dermatomyositis and polymyositis. J Rheumatol 36:1943–1946. https://doi.org/10.3899/jrheum.090061

Dobloug GC, Svensson J, Lundberg IE, Holmqvist M (2018) Mortality in idiopathic inflammatory myopathy: results from a Swedish nationwide population-based cohort study. Ann Rheum Dis 77:40–47

Leclair V, Svensson J, Lundberg IE, Holmqvist M (2019) Acute coronary syndrome in idiopathic inflammatory myopathies: a population-based study. J Rheumatol 46:1509–1514. https://doi.org/10.3899/jrheum.181248

Moshtaghi-Svenson J, Lundberg IE, Euler MV, Arkeman EV, Holmqvist M (2019) The risk of ischemic and haemorrhagic stroke in idiopathic inflammatory myopathies: A Swedish population -based cohort study. Arthritis Care Res 71:970–976. https://doi.org/10.1002/acr.23702

Arnett DK, Blumenthal RS, Albert MA et al (2019) 2019 ACC/AHA Guideline on the primary prevention of cardiovascular disease: a report of the American College of Cardiology/American Heart Association Task Force on Clinical Practice Guidelines. Circulation 140:e596-646. https://doi.org/10.1161/CIR.0000000000000678

Schiffenbauer A, Faghihi-Kashani S, O'Hanlon TP et al (2018) The effect of cigarette smoking on the clinical and serological phenotypes of polymyositis and dermatomyositis. Semin Arthritis Rheum 48:504–512. https://doi.org/10.1016/j.semarthrit.2018.02.003

Diederichsen LP, Simonsen JA, Diederichsen AC et al (2016) Cardiac abnormalities in adult patients with polymyositis or dermatomyositis as assessed by noninvasive modalities. Arthritis Care Res 68:1012–1020. https://doi.org/10.1002/acr.22772

Bae SS, Oganesian B, Golub I, Charles-Schoeman C (2020) Statin use in patients with non-HMGCR idiopathic inflammatory myopathies: a retrospective study. Clin Cardiol 43:732–742. https://doi.org/10.1002/clc.23375

Araujo PAO, Silva MG, Borba EF, Shino SK (2018) High prevalence of metabolic syndrome in antisynthetase syndrome. Clin Exp Rheumatol 36:241–247

Lai EC-C, Huang Y-C, Liao T-C, Weng M-Y (2022) Premature coronary artery disease in patients with immune-mediated inflammatory disease: a population-based study. RMD Open 8:e001993. https://doi.org/10.1136/rmdopen-2021-001993

Linos E, Fiorentino D, Lingala B, Krishnan E, Chung L (2013) Atherosclerotic cardiovascular disease and dermatomyositis: an analysis of the Nationwide Inpatient Sample survey. Arthritis Res Ther 15:R7. https://doi.org/10.1186/ar4135

Lin YN, Lin CL, Chang KC, Kao CH (2015) Increased subsequent risk of acute coronary syndrome for patients with dermatomyositis/polymyositis: a nationwide population-based retrospective cohort study. Scand J Rheumatol 44:42–47. https://doi.org/10.3109/03009742.2014.918652

Weng M-Y, Lai ECC, Yang Y-HK (2019) Increased risk of coronary heart disease among patients with idiopathic inflammatory myositis: a nationwide population study in Taiwan. Rheumatology (Oxford) 58:1935–1941. https://doi.org/10.1093/rheumatology/kez076

Wang H, Cai Y, Cai L, Hu Y, Chen X, Deng J (2014) Altered lipid levels in untreated patients with early polymyositis. PLoS One 9:e89827. https://doi.org/10.1371/journal.pone.0089827

Rai SS, Choi HK, Sayre EC, Aviña-Zubieta JA (2016) Risk of myocardial infarction and ischaemic stroke in adults with polymyositis and dermatomyositis: a general population-based study. Rheumatology (Oxford) 55:461–469. https://doi.org/10.1093/rheumatology/kev336

Guerra F, Gelardi C, Capucci A, Gabrielli A, Danieli MG (2017) subclinical cardiac dysfunction in polymyositis and dermatomyositis: A speckle-tracking case-control study. J Rheumatol 44:815–821. https://doi.org/10.3899/jrheum.161311

Biddinger KJ, Emdin CA, Haas ME et al (2022) association of habitual alcohol intake with risk of cardiovascular disease. JAMA Netw Open 5:e223849. https://doi.org/10.1001/jamanetworkopen.2022.3849

World Health Organization – WHO (2023) Survey of diabetes, hypertension and chronic disease risk factors. Avaliable in: https://www3.paho.org/hq/index.php?option=com_content&view=article&id=3039:2010-survey-diabetes-hypertension-chronic-disease-risk-factors-belize&Itemid=0&lang=fr#gsc.tab=0 [Acess in March 18, 2023]

Grundy SM, Stone NJ, Bailey AL et al (2019) 2018 AHA/ACC/AACVPR/AAPA/ABC/ACPM/ADA/AGS/ APhA/ASPC/NLA/PCNA Guideline on the management of blood cholesterol: executive summary. Circulation 139:e1082–e1143. https://doi.org/10.1161/CIR.0000000000000625
Funding
Conselho Nacional de Desenvolvimento Científico e Tecnológico (CNPq) #301500/2022–3, and Faculdade de Medicina da USP—SP to SKS.
Ethics declarations
Conflict of interest
The authors declare they do not have a conflict of interest.
Additional information
Publisher's note
Springer Nature remains neutral with regard to jurisdictional claims in published maps and institutional affiliations.
Rights and permissions
Springer Nature or its licensor (e.g. a society or other partner) holds exclusive rights to this article under a publishing agreement with the author(s) or other rightsholder(s); author self-archiving of the accepted manuscript version of this article is solely governed by the terms of such publishing agreement and applicable law.
About this article
Cite this article
Gonçalves Júnior, J., Shinjo, S.K. Assessment of cardiovascular risk factors in patients with idiopathic inflammatory myopathies: a systematic review. Clin Rheumatol 42, 2943–2950 (2023). https://doi.org/10.1007/s10067-023-06633-5
Received:

Revised:

Accepted:

Published:

Issue Date:

DOI: https://doi.org/10.1007/s10067-023-06633-5
Keywords