Abstract
The short-term positive effects of intermittent fasting during the month of Ramadan on rheumatic inflammatory diseases have been previously evaluated. The objective of this study was to assess the sustainability of these effects on rheumatoid arthritis (RA) activity. This prospective study included 35 patients with RA, who observed fasting during Ramadan 2019. The disease activity was assessed and compared between three time points: T1 (6 months before the beginning of Ramadan), T2 (during the month between the 7th day of fasting and the 7th day after Ramadan), and T3 (averagely 3.4 months after fasting). The disease activity score 28 (DAS28) was used to evaluate the disease activity. After a significant decrease of all disease activity parameters between T1 and T2, a gradual increase of clinical and biological outcomes was seen between T2 and T3. Except for CRP, which was significantly higher at T3 (p = 0.02), the changes of the other disease activity parameters were not statistically significant. By reference to baseline data (T1), the decrease of ESR, DAS28 CRP, and DAS28 ESR induced after Ramadan fast was maintained until T3, with statistically significant differences. We can therefore conclude that this study has been conducted at the beginning of the fading-out of the effects of Ramadan fast, and that the duration of 3 months may be the recommended interval between fasting periods to maintain the positive effects of intermittent fasting on RA activity.
Key Points
• Intermittent fasting can induce a rapid improvement of rheumatoid arthritis activity.
• The positive effects of this model of fasting can last up to 3 months.
• The recommended interval between fasting periods may be estimated at 3 months.
Access options
Buy single article
Instant access to the full article PDF.
USD 39.95
Price excludes VAT (USA)
Tax calculation will be finalised during checkout.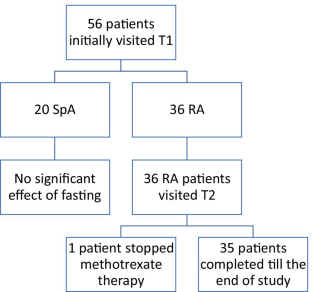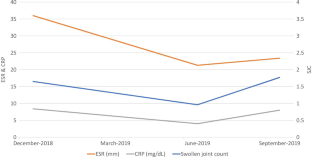 References
Ohlhorst SD, Russell R, Bier D et al (2013) Nutrition research to affect food and a healthy life span. J Nutr 143:1349–1354. https://doi.org/10.3945/jn.113.180638

Dey M, Cutolo M, Nikiphorou E (2020) Beverages in rheumatoid arthritis: what to prefer or to avoid. Nutrients 12.https://doi.org/10.3390/nu12103155

Iwashige K, Kouda K, Kouda M et al (2004) Calorie restricted diet and urinary pentosidine in patients with rheumatoid arthritis. J Physiol Anthropol Appl Human Sci 23:19–24. https://doi.org/10.2114/jpa.23.19

Adawi M, Watad A, Brown S et al (2017) Ramadan fasting exerts immunomodulatory effects: insights from a systematic review. Front Immunol 8:1144. https://doi.org/10.3389/fimmu.2017.01144

Adawi M, Damiani G, Bragazzi NL et al (2019) The impact of intermittent fasting (Ramadan fasting) on psoriatic arthritis disease activity, enthesitis, and dactylitis: a multicentre study. Nutrients 11. https://doi.org/10.3390/nu11030601

Ben Nessib D, Maatallah K, Ferjani H et al (2020) Impact of Ramadan diurnal intermittent fasting on rheumatic diseases. Clin Rheumatol 39:2433–2440. https://doi.org/10.1007/s10067-020-05007-5

Ben Nessib D, Maatallah K, Ferjani H et al (2020) The potential effect of Ramadan fasting on musculoskeletal diseases: new perspectives. Clin Rheumatol. https://doi.org/10.1007/s10067-020-05297-9

Goharifar H, Faezi ST, Paragomi P et al (2015) The effect of Ramadan fasting on quiescent systemic lupus erythematosus (SLE) patients' disease activity, health quality of life and lipid profile: a pilot study. Rheumatol Int 35:1409–1414. https://doi.org/10.1007/s00296-015-3282-5

Lorrot M, Fitoussi F, Faye A et al (2007) Laboratory studies in pediatric bone and joint infections. Arch Pediatr 14(Suppl 2):S86-90. https://doi.org/10.1016/s0929-693x(07)80040-6

van Leeuwen MA, van Rijswijk MH (1994) Acute phase proteins in the monitoring of inflammatory disorders. Baillieres Clin Rheumatol 8:531–552. https://doi.org/10.1016/s0950-3579(05)80114-1

Onder G, van der Cammen TJM, Petrovic M et al (2013) Strategies to reduce the risk of iatrogenic illness in complex older adults. Age Ageing 42:284–291. https://doi.org/10.1093/ageing/aft038

Faris MA-IE, Kacimi S, Al-Kurd RA et al (2012) Intermittent fasting during Ramadan attenuates proinflammatory cytokines and immune cells in healthy subjects. Nutr Res 32:947–955. https://doi.org/10.1016/j.nutres.2012.06.021

Latifynia A, Vojgani M, Abofazeli T, Jafarieh H (2007) Circulating immune complex during Ramadan. J Ayub Med Coll Abbottabad 19:15–18

Faris MA-IE, Salem ML, Jahrami HA et al (2020) Ramadan intermittent fasting and immunity: an important topic in the era of COVID-19. Ann Thorac Med 15:125–133. https://doi.org/10.4103/atm.ATM_151_20

Faris MA-IE, Jahrami HA, Alhayki FA et al (2020) Effect of diurnal fasting on sleep during Ramadan: a systematic review and meta-analysis. Sleep Breath 24:771–782. https://doi.org/10.1007/s11325-019-01986-1
Ethics declarations
Informed consent
Informed consent was obtained from the patients.
Disclosures
None
Additional information
Publisher's note
Springer Nature remains neutral with regard to jurisdictional claims in published maps and institutional affiliations.
About this article
Cite this article
Ben Nessib, D., Maatallah, K., Ferjani, H. et al. Sustainable positive effects of Ramadan intermittent fasting in rheumatoid arthritis. Clin Rheumatol 41, 399–403 (2022). https://doi.org/10.1007/s10067-021-05892-4
Received:

Revised:

Accepted:

Published:

Issue Date:

DOI: https://doi.org/10.1007/s10067-021-05892-4
Keywords
Intermittent fasting

Positive effects

Rheumatoid arthritis