Abstract
Background
Previous cross-sectional studies have demonstrated the high prevalence of depression and comorbidity in knee osteoarthritis (KOA), and KOA or its impact on lifestyle was seen as a potential trigger factor of depression and comorbidity. However, the exact onset and progression pattern of depression and comorbidity in KOA was still unknown.
Methods
Group-based trajectory modeling (GBTM) analysis was conducted in the 2833 subjects selected from the osteoarthritis initiative (OAI) database. Eight-year trajectories were determined and described. Baseline characteristics were investigated in multi-variable regression to detect the risk factors of the unfavored trajectory.
Results
Stable trajectory (70.4%) and worsening trajectory (29.6%) were identified in comorbidity. The risk factors for the worsening trajectory membership were the obesity (OR = 1.47 CI = [1.20, 1.79], P < 0.001), older age (OR = 1.74, CI = [1.41, 2.16], P < 0.001), and smoke (OR = 1.30, CI = [1.08, 1.57], P < 0.01) at baseline. Stable trajectory (52.0%), slow-worsening trajectory (40.5%), and fast-worsening trajectory (7.5%) were identified in depression symptoms. The risk factors for the fast-worsening trajectory membership were female (OR = 1.51 CI = [1.03, 2.20], P < 0.05), lower income (OR = 1.52, CI = [1.01, 2.27], P < 0.05), and smoke (OR = 1.30, CI = [1.08, 1.57], P < 0.01) at baseline.
Conclusion
A significant amount of KOA subjects tends to develop depression symptoms and comorbidity. Managing related risk factors, like weight loss or smoking cessation, might have considerable significance in preventing or delaying depression symptoms and comorbidity in KOA.
Key Points
• The first study investigating the trajectory of comorbidity progression in KOA.
• Approximately 7.5% of KOA patients tend to develop depression symptoms quite rapidly, and 30% of KOA patients tend to develop comorbidity
• Risk factors of worsening trajectories were identified: obesity, older age, smoking, female, and lower income.
Access options
Buy single article
Instant access to the full article PDF.
USD 39.95
Price excludes VAT (USA)
Tax calculation will be finalised during checkout.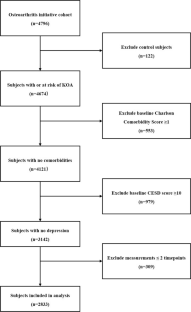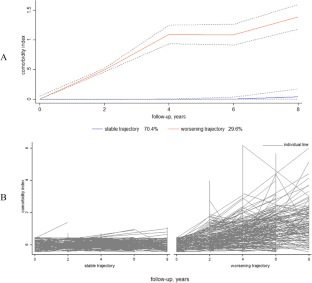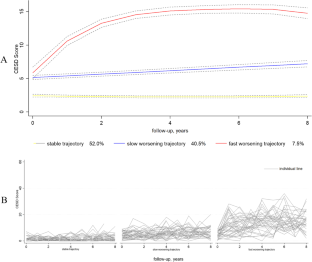 References
Dillon CF, Hirsch R, Rasch EK, Gu Q (2007) Symptomatic hand osteoarthritis in the United States: prevalence and functional impairment estimates from the third US National Health and Nutrition Examination Survey, 1991–1994. Am J Phys Med Rehabil 86(1):12

Litwic A, Edwards MH, Dennison EM, Cooper C (2013) Epidemiology and burden of osteoarthritis. Br Med Bull 105(1):185

Sharma L (2021) Osteoarthritis of the Knee. New Engl J Med 384(1):51

Stubbs B, Aluko Y, Myint PK, Smith TO (2016) Prevalence of depressive symptoms and anxiety in osteoarthritis: a systematic review and meta-analysis. Age and ageing 45(2):228

Kessler RC, Berglund P, Demler O, Jin R, Koretz D, Merikangas KR, Rush AJ, Walters EE, Wang PS (2003) The epidemiology of major depressive disorder: results from the National Comorbidity Survey Replication (NCS-R). Jama 289(23):3095

Ozcakir S, Raif SL, Sivrioglu K, Kucukcakir N (2011) Relationship between radiological severity and clinical and psychological factors in knee osteoarthritis. Clin Rheumatol 30(12):1521

Kim KW, Han JW, Cho HJ, Chang CB, Park JH, Lee JJ, Lee SB, Seong SC, Kim TK (2011) Association between comorbid depression and osteoarthritis symptom severity in patients with knee osteoarthritis. JBJS 93(6):556

Rohleder N (2014) Stimulation of systemic low-grade inflammation by psychosocial stress. Psychosom Med 76(3):181

Singh-Manoux A, Dugravot A, Fournier A, Abell J, Ebmeier K, Kivimäki M, Sabia S (2017) Trajectories of depressive symptoms before diagnosis of dementia: a 28-year follow-up study. JAMA Psych 74(7):712

Dunn LB, Cooper BA, Neuhaus J, West C, Paul S, Aouizerat B, Abrams G, Edrington J, Hamolsky D, Miaskowski C (2011) Identification of distinct depressive symptom trajectories in women following surgery for breast cancer. Health Psychol 30(6):683

Kiviruusu O, Pietikäinen JT, Kylliäinen A, Pölkki P, Saarenpää-Heikkilä O, Marttunen M, Paunio T, Paavonen EJ (2020) Trajectories of mothers' and fathers' depressive symptoms from pregnancy to 24 months postpartum. J Affect Disord 260:629

Swain S, Sarmanova A, Coupland C, Doherty M, Zhang W (2020) Comorbidities in osteoarthritis: a systematic review and meta-analysis of observational studies. Arthritis Care Res 72(7):991

Zambon S, Siviero P, Denkinger M, Limongi F, Victoria Castell M, van der Pas S, Otero Á, Edwards MH, Peter R, Pedersen NL (2016) Role of osteoarthritis, comorbidity, and pain in determining functional limitations in older populations: European project on osteoarthritis. Arthritis Care Res 68(6):801

Calders P, Van Ginckel A (2018) Presence of comorbidities and prognosis of clinical symptoms in knee and/or hip osteoarthritis: a systematic review and meta-analysis. In: Seminars in arthritis and rheumatism. Elsevier 805

Radloff LS (1977) The CES-D scale: a self-report depression scale for research in the general population. Appl Psychol Meas 1(3):385

Charlson M, Szatrowski TP, Peterson J, Gold J (1994) Validation of a combined comorbidity index. J Clin Epidemiol 47(11):1245

Nagin D (2009) Group-based modeling of development: Harvard University Press

Nagin DS (1999) Analyzing developmental trajectories: a semiparametric, group-based approach. Psychol Methods 4(2):139

Nagin DS (2010) Group-based trajectory modeling: an overview. Handbook of quantitative criminology 53

Loughran T, Nagin DS (2006) Finite sample effects in group-based trajectory models. Sociol Methods Res 35(2):250

Jones BL, Nagin DS (2013) A note on a Stata plugin for estimating group-based trajectory models. Sociol MethodsRes 42(4):608

Jones BL, Nagin DS, Roeder K (2001) A SAS procedure based on mixture models for estimating developmental trajectories. Sociol Methods Res 29(3):374

Nagin DS, Odgers CL (2010) Group-based trajectory modeling in clinical research. Annu Rev Clin Psychol 6:109

Van De Schoot R, Sijbrandij M, Winter SD, Depaoli S, Vermunt JK (2017) The GRoLTS-checklist: guidelines for reporting on latent trajectory studies. Struct Equ Modeling: Multidiscip J 24(3):451

Bastick AN, Wesseling J, Damen J, Verkleij SP, Emans PJ, Bindels PJ, Bierma-Zeinstra SM (2016) Defining knee pain trajectories in early symptomatic knee osteoarthritis in primary care: 5-year results from a nationwide prospective cohort study (CHECK). Br J Gen Pract 66(642):e32

Collins JE, Katz JN, Dervan EE, Losina E (2014) Trajectories and risk profiles of pain in persons with radiographic, symptomatic knee osteoarthritis: data from the osteoarthritis initiative. Osteoarthr Cartil 22(5):622

Holla JF, van der Leeden M, Heymans MW, Roorda LD, Bierma-Zeinstra SM, Boers M, Lems WF, Steultjens MP, Dekker J (2014) Three trajectories of activity limitations in early symptomatic knee osteoarthritis: a 5-year follow-up study. Ann Rheum Dis 73(7):1369

Nicholls E, Thomas E, Van der Windt D, Croft P, Peat G (2014) Pain trajectory groups in persons with, or at high risk of, knee osteoarthritis: findings from the Knee Clinical Assessment Study and the Osteoarthritis Initiative. Osteoarthr Cartil 22(12):2041

White DK, Neogi T, Nguyen U-SD, Niu J, Zhang Y (2016) Trajectories of functional decline in knee osteoarthritis: the osteoarthritis initiative. Rheumatology 55(5):801

Bannuru RR, Osani MC, Vaysbrot EE, Arden NK, Bennell K, Bierma-Zeinstra SMA, Kraus VB, Lohmander LS, Abbott JH, Bhandari M, Blanco FJ, Espinosa R, Haugen IK, Lin J, Mandl LA, Moilanen E, Nakamura N, Snyder-Mackler L, Trojian T, Underwood M, McAlindon TE (2019) OARSI guidelines for the non-surgical management of knee, hip, and polyarticular osteoarthritis. Osteoarthr Cartil 27(11):1578

Kuchibhatla MN, Fillenbaum GG, Hybels CF, Blazer DG (2012) Trajectory classes of depressive symptoms in a community sample of older adults. Acta Psychiatr Scand 125(6):492

Melchior M, Chastang J-F, Head J, Goldberg M, Zins M, Nabi H, Younès N (2013) Socioeconomic position predicts long-term depression trajectory: a 13-year follow-up of the GAZEL cohort study. Mol Psychiatry 18(1):112

White DK, Neogi T, Zhang Y, Niu J, Katz PP (2017) Association of slow gait speed with trajectories of worsening depressive symptoms in knee osteoarthritis: an observational study. Arthritis Care Res 69(2):209

Huang CQ, Dong BR, Lu ZC, Yue JR, Liu QX (2010) Chronic diseases and risk for depression in old age: a meta-analysis of published literature. Ageing Res Rev 9(2):131

Kadam U, Jordan K, Croft P (2004) Clinical comorbidity in patients with osteoarthritis: a case-control study of general practice consulters in England and Wales. Ann Rheum Dis 63(4):408

de Rooij M, van der Leeden M, Avezaat E, Häkkinen A, Klaver R, Maas T, Peter WF, Roorda LD, Lems WF, Dekker J (2014) Development of comorbidity-adapted exercise protocols for patients with knee osteoarthritis. Clin Interv Aging 9:829

de Rooij M, van der Leeden M, Cheung J, van der Esch M, Häkkinen A, Haverkamp D, Roorda LD, Twisk J, Vollebregt J, Lems WF (2017) Efficacy of tailored exercise therapy on physical functioning in patients with knee osteoarthritis and comorbidity: a randomized controlled trial. Arthritis Care Res 69(6):807

Kadam UT, Croft PR (2007) Clinical comorbidity in osteoarthritis: associations with physical function in older patients in family practice. J Rheumatol 34(9):1899
Funding
This study was funded by the National Natural Science Foundation of China (Program No. 81974347), the National Clinical Research Center for Geriatrics, West China Hospital, Sichuan University (NO. Z20192003), and the Science and Technology of Foundation of Sichuan province of China (2021YFH0094). All authors declared that the funding did not have any effect on the results of this study.
Additional information
Publisher's note
Springer Nature remains neutral with regard to jurisdictional claims in published maps and institutional affiliations.
Supplementary Information
Below is the link to the electronic supplementary material.
About this article
Cite this article
Li, M., Nie, Y., Zeng, Y. et al. The trajectories of depression symptoms and comorbidity in knee osteoarthritis subjects. Clin Rheumatol 41, 235–243 (2022). https://doi.org/10.1007/s10067-021-05847-9
Received:

Revised:

Accepted:

Published:

Issue Date:

DOI: https://doi.org/10.1007/s10067-021-05847-9
Keywords
Comorbidity

Depression

GBTM

Osteoarthritis