Abstract
Background
Systemic sclerosis (SSc) is an autoimmune disorder and commonly presents with vascular system involvement and motility disorders in the gastrointestinal (GI) tract. Vinculin is a cytoskeletal protein that plays major roles in cell-cell adhesion and is expressed in the neuromuscular apparatus of the gut. Antibodies to vinculin have been identified as a biomarker of irritable bowel syndrome (IBS). Our aim was to evaluate serum anti-vinculin antibodies in patients with SSc.
Methods
Patients were recruited from two SSc centers: group I (GI-enriched group), University of Leeds, UK, and Group II (vascular predominant), University of California, Los Angeles. Serum samples of patients recruited from two SSc centres, Group I ( GI enriched group), University of Leeds, UK and Group II (Vascular predominant), University of California, Los Angeles) were collected. Samples from age- and sex-matched healthy volunteers (N = 88) were used as controls.
Results
Group I (GI-enriched group, N = 83) patients were 58 [50–67] years old; 83% were females with a median body mass index (BMI) of 20.3 (21.2 ± 4.5) [18–23]. Group II (vascular-enriched group, N = 72) patients were 58 [50–67] years old; 80% were female, and BMI was 23.9 (21.3–26.9). More subjects in group I had prominent GI involvement (N = 55, 66%) than group II (12, 16%), p ˂ 0.0001. Anti-vinculin antibody levels in SSc group I (1.3 [0.9]) were significantly higher than in HC (0.7 [0.8]; p = 0.002). When pooled, circulating anti-vinculin levels in both SSc groups remained significantly higher than in the HC group (p = 0.02). Higher anti-vinculin levels were associated with higher GI-visual analogue scale (GI-VAS) scores and specifically with GI-VAS scores of ≥ 4 (p < 0.0001).
Conclusion
This study demonstrates that elevated anti-vinculin antibody levels are common in SSc and suggests a potential link between increased anti-vinculin levels and GI tract symptoms.
Key Points:
• Anti-vinculin antibodies are elevated in systemic sclerosis and are relatively common.
• In these SSc patients, anti-vinculin antibodies are associated with higher levels of GI symptoms in SSc.
• A potential link between anti-vinculin antibodies and vascular system involvement was shown.
Access options
Buy single article
Instant access to the full article PDF.
US$ 39.95
Tax calculation will be finalised during checkout.
Subscribe to journal
Immediate online access to all issues from 2019. Subscription will auto renew annually.
US$ 79
Tax calculation will be finalised during checkout.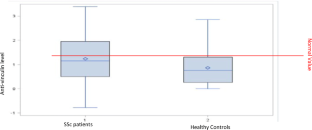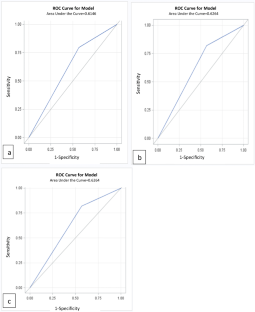 References
1.

Varga J, Trojanowska M, Kuwana M (2017) Pathogenesis of systemic sclerosis: recent insights of molecular and cellular mechanisms and therapeutic opportunities. J Scleroderma Relat Disord. 2:137–152. https://doi.org/10.5301/jsrd.5000249

2.

Shreiner AB, Murray C, Denton C, Khanna D (2016) Gastrointestinal manifestations of systemic sclerosis J scleroderma relat disord 1(3):247–256. https://doi.org/10.5301/jsrd.5000214

3.

Suliman Y, Srinivasan S, Maish MS, Federer LM, Furst DE (2016) Esophageal surgeries in systemic sclerosis (SSc) - a systematic review of the literature. J Scleroderma Relat Disord 1:10–15. https://doi.org/10.5301/jsrd.5000199

4.

Coiffier G, Cazalets C, Jégo P et al (2017) Association between clinical manifestations of systemic sclerosis and esophageal dysmotility assessed by high-resolution manometry. J Scleroderma Relat Disord. 2:50–56. https://doi.org/10.5301/jsrd.5000233

5.

Sjogren RW (1994) Gastrointestinal motility disorders in scleroderma. Arthritis Rheum. 37:1265–1282. https://doi.org/10.1002/art.1780370902

6.

Ntoumazios SK, Voulgari PV, Potsis K, Koutis E, Tsifetaki N, Assimakopoulos DA (2006) Esophageal involvement in scleroderma: gastroesophageal reflux, the common problem. Semin Arthritis Rheum. 36:173–181. https://doi.org/10.1016/j.semarthrit.2006.08.002

7.

Greydanus MP, Camilleri M (1989) Abnormal postcibal antral and small bowel motility due to neuropathy or myopathy in systemic sclerosis. Gastroenterology. 96:110–115. https://doi.org/10.1016/0016-5085(89)90770-1

8.

Howe S, Eaker EY, Sallustio JE, Peebles C, Tan EM, Williams RC Jr (1994) Antimyenteric neuronal antibodies in scleroderma. J Clin Invest. 94:761–770. https://doi.org/10.1172/JCI117395

9.

Del Galdo F, Rattan S, Singh J et al (2009) Immunoglobulins from scleroderma patients inhibit the muscarinic receptor activation in internal anal sphincter smooth muscle cells. Am J Physiol Liver Physiol. 297:G1206–G1213. https://doi.org/10.1152/ajpgi.00286.2009

10.

Sullivan KM, Goldmuntz EA, Keyes-Elstein L, McSweeney P, Pinckney A, Welch B, Mayes MD, Nash RA, Crofford LJ, Eggleston B, Castina S, Griffith LM, Goldstein JS, Wallace D, Craciunescu O, Khanna D, Folz RJ, Goldin J, St Clair EW, Seibold JR, Phillips K, Mineishi S, Simms RW, Ballen K, Wener MH, Georges GE, Heimfeld S, Hosing C, Forman S, Kafaja S, Silver RM, Griffing L, Storek J, LeClercq S, Brasington R, Csuka ME, Bredeson C, Keever-Taylor C, Domsic RT, Kahaleh MB, Medsger T, Furst DE, SCOT Study Investigators (2018) Myeloablative autologous stem-cell transplantation for severe scleroderma. N Engl J Med. 378:35–47. https://doi.org/10.1056/NEJMoa1703327

11.

Choung RS, Saito YA (2014) Epidemiology of Irritable Bowel Syndrome. In GI Epidemiology: Diseases and Clinical Methodology: Second Edition, Wiley Blackwell (pp. 222–234). https://doi.org/10.1002/9781118727072.ch20

12.

Klem F, Wadhwa A, Prokop LJ, Sundt WJ, Farrugia G, Camilleri M, Singh S, Grover M (2017) Prevalence, risk factors, and outcomes of irritable bowel syndrome after infectious enteritis: a systematic review and meta-analysis. Gastroenterology. 152:1042–1054.e1. https://doi.org/10.1053/j.gastro.2016.12.039

13.

Pimentel M, Morales W, Pokkunuri V, Brikos C, Kim SM, Kim SE, Triantafyllou K, Weitsman S, Marsh Z, Marsh E, Chua KS, Srinivasan S, Barlow GM, Chang C (2015) Autoimmunity links vinculin to the pathophysiology of chronic functional bowel changes following campylobacter jejuni infection in a rat model. Dig Dis Sci. 60:1195–1205. https://doi.org/10.1007/s10620-014-3435-5

14.

Deroanne CF, Colige AC, Nusgens BV, Lapiere CM (1996) Modulation of expression and assembly of vinculin during in vitro fibrillar collagen-induced angiogenesis and its reversal. Exp Cell Res. 224:215–223. https://doi.org/10.1006/excr.1996.0131

15.

Xu W, Baribault H, Adamson ED (1998) Vinculin knockout results in heart and brain defects during embryonic development. Development. 5:e11530. https://doi.org/10.1371/journal.pone.0011530

16.

Goldmann WH, Ingber DE (2002) Intact vinculin protein is required for control of cell shape, cell mechanics, and rac-dependent lamellipodia formation. Biochem Biophys Res Commun. 290:749–755. https://doi.org/10.1006/bbrc.2001.6243

17.

Villano M, Borghini A, Manetti M, Gabbrielli E, Rossi A, Sestini P, Milia A, Nacci F, Guiducci S, Matucci-Cerinic M, Ibba-Manneschi L, Weber E (2013) Systemic sclerosis sera affect fibrillin-1 deposition by dermal blood microvascular endothelial cells: therapeutic implications of cyclophosphamide. Arthritis Res Ther. 15:R90. https://doi.org/10.1186/ar4270

18.

Dib H, Tamby MC, Bussone G, Regent A, Berezné A, Lafine C, Broussard C, Simonneau G, Guillevin L, Witko-Sarsat V, Humbert M, Mouthon L (2012) Targets of anti-endothelial cell antibodies in pulmonary hypertension and scleroderma. Eur Respir J. 39:1405–1414. https://doi.org/10.1183/09031936.00181410

19.

van den Hoogen F, Khanna D, Fransen J, Johnson SR, Baron M, Tyndall A et al (2013) 2013 classification criteria for systemic sclerosis: an American College of Rheumatology/European League against Rheumatism collaborative initiative. Arthritis Rheum. 65(11):2737–47

20.

LeRoy EC, Black C, Fleischmajer R, Jablonska S, Krieg T, Medsger TA Jr, Rowell N, Wollheim F (1988) Scleroderma (systemic sclerosis): classification, subsets and pathogenesis. J Rheumatol 15(2):202–5

21.

Khanna D, Furst DE, Clements PJ, Allanore Y, Baron M, Czirjak L, Distler O, Foeldvari I, Kuwana M, Matucci-Cerinic M, Mayes M, Medsger T, Merkel PA, Pope JE, Seibold JR, Steen V, Stevens W, Denton CP (2017) Standardization of the modified Rodnan skin score for use in clinical trials of systemic sclerosis. J scleroderma Relat Disord. 2:11–18. https://doi.org/10.5301/jsrd.5000231

22.

Pope J (2011) Measures of systemic sclerosis (scleroderma): health assessment questionnaire (HAQ) and scleroderma HAQ (SHAQ), physician- and patient-rated global assessments, symptom burden index (SBI), University of California, Los Angeles, scleroderma clinical trials. Arthritis Care Res. 63:S98–S111. https://doi.org/10.1002/acr.20598

23.

Pimentel M, Morales W, Rezaie A, Marsh E, Lembo A et al (2015) Development and Validation of a Biomarker for Diarrhea-Predominant Irritable Bowel Syndrome in Human Subjects. PLOS ONE 10(5):e0126438. https://doi.org/10.1371/journal.pone.0126438

24.

Rezaie A, Park SC, Morales W, Marsh E, Lembo A, Kim JH, Weitsman S, Chua KS, Barlow GM, Pimentel M (2017) Assessment of anti-vinculin and anti-cytolethal distending toxin B antibodies in subtypes of irritable bowel syndrome. Dig Dis Sci. 62:1480–1485. https://doi.org/10.1007/s10620-017-4585-z

25.

Kumar S, Singh J, Rattan S, DiMarino AJ, Cohen S, Jimenez SA (2017) Review article: pathogenesis and clinical manifestations of gastrointestinal involvement in systemic sclerosis. Aliment. Pharmacol. Ther. 45:883–898

26.

Suliman YA, Distler O (2013) Novel aspects in the pathophysiology of peripheral vasculopathy in systemic sclerosis. Curr Rheumatol Rev 9:237–244. https://doi.org/10.2174/157339710904140417123932
Ethics declarations
Disclosures
Yossra Suliman, Suzanne Kafaja, Sunny J OH, G. Bagnato, G. Abignano, X. Liu, M. Alemam, I. Valera, RR. Singh, G. Barlow, F. Del Galdo, and D.E. Furst have no disclosures. Dr. Pimentel is a board member of Gemelli Biotech and has equity in this company (> $10,000). Ali Rezaie has received speaker/consultant fees and research funding from Valeant Pharmaceuticals and has equity in Gemelli Biotech (all > $10,000). Walter Morales is a consultant for Gemelli Biotech (< $10,000).
About this article
Cite this article
Suliman, Y., Kafaja, S., Oh, S.J. et al. Anti-vinculin antibodies in scleroderma (SSc): a potential link between autoimmunity and gastrointestinal system involvement in two SSc cohorts. Clin Rheumatol (2020). https://doi.org/10.1007/s10067-020-05479-5
Received:

Revised:

Accepted:

Published:
Keywords
Anti-vinculin

GI tract

SSc

Vascular