Abstract
We present here a case of severe digital necrosis in a patient with long-standing rheumatoid arthritis (RA). The concomitant presence of two autoimmune conditions such as cryoglobulinemia and antiphospholipid syndrome (APS) were diagnosed. To best of our knowledge, this is the first case of the coexistence of RA, cryoglobulinemia, and APS in a single patient. An aggressive treatment was needed including hallux amputation, methylprednisolone pulses followed by rituximab with favorable outcome.
Access options
Buy single article
Instant access to the full article PDF.
US$ 39.95
Tax calculation will be finalised during checkout.
Subscribe to journal
Immediate online access to all issues from 2019. Subscription will auto renew annually.
US$ 79
Tax calculation will be finalised during checkout.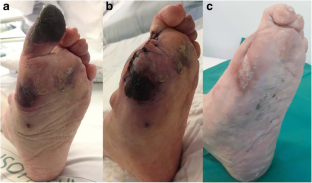 References
1.

Cacoub P, Comarmond C, Domont F (2015) Cryoglobulinemia Vasculitis. Am J Med 128:950–955

2.

Gómez-Puerta JA, Cervera R (2014) Diagnosis and classification of the antiphospholipid syndrome. J Autoimmun 48-49:20–25

3.

Shachaf S, Yair M (2016) The correlation between antiphospholipid syndrome and cryoglobulinemia: case series of 4 patients and review of the literature. Rev Bras Reumatol Engl Ed 56:2–7

4.

Hanly JG, Smith SA (2000) Autoinmune antiphospholipid antibodies and cryoglobulinemia. Lupus 9:264–270

5.

Andrejevic S, Bonaci-Nikolic B, Bukilica M, Milivojevic G, Basanovic J, Nikolic MM (2003) Purpura and leg ulcers in a patient with cryoglobulinaemia, non-Hodgkin's lymphoma, and antiphospholipid syndrome. Clin Exp Dermatol 28:151–153

6.

Kaegi C, Wuest B, Schreiner J, Steiner UC, Vultaggio A, Matucci A, Crowley C, Boyman O (2019) Systematic review of safety and efficacy of rituximab in treating immune-mediated disorders. Front Immunol 10:1990

7.

Erkan D, Vega J, Ramon G, Kozora E, Lockshin MD (2013) A pilot open-label phase II trial of rituximab for non-criteria manifestations of antiphospholipid syndrome. Arthritis Rheum 65:464–471
Ethics declarations
Conflict of interest
The authors declare no conflict of interest.
Disclosure statement
Written informed consent for publication of their clinical details and clinical images was obtained from the patient.
Additional information
Publisher's note
Springer Nature remains neutral with regard to jurisdictional claims in published maps and institutional affiliations.
About this article
Cite this article
Cajiao, K., Gómez-Puerta, J.A. Coexistence of antiphospholipid syndrome and cryoglobulinemia in a patient with rheumatoid arthritis. Clin Rheumatol 39, 2833–2835 (2020). https://doi.org/10.1007/s10067-020-05127-y
Received:

Revised:

Accepted:

Published:

Issue Date:
Keywords
Antiphospholipid syndrome

Cryoglobulinemia

Necrosis

Rheumatoid arthritis

Thrombosis