Access options
Buy single article
Instant access to the full article PDF.
US$ 39.95
Tax calculation will be finalised during checkout.
Subscribe to journal
Immediate online access to all issues from 2019. Subscription will auto renew annually.
US$ 79
Tax calculation will be finalised during checkout.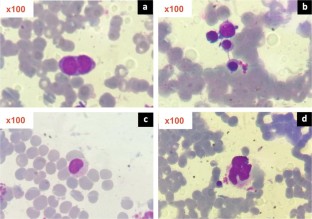 References
1.

Bulycheva E, Rauner M, Medyouf H, Theurl I, Bornhäuser M, Hofbauer LC, Platzbecker U (2015) Myelodysplasia is in the niche: novel concepts and emerging therapies. Leukemia. 29(2):259–268

2.

Manganelli P, Delsante G, Bianchi G, Fietta P, Quaini F (2001) Remitting seronegative symmetrical synovitis with pitting oedema in a patient with myelodysplastic syndrome and relapsing polychondritis. Clin Rheumatol 20(2):132–135

3.

Yano K, Eguchi K, Migita K, Takashima H, Tamura M, Izumino K, Sasagawa I, Sadamori N, Nagataki S (1996) Behçet's disease complicated with myelodysplastic syndrome a report of two cases and review of the literature. Clin Rheumatol 15(1):91–93

4.

Mekinian A, Braun T, Decaux O, Falgarone G, Toussirot E, Raffray L, Omouri M, Gombert B, de Wazieres B, Buchdaul AL, Ziza JM, Launay D, Denis G, Madaule S, Rose C, Grignano E, Fenaux P, Fain O, Club Rhumatismes et Inflammation (CRI), Groupe Francophone des Myélodysplasies (GFM), Société Nationale Française de Médecine Interne (SNFMI) (2014) Inflammatory arthritis in patients with myelodysplastic syndromes: a multicenter retrospective study and literature review of 68 cases. Medicine. 93(1):1–10

5.

Farmakis D, Polymeropoulos E, Polonifi A, Deftereos S, Giakoumi X, Floudas H, Grapsa A, Aessopos A (2005) Myelodysplastic syndrome associated with multiple autoimmune disorders. Clin Rheumatol 24(4):428–430

6.

Mobini M, Shekarriz R, Ali Mohammad Pour R, Zakeri S (2015) Inflammatory rheumatologic disorders in patients with myelodysplastic syndromes: a cross-sectional study. Int J Hematol Oncol Stem Cell Res 9(1):22–25

7.

McInnes IB, Schett G (2011) The pathogenesis of rheumatoid arthritis. N Engl J Med 365(23):2205–2219

8.

Nemeth E, Rivera S, Gabayan V, Keller C, Taudorf S, Pedersen BK, Ganz T (2004) IL-6 mediates hypoferremia of inflammation by inducing the synthesis of the iron regulatory hormone hepcidin. J Clin Invest 113(9):1271–1276

9.

Murphy PT, Fay MJ, Swords RT, Quinn JP, O'Donnell JR (2004) Progression of myelodysplasia during low-dose methotrexate therapy in rheumatoid arthritis. Ann Pharmacother 38(11):1969–1970

10.

Naranjo CA, Busto U, Sellers EM, Sandor P, Ruiz I, Roberts EA, Janecek E, Domecq C, Greenblatt DJ (1981) A method for estimating the probability of adverse drug reactions. Clin Pharmacol Ther 30(2):239–245
Ethics declarations
Conflict of interest
None.
Additional information
Publisher's note
Springer Nature remains neutral with regard to jurisdictional claims in published maps and institutional affiliations.
About this article
Cite this article
El Ouali, Z., Nassar, K. & Janani, S. Rheumatoid arthritis and myelodysplastic syndrome: a fortuitous association?. Clin Rheumatol 39, 2829–2831 (2020). https://doi.org/10.1007/s10067-020-05092-6
Received:

Revised:

Accepted:

Published:

Issue Date: