Abstract
Introduction/objectives
Primary Sjögren syndrome (pSS) is usually encountered between the fourth and sixth decades. It is known that the age of onset in autoimmune diseases may affect the clinical features. In this study, we aimed to investigate the clinical and laboratory characteristics of early onset pSS patients.
Method
The data of 352 pSS patients were analyzed retrospectively. The patients were divided into two groups as those with the onset age of 35 or younger (early-onset) and those with the onset age of older than 35. The clinical, laboratory, and serological characteristics of the two groups were compared. p < 0.05 was considered statistically significant.
Results
Forty patients in the group with an onset age of 35 or younger (11.4%) and 312 patients with an onset age of older than 35 (88.6%) were analyzed. The frequency of skin (22.5% vs 1.9%, p < 0.001) and renal involvement (10% vs 2.2%, p = 0.026) was significantly higher in the early-onset group than the late-onset group. There was no significant difference between the two groups in terms of xerostomia, eye dryness, arthritis, and other systemic involvement. Anti-Ro52 positivity (p = 0.04), elevated serum IgG levels (p = 0.004), and low C4 (p = 0.002) presence were more frequent in the early-onset group.
Conclusions
Consequently, it is seen that the clinical phenotype of early-onset pSS patients may be different to those with later onset. Especially the more frequent observation of poor prognostic factors at early-onset ages shows the necessity to monitor these patients more regularly.
Key points:
• The clinical and laboratory features of patients with early-onset primary Sjogren syndrome may differ from late-onset patients.
Access options
Buy single article
Instant access to the full article PDF.
US$ 39.95
Tax calculation will be finalised during checkout.
Subscribe to journal
Immediate online access to all issues from 2019. Subscription will auto renew annually.
US$ 79
Tax calculation will be finalised during checkout.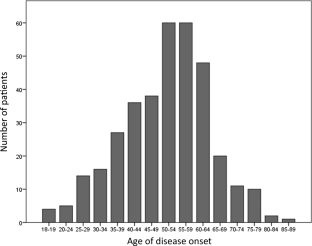 References
1.

Mavragani CP, Moutsopoulos HM (2010) The geoepidemiology of Sjögren's syndrome. Autoimmun Rev 9(5):A305–A310

2.

Jülich M, Kanne A-M, Sehnert B, Budweiser S, Voll RE, Kollert F (2018) Serological lymphocytic activity and patient-reported outcomes in Sjögren's syndrome. Clin Rheumatol 37(9):2361–2366

3.

Singh AG, Singh S, Matteson EL (2015) Rate, risk factors and causes of mortality in patients with Sjögren's syndrome: a systematic review and meta-analysis of cohort studies. Rheumatology 55(3):450–460

4.

Ramos-Casals M, Font J (2005) Primary Sjogren's syndrome: current and emergent aetiopathogenic concepts. Rheumatology 44(11):1354–1367

5.

Helmick CG, Felson DT, Lawrence RC, Gabriel S, Hirsch R, Kwoh CK, Liang MH, Kremers HM, Mayes MD, Merkel PA (2008) Estimates of the prevalence of arthritis and other rheumatic conditions in the United States: part I. Arthritis Rheum 58(1):15–25

6.

Kassan SS, Moutsopoulos HM (2004) Clinical manifestations and early diagnosis of Sjögren syndrome. Arch Intern Med 164(12):1275–1284

7.

Amador-Patarroyo MJ, Rodriguez-Rodriguez A, Montoya-Ortiz G (2012) How does age at onset influence the outcome of autoimmune diseases? Autoimmune Dis 2012

8.

Ramos-Casals M, Cervera R, Font J, Garcóa-Carrasco M, Espinosa G, Reino S, Pallares L, Ingelmo M (1998) Young onset of primary Sjögren's syndrome: clinical and immunological characteristics. Lupus 7(3):202–206

9.

Garcia-Carrasco M, Ramos-Casals M, Rosas J, Pallares L, Calvo-Alen J, Cervera R, Font J, Ingelmo M (2002) Primary Sjögren syndrome: clinical and immunologic disease patterns in a cohort of 400 patients. Medicine 81(4):270–280

10.

Ramos-Casals M, Solans R, Rosas J, Camps MT, Gil A, del Pino-Montes J, Calvo-Alen J, Jiménez-Alonso J, Micó M-L, Beltrán J (2008) Primary Sjögren syndrome in Spain: clinical and immunologic expression in 1010 patients. Medicine 87(4):210–219

11.

Tishler M, Yaron I, Shirazi I, Yaron M (2001) Clinical and immunological characteristics of elderly onset Sjögren's syndrome: a comparison with younger onset disease. J Rheumatol 28(4):795–797

12.

Botsios C, Furlan A, Ostuni P, Sfriso P, Andretta M, Ometto F, Raffeiner B, Todesco S, Punzi L (2011) Elderly onset of primary Sjögren's syndrome: clinical manifestations, serological features and oral/ocular diagnostic tests. Comparison with adult and young onset of the disease in a cohort of 336 Italian patients. Joint Bone Spine 78(2):171–174

13.

Shiboski CH, Shiboski SC, Seror R, Criswell LA, Labetoulle M, Lietman TM, Rasmussen A, Scofield H, Vitali C, Bowman SJ (2017) 2016 American College of Rheumatology/European League Against Rheumatism classification criteria for primary Sjögren's syndrome: a consensus and data-driven methodology involving three international patient cohorts. Arthritis Rheumatol 69(1):35–45

14.

Aljohani R, Gladman D, Su J, Urowitz M (2017) Disease evolution in late-onset and early-onset systemic lupus erythematosus. Lupus 26(11):1190–1196

15.

Tucker L, Uribe A, Fernandez M, Vila L, McGwin G, Apte M, Fessler B, Bastian H, Reveille J, Alarcón G (2008) Adolescent onset of lupus results in more aggressive disease and worse outcomes: results of a nested matched case–control study within LUMINA, a multiethnic US cohort (LUMINA LVII). Lupus 17(4):314–322

16.

Carreira PE, Carmona L, Joven B, Loza E, Andréu J, Riemekasten G, Vettori S, Balbir-Gurman A, Airò P, Walker U (2019) Differences associated with age at onset in early systemic sclerosis patients: a report from the EULAR Scleroderma Trials and Research Group (EUSTAR) database. Scand J Rheumatol 48(1):42–51

17.

Anquetil C, Hachulla E, Machuron F, Mariette X, Le Guern V, Vittecoq O, Dernis E, Larroche C, Dubost J-J, Perdriger A (2019) Is early-onset primary Sjögren's syndrome a worse prognosis form of the disease? Rheumatology 58(7):1163–1167
Acknowledgments
The authors would like to thank Dr. Ufuk İlgen for his contribution to statistical work.
Ethics declarations
Disclosures
The authors have declared no conflict interest.
Additional information
Publisher's note
Springer Nature remains neutral with regard to jurisdictional claims in published maps and institutional affiliations.
About this article
Cite this article
Yayla, M.E., Karaman, Z., Torgutalp, M. et al. Early onset primary Sjögren syndrome, clinical and laboratory characteristics. Clin Rheumatol 39, 2689–2696 (2020). https://doi.org/10.1007/s10067-020-05017-3
Received:

Revised:

Accepted:

Published:

Issue Date:
Keywords
Early-onset

Epidemiology

Sjogren's syndrome