Abstract
Objective
Peer support is important for psychosocial well-being in patients with rheumatoid arthritis (RA). Our objective was to assess the interactions, engagement, and perceptions of participants in an online support group for patients with RA.
Methods
Participants were 18 years or older, diagnosed with RA within 10 years, and residing in the USA or Canada. All participated in a closed Facebook online support group. Membership was by invitation only, and discussions were visible only to members, moderators, and two research staff. Each week, participants discussed a topic posted by a moderator. They also shared other disease-relevant information beside the topics posted. We assessed participants' engagement and qualitatively analyzed the content of their postings in the first 5 weeks of participation.
Results
The group had 90 participants: 94% were female and 83% white. Median age was 54 (24–84) years. Mean number of contributors per week was 50 (range, 42–62); 10% of participants never contributed to the discussions. Participation in discussions declined over time. Over three-quarters of participant posting were about information sharing. Participants shared information on disease experiences, medications, social lives (including pictures of themselves, families, and pets), online resources on RA, frustrations, messages of encouragement, and satirical depictions of their disease experience. Many expressed gratitude for the social support provided.
Conclusion
Participants were generally enthusiastic and shared disease-related information and personal experiences. Social media groups may provide alternative means of providing education and peer support often lacking in traditional models of care.
Key Points
• The study examines how patients with rheumatoid arthritis engage in an online support group and the nature of their interactions.
• This study reveals that social media platforms could provide viable options or complements to the traditional face-to-face small group patient support system.
• It may be necessary to pay special attention to how to ensure a sustained participant interest in online social support group among patients with rheumatoid arthritis.
Access options
Buy single article
Instant access to the full article PDF.
US$ 39.95
Tax calculation will be finalised during checkout.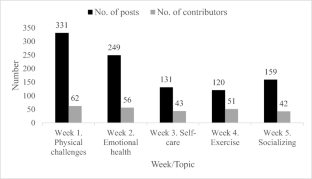 References
1.

Lin N, Simeone RS, Ensel WM, Kuo W (1979) Social support, stressful life events, and illness: a model and an empirical test. J Health Soc Behav 20:108–119

2.

Zimet GD, Dahlem NW, Zimet SG, Farley GK (1988) The multidimensional scale of perceived social support. J Pers Assess 52:30–41

3.

Helgeson VS (2003) Social support and quality of life. Qual Life Res 12(Suppl 1):25–31

4.

Spiegel D, Bloom JR, Kraemer HC, Gottheil E (1989) Effect of psychosocial treatment on survival of patients with metastatic breast cancer. Lancet. 2:888–891

5.

van Uden-Kraan CF, Drossaert CH, Taal E, Shaw BR, Seydel ER, van de Laar MA (2008) Empowering processes and outcomes of participation in online support groups for patients with breast cancer, arthritis, or fibromyalgia. Qual Health Res 18:405–417

6.

Zhao Y, Zhang J (2017) Consumer health information seeking in social media: a literature review. Health Inf Libr J 34:268–283

7.

Mano RS (2014) Social media and online health services: a health empowerment perspective to online health information. Comput Hum Behav 39:404–412

8.

Li Y, Wang X, Lin X, Hajli M (2018) Seeking and sharing health information on social media: a net valence model and cross-cultural comparison. Technol Forecast Soc Chang 126:28–40

9.

Merolli M, Gray K, Martin-Sanchez F (2013) Health outcomes and related effects of using social media in chronic disease management: a literature review and analysis of affordances. J Biomed Inform 46:957–969

10.

Shigaki CL, Smarr KL, Gong Y, Donovan-Hanson K, Siva C, Johnson RA, Ge B, Musser DR (2008) Social interactions in an online self-management program for rheumatoid arthritis. Chronic Illn 4:239–246

11.

Armstrong N, Powell J (2009) Patient perspectives on health advice posted on Internet discussion boards: a qualitative study. Health Expect 12:313–320

12.

De la Torre-Diez I, Diaz-Pernas FJ, Anton-Rodriguez M (2012) A content analysis of chronic diseases social groups on Facebook and Twitter. Telemed J E Health 18:404–408

13.

FORWARD - The National Databank for Rheumatic Diseases. https://www.arthritis-research.org

14.

Hadert A, Rodham K (2008) The invisible reality of arthritis: a qualitative analysis of an online message board. Musculoskeletal Care 6:181–196

15.

Patel R, Chang T, Greysen R, Chopra V (2015) Social media use in chronic disease: a systematic review and novel taxonomy. Am J Med 128:1335–1350

16.

van Uden-Kraan CF, Drossaert CH, Taal E, Seydel ER, van de Laar MA (2009) Participation in online patient support groups endorses patients' empowerment. Patient Educ Couns 74:61–69

17.

Greene JA, Choudhry NK, Kilabuk E, Shrank WH (2011) Online social networking by patients with diabetes: a qualitative evaluation of communication with Facebook. J Gen Intern Med 26:287–292

18.

van den Berg MH, Ronday HK, Peeters AJ, Voogt-van der Harst EM, Munneke M, Breedveld FC, Vliet Vlieland TP (2007) Engagement and satisfaction with an Internet-based physical activity intervention in patients with rheumatoid arthritis. Rheumatology (Oxford) 46:545–552

19.

Schubart JR, Stuckey HL, Ganeshamoorthy A, Sciamanna CN (2011) Chronic health conditions and internet behavioral interventions: a review of factors to enhance user engagement. Comput Inform Nurs 29:81–92

20.

McLaughlin M, Nam Y, Gould J, Pade C, Meeske KA, Rccione KS et al (2012) A videosharing social networking intervention for young adult cancer survivors. Comput Hum Behav. 28:631–641

21.

Setoyama Y, Yamazaki Y, Namayama K (2011) Benefits of peer support in online Japanese breast cancer communities: differences between lurkers and posters. J Med Internet Res 13:e122

22.

Klemm P (2012) Effects of online support group format (moderated vs peer-led) on depressive symptoms and extent of participation in women with breast cancer. Comput Inform Nurs 30:9–18

23.

Donisan T, Bojincă VC, Dobrin MA, Bălănescu DV, Predețeanu D, Bojincă M, Berghea F, Opriș D, Groșeanu L, Borangiu A, Constantinescu CL, Ionescu R, Bălănescu AR (2017 Jul) The relationship between disease activity, quality of life, and personality types in rheumatoid arthritis and ankylosing spondylitis patients. Clin Rheumatol 36(7):1511–1519
Acknowledgments
We are thankful to Dr. Kaleb Michaud and Rebecca Schumacher for their assistance recruiting patients through the National Databank for Rheumatic Diseases and to Ms. Eliuth H. Lopez-Olivo who developed the design, graphics, and logos for the Facebook group website. Finally, we would like to express our unconditional gratitude to all the participants in the study who shared their experiences and beliefs to help us better understand their journey through life with RA.
Financial information
This work was supported by a grant from the Rheumatology Research Foundation (Effects of Social Networking on Chronic Disease Management in Arthritis, Principal Investigator: M. Suarez-Almazor). Support was also provided, in part, by the Assessment, Intervention, and Measurement (AIM) Shared Resource through a Cancer Center Support Grant (CA16672, PI: P. Pisters, MD Anderson Cancer Center), from the National Cancer Institute, National Institutes of Health, and through the Duncan Family Institute for Cancer Prevention and Risk Assessment.
Ethics declarations
All participants provided informed consent electronically. The study was approved by the Institutional Review Board of The University of Texas MD Anderson Cancer Center (Houston, TX).
Conflict of interest
The authors declare they have no conflicts of interest.
Additional information
Publisher's note
Springer Nature remains neutral with regard to jurisdictional claims in published maps and institutional affiliations.
Previous publications
Part of this paper was published as conference abstracts in a supplemental issue of the American College of Rheumatology Journal. The complete citations are as follows: des Bordes JKA, Foreman J, Peterson SK, Lopez-Olivo MA, Westrich-Robertson T, Hofstetter C, Lyddiatt A, Leong AL, Suarez-Almazor M. Experiences and perceptions of patients with rheumatoid arthritis participating in an online support group: the use of social media (abstract). Arthritis Rheumatol. 2017; 69 (suppl 10). https://acrabstracts.org/abstract/experiences-and-perceptions-of-patients-with-rheumatoid-arthritis-participating-in-an-online-support-group-the-use-of-social-media/ and des Bordes J, Foreman J, Lopez-Olivo M, Peterson S, Westrich-Robertson T, Hofstetter C, Lyddiatt A, Leong A, Suárez-Almazor M. Physical challenges in RA: a qualitative study of an online patient support group (abstract). Arthritis Rheumatol. 2019; 71 (suppl 10). https://acrabstracts.org/abstract/physical-challenges-in-ra-a-qualitative-study-of-an-online-patient-support-group/.
About this article
Cite this article
des Bordes, J.K.A., Foreman, J., Westrich-Robertson, T. et al. Interactions and perceptions of patients with rheumatoid arthritis participating in an online support group. Clin Rheumatol 39, 1775–1782 (2020). https://doi.org/10.1007/s10067-020-04967-y
Received:

Revised:

Accepted:

Published:

Issue Date:
Keywords
Facebook

Rheumatoid arthritis

Social support group