Abstract
Objectives
To evaluate the performance of the European League Against Rheumatism (EULAR) definition of arthralgias suspicious for progression to RA in patients with hand arthralgias and to estimate the added value of both auto-antibodies and ultrasound (US) with power Doppler (PD).
Methods
Consecutive patients admitted for hand arthralgias to "Reuma-check" ® program were included. This program includes the following at baseline: clinical assessment, laboratory tests, US with PD of both hands, and radiography of both hands and feet. All patients were followed-up after baseline evaluation by their treating rheumatologists, and a definitive diagnosis of RA (ACR/EULAR 2010 criteria) was established or not.
Results
A total of 465 consecutive patients were included. During follow-up, 44 (9.4%) were diagnosed with RA. Mean of baseline EULAR features describing arthralgia suspicious for progression to RA was 4.1 in patients with final diagnosis of RA vs 2.3 in non-RA patients (p < 0.0001). The AUC for the EULAR defined features describing arthralgia suspicious for progression to RA for the final diagnosis of RA was 0.7827, while adding US with PD, rheumatoid factor (RF), and anti-cyclic citrullinated peptide antibodies (ACPA) data, the AUC was 0.9172 (p < 0.0001). In the multivariate regression logistic analysis, baseline features associated with a final diagnosis of RA were difficulty with making a fist, RF, ACPA, and US with PD.
Conclusions
EULAR definition of arthralgia suspicious for progression to RA had an acceptable performance to predict the future development of RA and improves adding information of both RF, ACPA and US with PD data.
Key Points
• Clinically suspect arthralgia may trigger rheumatologists to monitor patients closely for an early diagnosis.
• EULAR definition of arthralgia suspicious for progression to RA predicts future development of arthritis.
• Auto-antibodies and ultrasound improve EULAR definition of arthralgia suspicious for progression to RA.
Access options
Buy single article
Instant access to the full article PDF.
USD 39.95
Price excludes VAT (USA)
Tax calculation will be finalised during checkout.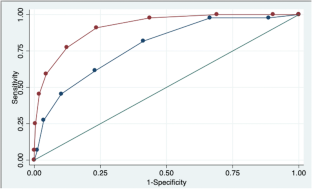 References
O'Dell JR (2004) Therapeutic strategies for rheumatoid arthritis. N Engl J Med 350(25):2591–2602

Goekoop-Ruiterman YP, de Vries-Bouwstra JK, Allaart CF, van Zeben D, Kerstens PJ, Hazes JM, Zwinderman AH, Peeters AJ, de Jonge-Bok JM, Mallée C, de Beus WM, de Sonnaville PB, Ewals JA, Breedveld FC, Dijkmans BA (2007) Comparison of treatment strategies in early rheumatoid arthritis: a randomized trial. Ann Intern Med 146(6):406–415

Lard LR, Visser H, Speyer I, Vander Horst-Bruinsma IE, Zwinderman AH, Breedveld FC et al (2001) Early versus delayed treatment in patients with recent-onset rheumatoid arthritis: comparison of two cohorts who received different treatment strategies. Am J Med 111(6):446–451

Allaart CF, Breedveld FC, Dijkmans BA (2007) Treatment of recent-onset rheumatoid arthritis: lessons from the BeSt study. J Rheumatol Suppl 80:25–33

Grigor C, Capell H, Stirling A, McMahon AD, Lock P, Vallance R, Kincaid W, Porter D (2004) Effect of a treatment strategy of tight control for rheumatoid arthritis (the TICORA study): a single-blind randomised controlled trial. Lancet. 364(9430):263–269

Smolen JS, Aletaha D, Bijlsma JW, Breedveld FC, Boumpas D, Burmester G, Combe B, Cutolo M, de Wit M, Dougados M, Emery P, Gibofsky A, Gomez-Reino JJ, Haraoui B, Kalden J, Keystone EC, Kvien TK, McInnes I, Martin-Mola E, Montecucco C, Schoels M, van der Heijde D, T2T Expert Committee (2010) Treating rheumatoid arthritis to target: recommendations of an international task force. Ann Rheum Dis 69(4):631–637

Schipper LG, Vermeer M, Kuper HH, Hoekstra MO, Haagsma CJ, Den Broeder AA et al (2012) A tight control treatment strategy aiming for remission in early rheumatoid arthritis is more effective than usual care treatment in daily clinical practice: a study of two cohorts in the Dutch Rheumatoid Arthritis Monitoring registry. Ann Rheum Dis 71(6):845–850

van der Helm-van Mil AH, le Cessie S, van Dongen H, Breedveld FC, Toes RE, Huizinga TW (2007) A prediction rule for disease outcome in patients with recent-onset undifferentiated arthritis: how to guide individual treatment decisions. Arthritis Rheum 56(2):433–440

Visser H, le Cessie S, Vos K, Breedveld FC, Hazes JM (2002) How to diagnose rheumatoid arthritis early: a prediction model for persistent (erosive) arthritis. Arthritis Rheum 46(2):357–365

Aletaha D, Neogi T, Silman AJ, Funovits J, Felson DT, Bingham CO 3rd et al (2010) 2010 rheumatoid arthritis classification criteria: an American College of Rheumatology/European League Against Rheumatism collaborative initiative. Ann Rheum Dis 69(9):1580–1588

van Steenbergen HW, Aletaha D, Beaart-van de Voorde LJ, Brouwer E, Codreanu C, Combe B et al (2017) EULAR definition of arthralgia suspicious for progression to rheumatoid arthritis. Ann Rheum Dis 76(3):491–496

Burgers LE, Siljehult F, Ten Brinck RM, van Steenbergen HW, Landewe RBM, Rantapaa-Dahlqvist S et al (2017) Validation of the EULAR definition of arthralgia suspicious for progression to rheumatoid arthritis. Rheumatology (Oxford) 56(12):2123–2128

Freeston JE, Wakefield RJ, Conaghan PG, Hensor EM, Stewart SP, Emery P (2010) A diagnostic algorithm for persistence of very early inflammatory arthritis: the utility of power Doppler ultrasound when added to conventional assessment tools. Ann Rheum Dis 69(2):417–419

Filer A, de Pablo P, Allen G, Nightingale P, Jordan A, Jobanputra P, Bowman S, Buckley CD, Raza K (2011) Utility of ultrasound joint counts in the prediction of rheumatoid arthritis in patients with very early synovitis. Ann Rheum Dis 70(3):500–507

Salaffi F, Ciapetti A, Gasparini S, Carotti M, Filippucci E, Grassi W (2010) A clinical prediction rule combining routine assessment and power Doppler ultrasonography for predicting progression to rheumatoid arthritis from early-onset undifferentiated arthritis. Clin Exp Rheumatol 28(5):686–694

Rakieh C, Nam JL, Hunt L, Hensor EM, Das S, Bissell LA, Villeneuve E, McGonagle D, Hodgson R, Grainger A, Wakefield RJ, Conaghan PG, Emery P (2015) Predicting the development of clinical arthritis in anti-CCP positive individuals with non-specific musculoskeletal symptoms: a prospective observational cohort study. Ann Rheum Dis 74(9):1659–1666

Nam JL, Hensor EM, Hunt L, Conaghan PG, Wakefield RJ, Emery P (2016) Ultrasound findings predict progression to inflammatory arthritis in anti-CCP antibody-positive patients without clinical synovitis. Ann Rheum Dis 75(12):2060–2067

Aletaha D, Nell VP, Stamm T, Uffmann M, Pflugbeil S, Machold K, Smolen JS (2005) Acute phase reactants add little to composite disease activity indices for rheumatoid arthritis: validation of a clinical activity score. Arthritis Res Ther 7(4):R796–R806

Prevoo ML, Van't Hof MA, Kuper HH, van Leeuwen MA, van de Putte LB, van Riel PL (1995) Modified disease activity scores that include twenty-eight-joint counts. Development and validation in a prospective longitudinal study of patients with rheumatoid arthritis. Arthritis Rheum 38(1):44–48

Citera G, Arriola MS, Maldonado-Cocco JA, Rosemffet MG, Sanchez MM, Goni MA et al (2004) Validation and crosscultural adaptation of an Argentine Spanish version of the Health Assessment Questionnaire disability index. J Clin Rheumatol 10(3):110–115

Backhaus M, Burmester GR, Gerber T, Grassi W, Machold KP, Swen WA, Wakefield RJ, Manger B, Working Group for Musculoskeletal Ultrasound in the EULAR Standing Committee on International Clinical Studies including Therapeutic Trials (2001) Guidelines for musculoskeletal ultrasound in rheumatology. Ann Rheum Dis 60(7):641–649

Wakefield RJ, Balint PV, Szkudlarek M, Filippucci E, Backhaus M, D'Agostino MA, Sanchez EN, Iagnocco A, Schmidt WA, Bruyn GA, Kane D, O'Connor PJ, Manger B, Joshua F, Koski J, Grassi W, Lassere MN, Swen N, Kainberger F, Klauser A, Ostergaard M, Brown AK, Machold KP, Conaghan PG, OMERACT 7 Special Interest Group (2005) Musculoskeletal ultrasound including definitions for ultrasonographic pathology. J Rheumatol 32(12):2485–2487

Gutierrez M, Filippucci E, Salaffi F, Di Geso L, Grassi W (2011) Differential diagnosis between rheumatoid arthritis and psoriatic arthritis: the value of ultrasound findings at metacarpophalangeal joints level. Ann Rheum Dis 70(6):1111–1114

Naredo E, Bonilla G, Gamero F, Uson J, Carmona L, Laffon A (2005) Assessment of inflammatory activity in rheumatoid arthritis: a comparative study of clinical evaluation with grey scale and power Doppler ultrasonography. Ann Rheum Dis 64(3):375–381

Naredo E, Gamero F, Bonilla G, Uson J, Carmona L, Laffon A (2005) Ultrasonographic assessment of inflammatory activity in rheumatoid arthritis: comparison of extended versus reduced joint evaluation. Clin Exp Rheumatol 23(6):881–884

Naredo E, Moller I, Cruz A, Carmona L, Garrido J (2008) Power Doppler ultrasonographic monitoring of response to anti-tumor necrosis factor therapy in patients with rheumatoid arthritis. Arthritis Rheum 58(8):2248–2256

van der Heijde DM, van Riel PL, Nuver-Zwart IH, Gribnau FW, Vad de Putte LB (1989) Effects of hydroxychloroquine and sulphasalazine on progression of joint damage in rheumatoid arthritis. Lancet. 1(8646):1036–1038

Gerlag DM, Raza K, van Baarsen LG, Brouwer E, Buckley CD, Burmester GR, Gabay C, Catrina AI, Cope AP, Cornelis F, Dahlqvist SR, Emery P, Eyre S, Finckh A, Gay S, Hazes JM, van der Helm-van Mil A, Huizinga TW, Klareskog L, Kvien TK, Lewis C, Machold KP, Rönnelid J, van Schaardenburg D, Schett G, Smolen JS, Thomas S, Worthington J, Tak PP (2012) EULAR recommendations for terminology and research in individuals at risk of rheumatoid arthritis: report from the Study Group for Risk Factors for Rheumatoid Arthritis. Ann Rheum Dis 71(5):638–641
Acknowledgments
The authors acknowledge all physicians from Hospital Italiano de La Plata who referred patients for the present study.
Additional information
Publisher's note
Springer Nature remains neutral with regard to jurisdictional claims in published maps and institutional affiliations.
About this article
Cite this article
Ruta, S., Prado, E.S., Chichande, J.T. et al. EULAR definition of "arthralgia suspicious for progression to rheumatoid arthritis" in a large cohort of patients included in a program for rapid diagnosis: role of auto-antibodies and ultrasound. Clin Rheumatol 39, 1493–1499 (2020). https://doi.org/10.1007/s10067-019-04855-0
Received:

Revised:

Accepted:

Published:

Issue Date:

DOI: https://doi.org/10.1007/s10067-019-04855-0
Keywords
Anti-cyclic citrullinated peptide antibodies

Arthralgias

Arthritis

Power Doppler

Radiography

Rheumatoid arthritis

Rheumatoid factor

Synovitis

Ultrasonography

Ultrasound