Abstract
Introduction/objectives
Discontinuation of biologic therapy in rheumatoid arthritis is attributable to various reasons, with the most important cause being insufficient response. In this study, we investigated the association between rheumatoid factor (RF) and anti-citrullinated protein autoantibody (ACPA) status and the discontinuation of tumor necrosis factor inhibitors (TNFi) therapy due to insufficient response in bio-naïve rheumatoid arthritis (RA) patients.
Method
This study included patients enrolled in the Tsurumai Biologic Communication Registry in Japan. The crude comparison of TNFi discontinuation due to ineffectiveness between seropositive and seronegative patients was analyzed using the cumulative incidence function of competing events and Gray test. We assessed the associations between baseline patient characteristics and discontinuation of TNFi therapy due to insufficient response using Fine-Gray proportional hazard regression. Fine-Gray proportional hazard analysis considered competing events of interest, including insufficient response, adverse event, palliation, and personal reasons.
Results
Of 1237 patients evaluated, 79.3% were positive for RF and 85.4% for ACPA; 72.6% were double positive and 11.1% were double negative. TNFi therapy had been discontinued because of insufficient response at 200 weeks in 19.8% RF-positive, 16.7% RF-negative, 23.0% ACPA-positive, and 13.8% ACPA-negative patients. There was a significantly higher discontinuation rate due to insufficient response in ACPA-positive patients than in ACPA-negative patients using Gray test, with a similar trend as that for RF status. RF positivity was significantly predictive of the discontinuation of TNFi therapy due to ineffectiveness using Fine-Gray proportional hazard regression analysis after adjusting for baseline characteristics, including age, sex, stage, class, disease activity at baseline, methotrexate use, and prednisolone use [hazard ratio 1.73 (95% confidence interval 1.07–2.80)].
Conclusions
Using Fine-Gray proportional hazard regression, we demonstrated that RF positivity was related to a higher discontinuation rate of TNFi therapy due to ineffectiveness in bio-naïve RA patients.
Key Points
• RF positivity is related to a higher discontinuation rate of TNFi therapy due to ineffectiveness.
• ACPA is not predictive of a discontinuation of TNFi therapy due to ineffectiveness.
Access options
Buy single article
Instant access to the full article PDF.
US$ 39.95
Tax calculation will be finalised during checkout.
Subscribe to journal
Immediate online access to all issues from 2019. Subscription will auto renew annually.
US$ 79
Tax calculation will be finalised during checkout.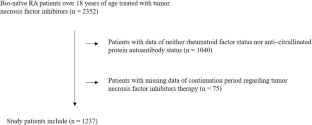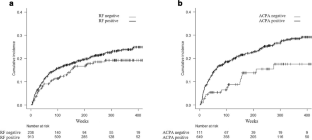 References
1.

Aletaha D, Neogi T, Silman AJ, Funovits J, Felson DT, Bingham CO 3rd et al (2010) 2010 rheumatoid arthritis classification criteria: an american college of rheumatology/european league against rheumatism collaborative initiative. Arthritis Rheum 62:2569–2581

2.

Suwannalai P, Trouw LA, Toes RE, Huizinga TW (2012) Anti-citrullinated protein antibodies (acpa) in early rheumatoid arthritis. Mod Rheumatol 22:15–20

3.

Orr C, Najm A, Biniecka M, McGarry T, Ng CT, Young F, Fearon U, Veale DJ (2017) Synovial immunophenotype and anti-citrullinated peptide antibodies in rheumatoid arthritis patients: relationship to treatment response and radiologic prognosis. Arthritis Rheumatol 69:2114–2123

4.

Gottenberg JE, Courvoisier DS, Hernandez MV, Iannone F, Lie E, Canhao H et al (2016) Brief report: association of rheumatoid factor and anti-citrullinated protein antibody positivity with better effectiveness of abatacept: results from the pan-european registry analysis. Arthritis Rheumatol 68:1346–1352

5.

Jansen D, Emery P, Smolen JS, Westhovens R, Le Bars M, Connolly SE et al (2018) Conversion to seronegative status after abatacept treatment in patients with early and poor prognostic rheumatoid arthritis is associated with better radiographic outcomes and sustained remission: post hoc analysis of the agree study. RMD Open 4:e000564

6.

Neubauer AS, Minartz C, Herrmann KH, Baerwald CGO (2018) Cost-effectiveness of early treatment of acpa-positive rheumatoid arthritis patients with abatacept. Clin Exp Rheumatol 36:448–454

7.

Cuchacovich M, Bueno D, Carvajal R, Bravo N, Aguillon JC, Catalan D et al (2014) Clinical parameters and biomarkers for anti-tnf treatment prognosis in rheumatoid arthritis patients. Clin Rheumatol 33:1707–1714

8.

Salgado E, Campos J, Moreira-Navarrete V, Mulero J, Navarro F, Perez-Pampin E et al (2013) Rheumatoid factor does not predict response to tnf antagonists in rheumatoid arthritis: three centers experience. Joint Bone Spine 80:438–440

9.

Ghiti Moghadam M, Vonkeman HE, Ten Klooster PM, Tekstra J, van Schaardenburg D, Starmans-Kool M et al (2016) Stopping tumor necrosis factor inhibitor treatment in patients with established rheumatoid arthritis in remission or with stable low disease activity: a pragmatic multicenter, open-label randomized controlled trial. Arthritis Rheumatol 68:1810–1817

10.

Wolkewitz M, Cooper BS, Bonten MJ, Barnett AG, Schumacher M (2014) Interpreting and comparing risks in the presence of competing events. BMJ 349:g5060

11.

Austin PC, Lee DS, Fine JP (2016) Introduction to the analysis of survival data in the presence of competing risks. Circulation 133:601–609

12.

Weng SF, Chiu YH, Jan RL, Chen YC, Chien CC, Wang JJ, Chu CC (2016) Death does matter--cancer risk in patients with end-stage renal disease: a nationwide population-based study with competing risk analyses. Medicine 95:e2512

13.

Shih CJ, Ou SM, Chao PW, Kuo SC, Lee YJ, Yang CY, Tarng DC, Lin CC, Huang PH, Li SY, Chen YT (2016) Risks of death and stroke in patients undergoing hemodialysis with new-onset atrial fibrillation: a competing-risk analysis of a nationwide cohort. Circulation 133:265–272

14.

Austin PC, Fine JP (2017) Practical recommendations for reporting fine-gray model analyses for competing risk data. Stat Med 36:4391–4400

15.

Kojima T, Kaneko A, Hirano Y, Ishikawa H, Miyake H, Oguchi T, Takagi H, Yabe Y, Kato T, Ito T, Terabe K, Fukaya N, Kanayama Y, Shioura T, Funahashi K, Hayashi M, Kato D, Matsubara H, Fujibayashi T, Kojima M, Ishiguro N, for the TBC (2012) Study protocol of a multicenter registry of patients with rheumatoid arthritis starting biologic therapy in Japan: Tsurumai biologics communication registry (tbcr) study. Mod Rheumatol 22:339–345

16.

Young KA, Deane KD, Derber LA, Hughes-Austin JM, Wagner CA, Sokolove J, Weisman MH, Buckner JH, Mikuls TR, O'Dell JR, Keating RM, Gregersen PK, Robinson WH, Holers VM, Norris JM (2013) Relatives without rheumatoid arthritis show reactivity to anti-citrullinated protein/peptide antibodies that are associated with arthritis-related traits: studies of the etiology of rheumatoid arthritis. Arthritis Rheum 65:1995–2004

17.

van der Linden MP, Knevel R, Huizinga TW, van der Helm-van Mil AH (2011) Classification of rheumatoid arthritis: comparison of the 1987 american college of rheumatology criteria and the 2010 american college of rheumatology/european league against rheumatism criteria. Arthritis Rheum 63:37–42

18.

World medical association declaration of helsinki (2013) Ethical principles for medical research involving human subjects. Jama 310:2191–2194

19.

Fransen J, van Riel PL (2009) The disease activity score and the eular response criteria. Rheum Dis Clin N Am 35:745–757 vii-viii

20.

van Gestel AM, Haagsma CJ, van Riel PL (1998) Validation of rheumatoid arthritis improvement criteria that include simplified joint counts. Arthritis Rheum 41:1845–1850

21.

Kuk D, Varadhan R (2013) Model selection in competing risks regression. Stat Med 32:3077–3088

22.

Li C (2016) The fine-gray model under interval censored competing risks data. J Multivar Anal 143:327–344

23.

Kanda Y (2013) Investigation of the freely available easy-to-use software 'ezr' for medical statistics. Bone Marrow Transplant 48:452–458

24.

Mulat A, Bayu H, Mellie H, Alemu A (2015) Induced second trimester abortion and associated factors in Amhara region referral hospitals. Biomed Res Int 2015:256534

25.

Acaroglu E, Guler UO, Olgun ZD, Yavuz Y, Pellise F, Domingo-Sabat M, Yakici S, Alanay A, Perez-Grueso FS, Yavuz Y, European Spine Study Group (2015) Multiple regression analysis of factors affecting health-related quality of life in adult spinal deformity. Spine Deform 3:360–366

26.

Luo MC, Gu YQ, Puiu D, Wang H, Twardziok SO, Deal KR, Huo N, Zhu T, Wang L, Wang Y, McGuire PE, Liu S, Long H, Ramasamy RK, Rodriguez JC, van SL, Yuan L, Wang Z, Xia Z, Xiao L, Anderson OD, Ouyang S, Liang Y, Zimin AV, Pertea G, Qi P, Bennetzen JL, Dai X, Dawson MW, Müller HG, Kugler K, Rivarola-Duarte L, Spannagl M, Mayer KFX, Lu FH, Bevan MW, Leroy P, Li P, You FM, Sun Q, Liu Z, Lyons E, Wicker T, Salzberg SL, Devos KM, Dvořák J (2017) Genome sequence of the progenitor of the wheat d genome aegilops tauschii. Nature 551:498–502

27.

Klaasen R, Cantaert T, Wijbrandts CA, Teitsma C, Gerlag DM, Out TA et al (2011) The value of rheumatoid factor and anti-citrullinated protein antibodies as predictors of response to infliximab in rheumatoid arthritis: an exploratory study. Rheumatology (Oxford) 50:1487–1493

28.

Mancarella L, Bobbio-Pallavicini F, Ceccarelli F, Falappone PC, Ferrante A, Malesci D, Massara A, Nacci F, Secchi ME, Manganelli S, Salaffi F, Bambara ML, Bombardieri S, Cutolo M, Ferri C, Galeazzi M, Gerli R, Giacomelli R, Grassi W, Lapadula G, Cerinic MM, Montecucco C, Trotta F, Triolo G, Valentini G, Valesini G, Ferraccioli GF, GISEA group (2007) Good clinical response, remission, and predictors of remission in rheumatoid arthritis patients treated with tumor necrosis factor-alpha blockers: the gisea study. J Rheumatol 34:1670–1673

29.

Braun-Moscovici Y, Markovits D, Zinder O, Schapira D, Rozin A, Ehrenburg M, Dain L, Hoffer E, Nahir AM, Balbir-Gurman A (2006) Anti-cyclic citrullinated protein antibodies as a predictor of response to anti-tumor necrosis factor-alpha therapy in patients with rheumatoid arthritis. J Rheumatol 33:497–500

30.

Di Giuseppe D, Discacciati A, Orsini N, Wolk A (2014) Cigarette smoking and risk of rheumatoid arthritis: a dose-response meta-analysis. Arthritis Res Ther 16:R61
Acknowledgments
The authors would like to thank Crimson Interactive Pvt. Ltd. for English proofreading.
Ethics declarations
Conflict of interest
N.T. has received speaking fees from Abbott Japan Co. Ltd., Eisai Co. Ltd., Mitsubishi Tanabe Pharma Corporation, Bristol-Myers Squibb, Abbott Japan, Chugai Pharmaceutical Co. Ltd., and Pfizer Co. Ltd. N.I. has received lecture fees including service on speaker bureaus from Daiichi Sankyo Company Ltd., Takeda Pharmaceutical Co. Ltd., Taisho Toyama Pharmaceutical Co. Ltd., Kaken Pharmaceutical Co. Ltd., Eisai Co. Ltd., Janssen Pharmaceutical KK, Bristol-Myers Squibb, Abbott Japan, Chugai Pharmaceutical Co. Ltd., Mitsubishi Tanabe Pharmaceutical, UCB Japan, and Astellas Pharma Inc. T.K. has received lecture fees from Mitsubishi Tanabe Pharma Corporation, Takeda Pharma Corporation, Bristol-Myers Squibb, Abbott Japan, Chugai Pharmaceutical Co. Ltd., and Eisai Pharma Corporation. All other authors have declared no conflicts of interest.
Additional information
Publisher's note
Springer Nature remains neutral with regard to jurisdictional claims in published maps and institutional affiliations.
About this article
Cite this article
Ogawa, Y., Takahashi, N., Kaneko, A. et al. Association between seropositivity and discontinuation of tumor necrosis factor inhibitors due to ineffectiveness in rheumatoid arthritis. Clin Rheumatol 38, 2757–2763 (2019). https://doi.org/10.1007/s10067-019-04626-x
Received:

Revised:

Accepted:

Published:

Issue Date:
Keywords
Biological therapy

Rheumatoid factor

Tumor necrosis factor

Survival analysis