Abstract
Objective
Previous studies suggest mindfulness is associated with pain and depression. However, its impact in individuals with fibromyalgia remains unclear. We examined associations between mindfulness and physical and psychological symptoms, pain interference, and quality of life in fibromyalgia patients.
Methods
We performed a cross-sectional analysis on baseline data from a fibromyalgia clinical trial. Mindfulness was assessed using the Five Facet Mindfulness Questionnaire (FFMQ). Pearson's correlations and multivariable linear regression models were used to evaluate associations between mindfulness and fibromyalgia impact, pain interference, physical function, depression, anxiety, stress, self-efficacy, and health-related quality of life. We also examined whether mindfulness moderated associations between fibromyalgia impact and psychological outcomes.
Results
A total of 177 participants (age 52.0 ± 12.2 (SD) years; 93.2% women; 58.8% white; body mass index 30.1 ± 6.7 kg/m2; FFMQ score 131.3 ± 20.7; Revised Fibromyalgia Impact Questionnaire score 57.0 ± 19.4) were included. Higher total mindfulness was significantly associated with lower fibromyalgia impact (r = − 0.25), pain interference (r = − 0.31), stress (r = − 0.56), anxiety (r = − 0.58), depression (r = − 0.54), and better mental health-related quality of life (r = 0.57). Describing, Acting-with-awareness, and Non-judging facets of mindfulness were also associated with these outcomes. Mindfulness moderated the effect of fibromyalgia impact on anxiety (interaction P = 0.01).
Conclusion
Higher mindfulness is associated with less pain interference, lower impact of fibromyalgia, and better psychological health and quality of life in people with fibromyalgia. Mindfulness moderates the influence of fibromyalgia impact on anxiety, suggesting mindfulness may alter how patients cope with fibromyalgia. Future studies should assess how mind-body therapies aiming to cultivate mindfulness may impact the well-being of patients with fibromyalgia.
Key points
• Higher mindfulness was associated with better psychological health and lower overall impact of fibromyalgia.
• Mindfulness moderated the relationship between overall fibromyalgia impact and anxiety.
This is a preview of subscription content, log in to check access.
Access options
Buy single article
Instant access to the full article PDF.
US$ 39.95
Price includes VAT for USA
Subscribe to journal
Immediate online access to all issues from 2019. Subscription will auto renew annually.
US$ 99
This is the net price. Taxes to be calculated in checkout.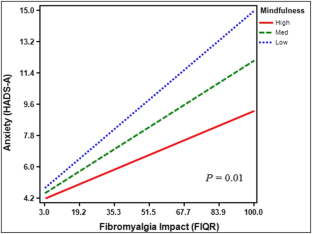 References
1.

Clauw DJ (2014) Fibromyalgia. JAMA 311:1547

2.

Burckhardt CS, Clark SR, Bennett RM (1993) Fibromyalgia and quality of life: a comparative analysis. J Rheumatol 20:475–479

3.

Sephton SE, Paul S, Weissbecker I, Ulmer C, Floyd A, Hoover K et al (2007) Mindfulness meditation alleviates depressive symptoms in women with fibromyalgia: results of a randomized clinical trial. Arthritis Rheum 57:77–85

4.

Schütze R, Rees C, Preece M, Schütze M (2010) Low mindfulness predicts pain catastrophizing in a fear-avoidance model of chronic pain. Pain 148:120–127

5.

Baer RA, Smith GT, Lykins E, Button D, Krietemeyer J, Sauer S et al (2008) Construct validity of the five facet mindfulness questionnaire in meditating and nonmeditating samples. Assessment 15:329–342

6.

Bränström R, Duncan LG, Moskowitz JT (2011) The association between dispositional mindfulness, psychological well-being, and perceived health in a Swedish population-based sample. Br J Health Psychol 16:300–316

7.

Bränström R, Kvillemo P, Brandberg Y, Moskowitz JT (2010) Self-report mindfulness as a mediator of psychological well-being in a stress reduction intervention for cancer patients--a randomized study. Ann Behav Med 39:151–161

8.

Lee AC, Harvey WF, Price LL, Morgan LPK, Morgan NL, Wang C (2017) Mindfulness is associated with psychological health and moderates pain in knee osteoarthritis. Osteoarthr Cartil 25:824–831

9.

Poulin PA, Romanow HC, Rahbari N, Small R, Smyth CE, Hatchard T et al (2016) The relationship between mindfulness, pain intensity, pain catastrophizing, depression, and quality of life among cancer survivors living with chronic neuropathic pain. Support Care Cancer 24:4167–4175

10.

van Son J, Nyklíček I, Nefs G, Speight J, Pop VJ, Pouwer F (2015) The association between mindfulness and emotional distress in adults with diabetes: could mindfulness serve as a buffer? Results from Diabetes MILES: the Netherlands. J Behav Med 38:251–260

11.

Baer RA, Smith GT, Hopkins J, Krietemeyer J, Toney L (2006) Using self-report assessment methods to explore facets of mindfulness. Assessment 13:27–45

12.

Marikar Bawa FL, Mercer SW, Atherton RJ, Clague F, Keen A, Scott NW et al (2015) Does mindfulness improve outcomes in patients with chronic pain? Systematic review and meta-analysis. Br J Gen Pract 65:e387–e400

13.

Curtis K, Osadchuk A, Katz J (2011) An eight-week yoga intervention is associated with improvements in pain, psychological functioning and mindfulness, and changes in cortisol levels in women with fibromyalgia. J Pain Res 4:189–201

14.

Desrosiers A, Klemanski DH, Nolen-Hoeksema S (2013) Mapping mindfulness facets onto dimensions of anxiety and depression. Behav Ther 44:373–384

15.

Jones KD, Mist SD, Casselberry MA, Ali A, Christopher MS (2015) Fibromyalgia impact and mindfulness characteristics in 4986 people with fibromyalgia. Explor J Sci Health 11:304–309

16.

Kraemer KM, McLeish AC, Johnson AL (2015) Associations between mindfulness and panic symptoms among young adults with asthma. Psychol Health Med 20:322–331

17.

Veehof MM, Oskam MJ, Schreurs KMG, Bohlmeijer ET (2011) Acceptance-based interventions for the treatment of chronic pain: a systematic review and meta-analysis. Pain 152:533–542

18.

Wang C, McAlindon T, Fielding RA, Harvey WF, Driban JB, Price LL et al (2015) A novel comparative effectiveness study of Tai Chi versus aerobic exercise for fibromyalgia: study protocol for a randomized controlled trial. Trials 16:34

19.

Wolfe F, Smythe HA, Yunus MB, Bennett RM, Bombardier C, Goldenberg DL et al (1990) The American College of Rheumatology 1990 Criteria for the Classification of Fibromyalgia. Report of the multicenter criteria committee. Arthritis Rheum 33:160–172

20.

Wolfe F, Clauw DJ, Fitzcharles MA, Goldenberg DL, Katz RS, Mease P et al (2010) The American College of Rheumatology preliminary diagnostic criteria for fibromyalgia and measurement of symptom severity. Arthritis Care Res 62:600–610

21.

Folstein MF, Folstein SE, McHugh PR (1975) 'Mini-mental state'. A practical method for grading the cognitive state of patients for the clinician. J Psychiatr Res 12:189–198

22.

Bennett RM, Friend R, Jones KD, Ward R, Han BK, Ross RL (2009) The Revised Fibromyalgia Impact Questionnaire (FIQR): validation and psychometric properties. Arthritis Res Ther 11:R120

23.

Amtmann D, Cook KF, Jensen MP, Chen WH, Choi S, Revicki D et al (2010) Development of a PROMIS item bank to measure pain interference. Pain 150:173–182

24.

Crins MHP, Roorda LD, Smits N, De Vet HCW, Westhovens R, Cella D et al (2015) Calibration and validation of the Dutch-Flemish PROMIS pain interference item Bank in patients with chronic pain. PLoS One 10. https://doi.org/10.1371/journal.pone.0134094

25.

Anderson J, Caplan L, Yazdany J, Robbins ML, Neogi T, Michaud K et al (2012) Rheumatoid arthritis disease activity measures: American College of Rheumatology recommendations for use in clinical practice. Arthritis Care Res (Hoboken) 64:640–647

26.

Hawker GA, Mian S, Kendzerska T, French M (2011) Measures of adult pain: Visual Analog Scale for pain (VAS pain), Numeric Rating Scale for pain (NRS pain), McGill Pain Questionnaire (MPQ), Short-Form McGill Pain Questionnaire (SF-MPQ), Chronic Pain Grade Scale (CPGS), Short Form-36 Bodily Pain Scale (SF). Arthritis Care Res 63. https://doi.org/10.1002/acr.20543

27.

Cohen S, Kamarck T, Mermelstein R (1983) A global measure of perceived stress. J Health Soc Behav 24:385

28.

Härter M, Reuter K, Gross-Hardt K, Bengel J (2001) Screening for anxiety, depressive and somatoform disorders in rehabilitation--validity of HADS and GHQ-12 in patients with musculoskeletal disease. Disabil Rehabil 23:737–744

29.

Zigmond AS, Snaith RP (1983) The Hospital Anxiety and Depression Scale. Acta Psychiatr Scand 67:361–370

30.

Burckhardt CS, Henriksson C (2001) The coping strategies questionnaire–Swedish version: evidence of reliability and validity in patients with fibromyalgia. Scand J Behav Ther 30:97–107

31.

Rosenstiel AK, Keefe FJ (1983) The use of coping strategies in chronic low back pain patients: relationship to patient characteristics and current adjustment. Pain 17:33–44

32.

McHorney CA, Ware JE, Rachel Lu JF, Sherbourne CD (1994) The MOS 36-ltem Short-Form Health Survey (SF-36): III. Tests of data quality, scaling assumptions, and reliability across diverse patient groups. Med Care 32:40–66

33.

Jenkinson C, Wright L, Coulter A (1994) Criterion validity and reliability of the SF-36 in a population sample. Qual Life Res 3:7–12

34.

Bandura A (1997) Self-efficacy: the exercise of control. Freeman, New York. https://doi.org/10.5860/CHOICE.35-1826

35.

Lorig K, Chastain RL, Ung E, Shoor S, Holman HR (1989) Development and evaluation of a scale to measure perceived self-efficacy in people with arthritis. Arthritis Rheum 32:37–44

36.

Harada ND, Chiu V, Stewart AL (1999) Mobility-related function in older adults: assessment with a 6-minute walk test. Arch Phys Med Rehabil 80:837–841

37.

Interaction [computer program]. Version 1.17. Fullerton, CA: Soper D; 2013

38.

Bergomi C, Ströhle G, Michalak J, Funke F, Berking M (2013) Facing the dreaded: does mindfulness facilitate coping with distressing experiences? A moderator analysis. Cogn Behav Ther 42:21–30

39.

Christopher MS, Neuser NJ, Michael PG, Baitmangalkar A (2012) Exploring the psychometric properties of the five facet mindfulness questionnaire. Mindfulness (N Y) 3:124–131

40.

Brooks JM, Muller V, Sánchez J, Johnson ET, Chiu C-Y, Cotton BP et al (2017) Mindfulness as a protective factor against depressive symptoms in people with fibromyalgia. J Ment Health 1–7. https://doi.org/10.1080/09638237.2017.1417555

41.

Cash E, Salmon P, Weissbecker I, Rebholz WN, Bayley-Veloso R, Zimmaro LA et al (2015) Mindfulness meditation alleviates fibromyalgia symptoms in women: results of a randomized clinical trial. Ann Behav Med 49:319–330

42.

Malin K, Littlejohn GO (2016) Psychological factors mediate key symptoms of fibromyalgia through their influence on stress. Clin Rheumatol 35:2353–2357

43.

de Bruin EI, Topper M, Muskens JGAM, Bögels SM, Kamphuis JH (2012) Psychometric properties of the five facets mindfulness questionnaire (FFMQ) in a meditating and a non-meditating sample. Assessment 19:187–197

44.

Davis MC, Zautra AJ (2013) An online mindfulness intervention targeting socioemotional regulation in fibromyalgia: results of a randomized controlled trial. Ann Behav Med 46:273–284

45.

Goldberg SB, Wielgosz J, Dahl C, Schuyler B, MacCoon DS, Rosenkranz M, Lutz A, Sebranek CA, Davidson RJ (2015) Does the five facet mindfulness questionnaire measure what we think it does? Construct validity evidence from an active controlled randomized clinical trial. Psychol Assess 28(8):1009–1014
Funding
This work was supported by the National Center for Complementary and Integrative Health of the National Institutes of Health (NCCIH) [R01AT006367, K24AT007323, K23AT009374]; the National Center for Research Resources, National Institutes of Health [UL1RR025752]; and the National Center for Advancing Translational Sciences, National Institutes of Health [UL1TR000073, UL1TR001064]. The contents of this manuscript are solely the responsibility of the authors and do not necessarily represent the official views of the NCCIH. The investigators are solely responsible for the content of the manuscript and the decision to submit for publication.
Additional information
Publisher's note
Springer Nature remains neutral with regard to jurisdictional claims in published maps and institutional affiliations.
About this article
Cite this article
Pleman, B., Park, M., Han, X. et al. Mindfulness is associated with psychological health and moderates the impact of fibromyalgia. Clin Rheumatol 38, 1737–1745 (2019). https://doi.org/10.1007/s10067-019-04436-1
Received:

Revised:

Accepted:

Published:

Issue Date:
Keywords
Anxiety

Depression

Fibromyalgia

Mindfulness

Pain

Quality of life

Stress