Abstract
Quadriceps strength is important for maintaining functional movement in patients with knee osteoarthritis (OA). We aimed to examine whether knee OA severity weakened the magnitude of the associations between leg muscle mass, quadriceps strength, and functional movement. Screening for People Suffering Sarcopenia in Orthopedic cohort of Kobe study (SPSS-OK) was a single-center cross-sectional study. We recruited 611 patients with knee OA. Leg muscle mass was determined by bioimpedance and used as a proxy for quadriceps muscle mass. Quadriceps strength and indices of functional movement (assessed by the functional activities category of the new Knee Society Score questionnaire [KSS] and the Timed Up and Go [TUG] test) were measured. Knee OA severity was determined by the Kellgren-Lawrence radiographic grade. A series of general linear models was fitted with adjustment for confounding variables. The increase in quadriceps strength per leg associated with a 1-kg increase in leg mass per leg was 7.29 Nm, 5.43 Nm, and 3.77 Nm among patients with knee OA grade 1/2, 3, and 4, respectively (P for interaction = 0.003). A 1-Nm increase in quadriceps strength per leg was associated with both a 0.14 point increase in KSS movement score and a 0.05 s decrease in TUG, regardless of knee OA severity (P for interaction 0.430 and 0.323). Severe knee OA may reduce efficiency in the exertion of quadriceps strength by leg muscle mass even when the amount of muscle mass remains unchanged.
Access options
Buy single article
Instant access to the full article PDF.
USD 39.95
Price includes VAT (USA)
Tax calculation will be finalised during checkout.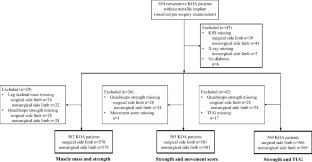 References
1.

Dillon CF, Rasch EK, Gu Q, Hirsch R (2006) Prevalence of knee osteoarthritis in the United States: arthritis data from the Third National Health and Nutrition Examination Survey 1991-94. J Rheumatol 33(11):2271–2279

2.

Muraki S, Oka H, Akune T, Mabuchi A, En-yo Y, Yoshida M, Saika A, Suzuki T, Yoshida H, Ishibashi H, Yamamoto S, Nakamura K, Kawaguchi H, Yoshimura N (2009) Prevalence of radiographic knee osteoarthritis and its association with knee pain in the elderly of Japanese population-based cohorts: the ROAD study. Osteoarthr Cartil 17(9):1137–1143. https://doi.org/10.1016/j.joca.2009.04.005

3.

National Institute for Health and Care Excellence. Osteoarthritis: quality standard. https://www.nice.org.uk/guidance/qs87/chapter/Introduction. Accessed 22 June 2018

4.

Chun SW, Kim KE, Jang SN, Kim KI, Paik NJ, Kim KW, Jang HC, Lim JY (2013) Muscle strength is the main associated factor of physical performance in older adults with knee osteoarthritis regardless of radiographic severity. Arch Gerontol Geriatr 56(2):377–382. https://doi.org/10.1016/j.archger.2012.10.013

5.

Frontera WR, Hughes VA, Lutz KJ, Evans WJ (1991) A cross-sectional study of muscle strength and mass in 45- to 78-yr-old men and women. J Appl Physiol 71(2):644–650. https://doi.org/10.1152/jappl.1991.71.2.644

6.

Maly MR, Calder KM, Macintyre NJ, Beattie KA (2013) Relationship of intermuscular fat volume in the thigh with knee extensor strength and physical performance in women at risk of or with knee osteoarthritis. Arthritis Care Res 65(1):44–52. https://doi.org/10.1002/acr.21868

7.

Slemenda CBK, Heilman DK, Mazzuca S, Braunstein EM, Katz BP, Wolinsky FD (1997) Quadriceps weakness and osteoarthritis of the knee. Ann Intern Med 127(2):97–104

8.

Omori G, Koga Y, Tanaka M, Nawata A, Watanabe H, Narumi K, Endoh K (2013) Quadriceps muscle strength and its relationship to radiographic knee osteoarthritis in Japanese elderly. J Orthop Sci 18(4):536–542. https://doi.org/10.1007/s00776-013-0383-4

9.

Omori G, Narumi K, Nishino K, Nawata A, Watanabe H, Tanaka M, Endoh K, Koga Y (2016) Association of mechanical factors with medial knee osteoarthritis: a cross-sectional study from Matsudai Knee Osteoarthritis Survey. J Orthop Sci 21(4):463–468. https://doi.org/10.1016/j.jos.2016.03.006

10.

Kellgren JH, Lawrence JS (1957) Radiological assessment of osteo-arthrosis. Ann Rheum Dis 16(4):494–502

11.

Handsfield GG, Meyer CH, Hart JM, Abel MF, Blemker SS (2014) Relationships of 35 lower limb muscles to height and body mass quantified using MRI. J Biomech 47(3):631–638. https://doi.org/10.1016/j.jbiomech.2013.12.002

12.

Katoh M, Yamasaki H (2009) Comparison of reliability of isometric leg muscle strength measurements made using a hand-held dynamometer with and without a restraining belt. J Phys Ther Sci 21:37–42

13.

Katoh M, Hiiragi Y, Uchida M (2011) Validity of isometric muscle strength measurements of the lower limbs using a hand-held dynamometer and belt: a comparison with an isokinetic dynamometer. J Phys Ther Sci 23:553–557

14.

Scuderi GR, Bourne RB, Noble PC, Benjamin JB, Lonner JH, Scott WN (2012) The new knee society knee scoring system. Clin Orthop Relat Res 470(1):3–19. https://doi.org/10.1007/s11999-011-2135-0

15.

Podsiadlo D, Richardson S (1991) The timed "Up & Go": a test of basic functional mobility for frail elderly persons. J Am Geriatr Soc 39(2):142–148

16.

Noble PC, Scuderi GR, Brekke AC, Sikorskii A, Benjamin JB, Lonner JH, Chadha P, Daylamani DA, Scott WN, Bourne RB (2012) Development of a new knee society scoring system. Clin Orthop Relat Res 470(1):20–32. https://doi.org/10.1007/s11999-011-2152-z

17.

Taniguchi N, Matsuda S, Kawaguchi T, Tabara Y, Ikezoe T, Tsuboyama T, Ichihashi N, Nakayama T, Matsuda F, Ito H (2015) The KSS 2011 reflects symptoms, physical activities, and radiographic grades in a Japanese population. Clin Orthop Relat Res 473(1):70–75. https://doi.org/10.1007/s11999-014-3650-6

18.

Ito C, Maeda R, Ishida S, Sasaki H, Harada H (2000) Correlation among fasting plasma glucose, two-hour plasma glucose levels in OGTT and HbA1c. Diabetes Res Clin Pract 50(3):225–230

19.

Rutherford OM, Jones DA, Newham DJ (1986) Clinical and experimental application of the percutaneous twitch superimposition technique for the study of human muscle activation. J Neurol Neurosurg Psychiatry 49(11):1288–1291

20.

Otsuki S, Nakajima M, Okamoto Y, Oda S, Hoshiyama Y, Iida G, Neo M (2016) Correlation between varus knee malalignment and patellofemoral osteoarthritis. Knee Surg Sports Traumatol Arthrosc 24(1):176–181. https://doi.org/10.1007/s00167-014-3360-3

21.

Farrokhi S, Piva SR, Gil AB, Oddis CV, Brooks MM, Fitzgerald GK (2013) Association of severity of coexisting patellofemoral disease with increased impairments and functional limitations in patients with knee osteoarthritis. Arthritis Care Res 65(4):544–551. https://doi.org/10.1002/acr.21866

22.

Noehren B, Kosmac K, Walton RG, Murach KA, Lyles MF, Loeser RF, Peterson CA, Messier SP (2018) Alterations in quadriceps muscle cellular and molecular properties in adults with moderate knee osteoarthritis. Osteoarthr Cartil 26:1359–1368. https://doi.org/10.1016/j.joca.2018.05.011

23.

Barker K, Lamb SE, Toye F, Jackson S, Barrington S (2004) Association between radiographic joint space narrowing, function, pain and muscle power in severe osteoarthritis of the knee. Clin Rehabil 18(7):793–800. https://doi.org/10.1191/0269215504cr754oa

24.

Christensen R, Henriksen M, Leeds AR, Gudbergsen H, Christensen P, Sorensen TJ, Bartels EM, Riecke BF, Aaboe J, Frederiksen R, Boesen M, Lohmander LS, Astrup A, Bliddal H (2015) Effect of weight maintenance on symptoms of knee osteoarthritis in obese patients: a twelve-month randomized controlled trial. Arthritis Care Res 67(5):640–650. https://doi.org/10.1002/acr.22504
Acknowledgements
The authors greatly thank the following research assistant and medical staff members for their assistance in collecting the clinical information used in this study Takehiro Kaga, Tomohiro Oka, Yoriko Tamura, Hiroshi Nishi, Yuichi Isaji, Yutaka Sato, Tomohiro Takagi, Kaho Shibata, Maho Wakai, Chisato Shindoh, Kenta Hirose, Takuma Ota, Tatsuya Arita, Yuuki Ikawa, Tsuyoshi Fukui, Riuji Nakagawa, Taisuke Hayashida, Shuto Fujii, Keisuke Yoneya, Kazuaki Mori (Anshin Hospital, Kobe), Lisa Shimokawa (Fukushima Medical University Hospital, Fukushima-city, Fukushima).
Funding
This study was supported by JSPS KAKENHI (Grant Number JP15K16518).
Electronic supplementary material
About this article
Cite this article
Wada, O., Kurita, N., Kamitani, T. et al. Influence of the severity of knee osteoarthritis on the association between leg muscle mass and quadriceps strength: the SPSS-OK study. Clin Rheumatol 38, 719–725 (2019). https://doi.org/10.1007/s10067-018-4337-2
Received:

Revised:

Accepted:

Published:

Issue Date:
Keywords
Knee osteoarthritis severity

Muscle mass

Muscle strength