Abstract
Bacterial and opportunistic infections are a major cause of morbidity and mortality in patients with systemic lupus erythematosus (SLE) and antineutrophil cytoplasmic antibody (ANCA)-associated vasculitis owing to treatment with immunosuppressants. Commonly used laboratory tests are unreliable in differentiating infection from active disease patients. Fc receptor (FcγR1 or CD64) expression on neutrophils and soluble TREM-1 (triggering receptor expressed on monocytes) are potential biomarkers of bacterial infections. Our aim was to measure the clinical usefulness of quantitative CD64 measurement on neutrophils and soluble TREM-1 measurements in differentiating bacterial infection from active disease in patients with SLE and ANCA vasculitis. Patients with bacterial infection (n = 25), active disease (n = 51), and healthy controls (n = 20) were included. Neutrophil CD64 expression using flow cytometry and sTREM-1 and procalcitonin levels by ELISA were studied. The percentage of neutrophils with CD64 expression and their mean fluorescence intensity in patients with infection (68.8 (56.9–86.5)%, 1037 (229–1828)) were significantly (p < 0.05) higher as compared to those without infection (7.7 (2.6–13.1)%, 456 (20–968)) and controls (7.05 (1.4–9.5)%, 99.5 (54.7–140.7)). The sensitivity and specificity of CD64 expression on neutrophils to diagnose bacterial infection (using a cutoff value of 30%) was 85% and 84%, respectively, whereas the sensitivity and specificity of procalcitonin was 75% and 85%, respectively. There was no significant difference in soluble TREM-1 levels between the two groups. Quantitative measurement of CD64 on neutrophils can distinguish between systemic infection and the flare of autoimmune diseases.
Access options
Buy single article
Instant access to the full article PDF.
USD 39.95
Price includes VAT (USA)
Tax calculation will be finalised during checkout.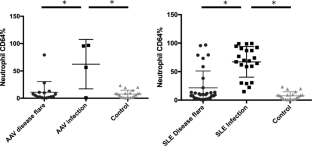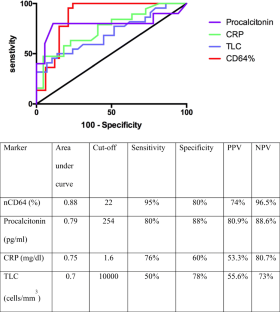 Abbreviations
AAV:

ANCA-associated vascuilitis

ANCA:

Anti-neutrophil-associated cytoplasmic antibody

ELISA:

Enzyme-linked immunosorbent assay

ESR:

Erythrocyte sedimentation rate

MAS:

Macrophage activation syndrome

MFI:

Mean fluorescence intensity

PBS:

Phosphate-buffered saline

PMN:

Polymorphonuclear leukocytes

RA:

Rheumatoid arthritis

SLE:

Systemic lupus erythematosus

TREM:

Triggering receptor expressed on monocytes
References
1.

Goldblatt F, Chambers S, Rahman A, Isenberg DA (2009) Serious infections in British patients with systemic lupus erythematosus: hospitalisations and mortality. Lupus 18:682–689. https://doi.org/10.1177/0961203308101019

2.

Kronbichler A, Jayne DRW, Mayer G (2015) Frequency, risk factors and prophylaxis of infection in ANCA-associated vasculitis. Eur J Clin Investig 45:346–368. https://doi.org/10.1111/eci.12410

3.

Inoue T, Takeda T, Koda S, Negoro N, Okamura M, Amatsu K, Kohno M, Horiguchi T, Kanayama Y (1986) Differential diagnosis of fever in systemic lupus erythematosus using discriminant analysis. Rheumatol Int 6:69–77

4.

Kronbichler A, Kerschbaum J, Gründlinger G, Leierer J, Mayer G, Rudnicki M (2016) Evaluation and validation of biomarkers in granulomatosis with polyangiitis and microscopic polyangiitis. Nephrol Dial Transplant 31:930–936. https://doi.org/10.1093/ndt/gfv336

5.

Ospina FE, Echeverri A, Zambrano D, Suso JP, Martínez-Blanco J, Cañas CA, Tobón GJ (2016) Distinguishing infections vs flares in patients with systemic lupus erythematosus. Rheumatology (Oxford):kew340. https://doi.org/10.1093/rheumatology/kew340

6.

Hussein OA, El-Toukhy MA, El-Rahman HS (2010) Neutrophil CD64 expression in inflammatory autoimmune diseases: its value in distinguishing infection from disease flare. Immunol Investig 39:699–712. https://doi.org/10.3109/08820139.2010.491520

7.

Nishino J, Tanaka S, Kadono Y, Matsui T, Komiya A, Nishimura K, Tohma S (2010) The usefulness of neutrophil CD64 expression in the diagnosis of local infection in patients with rheumatoid arthritis in daily practice. J Orthop Sci 15:547–552. https://doi.org/10.1007/s00776-010-1498-5

8.

Gibot S, Massin F, Le Renard P et al (2005) Surface and soluble triggering receptor expressed on myeloid cells-1: expression patterns in murine sepsis. Crit Care Med 33:1787–1793

9.

Su L, Han B, Liu C, Liang L, Jiang Z, Deng J, Yan P, Jia Y, Feng D, Xie L (2012) Value of soluble TREM-1, procalcitonin, and C-reactive protein serum levels as biomarkers for detecting bacteremia among sepsis patients with new fever in intensive care units: a prospective cohort study. BMC Infect Dis 12:157. https://doi.org/10.1186/1471-2334-12-157

10.

Molad Y, Pokroy-Shapira E, Kaptzan T, Monselise A, Shalita-Chesner M, Monselise Y (2013) Serum soluble triggering receptor on myeloid cells-1 (sTREM-1) is elevated in systemic lupus erythematosus but does not distinguish between lupus alone and concurrent infection. Inflammation 36:1519–1524. https://doi.org/10.1007/s10753-013-9694-z

11.

Kim J, Koh JK, Lee EY, Park JA, Kim HA, Lee EB, Garlanda C, Cotena A, Song YW (2009) Serum levels of soluble triggering receptor expressed on myeloid cells-1 (sTREM-1) and pentraxin 3 (PTX3) as markers of infection in febrile patients with systemic lupus erythematosus. Clin Exp Rheumatol 27:773–778

12.

Hirayama K, Nagai M, Ebihara I, Shimohata H, Kobayashi M, Koyama A (2011) Serum ratio of soluble triggering receptor expressed on myeloid cells-1 to creatinine is a useful marker of infectious complications in myeloperoxidase-antineutrophil cytoplasmic antibody-associated renal vasculitis. Nephrol Dial Transplant 26:868–874. https://doi.org/10.1093/ndt/gfq506

13.

Petri M, Orbai A-M, Alarcón GS, Gordon C, Merrill JT, Fortin PR, Bruce IN, Isenberg D, Wallace DJ, Nived O, Sturfelt G, Ramsey-Goldman R, Bae SC, Hanly JG, Sánchez-Guerrero J, Clarke A, Aranow C, Manzi S, Urowitz M, Gladman D, Kalunian K, Costner M, Werth VP, Zoma A, Bernatsky S, Ruiz-Irastorza G, Khamashta MA, Jacobsen S, Buyon JP, Maddison P, Dooley MA, van Vollenhoven RF, Ginzler E, Stoll T, Peschken C, Jorizzo JL, Callen JP, Lim SS, Fessler BJ, Inanc M, Kamen DL, Rahman A, Steinsson K, Franks AG Jr, Sigler L, Hameed S, Fang H, Pham N, Brey R, Weisman MH, McGwin G Jr, Magder LS (2012) Derivation and validation of systemic lupus international collaborating clinics classification criteria for systemic lupus erythematosus. Arthritis Rheum 64:2677–2686. https://doi.org/10.1002/art.34473

14.

Watts R, Lane S, Hanslik T, Hauser T, Hellmich B, Koldingsnes W, Mahr A, Segelmark M, Cohen-Tervaert JW, Scott D (2007) Development and validation of a consensus methodology for the classification of the ANCA-associated vasculitides and polyarteritis nodosa for epidemiological studies. Ann Rheum Dis 66:222–227. https://doi.org/10.1136/ard.2006.054593

15.

E. E (2010) Neutrophil CD64 in diagnosis of infection in systemic lupus erythematosus patients. Egypt J Hosp Med 41:600–617

16.

Dimoula A, Pradier O, Kassengera Z, Dalcomune D, Turkan H, Vincent JL (2014) Serial determinations of neutrophil CD64 expression for the diagnosis and monitoring of sepsis in critically ill patients. Clin Infect Dis 58:820–829. https://doi.org/10.1093/cid/cit936

17.

Gaitonde S, Samols D, Kushner I (2008) C-reactive protein and systemic lupus erythematosus. Arthritis Rheum 59:1814–1820. https://doi.org/10.1002/art.24316

18.

Simms HH, D'Amico R (1994) Regulation of intracellular polymorphonuclear leukocyte Fc receptors by lipopolysaccharide. Cell Immunol 157:525–541. https://doi.org/10.1006/cimm.1994.1247

19.

Hoffmeyer F, Witte K, Schmidt RE (1997) The high-affinity Fc gamma RI on PMN: regulation of expression and signal transduction. Immunology 92:544–552

20.

Qureshi SS, Lewis SM, Gant VA, Treacher D, Davis BH, Brown KA (2001) Increased distribution and expression of CD64 on blood polymorphonuclear cells from patients with the systemic inflammatory response syndrome (SIRS). Clin Exp Immunol 125:258–265

21.

Li S, Huang X, Chen Z, Zhong H, Peng Q, Deng Y, Qin X, Zhao J (2013) Neutrophil CD64 expression as a biomarker in the early diagnosis of bacterial infection: a meta-analysis. Int J Infect Dis 17:e12–e23. https://doi.org/10.1016/j.ijid.2012.07.017

22.

Li Y, Lee PY, Sobel ES, Narain S, Satoh M, Segal MS, Reeves WH, Richards HB (2009) Increased expression of FcgammaRI/CD64 on circulating monocytes parallels ongoing inflammation and nephritis in lupus. Arthritis Res Ther 11:R6. https://doi.org/10.1186/ar2590

23.

Allen E, Bakke AC, Purtzer MZ, Deodhar A (2002) Neutrophil CD64 expression: distinguishing acute inflammatory autoimmune disease from systemic infections. Ann Rheum Dis 61:522–525

24.

Muller Kobold AC, Mesander G, Stegeman CA et al (1998) Are circulating neutrophils intravascularly activated in patients with anti-neutrophil cytoplasmic antibody (ANCA)-associated vasculitides? Clin Exp Immunol 114:491–499

25.

Gibot S, Le Renard P-E, Bollaert P-E et al (2005) Surface triggering receptor expressed on myeloid cells 1 expression patterns in septic shock. Intensive Care Med 31:594–597. https://doi.org/10.1007/s00134-005-2572-x

26.

Daikeler T, Regenass S, Tyndall A, Gencay MM, Roth M, Christ-Crain M, Muller B, Hess C (2008) Increased serum levels of soluble triggering receptor expressed on myeloid cells-1 in antineutrophil cytoplasmic antibody-associated vasculitis. Ann Rheum Dis 67:723–724. https://doi.org/10.1136/ard.2007.076547

27.

Scirè CA, Cavagna L, Perotti C, Bruschi E, Caporali R, Montecucco C (2006) Diagnostic value of procalcitonin measurement in febrile patients with systemic autoimmune diseases. Clin Exp Rheumatol 24:123–128

28.

Wu J-Y, Lee S-H, Shen C-J, Hsieh YC, Yo PH, Cheng HY, Chan RC, Lee CC, Chang SS (2012) Use of serum procalcitonin to detect bacterial infection in patients with autoimmune diseases: a systematic review and meta-analysis. Arthritis Rheum 64:3034–3042. https://doi.org/10.1002/art.34512

29.

Yu J, Xu B, Huang Y, Zhao J, Wang S, Wang H, Yang N (2014) Serum procalcitonin and C-reactive protein for differentiating bacterial infection from disease activity in patients with systemic lupus erythematosus. Mod Rheumatol 24:457–463. https://doi.org/10.3109/14397595.2013.844391

30.

Brunkhorst R, Eberhardt OK, Haubitz M, Brunkhorst FM (2000) Procalcitonin for discrimination between activity of systemic autoimmune disease and systemic bacterial infection. Intensive Care Med 26(Suppl 2):S199–S201. https://doi.org/10.1007/BF02900738

31.

Meisner M (2014) Update on procalcitonin measurements. Ann Lab Med 34:263–273. https://doi.org/10.3343/alm.2014.34.4.263
Acknowledgements
All the authors have no sources of support to acknowledge.
Funding
This research received no specific grant from any funding agency in the public, commercial, or not-for-profit sectors.
Ethics declarations
Disclosures
None.
Ethical approval
The pertinent ethical committee has given its approval and/or the reported investigations have been performed in accordance with the principles of the Declaration of Helsinki.
Informed consent
Informed consent had been obtained from the patients, whenever appropriate.
Electronic supplementary material
About this article
Cite this article
Ajmani, S., Singh, H., Chaturvedi, S. et al. Utility of neutrophil CD64 and serum TREM-1 in distinguishing bacterial infection from disease flare in SLE and ANCA-associated vasculitis. Clin Rheumatol 38, 997–1005 (2019). https://doi.org/10.1007/s10067-018-4334-5
Received:

Revised:

Accepted:

Published:

Issue Date:
Keywords
AAV

ANCA-associated vasculitis

Biomarker

CD64

Sepsis

SLE