Abstract
Resveratrol (RSV), a naturally occurring polyphenol, has been found to have potent antioxidant, anti-inflammatory, and anticancer effects. Recently, RSV was reported as a new potential agent to suppress inflammation of collagen-induced arthritis in a mouse model. Nevertheless, the clinical benefits of RSV in the management of rheumatoid arthritis (RA) were not studied. This randomized controlled clinical trial aims to shed some light on the therapeutic benefits of RSV in the treatment of RA in patients with different stages of the disease activity. In this randomized controlled clinical trial, 100 RA patients (68 female, 32 male) were enrolled randomly and divided into two groups, each of 50 patients: an RSV-treated group that received a daily RSV capsule of 1 g with the conventional treatment for 3 months and a control group that just received the regular treatment. The clinical and biochemical markers of RA in both groups were assessed. It was found that the clinical markers (i.e., the 28-joint count for swelling and tenderness) and the disease activity score assessment for 28 joints were significantly lowered in the RSV-treated group. Moreover, serum levels of certain biochemical markers (i.e., C-reactive protein, erythrocyte sedimentation rate, undercarboxylated osteocalcin, matrix metalloproteinase-3, tumor necrosis factor alpha, and interleukin-6) were also significantly decreased in RSV-treated patients. The current study suggests the addition of RSV as an adjuvant to the conventional antirheumatic drugs.
Access options
Buy single article
Instant access to the full article PDF.
USD 39.95
Price includes VAT (USA)
Tax calculation will be finalised during checkout.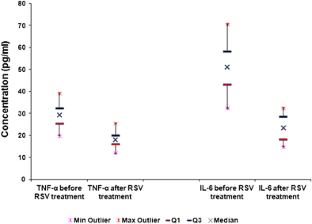 References
1.

Firestein GS (2003) Evolving concepts of rheumatoid arthritis. Nature 423(6937):356–361. https://doi.org/10.1038/nature01661

2.

Choy E (2012) Understanding the dynamics: pathways involved in the pathogenesis of rheumatoid arthritis. Rheumatology (Oxford) 51:v3–v11. https://doi.org/10.1093/rheumatology/kes113

3.

Saxne T, Palladino MA Jr, Heinegard D, Talal N, Wollheim FA (1988) Detection of tumor necrosis factor alpha but not tumor necrosis factor beta in rheumatoid arthritis synovial fluid and serum. Arthritis Rheum 31(8):1041–1045

4.

Olsen NJ, Stein CM (2004) New drugs for rheumatoid arthritis. N Engl J Med 350(21):2167–2179. https://doi.org/10.1056/NEJMra032906

5.

Walle T (2011) Bioavailability of resveratrol. Ann N Y Acad Sci 1215:9–15. https://doi.org/10.1111/j.1749-6632.2010.05842.x

6.

Elliott PJ, Jirousek M (2008) Sirtuins: novel targets for metabolic disease. Curr Opin Investig Drugs 9(4):371–378

7.

Yoo S-J, Go E, Kim Y-E, Lee S, Kwon J (2016) Roles of reactive oxygen species in rheumatoid arthritis pathogenesis. J Rheum Dis 23(6):340–347

8.

Karuppagounder SS, Pinto JT, Xu H, Chen HL, Beal MF, Gibson GE (2009) Dietary supplementation with resveratrol reduces plaque pathology in a transgenic model of Alzheimer's disease. Neurochem Int 54(2):111–118. https://doi.org/10.1016/j.neuint.2008.10.008

9.

Elmali N, Baysal O, Harma A, Esenkaya I, Mizrak B (2007) Effects of resveratrol in inflammatory arthritis. Inflammation 30(1–2):1–6. https://doi.org/10.1007/s10753-006-9012-0

10.

Nakayama H, Yaguchi T, Yoshiya S, Nishizaki T (2012) Resveratrol induces apoptosis MH7A human rheumatoid arthritis synovial cells in a sirtuin 1-dependent manner. Rheumatol Int 32(1):151–157. https://doi.org/10.1007/s00296-010-1598-8

11.

Yun-Hong C, Hyun-Ok K, Young-Sun S, Jae Hyung H, Wonyong J, Hye-Song L, Young-Sool H, Mi Jeong S, Dae Young K, Sang-Il L (2015) Inhibitory effects for rheumatoid arthritis of dietary supplementation with resveratrol in collagen-induced arthritis. J Rheum Dis 22(2):93–101

12.

Byun HS, Song JK, Kim YR, Piao L, Won M, Park KA, Choi BL, Lee H, Hong JH, Park J, Seok JH, Lee YJ, Kang SW, Hur GM (2008) Caspase-8 has an essential role in resveratrol-induced apoptosis of rheumatoid fibroblast-like synoviocytes. Rheumatology (Oxford) 47(3):301–308. https://doi.org/10.1093/rheumatology/kem368

13.

Xuzhu G, Komai-Koma M, Leung BP, Howe HS, McSharry C, McInnes IB, Xu D (2012) Resveratrol modulates murine collagen-induced arthritis by inhibiting Th17 and B-cell function. Ann Rheum Dis 71(1):129–135. https://doi.org/10.1136/ard.2011.149831

14.

Almeida L, Vaz-da-Silva M, Falcao A, Soares E, Costa R, Loureiro AI, Fernandes-Lopes C, Rocha JF, Nunes T, Wright L, Soares-da-Silva P (2009) Pharmacokinetic and safety profile of trans-resveratrol in a rising multiple-dose study in healthy volunteers. Mol Nutr Food Res 53:S7–S15. https://doi.org/10.1002/mnfr.200800177

15.

Cottart CH, Nivet-Antoine V, Laguillier-Morizot C, Beaudeux JL (2010) Resveratrol bioavailability and toxicity in humans. Mol Nutr Food Res 54(1):7–16. https://doi.org/10.1002/mnfr.200900437

16.

Arnett FC, Edworthy SM, Bloch DA, McShane DJ, Fries JF, Cooper NS, Healey LA, Kaplan SR, Liang MH, Luthra HS et al (1988) The American Rheumatism Association 1987 revised criteria for the classification of rheumatoid arthritis. Arthritis Rheum 31(3):315–324

17.

Anton SD, Embry C, Marsiske M, Lu X, Doss H, Leeuwenburgh C, Manini TM (2014) Safety and metabolic outcomes of resveratrol supplementation in older adults: results of a twelve-week, placebo-controlled pilot study. Exp Gerontol 57:181–187. https://doi.org/10.1016/j.exger.2014.05.015

18.

Efsa Panel on Dietetic Products N, Allergies (2016) Safety of synthetic trans-resveratrol as a novel food pursuant to Regulation (EC) No 258/97. EFSA J 14(1):4368–4397. https://doi.org/10.2903/j.efsa.2016.4368

19.

Novelle MG, Wahl D, Dieguez C, Bernier M, de Cabo R (2015) Resveratrol supplementation: where are we now and where should we go? Ageing Res Rev 21:1–15. https://doi.org/10.1016/j.arr.2015.01.002

20.

Singh G, Pai RS (2014) A rapid reversed-phase HPLC method for analysis of trans-resveratrol in PLGA nanoparticulate formulation. ISRN Chromatography 2014:6. https://doi.org/10.1155/2014/248635

21.

Sokoll LJ, O'Brien ME, Camilo ME, Sadowski JA (1995) Undercarboxylated osteocalcin and development of a method to determine vitamin K status. Clin Chem 41(8 Pt 1):1121–1128

22.

Obata K, Iwata K, Okada Y, Kohrin Y, Ohuchi E, Yoshida S, Shinmei M, Hayakawa T (1992) A one-step sandwich enzyme immunoassay for human matrix metalloproteinase 3 (stromelysin-1) using monoclonal antibodies. Clin Chim Acta 211(1–2):59–72

23.

Tas F, Oguz H, Argon A, Duranyildiz D, Camlica H, Yasasever V, Topuz E (2005) The value of serum levels of IL-6, TNF-alpha, and erythropoietin in metastatic malignant melanoma: serum IL-6 level is a valuable prognostic factor at least as serum LDH in advanced melanoma. Med Oncol 22(3):241–246. https://doi.org/10.1385/mo:22:3:241

24.

Matsui T, Kuga Y, Kaneko A, Nishino J, Eto Y, Chiba N, Yasuda M, Saisho K, Shimada K, Tohma S (2007) Disease Activity Score 28 (DAS28) using C-reactive protein underestimates disease activity and overestimates EULAR response criteria compared with DAS28 using erythrocyte sedimentation rate in a large observational cohort of rheumatoid arthritis patients in Japan. Ann Rheum Dis 66(9):1221–1226. https://doi.org/10.1136/ard.2006.063834

25.

Abdel-Rahman MS, Alkady EA, Ahmed S (2015) Menaquinone-7 as a novel pharmacological therapy in the treatment of rheumatoid arthritis: a clinical study. Eur J Pharmacol 761:273–278. https://doi.org/10.1016/j.ejphar.2015.06.014

26.

Fransen J, van Riel PL (2005) The Disease Activity Score and the EULAR response criteria. Clin Exp Rheumatol 23:S93–S99

27.

Berman AY, Motechin RA, Wiesenfeld MY, Holz MK (2017) The therapeutic potential of resveratrol: a review of clinical trials. NPJ Precis Oncol 1:35. https://doi.org/10.1038/s41698-017-0038-6

28.

Wahab A, Gao K, Jia C, Zhang F, Tian G, Murtaza G, Chen J (2017) Significance of resveratrol in clinical management of chronic diseases. Molecules 22(8). https://doi.org/10.3390/molecules22081329

29.

Theodotou M, Fokianos K, Mouzouridou A, Konstantinou C, Aristotelous A, Prodromou D, Chrysikou A (2017) The effect of resveratrol on hypertension: a clinical trial. Exp Ther Med 13(1):295–301. https://doi.org/10.3892/etm.2016.3958

30.

Ozturk E, Arslan AKK, Yerer MB, Bishayee A (2017) Resveratrol and diabetes: a critical review of clinical studies. Biomed Pharmacother 95:230–234. https://doi.org/10.1016/j.biopha.2017.08.070

31.

Haghighatdoost F, Hariri M (2018) Effect of resveratrol on lipid profile: an updated systematic review and meta-analysis on randomized clinical trials. Pharmacol Res 129:141–150. https://doi.org/10.1016/j.phrs.2017.12.033

32.

Qiang L, Di Y, Jiang Z, Xu J (2017) Resveratrol improves efficacy of oral amoxicillin against childhood fast breathing pneumonia in a randomized placebo-controlled double blind clinical trial. Microb Pathog 114:209–212. https://doi.org/10.1016/j.micpath.2017.11.062

33.

Mendes da Silva D, Gross LA, Neto EPG, Lessey BA, Savaris RF (2017) The use of resveratrol as an adjuvant treatment of pain in endometriosis: a randomized clinical trial. J Endocr Soc 1(4):359–369. https://doi.org/10.1210/js.2017-00053

34.

Heeboll S, Kreuzfeldt M, Hamilton-Dutoit S, Kjaer Poulsen M, Stodkilde-Jorgensen H, Moller HJ, Jessen N, Thorsen K, Kristina Hellberg Y, Bonlokke Pedersen S, Gronbaek H (2016) Placebo-controlled, randomised clinical trial: high-dose resveratrol treatment for non-alcoholic fatty liver disease. Scand J Gastroenterol 51(4):456–464. https://doi.org/10.3109/00365521.2015.1107620

35.

McDermott MM, Leeuwenburgh C, Guralnik JM, Tian L, Sufit R, Zhao L, Criqui MH, Kibbe MR, Stein JH, Lloyd-Jones D, Anton SD, Polonsky TS, Gao Y, de Cabo R, Ferrucci L (2017) Effect of resveratrol on walking performance in older people with peripheral artery disease: the RESTORE randomized clinical trial. JAMA Cardiol 2(8):902–907. https://doi.org/10.1001/jamacardio.2017.0538

36.

McCarey DW, McInnes IB, Madhok R, Hampson R, Scherbakov O, Ford I, Capell HA, Sattar N (2004) Trial of atorvastatin in rheumatoid arthritis (TARA): double-blind, randomised placebo-controlled trial. Lancet 363(9426):2015–2021. https://doi.org/10.1016/s0140-6736(04)16449-0

37.

Di Giuseppe D, Alfredsson L, Bottai M, Askling J, Wolk A (2012) Long term alcohol intake and risk of rheumatoid arthritis in women: a population based cohort study. BMJ 345:e4230. https://doi.org/10.1136/bmj.e4230

38.

Manicourt DH, Triki R, Fukuda K, Devogelaer JP, Nagant de Deuxchaisnes C, Thonar EJ (1993) Levels of circulating tumor necrosis factor alpha and interleukin-6 in patients with rheumatoid arthritis. Relationship to serum levels of hyaluronan and antigenic keratan sulfate. Arthritis Rheum 36(4):490–499

39.

Brown VA, Patel KR, Viskaduraki M, Crowell JA, Perloff M, Booth TD, Vasilinin G, Sen A, Schinas AM, Piccirilli G, Brown K, Steward WP, Gescher AJ, Brenner DE (2010) Repeat dose study of the cancer chemopreventive agent resveratrol in healthy volunteers: safety, pharmacokinetics, and effect on the insulin-like growth factor axis. Cancer Res 70(22):9003–9011. https://doi.org/10.1158/0008-5472.can-10-2364
Acknowledgements
The authors thank Assiut University Hospital for the help in using different analytical and research facilities.
Funding
This project received financial support from Toxicological Research & Studies Center at Taibah University.
Ethics declarations
Disclosures
None.
Ethics approval and consent to participate
All RA patients participated in the study gave informed consent and ethical approval for the study was obtained by Institutional Review Board of the Faculty of Medicine at Assiut University.
About this article
Cite this article
Khojah, H.M., Ahmed, S., Abdel-Rahman, M.S. et al. Resveratrol as an effective adjuvant therapy in the management of rheumatoid arthritis: a clinical study. Clin Rheumatol 37, 2035–2042 (2018). https://doi.org/10.1007/s10067-018-4080-8
Received:

Revised:

Accepted:

Published:

Issue Date:
Keywords
DAS28-ESR

Resveratrol

Rheumatoid arthritis

TNF-α

ucOC