Abstract
The anti-inflammatory role of macrophages in apoptotic cells (ACs) clearance is involved in Systemic Lupus Erythematosus (SLE) pathogenesis. The efferocytic capability of macrophages is altered by M1/M2 polarization. Histone deacetylase inhibitors (HDACi) are proposed to enhance the expansion of M2 macrophages. Sodium valproate (VPA) is an HDACi with different anti-inflammatory properties. Here, we aimed to investigate the effects of HDACi by VPA on the polarization of monocyte-derived macrophages (MDMs) and regulating the expression of anti-inflammatory cytokines in SLE. We studied the ex vivo alterations of MDMs among 15 newly diagnosed SLE patients and 10 normal subjects followed by ACs and VPA treatments. M1/M2 polarization was assessed by expression of CD86/CD163, IL1-β, IDO-1, and MRC-1 among treated and non-treated MDMs. We also evaluated the production of IL-10, IL-12, TGF-β1, and TNF-α cytokines in the cell culture supernatants. CD163 was overexpressed upon VPA treatment, while CD86 showed no significant change. IL1-β and IDO-1 genes were significantly downregulated, and the mRNA expression of MRC-1 was increased among VPA-treated MDMs of SLE patients. The anti-inflammatory cytokines (IL-10 and TGF-β1) were overproduced while TNF-α level was decreased in response to VPA. The population of classically activated macrophages was more prevalent among SLE patients and efferocytosis was defected. VPA could successfully enhance the anti-inflammatory immune response through alternative activation of MDMs in SLE patients.
Access options
Buy single article
Instant access to the full article PDF.
US$ 39.95
Tax calculation will be finalised during checkout.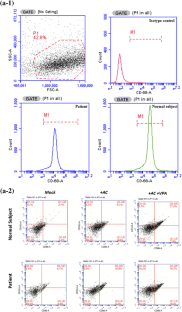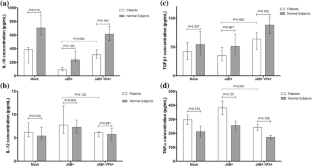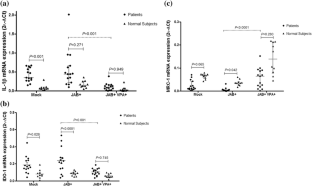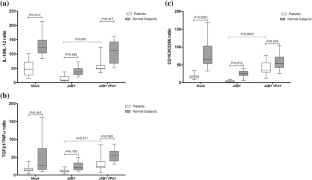 References
1.

Feng PH (2007) Systemic lupus erythematosus. Ann N Y Acad Sci 1108(1):114–120

2.

Mohan C, Putterman C (2015) Genetics and pathogenesis of systemic lupus erythematosus and lupus nephritis. Nat Rev Nephrol 11(6):329–341. https://doi.org/10.1038/nrneph.2015.33

3.

Mak A, Tay SH (2014) Environmental factors, toxicants and systemic lupus erythematosus. Int J Mol Sci 15(9):16043–16056. https://doi.org/10.3390/ijms150916043

4.

Rigante D, Mazzoni MB, Esposito S (2014) The cryptic interplay between systemic lupus erythematosus and infections. Autoimmun Rev 13(2):96–102. https://doi.org/10.1016/j.autrev.2013.09.004

5.

Yildirim-Toruner C, Diamond B (2011) Current and novel therapeutics in the treatment of systemic lupus erythematosus. J Allergy Clin Immunol 127(2):303–312. https://doi.org/10.1016/j.jaci.2010.12.1087

6.

Yap DYH, Lai KN (2013) The role of cytokines in the pathogenesis of systemic lupus erythematosus—from bench to bedside. Nephrology 18(4):243–255. https://doi.org/10.1111/nep.12047

7.

Mohammadi S, Sedighi S, Memarian A, Yazdani Y (2017) Overexpression of interferon-γ and indoleamine 2, 3-dioxygenase in systemic lupus erythematosus: relationship with the disease activity. Lab Med 41(1):41–47

8.

Ren Y, Tang J, Mok M, Chan AW, Wu A, Lau C (2003) Increased apoptotic neutrophils and macrophages and impaired macrophage phagocytic clearance of apoptotic neutrophils in systemic lupus erythematosus. Arthritis Rheum 48(10):2888–2897. https://doi.org/10.1002/art.11237

9.

Murray PJ, Allen JE, Biswas SK, Fisher EA, Gilroy DW, Goerdt S, Gordon S, Hamilton JA, Ivashkiv LB, Lawrence T (2014) Macrophage activation and polarization: nomenclature and experimental guidelines. Immunity 41(1):14–20. https://doi.org/10.1016/j.immuni.2014.06.008

10.

Gordon S, Martinez FO (2010) Alternative activation of macrophages: mechanism and functions. Immunity 32(5):593–604. https://doi.org/10.1016/j.immuni.2010.05.007

11.

Korns D, Frasch SC, Fernandez-Boyanapalli R, Henson PM, Bratton DL (2011) Modulation of macrophage efferocytosis in inflammation. Front Immunol 2:57. https://doi.org/10.3389/fimmu.2011.00057 

12.

Sica A, Mantovani A (2012) Macrophage plasticity and polarization: in vivo veritas. J Clin Invest 122(3):787–795. https://doi.org/10.1172/JCI59643

13.

Mohammadi S, Saghaeian-Jazi M, Sedighi S, Memarian A (2017) Immunomodulation in systemic lupus erythematosus: induction of M2 population in monocyte-derived macrophages by pioglitazone. Lupus 26(12):1318–1327. https://doi.org/10.1177/0961203317701842

14.

Odegaard JI, Ricardo-Gonzalez RR, Goforth MH, Morel CR, Subramanian V, Mukundan L, Eagle AR, Vats D, Brombacher F, Ferrante AW (2007) Macrophage-specific PPARγ controls alternative activation and improves insulin resistance. Nature 447(7148):1116–1120. https://doi.org/10.1038/nature05894

15.

Climaco-Arvizu S, Domínguez-Acosta O, Cabañas-Cortés MA, Rodríguez-Sosa M, Gonzalez FJ, Vega L, Elizondo G (2016) Aryl hydrocarbon receptor influences nitric oxide and arginine production and alters M1/M2 macrophage polarization. Life Sci 155:76–84. https://doi.org/10.1016/j.lfs.2016.05.001

16.

Montero J, Gómez-Abellán V, Arizcun M, Mulero V, Sepulcre MP (2016) Prostaglandin E 2 promotes M2 polarization of macrophages via a cAMP/CREB signaling pathway and deactivates granulocytes in teleost fish. Fish Shellfish Immunol 55:632–641. https://doi.org/10.1016/j.fsi.2016.06.044

17.

Röszer T (2017) Transcriptional control of apoptotic cell clearance by macrophage nuclear receptors. Apoptosis 22(2):284–294. https://doi.org/10.1007/s10495-016-1310-x

18.

Hoppstädter J, Kiemer AK (2015) Glucocorticoid-induced leucine zipper (GILZ) in immuno suppression: master regulator or bystander? Oncotarget 6(36):38446–38457. 10.18632/oncotarget.6197

19.

Patel U, Rajasingh S, Samanta S, Cao T, Dawn B, Rajasingh J (2017) Macrophage polarization in response to epigenetic modifiers during infection and inflammation. Drug Discov Today 22(1):186–193. https://doi.org/10.1016/j.drudis.2016.08.006

20.

Takeuch O, Akira S (2011) Epigenetic control of macrophage polarization. Eur J Immunol 41(9):2490–2493. https://doi.org/10.1002/eji.201141792

21.

Wu C, Li A, Leng Y, Li Y, Kang J (2012) Histone deacetylase inhibition by sodium valproate regulates polarization of macrophage subsets. DNA Cell Biol 31(4):592–599. https://doi.org/10.1089/dna.2011.1401

22.

Reddy P, Sun Y, Toubai T, Duran-Struuck R, Clouthier SG, Weisiger E, Maeda Y, Tawara I, Krijanovski O, Gatza E (2008) Histone deacetylase inhibition modulates indoleamine 2, 3-dioxygenase–dependent DC functions and regulates experimental graft-versus-host disease in mice. J Clin Invest 118(7):2562–2573. https://doi.org/10.1172/JCI34712

23.

Association WM (2013) World Medical Association Declaration of Helsinki: ethical principles for medical research involving human subjects. JAMA 310(20):2191

24.

Memarian A, Nourizadeh M, Masoumi F, Tabrizi M, Emami AH, Alimoghaddam K, Hadjati J, Mirahmadian M, Jeddi-Tehrani M (2013) Upregulation of CD200 is associated with Foxp3+ regulatory T cell expansion and disease progression in acute myeloid leukemia. Tumor Biol 34(1):531–542. https://doi.org/10.1007/s13277-012-0578-x

25.

Saghaeian-Jazi M, Mohammadi S, Sedighi S (2016) Culture and differentiation of monocyte derived macrophages using human serum: an optimized method. Zahedan J Res Med Sci 18(6):e7362. https://doi.org/10.17795/zjrms-7362

26.

Wang Y, Fu Y, Xue S, Ai A, Chen H, Lyu Q, Kuang Y (2014) The M2 polarization of macrophage induced by fractalkine in the endometriotic milieu enhances invasiveness of endometrial stromal cells. Int J Clin Exp Pathol 7(1):194–203

27.

Majai G, Kiss E, Tarr T, Zahuczky G, Hartman Z, Szegedi G, Fésüs L (2014) Decreased apopto-phagocytic gene expression in the macrophages of systemic lupus erythematosus patients. Lupus 23(2):133–145. https://doi.org/10.1177/0961203313511557

28.

Poon IK, Lucas CD, Rossi AG, Ravichandran KS (2014) Apoptotic cell clearance: basic biology and therapeutic potential. Nat Rev Immunol 14(3):166–180. https://doi.org/10.1038/nri3607

29.

Tsokos GC, Lo MS, Reis PC, Sullivan KE (2016) New insights into the immunopathogenesis of systemic lupus erythematosus. Nat Rev Rheumatol 12(12):716–730. https://doi.org/10.1038/nrrheum.2016.186

30.

Vandivier RW, Henson PM, Douglas IS (2006) Burying the dead: the impact of failed apoptotic cell removal (efferocytosis) on chronic inflammatory lung disease. Chest J 129(6):1673–1682. https://doi.org/10.1378/chest.129.6.1673

31.

Chinetti-Gbaguidi G, Staels B (2011) Macrophage polarization in metabolic disorders: functions and regulation. Curr Opin Lipidol 22(5):365–372. https://doi.org/10.1097/MOL.0b013e32834a77b4

32.

Gratchev A, Kzhyshkowska J, Köthe K, Muller-Molinet I, Kannookadan S, Utikal J, Goerdt S (2006) Mφ1 and Mφ2 can be re-polarized by Th2 or Th1 cytokines, respectively, and respond to exogenous danger signals. Immunobiology 211(6):473–486. https://doi.org/10.1016/j.imbio.2006.05.017

33.

Schäcke H, Döcke W-D, Asadullah K (2002) Mechanisms involved in the side effects of glucocorticoids. Pharmacol Ther 96(1):23–43. https://doi.org/10.1016/S0163-7258(02)00297-8

34.

Kapellos TS, Iqbal AJ (2016) Epigenetic control of macrophage polarisation and soluble mediator gene expression during inflammation. Mediat Inflamm 2016:1–15. https://doi.org/10.1155/2016/6591703

35.

Ichiyama T, Okada K, Lipton JM, Matsubara T, Hayashi T, Furukawa S (2000) Sodium valproate inhibits production of TNF-α and IL-6 and activation of NF-κB. Brain Res 857(1):246–251. https://doi.org/10.1016/S0006-8993(99)02439-7

36.

Vinolo MA, Rodrigues HG, Nachbar RT, Curi R (2011) Regulation of inflammation by short chain fatty acids. Nutrients 3(10):858–876. https://doi.org/10.3390/nu3100858

37.

Kim HJ, Rowe M, Ren M, Hong J-S, Chen P-S, Chuang D-M (2007) Histone deacetylase inhibitors exhibit anti-inflammatory and neuroprotective effects in a rat permanent ischemic model of stroke: multiple mechanisms of action. J Pharmacol Exp Ther 321(3):892–901. https://doi.org/10.1124/jpet.107.120188

38.

Sinn D-I, Kim S-J, Chu K, Jung K-H, Lee S-T, Song E-C, Kim J-M, Park D-K, Lee SK, Kim M (2007) Valproic acid-mediated neuroprotection in intracerebral hemorrhage via histone deacetylase inhibition and transcriptional activation. Neurobiol Dis 26(2):464–472. https://doi.org/10.1016/j.nbd.2007.02.006

39.

Broxmeyer HE (2014) Inhibiting HDAC for human hematopoietic stem cell expansion. J Clin Invest 124(6):2365–2368. https://doi.org/10.1172/JCI75803

40.

Gómez CD, Buijs RM, Sitges M (2014) The anti-seizure drugs vinpocetine and carbamazepine, but not valproic acid, reduce inflammatory IL-1β and TNF-α expression in rat hippocampus. J Neurochem 130(6):770–779. https://doi.org/10.1111/jnc.12784

41.

Rőszer T (2015) Understanding the mysterious M2 macrophage through activation markers and effector mechanisms. Mediat Inflamm 2015:1–16. https://doi.org/10.1155/2015/816460

42.

de Faudeur G, De Trez C, Muraille E, Leo O (2008) Normal development and function of dendritic cells in mice lacking IDO-1 expression. Immunol Lett 118(1):21–29. https://doi.org/10.1016/j.imlet.2008.02.006

43.

Wang G, Shi Y, Jiang X, Leak RK, Hu X, Wu Y, Pu H, Li W-W, Tang B, Wang Y (2015) HDAC inhibition prevents white matter injury by modulating microglia/macrophage polarization through the GSK3β/PTEN/Akt axis. Proc Natl Acad Sci 112(9):2853–2858. https://doi.org/10.1073/pnas.1501441112

44.

Martinez FO, Gordon S (2014) The M1 and M2 paradigm of macrophage activation: time for reassessment. F1000Prime Rep 6:13 10.12703
Acknowledgments
We would like to acknowledge Dr. S Zhand, Dr. Ayyoob Khosravi, and Mrs. Haydari for their technical and scientific consults.
Funding
This article was derived from a research project funded by Students Research Committee at Golestan University of Medical Sciences, Gorgan, Iran (Grant Code: 930618118).
Ethics declarations
Ethical approval
This article contains studies with human participants. The present study was approved by ethics committee, Golestan University of Medical Sciences, Gorgan, Iran (Code of Ethics: 1479179306194). An informed consent following the declaration of Helsinki was signed and taken from all participants.
Disclosures
None.
About this article
Cite this article
Mohammadi, S., Saghaeian-Jazi, M., Sedighi, S. et al. Sodium valproate modulates immune response by alternative activation of monocyte-derived macrophages in systemic lupus erythematosus. Clin Rheumatol 37, 719–727 (2018). https://doi.org/10.1007/s10067-017-3922-0
Received:

Revised:

Accepted:

Published:

Issue Date:
Keywords
Histone deacetylase inhibitor

Macrophage polarization

Sodium valproate

Systemic lupus erythematosus