Abstract
The objective of this study is to assess the effectiveness of resistance training in patients with psoriatic arthritis (PsA). The study is a randomized controlled trial with 41 patients aged between 18 and 65 years with diagnosis of psoriatic arthritis (PsA). The patients were randomized into the following: intervention group (IG) and control group (CG). The IG underwent resistance exercise twice a week, for 12 weeks. The CG remained with the conventional drug therapy. The outcome measurements were the following: BASFI and HAQ-S for functional capacity, one maximum repetition test (1RM) for muscle strength, SF-36 questionnaire for general quality of life, and BASDAI and DAS-28 for disease activity. The evaluations were done by a blinded evaluator at baseline (T0) after 6 (T6) and 12 weeks (T12). At baseline, the groups were homogeneous regarding clinical and demographic characteristics. The IG significantly improved functional capacity measured by HAQ-S and disease activity measured by BASDAI, compared to CG, at week 12. Regarding quality of life, the IG improved the domains "pain" and "general health status" compared to CG (p < 0.05). There was improvement in muscular strength in almost all exercises in IG, except in the exercise for biceps. However, there were statistical differences between groups only on exercise "leg extension" in IG compared to CG. Resistance training is effective in improving functional capacity, disease activity, and quality of life of patients with psoriatic arthritis. The clinical improvements were not coupled to significant changes in muscular strength.
Access options
Buy single article
Instant access to the full article PDF.
USD 39.95
Price excludes VAT (USA)
Tax calculation will be finalised during checkout.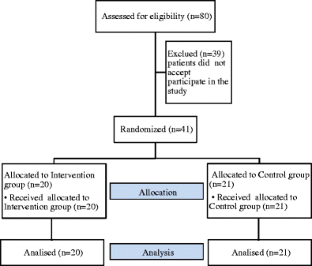 References
Gladman DD, Antoni C, Mease PJ et al (2005) Psoriatic arthritis: epidemiology, clinical features, course, and outcome. Ann Rheum Dis 64(Suppl II):ii14–ii17

Dominguez P, Gladman DD, Helliwell P, Mease PJ, Husni ME, Qureshi AA (2010) Development of screening tools to identify psoriatic arthritis. Curr Rheumatol Rep 12(4):295–299. https://doi.org/10.1007/s11926-010-0113-2

Kumar R, Sharma A, Dogra S (2014) Prevalence and clinical patterns of psoriatic arthritis in Indian patients with psoriasis. Indian J Dermatol Venereol Leprol [serial online] 80:15–23 Disponível em: http://www.ijdvl.com/text.asp?2014/80/1/15/125472 [cited 2014 Mar 6]

Burder K, Wozel G (2010) Psoriatic arthritis: a diagnostic challenge? G Ital Dermatol Venereol 145(3):407–414

O'Dwyer T, O'Shea F, Wilson F (2014) Exercise therapy for spondyloarthritis: a systematic review. Rheumatol Int 34(7):887–902. https://doi.org/10.1007/s00296-014-2965-7

Krueger G, Koo J, Lebwohl M et al (2001) The impact of psoriasis on quality of life: results of a 1998 National Psoriasis Foundation patient-membership survey. Arch Dermatol 137:280–284

Ratamess NA, Alvar BA, Evetoch TK et al (2009) Progression models in resistance training for healthy adults. Off J Am Coll Sports Med:687–708

Shinjo SK, Gonçalves R, Kowalski S, Gonçalves CR (2007) Brazilian-Portuguese version of the Health Assessment Questionnaire for Spondyloarthropathies (HAQ-S) in patients with ankylosing spondylitis: a translation, cross-cultural adaptation, and validation. Clin Rheumatol 26(8):1254–1258. https://doi.org/10.1007/s10067-006-0479-8

Cusmanich KG (2006) Validação para a língua portuguesa dos instrumentos de avaliação de índice funcional e índice de atividade da doença em pacientes com Espondilite Anquilosante. Faculdade de Medicina da Universidade de São Paulo, São Paulo

Armstrong L, Balady GJ, Berry MJ et al (2007) Diretrizes do ACMS para os testes de esforço e sua prescrição / American College of Sport Medicine. Guanabara Koogan, Rio de Janeiro, p 119

Kraemer WJ, Ratames NA (2004) Fundamentals of resistance training: progression and exercise prescription. American college of Sports Med:675–676

Gladman DD, Mease PJ, Healy P, Helliwell PS, Fitzgerald O, Cauli A, Lubrano E, Krueger GG, van der Heijde D, Veale DJ, Kavanaugh A, Nash P, Ritchlin C, Taylor W, Strand V (2007) Outcome measures in psoriatic arthritis. J Rheumatol 34(5):1159–1166

Ciconelli RM, Ferraz MB, Santos W et al (1999) Brazilian-Portuguese version of the SF-36. A reliable and valid quality of life outcome measure. Rev Bras Reumatol 39:143–150

McKenna SP, Doward LC, Whalley D (2004) Development of the PsAQoL: a quality of life instrument specific to psoriatic arthritis. Ann Rheum Dis 63(2):162–169. https://doi.org/10.1136/ard.2003.006296

Braun J, Zochling J, Märker-Hermann E, Stucki G, Böhm H, Rudwaleit M, Zeidler H, Sieper J (2006) Recommendations for the management of ankylosing spodylitis after ASAS/EULAR. Evaluation in the German language area. Z Rheumatol 65(8):728–742. https://doi.org/10.1007/s00393-006-0119-3

Athan B, Mathieu V, Michel G, Robert J et al (2012) Efficacy of resistance exercises in rheumatoid arthritis: meta-analysis of randomized controlled trials. Rheumatology 51:519527

Rosu MO, Topa I, Chirieac R et al (2014) Effects of Pilates, McKenzie and Heckscher training on disease activity, spinal motility and pulmonary function in patients with ankylosing spondylitis: a randomized controlled trial. Rheumatol Int 34(3):367–372

Silva EM, Andrade SC, Vilar MJ (2012) Evaluation of the effects of Global Postural Reeducation in patients with ankylosing spondylitis. Rheumatol Int 32(7):2155–2163. https://doi.org/10.1007/s00296-011-1938-3

Sahin N, Ozcan E, Baskent A, Karan A, Kasikcioglu E (2011) Muscular kinetics and fatigue evaluation of knee using by isokinetic dynamometer in patients with ankylosing spondylitis. Acta Reumatol Port 36(3):252–259

Rietjens R, Stone TM, Montes J et al (2015) Moderate intensity resistance training significantly elevates testosterone following upper body and lower body bouts when total volume is held constant. International J Kinesiol Sports Sci 3(4):50–55
Ethics declarations
This study was approved by the Ethics Committee of our institution by the number 0196/11 and Clinicaltrials.gov with number NCT02598739.
Disclosures
None.
About this article
Cite this article
Roger-Silva, D., Natour, J., Moreira, E. et al. A resistance exercise program improves functional capacity of patients with psoriatic arthritis: a randomized controlled trial. Clin Rheumatol 37, 389–395 (2018). https://doi.org/10.1007/s10067-017-3917-x
Received:

Revised:

Accepted:

Published:

Issue Date:

DOI: https://doi.org/10.1007/s10067-017-3917-x
Keywords