Abstract
The effects of intra-articular methotrexate (I/A MTX) in knee synovitis in rheumatoid arthritis have been previously evaluated. I/A MTX has not been studied in other joints. Ultrasonography (US) has been little studied in monitoring the effect of I/A MTX. The aim of the study is to test the efficacy of I/A MTX in suppression of persistent synovitis in medium-sized joints (ankle, wrist, and elbow) in rheumatoid arthritis patients. Patients were divided into two groups: group 1 (methotrexate group): 56 patients in which 84 joints (32 ankles, 28 wrists, and 24 elbows) were injected intra-articularly by 10 mg of methotrexate in the targeted joint on a weekly basis for 8 weeks and group 2 (steroid group): 44 patients in which 70 joints (26 ankles, 24 wrists, and 20 elbows) were injected once by Triamcinolone acetonide 40 mg. Clinical, ultrasonographic, and power Doppler US (PDUS) evaluation was done before the first injection (W0), after 2 months (W8), and after 5 months (W20). Synovial thickness and the intra-articular power Doppler signal were graded on a semiquantitative scale from 0 to 3 during the US examination. Clinical parameters improved significantly in both groups between baselines and 2 months. In both groups, gray-scale US and power Doppler US showed that synovial thickness and intra-articular power signals were reduced significantly between W0 and W8. The improvement of clinical parameters continued in the methotrexate group up to W20, but in the corticosteroid group, clinical parameters at W20 were similar to clinical parameters at W0. In the methotrexate group, there was an insignificant increase in synovial thickness between W8 and W20 while there was a significant increase in power Doppler signals between W8 and W20, p < 0.05. In the corticosteroid group, there was a significant increase in both synovial thickening and power Doppler signals between W8 and W20, p < 0.001. In the MTX group, all patients at week 0 showed that the Doppler signal in grades 2 and 3 is 100%; at 8 weeks, most of the patients showed that the power Doppler in grade 0 is 76%; and at week 20, most of the patients showed that the power Doppler signal in grade 0 is 28% and in grade 1 is 47%, while in grades 2 and 3 is 23.6%, so there is an improvement compared to the baseline of treatment. Repeated I/A MTX resulted in a decrease in the degree of synovitis of medium-sized joints in RA patients both clinically and by power Doppler US.
Access options
Buy single article
Instant access to the full article PDF.
USD 39.95
Price excludes VAT (USA)
Tax calculation will be finalised during checkout.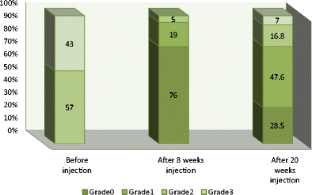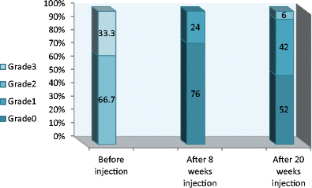 References
McInnes I, O'Dell J (2010) State-of-the-art: rheumatoid arthritis. Ann Rheum Dis 69:1898–1906

Singh JA, Saag KG, Bridges SL Jr, Akl EA, Bannuru RR, Sullivan MC et al (2016) American College of Rheumatology guideline for the treatment of rheumatoid arthritis. Arthritis Care Res (Hoboken) 68(1):1–26

Smolen JS, Landewe R, Breedveld FC, Buch M, Burmester G, Dougados M et al (2014) EULAR recommendations for the management of rheumatoid arthritis with synthetic and biological disease-modifying antirheumatic drugs: 2013 update. Ann Rheum Dis 73(3):492–509

Iagnocco A, Cerioni A, Coari G, Ossandon A, Masciangelo R, Valesini G (2006) Intra-articular methotrexate in the treatment of rheumatoid arthritis and psoriatic arthritis: a clinical and sonographic study. Clin Rheumatol 25(2):159–163

Hasso N, Maddison PJ, Breslin A (2004) I/A methotrexate in knee synovitis. Rheumatology 43:779–782

Gao IK, Leins C, Bohlen H, Heilig B (1998) LemmelEM: Inhibition of interleukin-8 synthesis by intraarticular methotrexate therapy in patients with rheumatoid arthritis. Z Rheumatol 57(2):95–100

Backhaus M, Burmester GR, Sandrock D, Loreck D, Hess D, Scholz A, Blind S, Hamm B, Bollow M (2002) Prospective two year follow up study comparing novel and conventional imaging procedures in patients with arthritic finger joints. Ann RheumDis 61(10):895–904

Filippucci E, Gabba A, Di Geso L, Girolimetti R, Salaffi F, Grassi W (2012) Hand tendon involvement in rheumatoid arthritis: an ultrasound study. Semin Arthritis Rheum 41(6):752–760

Brown AK, Conaghan PG, Karim Z, Quinn MA, Ikeda K, Peterfy CG, Hensor E, Wakefield RJ, O'Connor PJ, Emery P (2008) An explanation for the apparent dissociation between clinical remission and continued structural deterioration in rheumatoid arthritis. Arthritis Rheum 58(10):2958–2967

Foltz V, Gandjbakhch F, Etchepare F, Rosenberg C, Tanguy ML, Rozenberg S, Bourgeois P, Fautrel B (2012) Power Doppler ultrasound, but not low-field magnetic resonance imaging, predicts relapse and radiographic disease progression in rheumatoid arthritis patients with low levels of disease activity. Arthritis Rheum 64(1):67–76

Aletaha D, Neogi T, Silman AJ, Funovits J, Felson DT, Bingham CO 3rd et al (2010) Rheumatoid arthritis classification criteria. Arthritis Rheum 62(9):2569–2581

Backhaus M, Burmester G, Gerber T, Grassi W, Machold K et al (2001) Guidelines for musculoskeletal ultrasound in rheumatology. Ann Rheum Dis 60:641–649

Wakefield R, Balint P, Szkudlarek M et al (2005) Musculoskeletal ultrasound including definitions for ultrasonographic pathology. J Rheumatol 32(12):2485–2487

Szkudlarek M, Court-Payen M, Jacobsen S, Klarlund M, Thomsen H (2003) OstergaardM: Interobserver agreement in ultrasonography of the finger and toe joints in rheumatoid arthritis. Arthritis Rheum 48:955–962

Blyth T, Stirling A, Coote J, Land D, Hunter JA (1998) Injection of the rheumatoid knee: does intra-articular methotrexate or rifampicin add to the benefits of triamcinolone hexacetonide? Br J Rheumatol 37(7):770–772

Taqweem M, Kan H, Takreem A, Alam I (2008) Intra-articular (I/A) methotrexate in rheumatoid arthritis. Int J Rheumatol 6(1)

Filippucci E, Iagnocco A, Salaffi F et al (2006) Power Doppler sonography monitoring of synovial perfusion at the wrist joints in patients with rheumatoid arthritis treated with adalimumab. Ann Rheum Dis 65:1433–1437

Naredo E, Moller I, Cruz A et al (2008) Power Doppler ultrasonographic monitoring of response to anti-tumor necrosis factor therapy in patients with rheumatoid arthritis. Arthritis Rheum 58:2248–2256

Peter P, Bhasin S (2015) The role of power doppler ultrasonography as disease activity marker in rheumatoid arthritis. Dis Markers 2015:325909 9 pages

Hall GH, Jones BJM, Head AC (1978) Intra-articular methotrexate. Clinical and laboratory study in rheumatoid and psoriatic arthritis. Ann Rheum Dis 37:351–356
Ethics declarations
This study was approved by ethics committee of our university and all patients give written consent for injections after explaining the side effects.
Disclosures
None.
Electronic supplementary material
About this article
Cite this article
Mortada, M.A., Abdelwhab, S.M. & Elgawish, M.H. Intra-articular methotrexate versus corticosteroid injections in medium-sized joints of rheumatoid arthritis patients—an intervention study. Clin Rheumatol 37, 331–337 (2018). https://doi.org/10.1007/s10067-017-3843-y
Received:

Revised:

Accepted:

Published:

Issue Date:

DOI: https://doi.org/10.1007/s10067-017-3843-y
Keywords