Abstract
Large-vessel vasculitis (LVV) is a group of diseases mainly comprised of giant-cell arteritis (GCA), Takayasu arteritis, and a series of rare diseases like Behçet's disease, IgG4-related disease, infectious aortitis, and other unfrequent entities. Besides clinical and laboratory features, Doppler sonography (DS) can assist in establishing the diagnosis. Its diagnostic sensitivity has been evaluated in various studies, most of them, however, in temporal arteritis (TA) respectively in LVV with involvement of the temporal artery. Little is known in extracranial LVV. We retrospectively evaluated the diagnostic accuracy of DS in 30 patients with extracranial, non-temporal LVV using the highly sensitive PET/CT as method of reference in comparison to 20 controls who were found to have no LVV. We investigated ten arterial sites and documented the presence of the sonographic halo sign. Sensitivities of DS for LVV were highest in the subclavian and axillary arteries (71.4%/72.2%) and low in the abdominal aorta (26.1%) and the common femoral artery (16.7%). DS detected 24 out of 30 cases of LVV (overall sensitivity 80.0%). The LVV cases where DS was completely negative did not significantly differ in leukocyte count, C-reactive protein, or erythrocyte sedimentation rate from LVV cases with positive DS. DS is a potent method in diagnosing extracranial LVV especially in the axillary and the subclavian arteries. Aortic, intraabdominal, and lower extremity artery manifestations, however, are often missed by DS. A second imaging modality (e.g., PET/CT) is therefore required.
This is a preview of subscription content, log in to check access.
Access options
Buy single article
Instant access to the full article PDF.
US$ 39.95
Price includes VAT for USA
Subscribe to journal
Immediate online access to all issues from 2019. Subscription will auto renew annually.
US$ 99
This is the net price. Taxes to be calculated in checkout.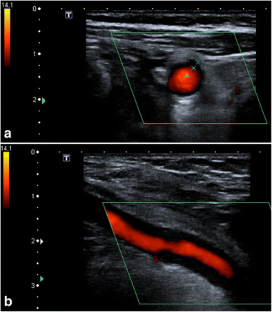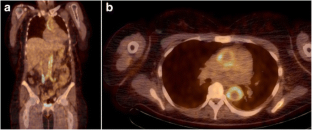 References
1.

Weyand CM, Goronzy JJ (2003) Giant-cell arteritis and polymyalgia rheumatica. Ann Intern Med 139:505–515

2.

Calamia KT, Schirmer M, Melikoglu M (2011) Major vessel involvement in Behçet's disease: an update. Curr Opin Rheumatol 23:24–31. doi:10.1097/BOR.0b013e3283410088

3.

Löffler C, Hoffend J, Rebel M et al (2016) A rare cause for lower back pain: a case of an IgG4-related periaortitis. Clin Rheumatol 35:265–270. doi:10.1007/s10067-014-2535-0

4.

Haynes BF, Kaiser-Kupfer MI, Mason P, Fauci AS (1980) Cogan syndrome: studies in thirteen patients, long-term follow-up, and a review of the literature. Medicine (Baltimore) 59:426–441

5.

Schmidt WA, Kraft HE, Vorpahl K et al (1997) Color duplex ultrasonography in the diagnosis of temporal arteritis. N Engl J Med 337:1336–1342

6.

Karassa FB, Matsagas MI, Schmidt WA, Ioannidis JPA (2005) Meta-analysis: test performance of ultrasonography for giant-cell arteritis. Ann Intern Med 142:359–369

7.

Arida A, Kyprianou M, Kanakis M, Sfikakis PP (2010) The diagnostic value of ultrasonography-derived edema of the temporal artery wall in giant cell arteritis: a second meta-analysis. BMC Musculoskelet Disord 11:44. doi:10.1186/1471-2474-11-44

8.

Maldini C, Dépinay-Dhellemmes C, Tra TTS et al (2010) Limited value of temporal artery ultrasonography examinations for diagnosis of giant cell arteritis: analysis of 77 subjects. J Rheumatol 37:2326–2330. doi:10.3899/jrheum.100353

9.

Salvarani C, Silingardi M, Ghirarduzzi A et al (2002) Is duplex ultrasonography useful for the diagnosis of giant-cell arteritis? Ann Intern Med 137:232–238

10.

Förster S, Tato F, Weiss M et al (2011) Patterns of extracranial involvement in newly diagnosed giant cell arteritis assessed by physical examination, colour coded duplex sonography and FDG-PET. Vasa 40:219–227. doi:10.1024/0301-1526/a000096

11.

Aschwanden M, Kesten F, Stern M et al (2010) Vascular involvement in patients with giant cell arteritis determined by duplex sonography of 2 × 11 arterial regions. Ann Rheum Dis 69:1356–1359. doi:10.1136/ard.2009.122135

12.

Diamantopoulos AP, Haugeberg G, Hetland H et al (2014) Diagnostic value of color Doppler ultrasonography of temporal arteries and large vessels in giant cell arteritis: a consecutive case series. Arthritis Care Res 66:113–119. doi:10.1002/acr.22178

13.

Brodmann M, Lipp RW, Passath A et al (2004) The role of 2-18F-fluoro-2-deoxy-D-glucose positron emission tomography in the diagnosis of giant cell arteritis of the temporal arteries. Rheumatology 43:241–242. doi:10.1093/rheumatology/keh025

14.

Henes JC, Müller M, Krieger J et al (2008) [18F] FDG-PET/CT as a new and sensitive imaging method for the diagnosis of large vessel vasculitis. Clin Exp Rheumatol 26:47–52

15.

Prieto-González S, Depetris M, García-Martínez A et al (2014) Positron emission tomography assessment of large vessel inflammation in patients with newly diagnosed, biopsy-proven giant cell arteritis: a prospective, case-control study. Ann Rheum Dis 73:1388–1392. doi:10.1136/annrheumdis-2013-204572

16.

Meller J, Strutz F, Siefker U et al (2003) Early diagnosis and follow-up of aortitis with [(18)F]FDG PET and MRI. Eur J Nucl Med Mol Imaging 30:730–736. doi:10.1007/s00259-003-1144-y

17.

Belhocine T, Blockmans D, Hustinx R et al (2003) Imaging of large vessel vasculitis with 18FDG PET: illusion or reality? A critical review of the literature data. Eur J Nucl Med Mol Imaging 30:1305–1313. doi:10.1007/s00259-003-1209-y

18.

Hara M, Goodman PC, Leder RA (1999) FDG-PET finding in early-phase Takayasu arteritis. J Comput Assist Tomogr 23:16–18

19.

Meller J, Grabbe E, Becker W, Vosshenrich R (2003) Value of F-18 FDG hybrid camera PET and MRI in early Takayasu aortitis. Eur Radiol 13:400–405. doi:10.1007/s00330-002-1518-8

20.

Hautzel H, Sander O, Heinzel A et al (2008) Assessment of large-vessel involvement in giant cell arteritis with 18F-FDG PET: introducing an ROC-analysis-based cutoff ratio. J Nucl Med 49:1107–1113. doi:10.2967/jnumed.108.051920

21.

Puppo C, Massollo M, Paparo F et al (2014) Giant cell arteritis: a systematic review of the qualitative and semiquantitative methods to assess vasculitis with 18F-fluorodeoxyglucose positron emission tomography. Biomed Res Int 2014:574248. doi:10.1155/2014/574248

22.

Hunder GG (1990) Giant cell (temporal) arteritis. Rheum Dis Clin N Am 16:399–409

23.

Jennette JC, Falk RJ, Bacon PA et al (2012) 2012 Revised international Chapel Hill consensus conference nomenclature of vasculitides. Theol Rev 20:5–15. doi:10.1002/art.37715

24.

Gonzalez-Gay MA, Garcia-Porrua C, Llorca J et al (2001) Biopsy-negative giant cell arteritis: clinical spectrum and predictive factors for positive temporal artery biopsy. Semin Arthritis Rheum 30:249–256. doi:10.1053/sarh.2001.16650

25.

Czihal M, Zanker S, Rademacher A et al (2012) Sonographic and clinical pattern of extracranial and cranial giant cell arteritis. Scand J Rheumatol 41:231–236. doi:10.3109/03009742.2011.641581

26.

Lie JT (1995) Aortic and extracranial large vessel giant cell arteritis: a review of 72 cases with histopathologic documentation. Semin Arthritis Rheum 24:422–431

27.

Klein RG, Hunder GG, Stanson AW, Sheps SG (1975) Large artery involvement in giant cell (temporal) arteritis. Ann Intern Med 83:806–812

28.

Cavazza A, Muratore F, Boiardi L et al (2014) Inflamed temporal artery: histologic findings in 354 biopsies, with clinical correlations. Am J Surg Pathol 38:1360–1370

29.

Muratore F, Boiardi L, Restuccia G et al (2013) Comparison between colour duplex sonography findings and different histological patterns of temporal artery. Rheumatology (Oxford) 52:2268–2274

30.

Schmidt D, Hetzel A, Reinhard M, Auw-Haedrich C (2003) Comparison between color duplex ultrasonography and histology of the temporal artery in cranial arteritis (giant cell arteritis). Eur J Med Res 8:1–7
Acknowledgements
We thank Dr. Uta Löffler for her assistance and aid in the statistical analyses.
Ethics declarations
Disclosures
None.
Funding
No funding was involved in this work.
About this article
Cite this article
Löffler, C., Hoffend, J., Benck, U. et al. The value of ultrasound in diagnosing extracranial large-vessel vasculitis compared to FDG-PET/CT: A retrospective study. Clin Rheumatol 36, 2079–2086 (2017). https://doi.org/10.1007/s10067-017-3669-7
Received:

Revised:

Accepted:

Published:

Issue Date:
Keywords
Giant-cell arteritis

PET/CT

Ultrasonography

Vasculitis