Abstract
A consistent line of investigation proposes that fibromyalgia is a sympathetically maintained neuropathic pain syndrome. Dorsal root ganglia sodium channels may play a major role in fibromyalgia pain transmission. Ambroxol is a secretolytic agent used in the treatment of various airway disorders. Recently, it was discovered that this compound is also an efficient sodium channel blocker with potent anti-neuropathic pain properties. We evaluated the add-on effect of ambroxol to the treatment of fibromyalgia. We studied 25 patients with fibromyalgia. Ambroxol was prescribed at the usual clinical dose of 30 mg PO 3 times a day × 1 month. At the beginning and at the end of the study, all participants filled out the Revised Fibromyalgia Impact Questionnaire (FIQ-R) and the 2010 ACR diagnostic criteria including the widespread pain index (WPI). At the end of the study, FIQ-R decreased from a baseline value of 62 ± 15 to 51 ± 19 (p = 0.013). Pain visual analogue scale decreased from 77 ± 14 to 56 ± 30 (p = 0.018). WPI diminished from 14.6 ± 3.1 to 10.4 ± 5.3 (p = 0.001). Side effects were minor. In this pilot study, the use of ambroxol was associated to decreased fibromyalgia pain and improved fibromyalgia symptoms. The open nature of our study does not allow extracting the placebo effect from the positive results. The drug was well tolerated. Ambroxol newly recognized pharmacological properties could theoretically interfere with fibromyalgia pain pathways. Dose escalating-controlled studies seem warranted.
Access options
Buy single article
Instant access to the full article PDF.
USD 39.95
Price excludes VAT (USA)
Tax calculation will be finalised during checkout.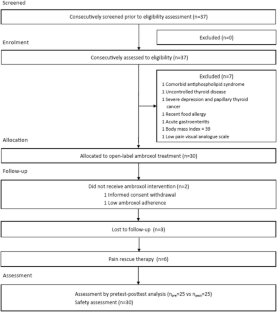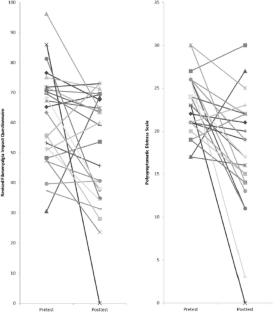 References
Martinez-Lavin M (2007) Biology and therapy of fibromyalgia. Stress, the stress response system, and fibromyalgia. Arthritis Res Ther 9:216–219

Oaklander AL, Herzog ZD, Downs HM, Klein MM (2013) Objective evidence that small-fiber polyneuropathy underlies some illnesses currently labeled as fibromyalgia. Pain 154:2310–2316

Üçeyler N, Zeller D, Kahn AK, Kewenig S, Kittel-Schneider S, Schmid A, Casanova-Molla J, Reiners K, Sommer C (2013) Small fibre pathology in patients with fibromyalgia syndrome. Brain 136:1857–1867

Ramírez M, Martínez-Martínez LA, Hernández-Quintela E, Velazco-Casapía J, Vargas A, Martínez-Lavín M (2015) Small fiber neuropathy in women with fibromyalgia. An in vivo assessment using corneal confocal bio-microscopy. Semin Arthritis Rheum 45:214–219

Brouwer BA, Merkies IS, Gerrits MM, Waxman SG, Hoeijmakers JG, Faber CG. J Painful neuropathies: the emerging role of sodium channelopathies. J Peripher Nerv Syst 2014;19:53–65.

Faber CG, Hoeijmakers JG, Ahn HS, Cheng X, Han C, Choi JS et al (2012) Gain of function mutations in idiopathic small fiber neuropathy. Ann Neurol 71(1):26–39

Vargas-Alarcon G, Alvarez-Leon E, Fragoso JM, Vargas A, Martinez A, Vallejo M, Martinez-Lavin M (2012) A SCN9A gene-encoded dorsal root ganglia sodium channel polymorphism associated with severe fibromyalgia. BMC Musculoskelet Disord 2012

Paleari D, Rossi GA, Nicolini G, Olivieri D (2011) Ambroxol: a multifaceted molecule with additional therapeutic potentials in respiratory disorders of childhood. Expert Opin Drug Discov 6:1203–1214

Weiser T (2006) Comparison of the effects of four Na+ channel analgesics on TTX-resistant Na+ currents in rat sensory neurons and recombinant Nav1.2 channels. Neurosci Lett 395:179–184

Hama AT, Plum AW, Sagen J (2010) Antinociceptive effect of ambroxol in rats with neuropathic spinal cord injury pain. Pharmacol Biochem Behav 97:249–255

Lerma C, Martinez A, Ruiz N, Vargas A, Infante O, Martinez-Lavin M (2011) Nocturnal heart rate variability parameters as potential fibromyalgia biomarker. Correlation with symptoms severity Arthritis Res Ther 13:R185

Meeus M, Goubert D, De Backer F, Struyf F, Hermans L, Coppieters I, De Wandele I, Da Silva H, Calders P (2013) Heart rate variability in patients with fibromyalgia and patients with chronic fatigue syndrome: a systematic review. Semin Arthritis Rheum 43:279–287

Martínez-Lavín M, Vidal M, Barbosa RE, Pineda C, Casanova JM, Nava A (2002) Norepinephrine-evoked pain in fibromyalgia. A randomized pilot study ISCRTN 70707830. BMC Musculoskelet Disord 3:2

Chenot JF, Weber P, Friede T (2014) Efficacy of Ambroxol lozenges for pharyngitis: a meta-analysis. BMC Fam Pract 15:45. doi:10.1186/1471-2296-15-45

Kern KU, Weiser T (2015) Topical ambroxol for the treatment of neuropathic pain. An initial clinical observation. Schmerz (Suppl 3):S89–96

Narita A, Shirai K, Itamura S, Matsuda A, Ishihara A, Matsushita K, Fukuda C, Kubota N, Takayama R, Shigematsu H, Hayashi A, Kumada T, Yuge K, Watanabe Y, Kosugi S, Nishida H, Kimura Y, Endo Y, Higaki K, Nanba E, Nishimura Y, Tamasaki A, Togawa M, Saito Y, Maegaki Y, Ohno K, Suzuki Y (2016) Ambroxol chaperone therapy for neuronopathic Gaucher disease: a pilot study. Ann Clin Transl Neurol 3:200–215
About this article
Cite this article
Martínez-Martínez, LA., Pérez, LF., Becerril-Mendoza, LT. et al. Ambroxol for fibromyalgia: one group pretest-posttest open-label pilot study. Clin Rheumatol 36, 1879–1884 (2017). https://doi.org/10.1007/s10067-017-3664-z
Received:

Revised:

Accepted:

Published:

Issue Date:

DOI: https://doi.org/10.1007/s10067-017-3664-z
Keywords
Ambroxol

Dorsal root ganglia

Fibromyalgia

Neuropathic pain

​Sodium channels