Abstract
The Mini-Osteoarthritis Knee and Hip Quality of Life (Mini-OAKHQOL) questionnaire osteoarthritis is specific to individuals with knee or hip osteoarthritis. The objective of this study was to perform a validation of the Mini-OAKHQOL for use in Spain in terms of its psychometric properties of reliability, validity and responsiveness. Patients with osteoarthritis from the waiting list for a joint replacement completed the OAKHQOL, Short Form 36 Health Survey and Western Ontario and McMaster Universities Osteoarthritis Index. Reliability was assessed in terms of internal consistency and test-retest data, and convergent validity using Spearman's correlation coefficient. Structural validity was investigated by confirmatory factor analysis, and Rasch analysis was used to examine the unidimensionality of the scales. Responsiveness was assessed by calculating effect sizes. Confirmatory factor analysis confirmed the five-factor model, and the results of the Rasch analyses supported the unidimensionality assumption, with infit and outfit statistics. Cronbach's alpha ranged from 0.76 to 0.89 for all except the social dimensions. Statistically significant differences were observed between patients with different degrees of disease severity on all dimensions. There was convergent validity among dimensions expected to be correlated. The OAKHQOL questionnaire showed good responsiveness, with large changes for all dimensions apart from the two social dimensions, which had small effect sizes. Results of the study support the view that the Spanish version of the Mini-OAKHQOL questionnaire is a valid instrument to measure health-related quality of life in patients with osteoarthritis of the lower limb.
Access options
Buy single article
Instant access to the full article PDF.
US$ 39.95
Tax calculation will be finalised during checkout.
Subscribe to journal
Immediate online access to all issues from 2019. Subscription will auto renew annually.
US$ 79
Tax calculation will be finalised during checkout.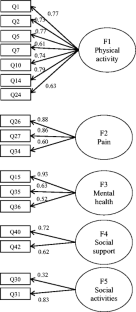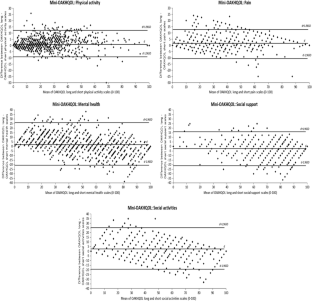 References
1.

Felson DT, Lawrence RC, Dieppe PA et al (2000) Osteoarthritis: new insights. Part 1: the disease and its risk factors. Ann Intern Med 133:635–646

2.

Busija L, Bridgett L, Williams SR et al (2010) Osteoarthritis. Best Pract Res Clin Rheumatol 24:757–768

3.

Mariconda M, Galasso O, Costa GG, Recano P, Cerbasi S (2011) Quality of life and functionality after total hip arthroplasty: a long-term follow-up study. BMC Musculoskelet Disord 12:222

4.

Ethgen O, Kahler KH, Kong SX, Reginster JY, Wolfe F (2002) The effect of health related quality of life on reported use of health care resources in patients with osteoarthritis and rheumatoid arthritis: a longitudinal analysis. J Rheumatol 29:1147–1155

5.

Kiadaliri AA, Lamm CJ, de Verdier MG et al (2016) Association of knee pain and different definitions of knee osteoarthritis with health-related quality of life: a population-based cohort study in southern Sweden. Health Qual Life Outcomes 14:121

6.

Bellamy N, Buchanan WW, Goldsmith CH, Campbell J, Stitt LW (1988) Validation study of WOMAC: a health status instrument for measuring clinically important patient relevant outcomes to antirheumatic drug therapy in patients with osteoarthritis of the hip or knee. J Rheumatol 15:1833–1840

7.

Meenan RF, Mason JH, Anderson JJ, Guccione AA, Kazis LE (1992) AIMS2. The content and properties of a revised and expanded Arthritis Impact Measurement Scales Health Status Questionnaire. Arthritis & Rheumatism 35:1–10

8.

Fielden JM, Gander PH, Horne JG, Lewer BM, Green RM, Devane PA (2003) An assessment of sleep disturbance in patients before and after total hip arthroplasty. J Arthroplast 18:371–376

9.

Rat AC, Coste J, Pouchot J et al (2005) OAKHQOL: a new instrument to measure quality of life in knee and hip osteoarthritis. J Clin Epidemiol 58:47–55

10.

Rat AC, Pouchot J, Coste J et al (2006) Development and testing of a specific quality-of-life questionnaire for knee and hip osteoarthritis: OAKHQOL (OsteoArthritis of Knee Hip Quality Of Life). Joint Bone Spine 73:697–704

11.

Keenan AM, McKenna SP, Doward LC, Conaghan PG, Emery P, Tennant A (2008) Development and validation of a needs-based quality of life instrument for osteoarthritis. Arthritis Rheum 59:841–848

12.

de Gonzalez Saenz TM, Escobar A, Herdman M, Herrera C, Garcia L, Sarasqueta C (2011) Adaptation and validation of the Osteoarthritis Knee and Hip Quality of Life (OAKHQOL) questionnaire for use in patients with osteoarthritis in Spain. Clin Rheumatol 30:1563–1575

13.

Serhier Z, Harzy T, ELfakir S et al (2012) Cross-cultural adaptation and validation of the knee and hip health-related quality of life (OAKHQoL) in a Moroccan Arabic-speaking population. Rheumatol Int 32:1015–1023

14.

Guillemin F, Rat AC, Goetz C, Spitz E, Pouchot J, Coste J (2016) The Mini-OAKHQOL for knee and hip osteoarthritis quality of life was obtained following recent shortening guidelines. J Clin Epidemiol 69:70–78

15.

Iglesias C, Torgerson D (2000) Does length of questionnaire matter? A randomised trial of response rates to a mailed questionnaire. J Health Serv Res Policy 5:219–221

16.

Kalantar JS, Talley NJ (1999) The effects of lottery incentive and length of questionnaire on health survey response rates: a randomized study. J Clin Epidemiol 52:1117–1122

17.

Terwee CB, Mokkink LB, Steultjens MP, Dekker J (2006) Performance-based methods for measuring the physical function of patients with osteoarthritis of the hip or knee: a systematic review of measurement properties. Rheumatology (Oxford) 45:890–902

18.

Lequesne M (1991) Indices of severity and disease activity for osteoarthritis. Semin Arthritis Rheum. doi:10.1016/j 20: 48-54

19.

Lequesne MG, Mery C, Samson M, Gerard P (1987) Indexes of severity for osteoarthritis of the hip and knee. Validation—value in comparison with other assessment tests. Scand J Rheumatol Suppl 65:85–89

20.

Alonso J, Prieto L, Antó JM (1995) La versión española del SF-36 Health Survey (Cuestionario de Salud SF-36): un instrumento para la medida de los resultados clínicos. Med Clin 104:771–776

21.

Batlle Gualda E, Esteve Vives J, Piera Roera M, Hargreaves R, Cutts J (1999) Traducción y adaptación al español del cuestionario WOMAC específico para artrosis de rodilla y cadera. Revista Española de Reumatología 26:38–45

22.

Escobar A, Quintana JM, Bilbao A, Azkarate J, Guenaga JI (2002) Validation of the Spanish version of the WOMAC questionnaire for patients with hip or knee osteoarthritis. Western Ontario and McMaster Universities Osteoarthritis Index. Clin Rheumatol 21:466–471

23.

McHorney CA, Tarlov AR (1995) Individual-patient monitoring in clinical practice: are available health status surveys adequate? Qual Life Res 4:293–307

24.

Wyrwich KW, Tierney WM, Wolinsky FD (1999) Further evidence supporting an SEM-based criterion for identifying meaningful intra-individual changes in health-related quality of life. J Clin Epidemiol 52:861–873

25.

Cronbach LJ (1951) Coefficient alpha and the internal structure of test. Psichometrika 16:297–334

26.

Nunnally JC, Bernstein IH (1994) Psychometric theory. Mc Graw-Hill, New York

27.

Shrout PE, Fleiss JL (1979) Intraclass correlations: uses in assessing rater reliability. Psychol Bull 86:420–428

28.

Batista-Foguet JM, Coenders G, Alonso J (2004) Confirmatory factor analysis. Its role on the validation of health related questionnaires. Med Clin (Barc) 122(Suppl 1):21–27

29.

Devins GM, Dion R, Pelletier LG et al (2001) Structure of lifestyle disruptions in chronic disease: a confirmatory factor analysis of the Illness Intrusiveness Ratings Scale. Med Care 39:1097–1104

30.

Mulaik SA (1989) Evaluation of goodness-of-fit indices for structural equation models. Psychol Bull 105:430–445

31.

Hatcher L (1994) Developing measurement models with confirmatory factor analysis. In: A step-by-step approach to using the SAS System for factor analysis and structural equation modelling. Cary edn. SAS Institue Inc, NC

32.

Cook KF, Teal CR, Bjorner JB et al (2007) IRT health outcomes data analysis project: an overview and summary. Qual Life Res 16(Suppl 1):121–132

33.

Wright B, Stone M (1979) Best test design: Rasch measurement. MESA Press, Chicago

34.

Rasch G (1960) Probabilistic models for some intelligence and attainment tests. University of Chicago Press, Chicago

35.

Tesio L (2003) Measuring behaviours and perceptions: Rasch analysis as a tool for rehabilitation research. J Rehabil Med 35:105–115

36.

Linacre J (2009) A user's guide to WINDSTEP. MESA Press, Chicago

37.

Guillemin F, Bombardier C, Beaton D (1993) Cross-cultural adaptation of health-related quality of life measures: literature review and proposed guidelines. J Clin Epidemiol 46:1417–1432

38.

Cohen J (1992) A power primer. Psychol Bull 112:155–159

39.

Bland JM, Altman DG (1986) Statistical methods for assessing agreement between two methods of clinical measurement. Lancet 1:307–310

40.

Whitehouse SL, Crawford RW, Learmonth ID (2008) Validation for the reduced Western Ontario and McMaster Universities Osteoarthritis Index function scale. J Orthop Surg (Hong Kong ) 16:50–53

41.

Bilbao A, Quintana JM, Escobar A, Las HC, Orive M (2011) Validation of a proposed WOMAC short form for patients with hip osteoarthritis. Health Qual Life Outcomes 9:75

42.

Gonzalez MT (2004) Cuestionario de afrontamiento al estrés en paceintes oncológicos. TEA Ediciones S.A, Madrid

43.

Las HC, Quintana JM, Padierna A et al (2006) The new questionnaire health-related quality of life for eating disorders showed good validity and reliability. J Clin Epidemiol 59:192–200

44.

Wilburn J, McKenna SP, Kutlay S et al. (2017) Adaptation of the osteoarthritis-specific quality of life scale (the OAQoL) for use in Germany, Hungary, Italy, Spain and Turkey. Rheumatol Int
Acknowledgments
We thank the staff members of the various services, research and quality units and medical record sections of the participating hospitals, and the patients who participated in the study, for their collaboration with this work.
Funding
This study was supported by a grant from the Spanish Health Research Fund (FIS PI06790351).
Ethics declarations
The Institutional Review Boards of each hospital approved the study.
Disclosures
None.
About this article
Cite this article
Gonzalez Sáenz de Tejada, M., Bilbao, A., Herrera, C. et al. Validation of the Mini-OAKHQOL for use in patients with osteoarthritis in Spain. Clin Rheumatol 36, 1855–1864 (2017). https://doi.org/10.1007/s10067-017-3611-z
Received:

Revised:

Accepted:

Published:

Issue Date:
Keywords
Health-related quality of life

Mini-OAKHQOL

Osteoarthritis

Validation