Abstract
Osteoarthritis (OA) is one of the most common articular disorders. Many patients do not respond to acetaminophen and non-steroidal anti-inflammatory drugs (NSAIDs), the mainstay of pharmacotherapy for knee OA. The plants Elaeagnus angustifolia and Boswellia thurifera have anti-inflammatory and analgesic properties. This study aimed to evaluate the effect of E. angustifolia alone and in combination with B. thurifera compared with ibuprofen in patients with knee osteoarthritis. In a randomized double-blind controlled clinical trial, 75 patients with knee OA were randomly and equally assigned to one of three groups Elaeagnus (n = 23), Elaeagnus/Boswellia (n = 26), and ibuprofen (n = 26) to receive the capsules of Elaeagnus, Elaeagnus/Boswellia, and ibuprofen, respectively, three times daily with meals for 4 weeks. Pain severity based on VAS (visual analog scale, 0 to 10 scale) and the scores of LPFI (Lequesne Pain and Function Index) and PGA (patient global assessment) were determined pre- and post-intervention for all patients. All interventions had significant lowering effects on VAS, LPFI, and PGA scores (P < 0.001 for all parameters) with no significant difference between groups in terms of effects on all evaluated parameters. Consumption of E. angustifolia fruit extract either alone or in combination with Boswellia oleo-gum resin extract could decrease pain and improve function in patients with knee osteoarthritis comparable to ibuprofen.
This is a preview of subscription content, log in to check access.
Access options
Buy single article
Instant access to the full article PDF.
US$ 39.95
Price includes VAT for USA
Subscribe to journal
Immediate online access to all issues from 2019. Subscription will auto renew annually.
US$ 99
This is the net price. Taxes to be calculated in checkout.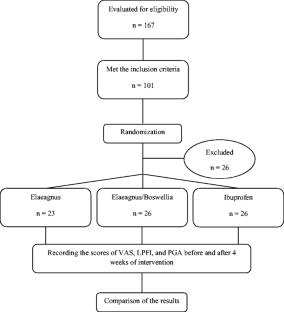 References
1.

Fatimah N, Salim B, Raja EH, Nasim A (2016) Predictors of response to intra-articular steroid injections in patients with osteoarthritis of the knee joint. Clin Rheumatol 35(10):2541–2547

2.

Heidari B (2011) Knee osteoarthritis prevalence, risk factors, pathogenesis and features: part I. Caspian J Intern Med 2(2):205–212

3.

Altman RD (2010) Early management of osteoarthritis. Am J Manag Care 16 Suppl Management:S41–47.

4.

Bliddal H, Christensen R (2009) The treatment and prevention of knee osteoarthritis: a tool for clinical decision-making. Expert Opin Pharmacother 10:1793–1804

5.

American College of Rheumatology Subcommittee on Osteoarthritis Guidelines (2000) Recommendations for the medical management of osteoarthritis of the hip and knee: 2000 update. Arthritis Rheum 43(9):1905–1915

6.

Bennell KL, Hunter DJ, Hinman RS (2012) Management of osteoarthritis of the knee. BMJ 345:e4934

7.

Hochberg MC, Altman RD, April KT, Benkhalti M, Guyatt G, McGowan J, Towheed T, Welch V, Wells G, Tugwell P (2012) American College of Rheumatology 2012 recommendations for the use of nonpharmacologic and pharmacologic therapies in osteoarthritis of the hand, hip, and knee. Arthritis Care Res (Hoboken) 64(4):465–474

8.

Day RO, Graham GG (2013) Non-steroidal anti-inflammatory drugs (NSAIDs). BMJ 346:f3195

9.

Ahmadiani A, Hosseiny J, Semnanian S, Javan M, Saeedi F, Kamalinejad M, Saremi S (2000) Antinociceptive and anti-inflammatory effects of Elaeagnus angustifolia fruit extract. J Ethnopharmacol 72:287–292

10.

Ramezani M, Hosseinzadeh H, Daneshmand N (2001) Antinociceptive effect of Elaeagnus angustifolia fruit seeds in mice. Fitoterapia 72:255–262

11.

Moussaieffa A, Mechoulamb R (2009) Boswellia resin: from religious ceremonies to medical uses; a review of in-vitro, in-vivo and clinical trials. J Pharm Pharmacol 61:1281–1293

12.

Siddiqui MZ (2011) Boswellia serrata, a potential antiinflammatory agent: an overview. Indian J Pharm Sci 73:255–261

13.

Altman R, Asch E, Bloch D, Bole G, Borenstein D, Brandt K, Christy W, Cooke TD, Greenwald R, Hochberg M et al (1986) Development of criteria for the classification and reporting of osteoarthritis. Classification of osteoarthritis of the knee. Diagnostic and Therapeutic Criteria Committee of the American Rheumatism Association Arthritis Rheum 29(8):1039–1049

14.

Wu CW, Morrell MR, Heinze E, Concoff AL, Wollaston SJ, Arnold EL et al (2005) Validation of American College of Rheumatology classification criteria for knee osteoarthritis using arthroscopically defined cartilage damage scores. Semin Arthritis Rheum 35:197–201

15.

Nadrian H, Moghimi N, Nadrian E, Moradzadeh R, Bahmanpour K, Iranpour A, Bellamy N (2012) Validity and reliability of the Persian versions of WOMAC osteoarthritis Index and Lequesne Algofunctional Index. Clin Rheumatol 31:1097–1102

16.

Panahi Y, Alishiri GH, Bayat N, Hosseini SM, Sahebkar A (2016) Efficacy of Elaeagnus angustifolia extract in the treatment of knee osteoarthritis: a randomized controlled trial. EXCLI J 15:203–210

17.

Rabiei K, Ghobadifar A, Ebrahimzadeh MA, Saeedi M, Mobini M (2015) Effects of ginger and Elaeagnus angustifolia extracts in symptomatic knee osteoarthritis. Zahedan J Med Sci 17(11):e2200 doi: http://dx.doi.org/10.17795/zjrms-2200

18.

Kimmatkar N, Thawani V, Hingorani L, Khiyani R (2003) Efficacy and tolerability of Boswellia serrata extract in treatment of osteoarthritis of knee—a randomized double blind placebo controlled trial. Phytomedicine 10(1):3–7

19.

Sontakke S, Thawani V, Pimpalkhute S, Kabra P, Babhulkar S, Hingorani L (2007) Open, randomized, controlled clinical trial of Boswellia serrata extract as compared to valdecoxib in osteoarthritis of knee. Indian J Pharmacol 39:27–29

20.

Farahbakhsh S, Arbabian S, Emami F, Rastegar Moghadam B, Ghoshooni H, Noroozzadeh A et al (2011) Inhibition of cyclooxygenase type 1 and 2 enzyme by aqueous extract of Elaeagnus angustifolia in mice. Basic Clin Neurosci 2(2):31–37

21.

Maghzi M, Khorsandi L, Orazizadeh M, Ahmadi K (2015) Histological effects of Elaeagnus angustifolia aqueous extract on cartilage degradation in experimental osteoarthritis. Asian J Phytomed Clin Res 3(2):50–54

22.

Cansev A, Sahan Y, Celik G, Taskesen S, Ozbey H (2011) Chemical properties and antioxidant capacity of Elaeagnus angustifolia L fruits. Asian J Chem 23(6):2661–2665

23.

Erdemoglu N, Akkol EK, Yesilada E, Calis I (2008) Bioassay-guided isolation of anti-inflammatory and antinociceptive principles from a folk remedy, Rhododendron ponticum L leaves. J Ethnopharmacol 119(1):172–178

24.

Nikniaz Z, Ostadrahimi A, Mahdavi R, Ebrahimi AA, Nikniaz L (2014) Effects of Elaeagnus angustifolia L. supplementation on serum levels of inflammatory cytokines and matrix metalloproteinases in females with knee osteoarthritis. Complement Ther Med 22(5):864–869

25.

Anthoni C, Laukoetter MG, Rijcken E, Vowinkel T, Mennigen R, Müller S, Senninger N, Russell J, Jauch J, Bergmann J, Granger DN, Krieglstein CF (2006) Mechanisms underlying the anti-inflammatory actions of boswellic acid derivatives in experimental colitis. Am J Physiol Gastrointest Liver Physiol 290(6):G1131–G1137

26.

Sharma ML, Bani S, Singh GB (1989) Anti-arthritic activity of boswellic acids in bovine serum albumin (BSA)-induced arthritis. Int J Immunopharmacol 11(6):647–652

27.

Safayhi H, Rall B, Sailer ER, Ammon HP (1997) Inhibition by boswellic acids of human leukocyte elastase. J Pharmacol Exp Ther 281(1):460–463

28.

Ammon HP, Safayhi H, Mack T, Sabieraj J (1993) Mechanism of antiinflammatory actions of curcumine and boswellic acids. J Ethnopharmacol 38(2–3):113–119
Acknowledgements
This study was financially supported by Barij Essence Pharmaceutical Company, Kashan, Iran. The authors would like to acknowledge the staff of Barij Essence Company and Rheumatology Clinic of Alzahra Hospital for their assistance.
About this article
Cite this article
Karimifar, M., Soltani, R., Hajhashemi, V. et al. Evaluation of the effect of Elaeagnus angustifolia alone and combined with Boswellia thurifera compared with ibuprofen in patients with knee osteoarthritis: a randomized double-blind controlled clinical trial. Clin Rheumatol 36, 1849–1853 (2017). https://doi.org/10.1007/s10067-017-3603-z
Received:

Revised:

Accepted:

Published:

Issue Date:
Keywords
Boswellia thurifera

Clinical trial

Elaeagnus angustifolia

Ibuprofen

Knee osteoarthritis