Abstract
The purpose of this study was to evaluate the utility of acoustic radiation force impulse (ARFI) imaging as a monitoring tool for the effect of a liposomal local therapy in patients with dry mouth symptoms due to primary Sjögren's syndrome (pSS). Fifty patients with pSS, diagnosed according to the American-European Consensus Group (AECG) criteria, were included. Clinical data were collected, and sonographic examination including ARFI imaging of the parotid and submandibular glands was performed. Subjective symptoms were evaluated via visual analogue scales (VAS), and the unstimulated whole salivary flow was measured. After a two-month period of liposomal local therapy, sonographic examination was repeated and both subjective and objective symptoms were re-evaluated. Before local treatment, the mean ARFI value of parotid glands was 2.96 m/s (SD 0.97). Mean ARFI value of the submandibular glands was 2.09 m/s (SD 0.71). After the two-month treatment period, a significant decline of ARFI values in the parotid glands to a value of 2.34 m/s (SD 0.70, p < 0.001) could be observed. The submandibular glands did not show any significant change. Further, a significant reduction of the subjective sensation of dry mouth symptoms could be observed (p = 0.0001). With the application of ARFI imaging, a decline in parotid gland stiffness could be observed in patients with primary Sjögren's Syndrome accompanied by a significant improvement of the subjective sensation of dry mouth symptoms. The seromucous submandibular glands did not show any changes compared to the serous parotid glands.
Access options
Buy single article
Instant access to the full article PDF.
US$ 39.95
Tax calculation will be finalised during checkout.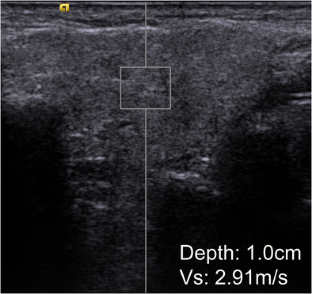 References
1.

De Vita S, Lorenzon G, Rossi G, Sabella M, Fossaluzza V (1992) Salivary gland echography in primary and secondary Sjögren's syndrome. Clin Exp Rheumatol 10:351–356

2.

Hofauer B, Mansour N, Heiser C, Gahleitner C, Thuermel K, Bas M, Knopf A (2016) Sonoelastographic modalities in the evaluation of salivary gland characteristics in Sjögren's syndrome. Ultrasound Med Biol

3.

Knopf A, Hofauer B, Thürmel K, Meier R, Stock K, Bas M, Manour N (2015) Diagnostic utility of acoustic radiation force impulse (ARFI) imaging in primary Sjoegren's syndrome. Eur Radiol

4.

Badea AF, Tamas Szora A, Ciuleanu E, Chioreanu I, Băciuţ G, Lupşor Platon M, Badea R (2013) ARFI quantitative elastography of the submandibular glands. Normal measurements and the diagnosis value of the method in radiation submaxillitis. Med Ultrason 15:173–179

5.

Bhatia KS, Cho CC, Tong CS, Lee YY, Yuen EH, Ahuja AT (2012) Shear wave elastography of focal salivary gland lesions: preliminary experience in a routine head and neck US clinic. Eur Radiol 22:957–965

6.

Piscaglia F, Salvatore V, Di Donato R, D'Onofrio M, Gualandi S, Gallotti A, Peri E, Borghi A, Conti F, Fattovich G, Sagrini E, Cucchetti A, Andreone P, Bolondi L (2011) Accuracy of VirtualTouch acoustic radiation force impulse (ARFI) imaging for the diagnosis of cirrhosis during liver ultrasonography. Ultraschall Med 32:167–175

7.

Goertz RS, Sturm J, Pfeifer L, Wildner D, Wachter DL, Neurath MF, Strobel D (2013) ARFI cut-off values and significance of standard deviation for liver fibrosis staging in patients with chronic liver disease. Ann Hepatol 12:935–941

8.

Hofauer B, Bas M, Manour N, Knopf A (2013) Liposomal local therapy as treatment for sicca symptoms in patients with primary Sjögren's syndrome. HNO 61:921–927

9.

Heiser C, Hofauer B, Scherer E, Schukraft J, Knopf A (2015) Liposomal treatment of xerostomia, odor, and taste abnormalities in patients with head and neck cancer. Head Neck

10.

Vitali C, Bombardieri S, Jonsson R, Moutsopoulos HM, Alexander EL, Carsons SE, Daniels TE, Fox PC, Fox RI, Kassan SS, Pillemer SR, Talal N, Weisman MH, European, Study Group on Classification Criteria for Sjögren's Syndrome (2002) Classification criteria for Sjögren's syndrome: a revised version of the European criteria proposed by the American-European Consensus Group. Ann Rheum Dis 61:554–558

11.

Chisholm DM, Mason DK (1968) Labial salivary gland biopsy in Sjögren's disease. J Clin Pathol 21:656–660

12.

Cui G, Yang Z, Zhang W, Li B, Sun F, Xu C, Wang K (2014) Evaluation of acoustic radiation force impulse imaging for the clinicopathological typing of renal fibrosis. Exp Ther Med 7:233–235

13.

Grgurevic I, Cikara I, Horvat J, Lukic IK, Heinzl R, Banic M, Kujundzic M, Brkljacic B (2011) Noninvasive assessment of liver fibrosis with acoustic radiation force impulse imaging: increased liver and splenic stiffness in patients with liver fibrosis and cirrhosis. Ultraschall Med 32:160–166

14.

Grgurevic I, Puljiz Z, Brnic D, Bokun T, Heinzl R, Lukic A, Luksic B, Kujundzic M, Brkljacic B (2015) Liver and spleen stiffness and their ratio assessed by real-time two dimensional-shear wave elastography in patients with liver fibrosis and cirrhosis due to chronic viral hepatitis. Eur Radiol

15.

Goertz RS, Zopf Y, Jugl V, Heide R, Janson C, Strobel D, Bernatik T, Haendl T (2010) Measurement of liver elasticity with acoustic radiation force impulse (ARFI) technology: an alternative noninvasive method for staging liver fibrosis in viral hepatitis. Ultraschall Med 31:151–155

16.

Sporea I, Sirli R, Bota S, Vlad M, Popescu A, Zosin I (2012) ARFI elastography for the evaluation of diffuse thyroid gland pathology: preliminary results. World J Radiol 4:174–178

17.

Xu JM, Xu XH, Xu HX, Zhang YF, Zhang J, Guo LH, Liu LN, Liu C, Zheng SG (2014) Conventional US, US elasticity imaging, and acoustic radiation force impulse imaging for prediction of malignancy in thyroid nodules. Radiology 272:577–586

18.

Dumitriu D, Dudea S, Botar-Jid C, Baciut M, Baciut G (2011) Real-time sonoelastography of major salivary gland tumors. AJR Am J Roentgenol 197:W924–W930

19.

Knopf A, Mansour N, Chaker A, Bas M, Stock K (2012) Multimodal ultrasonographic characterisation of parotid gland lesions—a pilot study. Eur J Radiol 81:3300–3305

20.

Mansour N, Stock KF, Chaker A, Bas M, Knopf A (2012) Evaluation of parotid gland lesions with standard ultrasound, color duplex sonography, sonoelastography, and acoustic radiation force impulse imaging—pilot study. Ultraschall Med 33:283–288

21.

Klintworth N, Mantsopoulos K, Zenk J, Psychogios G, Iro H, Bozzato A (2012) Sonoelastography of parotid gland tumours: initial experience and identification of characteristic patterns. Eur Radiol 22:947–956

22.

Westerland O, Howlett D (2012) Sonoelastography techniques in the evaluation and diagnosis of parotid neoplasms. Eur Radiol 22:966–969

23.

Kałużny J, Kopeć T, Szczepanek-Parulska E, Stangierski A, Gurgul E, Ruchała M, Milecki P, Wierzbicka M (2014) Shear wave elastography: a new noninvasive tool to assess the intensity of fibrosis of irradiated salivary glands in head and neck cancer patients. Biomed Res Int 2014:157809

24.

Jousse-Joulin S, Devauchelle-Pensec V, Cornec D, Marhadour T, Bressollette L, Gestin S, Pers JO, Nowak E, Saraux A (2015) Brief report: ultrasonographic assessment of salivary gland response to rituximab in primary Sjögren's syndrome. Arthritis Rheumatol 67:1623–1628

25.

Jousse-Joulin S, Devauchelle-Pensec V, Morvan J, Guias B, Pennec Y, Pers JO, Daridon C, Jamin C, Renaudineau Y, Roué IQ, Cochener B, Bressollette L, Youinou P, Saraux A (2007) Ultrasound assessment of salivary glands in patients with primary Sjögren's syndrome treated with rituximab: quantitative and Doppler waveform analysis. Biologics 1:311–319

26.

Zengel P, Schrötzlmair F, Schwarz F, Paprottka P, Kramer M, Berghaus A, Clevert DA (2012) Elastography: a new diagnostic tool for evaluation of obstructive diseases of the salivary glands; primary results. Clin Hemorheol Microcirc 50:91–99

27.

Attia D, Pischke S, Negm AA, Rifai K, Manns MP, Gebel MJ, Lankisch TO, Potthoff A (2014) Changes in liver stiffness using acoustic radiation force impulse imaging in patients with obstructive cholestasis and cholangitis. Dig Liver Dis 46:625–631

28.

Gao J, Ran HT, Ye XP, Zheng YY, Zhang DZ, Wang ZG (2012) The stiffness of the liver and spleen on ARFI imaging pre and post TIPS placement: a preliminary observation. Clin Imaging 36:135–141

29.

Forestier N, Gaus A, Herrmann E, Sarrazin C, Bojunga J, Poynard T, Albert J, Gerber L, Schneider MD, Dultz G, Zeuzem S, Friedrich-Rust M (2012) Acoustic radiation force impulse imaging for evaluation of antiviral treatment response in chronic hepatitis C. J Gastrointestin Liver Dis 21:367–373

30.

Schmid MH, Korting HC (1993) Liposomes for atopic dry skin: the rationale for a promising approach. Clin Investig 71:649–653

31.

Hofauer B, Mansour N, Heiser C, Wirth M, Straßen U, Loeffelbein D, Bas M, Knopf A (2016) Reproducibility of acoustic radiation force impulse imaging in thyroid and salivary glands with experienced and inexperienced examiners. Ultrasound Med Biol

32.

Goertz RS, Sturm J, Zopf S, Wildner D, Neurath MF, Strobel D (2014) Outcome analysis of liver stiffness by ARFI (acoustic radiation force impulse) elastometry in patients with chronic viral hepatitis B and C. Clin Radiol 69:275–279
About this article
Cite this article
Hofauer, B., Mansour, N., Heiser, C. et al. Effect of liposomal local therapy on salivary glands in acoustic radiation force impulse imaging in Sjögren's syndrome. Clin Rheumatol 35, 2597–2601 (2016). https://doi.org/10.1007/s10067-016-3395-6
Received:

Revised:

Accepted:

Published:

Issue Date:
Keywords
Acoustic radiation force impulse imaging

Salivary gland

Sjögren's syndrome

Ultrasonography

Xerostomia