Abstract
The aim of this study was to compare the frequency and severity of chronic periodontitis (CP) in systemic lupus erythematosus (SLE) patients with individuals without rheumatic diseases. Seventy-five patients with SLE were compared to 75 individuals without rheumatic diseases (control group) matched for age, educational level, and income. The activity of SLE was assessed with the Systemic Lupus Erythematosus Disease Activity Index 2000. Systemic Lupus International Collaborating Clinics/American College of Rheumatology Damage Index for Systemic Lupus Erythematosus evaluated SLE-related damage. Dental evaluation included measuring plaque index and parameters of periodontal disease (probing depth, clinical attachment level, and bleeding on probing). Fifty-one (68 %) SLE patients and 42 (56 %) control individuals had CP (p = 0.13). Periodontal status was similar in both groups. Considering only individuals with CP, SLE patients were younger than controls (40.7 ± 9.8 versus 46.14 ± 12.5 years of age, p = 0.02). CP was not associated with activity or therapeutics in SLE patients. Severity of periodontal parameters was similar in SLE patients and control subjects; however, CP occurred earlier in SLE patients.
Access options
Buy single article
Instant access to the full article PDF.
US$ 39.95
Tax calculation will be finalised during checkout.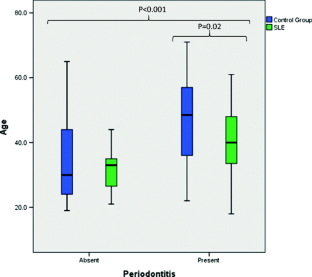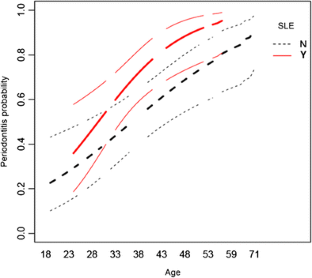 References
1.

Gonzales TS, Coleman GC (1999) Periodontal manifestations of collagen vascular disorders. Periodontol 21:94–105

2.

Calderaro DC, Ferreira GA, Mendonça SM, Corrêa JD, Santos FX, Sanção JG, Silva TA, Teixeira AL (2016) Is there an association between systemic lupus erythematosus and periodontal disease? Rev Bras Reumatol 56:280–284

3.

Fernandes EGC, Saviolli C, Siqueira STT, Silva CAA (2007) Oral health and the masticatory system in juvenile systemic lupus erythematosus. Lupus 16:713–719

4.

Fabbri C, Fuller R, Bonfá E, Guedes LK, D'alleva PS, Borba EF (2014) Periodontitis treatment improves systemic lupus erythematosus response to immunosuppressive therapy. Clin Rheumatol 33:505–509

5.

Hochberg MG (1997) Update the American College of Rheumatology revised criteria for the classification of systemic lupus erythematosus. Arthritis Rheum 40:1725

6.

Gladman D, Ibañez D, Urowitz MB (2002) Systemic lupus erythematosus disease activity index 2000. J Rheumatol 29:288–299

7.

Gladman D, Ginzler E, Goldsmith C, Fortin P, Liang M, Urowitz M, Bacon P, Bombardier S, Hanly J, Hay E, Isenberg D, Jones J, Kalunian K, Maddison P, Nived O, Petri M, Richter M, Sanchez-Guerrero J, Snaith M, Sturfelt G, Symmons D, Zoma A (1996) The development and initial validation of the systemic lupus international collaborating clinics/American College of Rheumatology damage index for systemic lupus erythematosus. Arthritis Rheum 39:363–369

8.

Furie R, Petri M, Zamani O, Cervera R, Wallace DJ, Tegzová D, Sanchez-Guerrero J, Schwating A, Merrill JT, Chatham WW, Stohl W, Ginzler EM, Hough DR, Zhong ZJ, Freimuth W, van Vollenhoven RF, BLISS-76 Study Group (2011) A phase III, randomized, placebo-controlled study of belimumab, a monoclonal antibody that inhibits B lymphocyte stimulator, in patients with systemic lupus erythematosus. Arthritis Rheum 63:3918–3930

9.

Petri M, Purvey S, Fang H, Magder L (2012) Predictors of organ damage in systemic lupus erythematosus: the Hopkins' lupus cohort. Arthritis Rheum 64:4021–4028

10.

Eke PI, Page RC, Wei L, Thornton-Evans G, Genco RJ (2012) Update of the case definitions for population-based surveillance of periodontitis. J Periodontol 83:1449–1454

11.

Magder LS, Petri M (2012) Incidence of and risk factors for adverse cardiovascular events among patients with systemic lupus erythematosus. Am J Epidemiol 176:708–719

12.

Adachi JD, Lau A (2014) Systemic lupus erythematosus, osteoporosis and fractures. J Rheumatol 41:1913–1915

13.

Petri M, Naqibuddin M, Carson KA, Sampedro M, Wallace DJ, Weisman MH, Holiday SL, Padilla PA, Brey RL (2008) Cognitive function in a systemic lupus erythematosus inception cohort. J Rheumatol 35:1776–1781

14.

Alderaan K, Sekicki V, Magder LS, Petri M (2015) Risk factors for cataracts in systemic lupus erythematosus (SLE). Rheumatol Int 35:701–708

15.

Gesser HC, Peres MA, Marcenes W (2001) Gingival and periodontal conditions associated with socioeconomic factors. Rev Saude Publica 35:289–293

16.

Watanabe K, Cho YD (2014) Periodontal disease and metabolic syndrome: a qualitative critical review of their association. Arch Oral Biol 59:855–870

17.

Trombone AP, Claudino M, Colavite P, de Assis GF, Avila-Campos MJ, Silva JS, Campanelli AP, Ibañez OM, De Franco M, Garlet GP (2010) Periodontitis and arthritis interaction in mice involves a shared hyper-inflammatory genotype and functional immunological interferences. Gens Immun 11:479–489

18.

Cantley MD, Haynes DR, Marino V, Bartold PM (2011) Pre-existing periodontitis exacerbates experimental arthritis in a mouse model. J Clin Periodontol 38:532–541
Acknowledgments
This study was partly funded by CNPq and FAPEMIG, Brazil.
About this article
Cite this article
Calderaro, D.C., Ferreira, G.A., Corrêa, J.D. et al. Is chronic periodontitis premature in systemic lupus erythematosus patients?. Clin Rheumatol 36, 713–718 (2017). https://doi.org/10.1007/s10067-016-3385-8
Received:

Revised:

Accepted:

Published:

Issue Date:
Keywords
Chronic periodontitis

Comorbid diseases

Periodontal diseases

Systemic lupus erythematosus