Abstract
Treatment with bromelain-containing enzyme preparation for 3–4 weeks is effective for treatment of knee osteoarthritis (OA). Here, we aimed to assess 16-week treatment with bromelain in mild-to-moderate knee OA patients. We performed a randomized, single-blind, active-controlled pilot study. Forty knee OA patients were randomized to receive oral bromelain (500 mg/day) or diclofenac (100 mg/day). Primary outcome was the Western Ontario and McMaster Universities Osteoarthritis Index (WOMAC) analyzed by Wilcoxon signed rank test. Secondary outcome was the short-form 36 (SF-36). Plasma malondialdehyde (MDA) and nitrite were measured as oxidative stress markers. There was no difference in WOMAC and SF-36 scores compared between bromelain and diclofenac groups after 4 weeks. At week 4, the improvement of total WOMAC and pain subscales from baseline was observed in both groups; however, two patients given diclofenac had adverse effects leading to discontinuation of diclofenac. However, observed treatment difference was inconclusive. At week 16 of bromelain treatment, the patients had improved total WOMAC scores (12.2 versus 25.5), pain subscales (2.4 versus 5.6), stiffness subscales (0.8 versus 2.0), and function subscales (9.1 versus 17.9), and physical component of SF-36 (73.3 versus 65.4) as compared with baseline values. OA patients had higher plasma MDA, nitrite, and prostaglandin E2 (PGE2) in lipopolysaccharide (LPS)-stimulated whole blood but lower plasma α-tocopherol than control subjects. Plasma MDA and LPS-stimulated PGE2 production were decreased at week 16 of bromelain treatment. Bromelain has no difference in reducing symptoms of mild-to-moderate knee OA after 4 weeks when compared with diclofenac.
Access options
Buy single article
Instant access to the full article PDF.
USD 39.95
Price excludes VAT (USA)
Tax calculation will be finalised during checkout.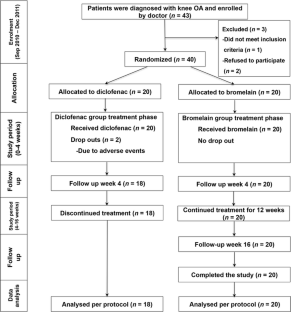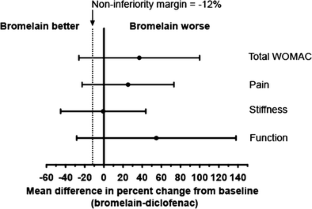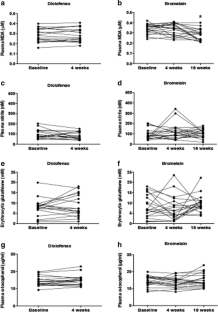 References
Benito MJ, Veale DJ, FitzGerald O, van den Berg WB, Bresnihan B (2005) Synovial tissue inflammation in early and late osteoarthritis. Ann Rheum Dis 64(9):1263–1267

Silverstein FE, Faich G, Goldstein JL, Simon LS, Pincus T, Whelton A, Makuch R, Eisen G, Agrawal NM, Stenson WF (2000) Gastrointestinal toxicity with celecoxib vs nonsteroidal anti-inflammatory drugs for osteoarthritis and rheumatoid arthritis. JAMA 284(10):1247–1255

Brun J, Jones R (2001) Nonsteroidal anti-inflammatory drug–associated dyspepsia: the scale of the problem. Am J Med 110(1):S12–S13

Laine L, Curtis S, Cryer B, Kaur A, Cannon C (2010) Risk factors for NSAID-associated upper GI clinical events in a long-term prospective study of 34 701 arthritis patients. Aliment Pharmacol Ther 32(10):1240–1248

Müller S, März R, Schmolz M, Drewelow B, Eschmann K, Meiser P (2013) Placebo-controlled randomized clinical trial on the immunomodulating activities of low- and high-dose bromelain after oral administration—new evidence on the antiinflammatory mode of action of bromelain. Phytother Res 27(2):199–204

Majid OW, Al-Mashhadani BA (2014) Perioperative bromelain reduces pain and swelling and improves quality of life measures after mandibular third molar surgery: a randomized, double-blind, placebo-controlled clinical trial. J Oral Maxillofac Surg 72(6):1043–1048

Cohen A, Goldman J (1964) Bromelain therapy in rheumatoid arthritis. Penn Med J 67:27–30

Brien S, Lewith G, Walker A, Hicks SM, Middleton D (2004) Bromelain as a treatment for osteoarthritis: a review of clinical studies. Evid Based Complement Alternat Med 1(3):251–257

Singer F, Oberleitner H (1995) Drug therapy of activated arthrosis. On the effectiveness of an enzyme mixture versus diclofenac. Wien Med Wochenschr (1946) 146(3):55–58

Klein G, Kullich W (2000) Short-term treatment of painful osteoarthritis of the knee with oral enzymes: a randomised, double-blind study versus diclofenac. Clin Drug Investig 19(1):15–23

Singer F, Singer C, Oberleitner H (2001) Phlogenzym® versus diclofenac in the treatment of activated osteoarthritis of the knee. A double-blind prospective randomized study. Int J Immunother 17(2/4):135–142

Tilwe G, Beria S, Turakhia N, Daftary G, Schiess W (2001) Efficacy and tolerability of oral enzyme therapy as compared to diclofenac in active osteoarthrosis of knee joint: an open randomized controlled clinical trial. JAPI 49:617–621

Walker A, Bundy R, Hicks S, Middleton R (2002) Bromelain reduces mild acute knee pain and improves well-being in a dose-dependent fashion in an open study of otherwise healthy adults. Phytomedicine 9(8):681–686

Brien S, Lewith G, Walker A, Middleton R, Prescott P, Bundy R (2006) Bromelain as an adjunctive treatment for moderate-to-severe osteoarthritis of the knee: a randomized placebo-controlled pilot study. QJM 99(12):841–850

Altman R, Asch E, Bloch D, Bole G, Borenstein D, Brandt K, Christy W, Cooke T, Greenwald R, Hochberg M (1986) Development of criteria for the classification and reporting of osteoarthritis: classification of osteoarthritis of the knee. Arthritis Rheum 29(8):1039–1049

Kellgren J, Lawrence J (1963) Atlas of standard radiographs Oxford. Blackwell, London

Farrell AJ, Blake DR, Palmer R, Moncada S (1992) Increased concentrations of nitrite in synovial fluid and serum samples suggest increased nitric oxide synthesis in rheumatic diseases. Ann Rheum Dis 51(11):1219–1222

Bellamy N, Buchanan WW, Goldsmith CH, Campbell J, Stitt LW (1988) Validation study of WOMAC: a health status instrument for measuring clinically important patient relevant outcomes to antirheumatic drug therapy in patients with osteoarthritis of the hip or knee. J Rheumatol 15(12):1833–1840

Piaggio G, Elbourne DR, Pocock SJ, Evans SJ, Altman DG, Group C (2012) Reporting of noninferiority and equivalence randomized trials: extension of the CONSORT 2010 statement. JAMA 308(24):2594–2604

Ware J, Snow K, Kosinski M, Gandek B (1993) SF-36 health survey: manual and interpretive guide. The health institute. New England Medical Center, Boston

Ohkawa H, Ohishi N, Yagi K (1978) Reaction of linoleic acid hydroperoxide with thiobarbituric acid. J Lipid Res 19(8):1053–1057

Pelletier MM, Kleinbongard P, Ringwood L, Hito R, Hunter CJ, Schechter AN, Gladwin MT, Dejam A (2006) The measurement of blood and plasma nitrite by chemiluminescence: pitfalls and solutions. Free Radic Biol Med 41(4):541–548

Beutler E, Duron O, Kelly BM (1963) Improved method for the determination of blood glutathione. J Lab Clin Med 61:882–888

Zaspel BJ, Csallany AS (1983) Determination of alpha-tocopherol in tissues and plasma by high-performance liquid chromatography. Anal Biochem 130(1):146–150

von Aulock S, Hermann C, Hartung T (2003) Determination of the eicosanoid response to inflammatory stimuli in whole blood and its pharmacological modulation ex vivo. J Immunol Methods 277(1):53–63

Sullivan GM, Feinn R (2012) Using effect size-or why the P value is not enough. J Grad Med Educ 4(3):279–282

Nüesch E, Trelle S, Reichenbach S, Rutjes AW, Tschannen B, Altman DG, Egger M, Jüni P (2010) Small study effects in meta-analyses of osteoarthritis trials: meta-epidemiological study. BMJ 341:c3515

Hróbjartsson A, Gøtzsche PC (2001) Is the placebo powerless? An analysis of clinical trials comparing placebo with no treatment. N Engl J Med 344(21):1594–1602

Hróbjartsson A, Thomsen ASS, Emanuelsson F, Tendal B, Hilden J, Boutron I, Ravaud P, Brorson S (2012) Observer bias in randomised clinical trials with binary outcomes: systematic review of trials with both blinded and non-blinded outcome assessors. BMJ 344:e1119

Del Carlo M, Schwartz D, Erickson EA, Loeser RF (2007) Endogenous production of reactive oxygen species is required for stimulation of human articular chondrocyte matrix metalloproteinase production by fibronectin fragments. Free Radic Biol Med 42(9):1350–1358

Mastbergen SC, Bijlsma JW, Lafeber FP (2008) Synthesis and release of human cartilage matrix proteoglycans are differently regulated by nitric oxide and prostaglandin-E2. Ann Rheum Dis 67(1):52–58

Shah R, Raska K, Tiku ML (2005) The presence of molecular markers of in vivo lipid peroxidation in osteoarthritic cartilage: a pathogenic role in osteoarthritis. Arthritis Rheum 52(9):2799–2807

Morquette B, Shi Q, Lavigne P, Ranger P, Fernandes JC, Benderdour M (2006) Production of lipid peroxidation products in osteoarthritic tissues: new evidence linking 4-hydroxynonenal to cartilage degradation. Arthritis Rheum 54(1):271–281

Tuzun S, Uzun H, Aydin S, Dinc A, Sipahi S, Topcuoglu MA, Yucel R, Belce A (2005) Effects of flurbiprofen and tiaprofenic acid on oxidative stress markers in osteoarthritis: a prospective, randomized, open-label, active-and placebo-controlled trial. Curr Therap Res 66(4):335–344

Agarwal S, Chaudhary B, Bist R (2016) Bacoside a and bromelain relieve dichlorvos induced changes in oxidative responses in mice serum. Chem Biol Interact 254:173–178

Hinz B, Brune K, Pahl A (2000) Cyclooxygenase-2 expression in lipopolysaccharide-stimulated human monocytes is modulated by cyclic AMP, prostaglandin E2, and nonsteroidal anti-inflammatory drugs. Biochem Biophys Res Commun 278(3):790–796

Huang J-R, Wu C-C, Hou RC-W , Jeng K-C (2008) Bromelain inhibits lipopolysaccharide-induced cytokine production in human THP-1 monocytes via the removal of CD14. Immunol Investig 37(4):263–277
Acknowledgments
This work was supported by the Program Strategic Scholarships for Frontier Research Network for the Joint Ph.D. Program, the Office of the Higher Education Commission, Thailand, and Department of Pharmacology, Faculty of Science, Mahidol University. We thank all patients and healthy subjects who participated in this study.
Ethics declarations
This study was approved by the Ramathibodi Hospital Ethics Committee, Faculty of Medicine Ramathibodi Hospital, Mahidol University, in accordance with Declaration of Helsinki. All patients provided the written informed consent before randomization.
Disclosures
None.
About this article
Cite this article
Kasemsuk, T., Saengpetch, N., Sibmooh, N. et al. Improved WOMAC score following 16-week treatment with bromelain for knee osteoarthritis. Clin Rheumatol 35, 2531–2540 (2016). https://doi.org/10.1007/s10067-016-3363-1
Received:

Revised:

Accepted:

Published:

Issue Date:

DOI: https://doi.org/10.1007/s10067-016-3363-1
Keywords
Bromelain

Diclofenac

Knee osteoarthritis

Malondialdehyde

SF-36

WOMAC