Abstract
Intra-articular glucocorticoid injections are the recommended treatment for active arthritis, but accurate positioning of the needle may be challenging. Inexperienced physicians might decide not to inject because an unsuccessful injection impairs clinical outcome and may lead to complications; however, choosing not to inject may impair or delay the best possible treatment. Here, we address this problem by introducing a novel Bioimpedance Probe (BIP) Needle-guidance method that was tested in a clinical study. The BIP Needle was utilized for detection of synovial fluid. It measures real-time bioimpedance spectra and identifies when the needle tip is in contact with the synovial fluid. Injections into 80 joints with active arthritis were performed by an experienced rheumatologist using the BIP Needle. The location of the BIP Needle was ensured by aspiration of synovial fluid, absence of resistance during injection, and/or using real-time ultrasound imaging. Sensitivity and specificity of the device for synovial fluid detection were 86 % (CI 75–93 %) and 85 % (CI 74–92 %), respectively. The BIP Needles showed high spatial resolution and differentiated the synovial fluid from the surrounding tissues. However, lack of synovial fluid, anatomic variability, and intra-articular structures challenged the technology. The BIP Needles provided adequate results in intra-articular injections. Performance of the device was good even in small joints, which may be the most difficult for inexperienced physicians. Further performance improvement can be expected when more data is collected for mathematical models. Overall, this novel method showed potential to be used in real-time needle guidance.
Access options
Buy single article
Instant access to the full article PDF.
US$ 39.95
Tax calculation will be finalised during checkout.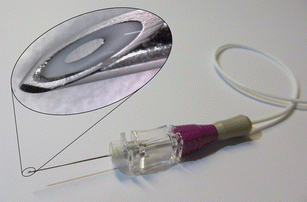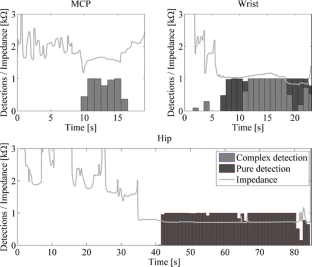 References
1.

Möttönen T, Hannonen P, Leirisalo-Repo M, Nissilä M, Kautiainen H, Korpela M et al (1999) Comparison of combination therapy with single-drug therapy in early rheumatoid arthritis: a randomised trial. FIN-RACo trial group. Lancet 353:1568–1573

2.

Hollander JL, Brown EM, Jessar RA, Brown CY (1951) Hydrocortisone and cortisone injected into arthritic joints: comparative effects of and use of hydrocortisone as a local antiarthritic agent. JAMA 147(17):1629–1635

3.

Courtney P, Doherty M (2013) Joint aspiration and injection and synovial fluid analysis. Best Pract Res Clin Rheumatol 27(2):137–169

4.

Taylor WJ, Fransen J, Dalbeth N, Neogi T, Schumacher HR, Brown M et al (2016) Diagnostic arthrocentesis for suspicion of gout is safe and well tolerated. J Rheumatol 43(1):150–153. doi:10.3899/jrheum.150684

5.

Hetland M, Stengaard-Pedersen K, Junker P, Lottenburger T, Ellingsen T, Andersen LS et al (2006) Combination treatment with methotrexate, cyclosporine and intraarticular betamethasone compared with methotrexate and intraarticular betamethasone in early active rheumatoid arthritis. Arthritis Rheum 54:1401–1409

6.

Kuusalo L, Puolakka K, Kautiainen H, Leirisalo-Repo M, Rantalaiho V (2015) Impact of neglecting intra-articular glucocorticoid-injections in remission targeted treatment of early rheumatoid arthritis, EULAR 2015 Congress poster and poster presentation THU0119, Rome

7.

Sokka T, Haugenberg G, Asikainen J, Widding HI, Kokko A, Rannio T et al (2012) Similar clinical outcomes in rheumatoid arthritis with more versus less expensive treatment strategies. Observational data from two rheumatology clinics. Clin Exp Rheumatol 31(3):409–414

8.

Eriksson JK, Karlsson JA, Bratt J, Petersson IF, van Vollenhoven RF, Ernestam S et al (2015) Cost-effectiveness of infliximab versus conventional combination treatment in methotrexate-refractory early rheumatoid arthritis: 2-year results of the register-enriched randomised controlled SWEFOT trial. Ann Rheum Dis 74:1094–1101

9.

Beukelman T, Patkar NM, Saag KG, Tolleson‐Rinehart S, Cron RQ, DeWitt EM et al (2011) 2011 American College of Rheumatology recommendations for the treatment of juvenile idiopathic arthritis: initiation and safety monitoring of therapeutic agents for the treatment of arthritis and systemic features. Arthritis Care Res 63(4):465–482

10.

Leirisalo-Repo M (2013) What is the best treatment strategy for early RA? Best Pract Res Clin Rheumatol 27:523–536

11.

Balint PV, Kane D, Hunter J, McInnes IB, Field M, Sturrock RD (2002) Ultrasound guided versus conventional joint and soft tissue fluid aspiration in rheumatology practice: a pilot study. J Rheumatol 29(10):2209–2213

12.

Pichler W, Grechenig W, Grechenig S, Anderhuber F, Clement H, Weinberg AM (2008) Frequency of successful intra-articular puncture of finger joints: influence of puncture position and physician experience. Rheumatology (Oxford) 47(10):1503–1505

13.

Kalvøy H, Frich L, Grimnes S, Martinsen ØG, Hol PK, Stubhaug A (2009) Impedance-based tissue discrimination for needle guidance. Physiol Meas 30(2):129–140

14.

Kari J, Annala K, Annus P, Seppä V-P, Kronström K (2015) A thin needle with bio-impedance measuring probe: tissue recognition performance assessed in in vivo animal study. Available at (http://injeq.com/hallinta/data/files/BRC 3.0, Kari et al. 2015—A thin needle with bio-impedance measuring probe, tissue recognition performance assessed in in vivo animal study.pdf). Accessed 12 May 2015

15.

Parmanne P, Kankaanpää E, Mäki S, Kari J, Relas H, Tuompo R et al (2015) Novel injection needle with real-time detection of synovial fluid—exploratory clinical study. EULAR 2015 Congress late breaking abstract and oral presentation, Rome. doi: 10.1136/annrheumdis-2015-eular.6559

16.

Hørslev-Petersen K, Hetland ML, Ørnbjerg LM, Junker P, Pødenphant J, Ellingsen T et al (2015) Clinical and radiographic outcome of a treat-to-target strategy using methotrexate and intra-articular glucocorticoids with or without adalimumab induction: a 2-year investigator-initiated double-blinded, randomized, controlled trial (OPERA). Ann Rheum Dis. doi:10.1136/annrheumdis-2015-208166
Acknowledgments
Injeq Ltd provided BIP Needles and bioimpedance analyzer for the study. We thank all participating patients and study nurses.
Ethics declarations
Conflict of interests
SH, JK, and KK are employees of Injeq Ltd; KK is a stakeholder of Injeq Ltd. Other authors have nothing to declare.
Patient consent
Persons gave their informed consent prior to their inclusion in the study.
Ethics approval
This clinical study has been approved by the Ethics Committee of the Department of Medicine, Helsinki University Central Hospital, Finland, and has therefore been performed in accordance with the ethical standards laid down in the 1964 Declaration of Helsinki and its later amendments.
About this article
Cite this article
Halonen, S., Kankaanpää, E., Kari, J. et al. Synovial fluid detection in intra-articular injections using a bioimpedance probe (BIP) needle—a clinical study. Clin Rheumatol 36, 1349–1355 (2017). https://doi.org/10.1007/s10067-016-3210-4
Received:

Revised:

Accepted:

Published:

Issue Date:
Keywords
Arthritis

Bioimpedance

Corticosteroids

Intra-articular injection

Needle guidance