Abstract
The objective of this study was to investigate the safety and efficacy of a dietary supplement, Arthrem, containing an extract from the medicinal plant Artemisia annua, on pain, stiffness, and functional limitation in osteoarthritis (OA) of the hip or knee. Forty-two patients were randomized to one of three groups (n = 14 in each group): 150-mg Artemisia annua extract (ART) twice daily (BD) (ART low dose), 300-mg ART BD (ART high dose), or placebo BD administered over 12 weeks. Efficacy was assessed using the Western Ontario and McMaster Universities Osteoarthritis Index (WOMAC®) and visual analog scale (VAS) for pain. Participants treated with ART low dose demonstrated significant improvement in WOMAC total scores from baseline to 12 weeks (mean change, −12.2; standard deviation, [SD] 13.84; p = 0.0159); improvement was not shown in the placebo group (mean change, −7.8; SD, 19.80; p = 0.1029). Statistically significant reductions were seen from baseline in the ART low-dose group for individual WOMAC components stiffness and physical function. VAS pain scores were statistically significantly reduced from baseline to 12 weeks in the ART low-dose group (mean change, −21.4 mm; SD, 23.48 mm; p = 0.0082) but not the placebo group (mean change, −11.5 mm; SD, 28.97 mm, p = 0.1757). No statistically significant changes occurred from baseline in the placebo or ART high-dose groups for any parameter. ART low dose was well tolerated. ART has potential as an anti-inflammatory/analgesic in OA. Treatment with ART 150 mg BD is associated with clinically relevant reductions in pain over 12 weeks. Further studies are warranted.
This is a preview of subscription content, log in to check access.
Access options
Buy single article
Instant access to the full article PDF.
US$ 39.95
Tax calculation will be finalised during checkout.
Subscribe to journal
Immediate online access to all issues from 2019. Subscription will auto renew annually.
US$ 99
Tax calculation will be finalised during checkout.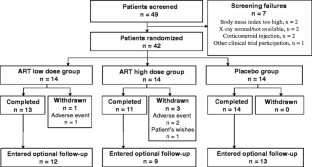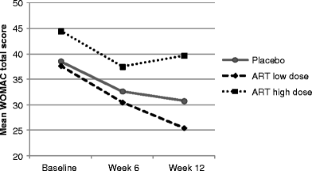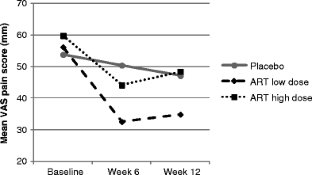 References
1.

Graziose R, Lila MA, Raskin I (2010) Merging traditional Chinese medicine with modern drug discovery technologies to find novel drugs and functional foods. Curr Drug Discov Technol 7:2–12

2.

Miller LH, Su X (2011) Artemisinin: discovery from the Chinese herbal garden. Cell 146:855–8

3.

Nosten F, White NJ (2007) Artemisinin-based combination treatment of falciparum malaria. Am J Trop Med Hyg 77:181–92

4.

Bellamy N, Brooks PM (1986) Current practice in antimalarial drug prescribing in rheumatoid arthritis. J Rheumatol 13:551–5

5.

Hunt S, Yoshida M, Davis CE, Greenhill NS, Davis PF (2015) An extract of the medicinal plant Artemisia annua modulates production of inflammatory markers in activated neutrophils. J Inflamm Res 8:9–14

6.

Roberts E, Delgado Nunes V, Buckner S, Latchem S, Constanti M, Miller P et al (2015) Paracetamol: not as safe as we thought? A systematic literature review of observational studies. Ann Rheum Dis. doi:10.1136/annrheumdis-2014-206914

7.

Makris UE, Abrams RC, Gurland B, Reid MC (2014) Management of persistent pain in the older patient: a clinical review. JAMA 312:825–36

8.

Ernst E (1998) Usage of complementary therapies in rheumatology: a systematic review. Clin Rheumatol 17:301–5

9.

De Silva V, El-Metwally A, Ernst E, Lewith G, Macfarlane GJ (2011) Arthritis Research UK Working Group on Complementary and Alternative Medicines. Evidence for the efficacy of complementary and alternative medicines in the management of osteoarthritis: a systematic review. Rheumatology (Oxford) 50:911–20

10.

Bellamy N, Buchanan WW, Goldsmith CH, Campbell J, Stitt LW (1988) Validation study of WOMAC®: a health status instrument for measuring clinically important patient relevant outcomes to antirheumatic drug therapy in patients with osteoarthritis of the hip or knee. J Rheumatol 15:1833–40

11.

Krishnan E, Sokka T, Häkkinen A, Hubert H, Hannonen P (2004) Normative values for the Health Assessment Questionnaire disability index: benchmarking disability in the general population. Arthritis Rheum 50:953–60

12.

Doherty M, Dieppe P (2009) The "placebo" response in osteoarthritis and its implications for clinical practice. Osteoarthr Cartil 17:1255–62

13.

Todd KH (1996) Clinical versus statistical significance in the assessment of pain relief. Ann Emerg Med 27:439–41

14.

Hawker GA, Stewart L, French MR, Cibere J, Jordan JM, March L et al (2008) Understanding the pain experience in hip and knee osteoarthritis—an OARSI/OMERACT initiative. Osteoarthr Cartil 16:415–22

15.

Shou-zhong Y (1997) The Divine Farmer's Materia Medica: a translation of the Shen Nong Ben Cao Jing. Blue Poppy Press, Boulder

16.

Zhang YX, Sun HX (2009) Immunosuppressive effect of ethanol extract of Artemisia annua on specific antibody and cellular responses of mice against ovalbumin. Immunopharmacol Immunotoxicol 31:625–30

17.

Cuzzocrea S, Saadat F, Di Paola R, Mirshafiey A (2005) Artemether: a new therapeutic strategy in experimental rheumatoid arthritis. Immunopharmacol Immunotoxicol 27:615–30

18.

Wang JX, Tang W, Zhou R, Wan J, Shi LP, Zhang Y et al (2008) The new water-soluble artemisinin derivative SM905 ameliorates collagen-induced arthritis by suppression of inflammatory and Th17 responses. Br J Pharmacol 153:1303–10

19.

Ferreira JF, Luthria DL, Sasaki T, Heyerick A (2010) Flavonoids from Artemisia annua L. as antioxidants and their potential synergism with artemisinin against malaria and cancer. Molecules 15:3135–70

20.

Rasoanaivo P, Wright CW, Willcox ML, Gilbert B (2011) Whole plant extracts versus single compounds for the treatment of malaria: synergy and positive interactions. Malar J 10(Suppl 1):S4
Acknowledgments
The authors thank Liam Harker MSc (Research Scientist, Promisia Ltd) for data management and study monitoring and Liz English (Bellbird Editing) for editorial assistance.
Ethics declarations
Compliance with ethical standards
The study was conducted according to the principals of good clinical practice, which protects the rights, safety, and well-being of trial subjects in accordance with the principles of the Declaration of Helsinki. All patients provided written informed consent before any study-related procedures. The study received ethical approval from the Health and Disability Ethics Committee New Zealand (14/NTB/11).
Disclosures and conflict of interest
The study was funded by Promisia Ltd., the manufacturer of the extract of Artemisia used in the study. S Hunt and E Beattie are employees of Promisia Ltd.
Dr Hunt provided assistance in the design of the study. The interpretation of data and writing of the manuscript was performed by Dr Stebbings. Dr Hunt had input into the manuscript. Ms Beattie performed all statistical analysis and randomization. The final decision to publish lay solely with Dr Stebbings.
Dr Stebbings has no financial interests or other conflicts of interest in association with Promisia Ltd, including stock ownership, honoraria, paid expert testimony, or personal relationships, which may inappropriately influence the conduct of the trial.
There are no conflicts of interest for D McNamara.
About this article
Cite this article
Stebbings, S., Beattie, E., McNamara, D. et al. A pilot randomized, placebo-controlled clinical trial to investigate the efficacy and safety of an extract of Artemisia annua administered over 12 weeks, for managing pain, stiffness, and functional limitation associated with osteoarthritis of the hip and knee. Clin Rheumatol 35, 1829–1836 (2016). https://doi.org/10.1007/s10067-015-3110-z
Received:

Revised:

Accepted:

Published:

Issue Date:
Keywords
Anti-inflammatory agents

Artemisia annua

Dietary supplements

Herbal medicine

Osteoarthritis

Randomized controlled trial