Abstract
Twenty-five-hydroxyvitamin D (25(OH)-vitamin D) is crucial in the regulation of immunologic processes, but—although its deficiency has been reported in patients with different rheumatological disorders—no data are available for Kawasaki disease (KD). The goals of this study were to assess the serum levels of 25(OH)-vitamin D in children with KD and evaluate the relationship with the eventual occurrence of KD-related vascular abnormalities. We evaluated serum 25(OH)-vitamin D levels in 79 children with KD (21 females, 58 males, median age 4.9 years, range 1.4–7.5 years) in comparison with healthy sex-/age-matched controls. A significantly higher percentage of KD patients (98.7 %) were shown to have reduced 25(OH)-vitamin D levels (<30 ng/mL) in comparison with controls (78.6 %, p < 0.0001). Furthermore, KD patients had severely low levels of 25(OH)-vitamin D than controls (9.17 ± 4.94 vs 23.3 ± 10.6 ng/mL, p < 0.0001), especially the subgroup who developed coronary artery abnormalities (4.92 ± 1.36 vs 9.41 ± 4.95 ng/mL, p < 0.0001). In addition, serum 25(OH)-vitamin D levels correlated not only with erythrosedimentation rate (p < 0.0001), C-reactive protein (p < 0.0001), hemoglobin level at KD diagnosis (p < 0.0001) but also with both coronary artery aneurysms (p = 0.005) and non-aneurysmatic cardiovascular lesions (p < 0.05). Low serum concentrations of 25(OH)-vitamin D might have a contributive role in the development of coronary artery complications observed in children with KD.
Access options
Buy single article
Instant access to the full article PDF.
US$ 39.95
Tax calculation will be finalised during checkout.
Subscribe to journal
Immediate online access to all issues from 2019. Subscription will auto renew annually.
US$ 79
Tax calculation will be finalised during checkout.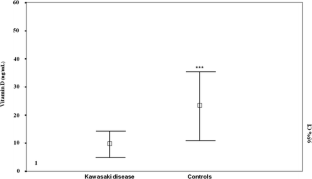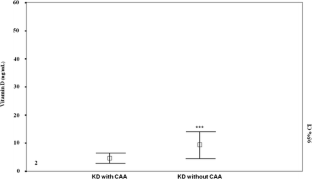 References
1.

Jamieson N, Singh-Grewal D (2013) Kawasaki disease: a clinician's update. Int J Pediatr 2013:645391

2.

De Rosa G, Pardeo M, Rigante D (2007) Current recommendations for the pharmacologic therapy in Kawasaki syndrome and management of its cardiovascular complications. Eur Rev Med Pharmacol Sci 11:301–308

3.

Falcini F, Capannini S, Rigante D (2011) Kawasaki syndrome: an intriguing disease with numerous unsolved dilemmas. Pediatr Rheumatol 9(1):17

4.

Kato H, Sugimura T, Akagi T et al (1996) Long-term consequences of Kawasaki disease. A 10- to 21-year follow-up study of 594 patients. Circulation 94:1379–1385

5.

Burns JC, Glodé MP (2004) Kawasaki syndrome. Lancet 364:533–544

6.

Rigante D, Valentini P, Rizzo D et al (2010) Responsiveness to intravenous immunoglobulins and occurrence of coronary artery abnormalities in a single-center cohort of Italian patients with Kawasaki syndrome. Rheumatol Int 30:841–846

7.

Esposito S, Rigante D, Principi N (2013) The role of infection in Kawasaki syndrome. J Infect 67:1–10

8.

Matsubara T, Ichiyama T, Furukawa S (2005) Immunological profile of peripheral blood lymphocytes and monocytes/macrophages in Kawasaki disease. Clin Exp Immunol 141:381–387

9.

Lips P, Duong T, Oleksik A et al (2001) A global study of vitamin D status and parathyroid function in postmenopausal women with osteoporosis: baseline data from the multiple outcomes of raloxifene evaluation clinical trial. J Clin Endocrinol Metab 86:1212–1221

10.

Spiro A, Buttriss JL (2014) Vitamin D: an overview of vitamin D status and intake in Europe. Nutr Bull 39:322–350

11.

Stagi S, Pelosi P, Strano M et al (2014) Determinants of vitamin D levels in Italian children and adolescents: a longitudinal evaluation of cholecalciferol supplementation versus the improvement of factors influencing 25(OH) D status. Int J Endocrinol 2014:583039

12.

Outila TA, Kärkkäinen MU, Lamberg-Allardt CJ (2001) Vitamin D status affects serum parathyroid hormone concentrations during winter in female adolescents: associations with forearm bone mineral density. Am J Clin Nutr 74:206–210

13.

Huh SY, Gordon CM (2008) Vitamin D deficiency in children and adolescents: epidemiology, impact and treatment. Rev Endocr Metab Disord 9:161–170

14.

Stagi S, Bertini F, Cavalli L, Matucci-Cerinic M, Brandi ML, Falcini F (2014) Determinants of vitamin D levels in children, adolescents, and young adults with juvenile idiopathic arthritis. J Rheumatol 41:1884–1892

15.

Stagi S, Cavalli L, Bertini F et al (2014) Vitamin D levels in children, adolescents, and young adults with juvenile-onset systemic lupus erythematosus: a cross-sectional study. Lupus 23:1059–1065

16.

Holick MF (2007) Vitamin D deficiency. N Engl J Med 357:266–281

17.

Adorini L, Penna G (2008) Control of autoimmune diseases by the vitamin D endocrine system. Nat Clin Pract Rheumatol 4:404–412

18.

Arnson Y, Amital H, Shoenfeld Y (2007) Vitamin D and autoimmunity: new aetiological and therapeutic considerations. Ann Rheum Dis 66:1137–1142

19.

Szodoray P, Nakken B, Gaal J et al (2008) The complex role of vitamin D in autoimmune diseases. Scand J Immunol 68:261–269

20.

Kudo K, Hasegawa S, Suzuki Y et al (2012) 1α,25-Dihydroxyvitamin D (3) inhibits vascular cellular adhesion molecule-1 expression and interleukin-8 production in human coronary arterial endothelial cells. J Steroid Biochem Mol Biol 132:290–294

21.

Newburger JW, Takahashi M, Gerber MA et al (2004) Diagnosis, treatment, and long-term management of Kawasaki disease: a statement for health professionals from the Committee on Rheumatic Fever, Endocarditis and Kawasaki Disease, Council on Cardiovascular Disease in the Young, American Heart Association. Circulation 110:2747–2771

22.

Falcini F, Ozen S, Magni-Manzoni S et al (2012) Discrimination between incomplete and atypical Kawasaki syndrome versus other febrile diseases in childhood: results from an international registry-based study. Clin Exp Rheumatol 30:799–804

23.

Ozdemir H, Ciftçi A, Karbuz A et al (2013) Incomplete Kawasaki disease in an infant presenting with only prolonged fever. Turk J Pediatr 55:529–532

24.

Stabile A, Bertoni B, Ansuini V, La Torraca I, Salli A, Rigante D (2006) The clinical spectrum and treatment options of macrophage activation syndrome in the pediatric age. Eur Rev Med Pharmacol Sci 10:53–59

25.

de Zorzi A, Colan SD, Gauvreau K, Baker AL, Sundel RP, Newburger JW (1998) Coronary artery dimensions may be misclassified as normal in Kawasaki disease. J Pediatr 133:254–258

26.

Webb AR, Pilbeam C, Hanafin N, Holick MF (1990) An evaluation of the relative contributions of exposure to sunlight and of diet to the circulating concentrations of 25-hydroxyvitamin D in an elderly nursing home population in Boston. Am J Clin Nutr 51:1075–1081

27.

Holick MF (2007) Vitamin D deficiency. N Engl J Med 357:266–281

28.

Grant WB, Holick MF (2005) Benefits and requirements of vitamin D for optimal health: a review. Altern Med Rev 10:94–111

29.

Fitzpatrick TB (1986) Ultraviolet-induced pigmentary changes: benefits and hazards. Curr Probl Dermatol 15:25–38

30.

Cacciari E, Milani S, Balsamo A et al (2006) Italian cross-sectional growth charts for height, weight and BMI (2 to 20 yr). J Endocrinol Invest 29:581–593

31.

Stagi S, Bertini F, Rigante D, Falcini F (2014) Vitamin D levels and effects of vitamin D replacement in children with periodic fever, aphthous stomatitis, pharyngitis, and cervical adenitis (PFAPA) syndrome. Int J Pediatr Otorhinolaryngol 78:964–968

32.

Aydemir G, Cekmez F, Kalkan G et al (2014) High serum 25-hydroxyvitamin D levels are associated with pediatric sepsis. Tohoku J Exp Med 234:295–298

33.

de Haan K, Groeneveld A, de Geus H, Egal M, Struijs A (2014) Vitamin D deficiency as a risk factor for infection, sepsis and mortality in the critically ill: systematic review and meta-analysis. Crit Care 18:660

34.

Grzanka A, Machura E, Mazur B et al (2014) Relationship between vitamin D status and the inflammatory state in patients with chronic spontaneous urticaria. J Inflamm (Lond) 11:2

35.

Patel S, Farragher T, Berry J, Bunn D, Silman A, Symmons D (2007) Association between serum vitamin D metabolite levels and disease activity in patients with early inflammatory polyarthritis. Arthritis Rheum 56:2143–2149

36.

Peterson CA, Heffernan ME (2008) Serum tumor necrosis factor-alpha concentrations are negatively correlated with serum 25(OH) D concentrations in healthy women. J Inflamm (Lond) 5:10

37.

Dean DD, Schwartz Z, Schmitz J et al (1996) Vitamin D regulation of metalloproteinase activity in matrix vesicles. Connect Tissue Res 35:331–336

38.

Timms PM, Mannan N, Hitman GA et al (2002) Circulating MMP9, vitamin D and variation in the TIMP-1 response with VDR genotype: mechanisms for inflammatory damage in chronic disorders? QJM 95:787–796

39.

Kendrick J, Targher G, Smits G, Chonchol M (2009) 25-Hydroxyvitamin D deficiency is independently associated with cardiovascular disease in the Third National Health and Nutrition Examination Survey. Atherosclerosis 205:255–260

40.

Anagnostis P, Athyros VG, Adamidou F, Florentin M, Karagiannis A (2010) Vitamin D and cardiovascular disease: a novel agent for reducing cardiovascular risk? Curr Vasc Pharmacol 8:720–730

41.

Syal SK, Kapoor A, Bhatia E et al (2012) Vitamin D deficiency, coronary artery disease, and endothelial dysfunction: observations from a coronary angiographic study in Indian patients. J Invasive Cardiol 24:385–389

42.

Klotz B, Mentrup B, Regensburger M et al (2012) 1,25-Dihydroxyvitamin D3 treatment delays cellular aging in human mesenchymal stem cells while maintaining their multipotent capacity. PLoS One 7(1):e29959

43.

Furigay P, Swamy N (2004) Anti-endothelial properties of 1,25-dihydroxy-3-epi-vitamin D3, a natural metabolite of calcitriol. J Steroid Biochem Mol Biol 89–90:427–431

44.

Nibbelink KA, Tishkoff DX, Hershey SD, Rahman A, Simpson RU (2007) 1,25(OH)2-vitamin D3 actions on cell proliferation, size, gene expression, and receptor localization, in the HL-1 cardiac myocyte. J Steroid Biochem Mol Biol 103:533–537

45.

Tarcin O, Yavuz DG, Ozben B et al (2009) Effect of vitamin D deficiency and replacement on endothelial function in asymptomatic subjects. J Clin Endocrinol Metab 94:4023–4030

46.

London GM, Guérin AP, Verbeke FH et al (2007) Mineral metabolism and arterial functions in end-stage renal disease: potential role of 25-hydroxyvitamin D deficiency. J Am Soc Nephrol 18:613–620

47.

Targher G, Bertolini L, Padovani R et al (2006) Serum 25-hydroxyvitamin D3 concentrations and carotid artery intima-media thickness among type 2 diabetic patients. Clin Endocrinol (Oxf) 65:593–597

48.

Suzuki Y, Ichiyama T, Ohsaki A, Hasegawa S, Shiraishi M, Furukawa S (2009) Anti-inflammatory effect of 1alpha,25-dihydroxyvitamin D (3) in human coronary arterial endothelial cells: implication for the treatment of Kawasaki disease. J Steroid Biochem Mol Biol 113:134–138
Disclosures
None.
Funding
None.
About this article
Cite this article
Stagi, S., Rigante, D., Lepri, G. et al. Severe vitamin D deficiency in patients with Kawasaki disease: a potential role in the risk to develop heart vascular abnormalities?. Clin Rheumatol 35, 1865–1872 (2016). https://doi.org/10.1007/s10067-015-2970-6
Received:

Revised:

Accepted:

Published:

Issue Date:
Keywords
25(OH)-vitamin D

Coronary artery aneurysms

Kawasaki disease