Abstract
Gout is a disorder of urate metabolism in which persistent high urate levels in the extracellular fluids result in the deposition of monosodium urate (MSU) crystal in joints and periarticular tissues. In recent years, this disease represents an increasingly common health problem, so the pace of investigation in the field has accelerated tremendously. New research advances in the pathogenesis of hyperuricemia and in the understanding of how MSU crystals induce an acute gouty attack have been focused in this review on the processes of inflammation and involvement of the innate immune response; in addition, we discuss new knowledge about the role of the reactive oxygen species in establishing oxidative stress in MSU crystal-induced arthritis.
This is a preview of subscription content, log in to check access.
Access options
Buy single article
Instant access to the full article PDF.
US$ 39.95
Price includes VAT for USA
Subscribe to journal
Immediate online access to all issues from 2019. Subscription will auto renew annually.
US$ 99
This is the net price. Taxes to be calculated in checkout.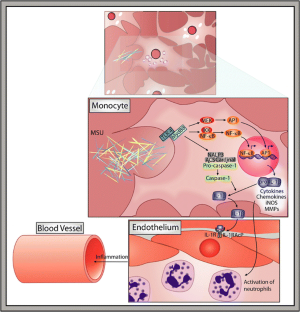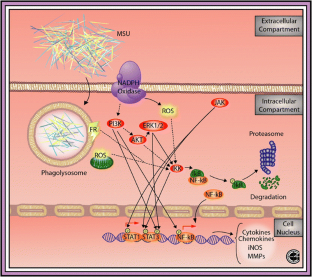 References
1.

Zhu Y, Pandya BJ, Choi HK (2011) Prevalence of gout and hyperuricemia in the US general population: the national health and nutrition examination survey 2007–2008. Arthritis Rheum 63:3136–3141

2.

Smith EU, Diaz-Torne C, Perez-Ruiz F et al (2010) Epidemiology of gout: an update. Best Pract Res Clin Rheumatol 24:811–827

3.

Heinig M, Johnson RJ (2006) Role of uric acid in hypertension, renal disease, and metabolic syndrome. Cleve Clin J Med 73:1059–1064

4.

Johnson RJ, Sautin YY, Oliver WJ et al (2009) Lessons from comparative physiology: could uric acid represent a physiologic alarm signal gone awry in western society? J Comp Physiol B 179:67–76

5.

Hershfield MS, Roberts LJ 2nd, Ganson NJ et al (2010) Treating gout with pegloticase, a PEGylatedurate oxidase, provides insight into the importance of uric acid as an antioxidant in vivo. Proc Natl Acad Sci U S A 107:14351–14356

6.

Reginato AM, Mount DB, Yang I et al (2012) The genetics of hyperuricaemia and gout. Nat Rev Rheumatol 8:610–621

7.

Parekh BB, Vasant SR, Tank KP et al (2009) In vitro growth and inhibition studies of monosodium urate monohydrate crystals by different herbal extracts. Am J Infect Dis 5:225–230

8.

Martillo MA, Nazzal L, Crittenden DB (2014) The crystallization of monosodium urate. Curr Rheumatol Rep 16:400. doi:10.1007/s11926-013-0400-9

9.

Richette P, Bardin T (2010) Gout. Lancet 375:318–328

10.

Perl-Treves D, Addadi L (1988) A structural approach to pathological crystallizations. Gout: the possible role of albumin in sodium urate crystallization. Proc R Soc Lond B Biol Sci 235:145–159

11.

Katz WA, Schubert M (1970) The interaction of monosodium urate with connective tissue components. J Clin Invest 49:1783–1789

12.

Laurent TC (1961) Solubility of sodium urate in the presence of chondroitin-4-sulphate. Nature 202:1334

13.

Burt HM, Dutt YC (1986) Growth of monosodium urate monohydrate crystals: effect of cartilage and synovial fluid components on in vitro growth rates. Ann Rheum Dis 45:858–864

14.

Fitowska A, Ostalowska A, Dobrakowski M et al (2012) Protein metabolism in the synovial membrane in the hip osteoarthritis. Pol Orthop Traumatol 77:21–26

15.

Riepl B, Grassel S, Wiest R et al (2010) Tumor necrosis factor and norepinephrine lower the levels of human neutrophil peptides 1–3 secretion by mixed synovial tissue cultures in osteoarthritis and rheumatoid arthritis. Arthritis Res Ther 12:R110. doi:10.1186/ar3044

16.

Zimmermann T, Kunisch E, Pfeiffer R et al (2001) Isolation and characterization of rheumatoid arthritis synovial fibroblasts from primary culture—primary culture cells markedly differ from fourth-passage cells. Arthritis Res 3:72–76

17.

Pitsillides AA, Blake SM (1992) Uridine diphosphoglucose dehydrogenase activity in synovial lining cells in the experimental antigen induced model of rheumatoid arthritis: an indication of synovial lining cell function. Ann Rheum Dis 51:992–995

18.

Iwanaga T, Shikichi M, Kitamura H et al (2000) Morphology and functional roles of synoviocytes in the joint. Arch Histol Cytol 63:17–31

19.

Scanu A, Oliviero F, Gruaz L et al (2010) High-density lipoproteins downregulate CCL2 production in human fibroblast-like synoviocytes stimulated by urate crystals. Arthritis Res Ther 12:R23. doi:10.1186/ar2930

20.

Bartok B, Firestein GS (2010) Fibroblast-like synoviocytes: key effector cells in rheumatoid arthritis. Immunol Rev 233:233–255

21.

Cronstein BN, Terkeltaub R (2006) The inflammatory process of gout and its treatment. Arthritis Res Ther 8(Suppl 1):S3. doi:10.1186/ar1908

22.

Martinon F, Petrilli V, Mayor A et al (2006) Gout-associated uric acid crystals activate the NALP3 inflammasome. Nature 440:237–241

23.

Pouliot M, James MJ, McColl SR et al (1998) Monosodium urate microcrystals induce cyclooxygenase-2 in human monocytes. Blood 91:1769–1776

24.

Peng YJ, Lee CH, Wang CC et al (2012) Pycnogenol attenuates the inflammatory and nitrosative stress on joint inflammation induced by urate crystals. Free Radic Biol Med 52:765–774

25.

Cillero-Pastor B, Martin MA, Arenas J et al (2011) Effect of nitric oxide on mitochondrial activity of human synovial cells. BMC Musculoskelet Disord 12:42. doi:10.1186/1471-2474-12-42

26.

Afonso V, Champy R, Mitrovic D et al (2007) Reactive oxygen species and superoxide dismutases: role in joint diseases. Joint Bone Spine 74:324–329

27.

Zhang DX, Gutterman DD (2007) Mitochondrial reactive oxygen species-mediated signaling in endothelial cells. Am J Physiol Heart Circ Physiol 292:H2023–H2031

28.

Cordero MD (2011) Oxidative stress in fibromyalgia: pathophysiology and clinical implications. Reumatol Clin 7:281–283

29.

Ning JL, Mo LW, Lai XN (2010) Low- and high-dose hydrogen peroxide regulation of transcription factor NF-E2-related factor 2. Chin Med J (Engl) 123:1063–1069

30.

Chenevier-Gobeaux C, Lemarechal H, Bonnefont-Rousselot D et al (2006) Superoxide production and NADPH oxidase expression in human rheumatoid synovial cells: regulation by interleukin-1beta and tumor necrosis factor-alpha. Inflamm Res 55:483–490

31.

Kurz B, Steinhagen J, Schunke M (1999) Articular chondrocytes and synoviocytes in a co-culture system: influence on reactive oxygen species-induced cytotoxicity and lipid peroxidation. Cell Tissue Res 296:555–563

32.

George J, Struthers AD (2009) Role of urate, xanthine oxidase and the effects of allopurinol in vascular oxidative stress. Vasc Health Risk Manag 5:265–272

33.

Carter WO, Narayanan PK, Robinson JP (1994) Intracellular hydrogen peroxide and superoxide anion detection in endothelial cells. J Leukoc Biol 55:253–258

34.

Jhang JJ, Cheng YT, Ho CY, Yen GC (2014) Monosodium urate crystals trigger Nrf2-and heme oxygenase-1-dependent inflammation in THP-1 cells. Cell Mol Immunol 1:11. doi:10.1038/cmi.2014.65

35.

Krishnan E (2010) Inflammation, oxidative stress and lipids: the risk triad for atherosclerosis in gout. Rheumatology (Oxford) 49:1229–1238

36.

So A, Thorens B (2010) Uric acid transport and disease. J Clin Invest 120:1791–1799

37.

Scanu A, Oliviero F, Braghetto L et al (2007) Synoviocyte cultures from synovial fluid. Reumatismo 59:66–70

38.

Ames BN, Cathcart R, Schwiers E et al (1981) Uric acid provides an antioxidant defense in humans against oxidant- and radical-caused aging and cancer: a hypothesis. Proc Natl Acad Sci U S A 78:6858–6862

39.

Ortiz-Bravo E, Sieck MS, Schumacher HR Jr (1993) Changes in the proteins coating monosodium urate crystals during active and subsiding inflammation. Immunogold studies of synovial fluid from patients with gout and of fluid obtained using the rat subcutaneous air pouch model. Arthritis Rheum 36:1274–1285

40.

Martinon F (2010) Mechanisms of uric acid crystal mediated autoimmflamation. Immunol Rev 233:218–232. doi:10.1111/j.0105-2896.2009.00860.x

41.

Álvarez-Soria MA, Herrero-Beaumont G, Sánchez-Pernaute O et al (2008) Diacerein has a weak effect on the catabolic pathway of human osteoarthritis synovial fibroblast—comparison to its effects on osteoarthritic chondrocytes. Rheumatology (Oxford) 47:627–633

42.

Schorn C, Janko C, Latzko M et al (2012) Monosodium urate crystals induce extracellular DNA traps in neutrophils, eosinophils, and basophils but not in mononuclear cells. Front Immunol 3:277. doi:10.3389/fimmu.2012.00277

43.

Van't Hof RJ, Hocking L, Wright PK et al (2000) Nitric oxide is a mediator of apoptosis in the rheumatoid joint. Rheumatology (Oxford) 39:1004–1008

44.

Liu-Bryan R, Pritzker K, Firestein GS et al (2005) TLR2 signaling in chondrocytes drives calcium pyrophosphate dihydrate and monosodium urate crystal-induced nitric oxide generation. J Immunol 174:5016–5023

45.

Jaramillo M, Naccache PH, Olivier M (2004) Monosodium urate crystals synergize with IFN-gamma to generate macrophage nitric oxide: involvement of extracellular signal-regulated kinase 1/2 and NF-kappa B. J Immunol 172:5734–5742

46.

Chen L, Hsieh MS, Ho HC et al (2004) Stimulation of inducible nitric oxide synthase by monosodium urate crystals in macrophages and expression of iNOS in gouty arthritis. Nitric Oxide 11:228–236

47.

Punzi L, Scanu A, Ramonda R et al (2012) Gout as autoinflammatory disease: new mechanisms for more appropriated treatment targets. Autoimmun Rev 12:66–71

48.

Terkeltaub R (2009) Gout. Novel therapies for treatment of gout and hyperuricemia. Arthritis Res Ther 11:236. doi:10.1186/ar2738

49.

Martin WJ, Herst PM, Chia EW et al (2009) Sesquiterpene dialdehydes inhibit MSU crystal-induced superoxide production by infiltrating neutrophils in an in vivo model of gouty inflammation. Free Radic Biol Med 47:616–621

50.

Huang J, Zhu M, Tao Y et al (2012) Therapeutic properties of quercetin on monosodium urate crystal-induced inflammation in rat. J Pharm Pharmacol 64:1119–1127

51.

Yoon CH, Chung SJ, Lee SW et al (2013) Gallic acid, a natural polyphenolic acid, induces apoptosis and inhibits proinflammatory gene expressions in rheumatoid arthritis fibroblast-like synoviocytes. Joint Bone Spine 80:274–279

52.

Kloesch B, Becker T, Dietersdorfer E et al (2013) Anti-inflammatory and apoptotic effects of the polyphenol curcumin on human fibroblast-like synoviocytes. Int Immunopharmacol 15:400–405
Acknowledgments
The authors wish to thank Aguilar-Gonzalez C. A. for his valuable support in the design of the figures. A.M.R.'s work was supported by grant P20GM104937 from the National Institutes of Health.
Disclosures
None
About this article
Cite this article
Zamudio-Cuevas, Y., Hernández-Díaz, C., Pineda, C. et al. Molecular basis of oxidative stress in gouty arthropathy. Clin Rheumatol 34, 1667–1672 (2015). https://doi.org/10.1007/s10067-015-2933-y
Received:

Revised:

Accepted:

Published:

Issue Date:
Keywords
Gouty arthropathy

Monosodium urate crystals

Oxidative stress

Synoviocytes