Abstract
The objective of this paper was to objectively evaluate the effectiveness of home-based exercise interventions for improving health-related quality of life in patients with ankylosing spondylitis (AS). Databases including PubMed, Web of Science, EMBASE, Ovid-Medline, and The Cochrane Library were electronically searched published from inception through October 2014 involving home-based exercise intervention in AS patients. Studies that measured the Bath Ankylosing Spondylitis Functional Index (BASFI), the Bath Ankylosing Spondylitis Disease Activity Index (BASDAI), depression and pain as outcomes were included. Studies involving patients with multiple diseases or received combinations of other interventions were excluded. Two independent investigators screened the identified articles, extracted the data, and assessed the methodological quality of the included studies. Qualitative descriptions were conducted, and quantitative analysis was performed with RevMan software (version 5.2). A total of six studies comprising 1098 participants were included in the study. Meta-analyses showed that home-based exercise interventions significantly reduced the BASFI scores (MD = −0.39, 95 % CI −0.57, −0.20, p = 0.001), BASDAI scores (MD = −0.50, 95 % CI −0.99, −0.02, p = 0.04), depression scores (MD = −2.31, 95 % CI −3.33, −1.30, p = 0.001), and for pain scores because of different evaluation methods among these studies; therefore, a subgroup analysis should be conducted for comparison. The results show that home-based exercise interventions can effectively improve the health-related quality of life in patients with AS. The benefit and clinical performance of home-based exercise care requires further investigation by a series of multicenter, large-sample size randomized controlled trails.
This is a preview of subscription content, log in to check access.
Access options
Buy single article
Instant access to the full article PDF.
US$ 39.95
Price includes VAT for USA
Subscribe to journal
Immediate online access to all issues from 2019. Subscription will auto renew annually.
US$ 99
This is the net price. Taxes to be calculated in checkout.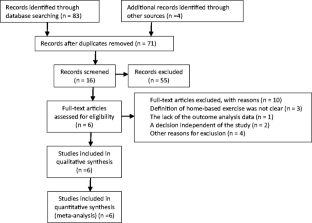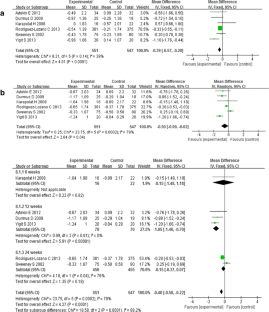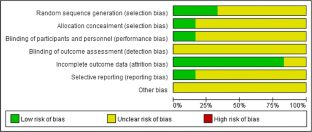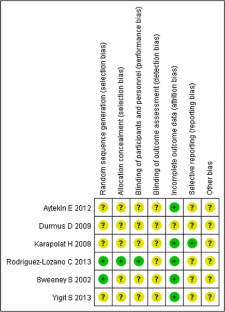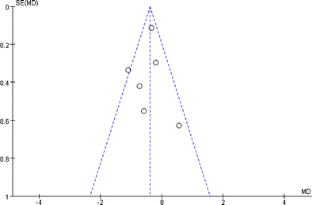 References
1.

Kjeken I, Bo I, Ronningen A et al (2013) A three-week multidisciplinary in-patient rehabilitation programme had positive long-term effects in patients with ankylosing spondylitis: randomized controlled trial. J Rehabil Med 45:260–267

2.

Dagfinrud H, Mengshoel AM, Hagen KB et al (2004) Health status of patients with ankylosing spondylitis: a comparison with the general population. Ann Rheum Dis 63:1605–1610

3.

Dagfinrud H, Vollestad NK, Loge JH et al (2005) Fatigue in patients with ankylosing spondylitis: a comparison with the general population and associations with clinical and self-reported measures. Arthritis Rheum 53:5–11

4.

Glasnovic M (2011) Epidemiology of spondylarthritides. Reumatizam 58:24–35

5.

Zhu TY, Tam LS, Lee VW et al (2008) Costs and quality of life of patients with ankylosing spondylitis in Hong Kong. Rheumatology (Oxford) 47:1422–1425

6.

Braun J, van den Berg R, Baraliakos X et al (2011) 2010 update of the ASAS/EULAR recommendations for the management of ankylosing spondylitis. Ann Rheum Dis 70:896–904

7.

Sieper J, Rudwaleit M, Baraliakos X et al (2009) The Assessment of SpondyloArthritis international Society (ASAS) handbook: a guide to assess spondyloarthritis. Ann Rheum Dis 68:ii1–ii44

8.

Dagfinrud H, Kjeken I, Mowinckel P et al (2005) Impact of functional impairment in ankylosing spondylitis: impairment, activity limitation, and participation restrictions. J Rheumatol 32:516–523

9.

Ince G, Sarpel T, Durgun B et al (2006) Effects of a multimodal exercise program for people with ankylosing spondylitis. Phys Ther 86:924–935

10.

Fernandez-de-Las-Penas C, Alonso-Blanco C, Alguacil-Diego IM et al (2006) One-year follow-up of two exercise interventions for the management of patients with ankylosing spondylitis: a randomized controlled trial. Am J Phys Med Rehabil 85:559–567

11.

Lan C, Chen SY, Lai JS et al (2013) Tai chi chuan in medicine and health promotion. Evid Based Complement Alternat Med. doi:10.1155/2013/502131

12.

Karapolat H, Eyigor S, Zoghi M et al (2009) Are swimming or aerobic exercise better than conventional exercise in ankylosing spondylitis patients? A randomized controlled study. Eur J Phys Rehabil Med 45:449–457

13.

Ortancil O, Sarikaya S, Sapmaz P et al (2009) The effect(s) of a six-week home-based exercise program on the respiratory muscle and functional status in ankylosing spondylitis. J Clin Rheumatol 15:68–70

14.

Dundar U, Solak O, Toktas H et al (2014) Effect of aquatic exercise on ankylosing spondylitis: a randomized controlled trial. Rheumatol Int 34:1505–1511

15.

van der Heijde D, Maksymowych WP (2010) Spondyloarthritis: state of the art and future perspectives. Ann Rheum Dis 69:949–954

16.

Peters MJ, Visman I, Nielen MM et al (2010) Ankylosing spondylitis: a risk factor for myocardial infarction? Ann Rheum Dis 69:579–581

17.

O'Shea F, SalonenD IR (2007) The challenge of early diagnosis in ankylosing spondylitis. J Rheumatol 34:5–7

18.

Rudwaleit M, van der Heijde D, Landewe R et al (2009) The development of Assessment of SpondyloArthritis international Society classification criteria for axial spondyloarthritis (part II): validation and final selection. Ann Rheum Dis 68:777–783

19.

Dubey SG, Leeder J, Gaffney K (2008) Physical therapy in anti-TNF treated patients with ankylosing spondylitis. Rheumatology (Oxford) 47:1100–1101

20.

Spadaro A, De Luca T, Massimiani MP et al (2008) Occupational therapy in ankylosing spondylitis: short-term prospective study in patients treated with anti-TNF-alpha drugs. Joint Bone Spine 75:29–33

21.

Masiero S, Bonaldo L, Pigatto M et al (2011) Rehabilitation treatment in patients with ankylosing spondylitis stabilized with tumor necrosis factor inhibitor therapy: a randomized controlled trial. J Rheumatol 38(7):1335–1342

22.

Lubrano E, D'Angelo S, Parsons WJ et al (2006) Effects of a combination treatment of an intensive rehabilitation program and etanercept in patients with ankylosing spondylitis: a pilot study. J Rheumatol 33:2029–2034

23.

Colina M, Ciancio G, Garavini R et al (2009) Combination treatment with etanercept and an intensive spa rehabilitation program in active ankylosing spondylitis. Int J Immunopathol Pharmacol 22:1125–1129

24.

Uhrin Z, Kuzis S, Ward MM (2000) Exercise and changes in health status in patients with ankylosing spondylitis. Arch Intern Med 160:2969–2975

25.

Yigit S, Sahin Z, Demir SE et al (2013) Home-based exercise therapy in ankylosing spondylitis: short-term prospective study in patients receiving tumor necrosis factor alpha inhibitors. Rheumatol Int 33:71–77

26.

Aytekin E, Caglar NS, Ozgonenel L et al (2012) Home-based exercise therapy in patients with ankylosing spondylitis: effects on pain, mobility, disease activity, quality of life, and respiratory functions. Clin Rheumatol 31:91–97

27.

Durmus D, Alayli G, Cil E et al (2009) Effects of a home-based exercise program on quality of life, fatigue, and depression in patients with ankylosing spondylitis. Rheumatol Int 29:673–677

28.

Karapolat H, Akkoc Y, Sari I et al (2008) Comparison of group-based exercise versus home-based exercise in patients with ankylosing spondylitis: effects on Bath Ankylosing Spondylitis Indices, quality of life and depression. Clin Rheumatol 27:695–700

29.

Rodriguez-Lozano C, Juanola X, Cruz-Martinez J et al (2013) Outcome of an education and home-based exercise programme for patients with ankylosing spondylitis: a nationwide randomized study. Clin Exp Rheumatol 31:739–748

30.

Sweeney S, Taylor G, Calin A (2002) The effect of a home based exercise intervention package on outcome in ankylosing spondylitis: a randomized controlled trial. J Rheumatol 29:763–766

31.

Xu T, Hui L, Juan YL et al (2014) Effects of moxibustion or acupoint therapy for the treatment of primary dysmenorrhea: a meta-analysis. Altern Ther Health Med 20:33–42

32.

Ward MM (1999) Health-related quality of life in ankylosing spondylitis: a survey of 175 patients. Arthritis Care Res 12:247–255

33.

Fallahi S, Jamshidi AR, Bidad K et al (2014) Evaluating the reliability of Persian version of ankylosing spondylitis quality of life (ASQoL) questionnaire and related clinical and demographic parameters in patients with ankylosing spondylitis. Rheumatol Int 34:803–809

34.

Duruoz MT, Doward L, Turan Y et al (2013) Translation and validation of the Turkish version of the Ankylosing Spondylitis Quality of Life (ASQOL) questionnaire. Rheumatol Int 33:2717–2722

35.

Pham T, van der Heijde DM, Pouchot J et al (2010) Development and validation of the French ASQoL questionnaire. Clin Exp Rheumatol 28:379–385

36.

Zhao LK, Liao ZT, Li CH et al (2007) Evaluation of quality of life using ASQoL questionnaire in patients with ankylosing spondylitis in a Chinese population. Rheumatol Int 27:605–611
About this article
Cite this article
Liang, H., Zhang, H., Ji, H. et al. Effects of home-based exercise intervention on health-related quality of life for patients with ankylosing spondylitis: a meta-analysis. Clin Rheumatol 34, 1737–1744 (2015). https://doi.org/10.1007/s10067-015-2913-2
Received:

Revised:

Accepted:

Published:

Issue Date:
Keywords
Ankylosing spondylitis

Home-based exercise intervention

Meta-analysis

Quality of life