Abstract
Alcohol consumption had been linked to the risk of gout theoretically, but the results from observational studies were conflicting. Hence, a meta-analysis was conducted to assess the effect of alcohol consumption on the risk of gout. A comprehensive search was performed to identify all eligible studies on the association of alcohol consumption with gout risk. Pooled relative risks (RRs) with 95 % confidence intervals (CIs) from fixed and random effects models were calculated. A total of 12 articles with 17 studies involving 42,924 cases met the inclusion criteria. The pooled RR for highest vs. non/occasional alcohol drinking in every study was 1.98 (95 % CI, 1.52–2.58). The RRs for light (≤1 drink/day), moderate (>1 to <3 drinks/day), and heavy drinking (≥3 drinks/day) vs. non/occasional alcohol drinking were 1.16 (95 % CI, 1.07–1.25), 1.58 (95 % CI, 1.50–1.66), and 2.64 (95 % CI, 2.26–3.09), respectively. The results suggested that alcohol consumption might be associated with increased risk of gout.
Access options
Buy single article
Instant access to the full article PDF.
USD 39.95
Price excludes VAT (USA)
Tax calculation will be finalised during checkout.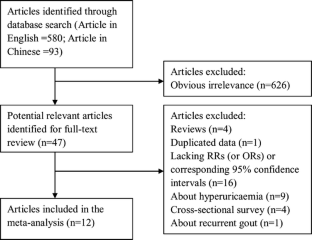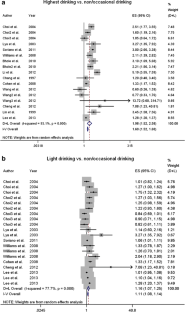 References
Terkeltaub RA (2003) Clinical practice. Gout N Engl J Med 349(17):1647–55. doi:10.1056/NEJMcp030733

Saag KG, Mikuls TR (2005) Recent advances in the epidemiology of gout. Curr Rheumatol Rep 7(3):235–41

Luk AJ, Simkin PA (2005) Epidemiology of hyperuricemia and gout. Am J Manag Care 11(15 Suppl):S435–S442, quiz S465-8

Arromdee E, Michet CJ, Crowson CS, O'Fallon WM, Gabriel SE (2002) Epidemiology of gout: is the incidence rising? J Rheumatol 29(11):2403–6

Mikuls TR, Farrar JT, Bilker WB, Fernandes S, Schumacher HR Jr, Saag KG (2005) Gout epidemiology: results from the UK General Practice Research Database, 1990–1999. Ann Rheum Dis 64(2):267–72. doi:10.1136/ard.2004.024091

Lawrence RC, Felson DT, Helmick CG, Arnold LM, Choi H, Deyo RA, Gabriel S, Hirsch R, Hochberg MC, Hunder GG, Jordan JM, Katz JN, Kremers HM, Wolfe F, National Arthritis Data W (2008) Estimates of the prevalence of arthritis and other rheumatic conditions in the United States. Part II Arthritis Rheum 58(1):26–35. doi:10.1002/art.23176

Annemans L, Spaepen E, Gaskin M, Bonnemaire M, Malier V, Gilbert T, Nuki G (2008) Gout in the UK and Germany: prevalence, comorbidities and management in general practice 2000–2005. Ann Rheum Dis 67(7):960–6. doi:10.1136/ard.2007.076232

Yoo HG, Lee SI, Chae HJ, Park SJ, Lee YC, Yoo WH (2011) Prevalence of insulin resistance and metabolic syndrome in patients with gouty arthritis. Rheumatol Int 31(4):485–91. doi:10.1007/s00296-009-1304-x

Choi HK (2010) A prescription for lifestyle change in patients with hyperuricemia and gout. Curr Opin Rheumatol 22(2):165–72. doi:10.1097/BOR.0b013e328335ef38

Novak S, Melkonian AK, Patel PA, Kleinman NL, Joseph-Ridge N, Brook RA (2007) Metabolic syndrome-related conditions among people with and without gout: prevalence and resource use. Curr Med Res Opin 23(3):623–30. doi:10.1185/030079906X167651

Gaffo AL, Edwards NL, Saag KG (2009) Gout. Hyperuricemia and cardiovascular disease: how strong is the evidence for a causal link? Arthritis Res Ther 11(4):240

Choi HK, Mount DB, Reginato AM (2005) Pathogenesis of gout. Ann Intern Med 143(7):499–516

Di Castelnuovo A, Costanzo S, Bagnardi V, Donati MB, Iacoviello L, de Gaetano G (2006) Alcohol dosing and total mortality in men and women: an updated meta-analysis of 34 prospective studies. Arch Intern Med 166(22):2437–45. doi:10.1001/archinte.166.22.2437

Choi HK, Atkinson K, Karlson EW, Willett W, Curhan G (2004) Alcohol intake and risk of incident gout in men: a prospective study. Lancet 363(9417):1277–81. doi:10.1016/S0140-6736(04)16000-5

Cea Soriano L, Rothenbacher D, Choi HK, Garcia Rodriguez LA (2011) Contemporary epidemiology of gout in the UK general population. Arthritis Res Ther 13(2):R39. doi:10.1186/ar3272

Lyu LC, Hsu CY, Yeh CY, Lee MS, Huang SH, Chen CL (2003) A case–control study of the association of diet and obesity with gout in Taiwan. Am J Clin Nutr 78(4):690–701

Lee CH, Sung NY, Lee J, Bae SC (2013) Factors associated with gout in South Koreans: analysis using the National Health Insurance Corporation and the National Health Screening Exam databases. Clin Rheumatol. doi:10.1007/s10067-013-2183-9

Williams PT (2008) Effects of diet, physical activity and performance, and body weight on incident gout in ostensibly healthy, vigorously active men. Am J Clin Nutr 87(5):1480–7

Cohen SD, Kimmel PL, Neff R, Agodoa L, Abbott KC (2008) Association of incident gout and mortality in dialysis patients. J Am Soc Nephrol 19(11):2204–10. doi:10.1681/ASN.2007111256

Cheng XY, Miao ZM, Liu L, Han L, Li CG (2012) Relationship between gouty arthritis and dietary habits of residents in Qingdao. Acta Academiae Medicinae Qingdao Universitatis 48(2):95–97

Jin M, Cai S, Guo J, Zhu Y, Li M, Yu Y, Zhang S, Chen K (2012) Alcohol drinking and all cancer mortality: a meta-analysis. Ann Oncol 24(3):807–16. doi:10.1093/ann onc/mds508

Berlin JA, Longnecker MP, Greenland S (1993) Meta-analysis of epidemiologic dose–response data. Epidemiology 4(3):218–28

Rota M, Pasquali E, Scotti L, Pelucchi C, Tramacere I, Islami F, Negri E, Boffetta P, Bellocco R, Corrao G, La Vecchia C, Bagnardi V (2012) Alcohol drinking and epithelial ovarian cancer risk. a systematic review and meta-analysis. Gynecol Oncol 125(3):758–63. doi:10.1016/j.ygyno.2012.03.031

Higgins JP, Thompson SG (2002) Quantifying heterogeneity in a meta-analysis. Stat Med 21(11):1539–58. doi:10.1002/sim.1186

Higgins JP, Thompson SG, Deeks JJ, Altman DG (2003) Measuring inconsistency in meta-analyses. BMJ 327(7414):557–60. doi:10.1136/bmj.327.7414.557

Tobias A (1999) Assessing the influence of a single study in the meta-analysis estimate. Stata Tech Bull 47:15–17

Egger M, Davey Smith G, Schneider M, Minder C (1997) Bias in meta-analysis detected by a simple, graphical test. BMJ 315(7109):629–34

Chang SJ, Ko YC, Wang TN, Chang FT, Cinkotai FF, Chen CJ (1997) High prevalence of gout and related risk factors in Taiwan's aborigines. J Rheumatol 24(7):1364–9

Lin KC, Lin HY, Chou P (1999) The interaction between uric acid level and other risk factors on the development of gout among asymptomatic hyperuricemic men in a prospective study. Asymptomatic hyperuricemia 27(6):1501–1505

Bhole V, de Vera M, Rahman MM, Krishnan E, Choi H (2010) Epidemiology of gout in women: fifty-two-year followup of a prospective cohort. Arthritis Rheum 62(4):1069–76. doi:10.1002/art.27338

Li ZF, Di PT, Liu WC, Xu XF, Peng JY (2012) A case–control study of the risk factors with gout in Yunnan. CJGMCM 27(4):663–665

Wang Y, Yan S, Li C, Zhao S, Lv J, Wang F, Meng D, Han L, Miao Z (2012) Risk factors for gout developed from hyperuricemia in China: a five-year prospective cohort study. Rheumatol Int. doi:10.1007/s00296-012-2439-8

Munafo MR, Flint J (2004) Meta-analysis of genetic association studies. Trends Genet 20(9):439–44. doi:10.1016/j.tig.2004.06.014

Hamling J, Lee P, Weitkunat R, Ambuhl M (2008) Facilitating meta-analyses by deriving relative effect and precision estimates for alternative comparisons from a set of estimates presented by exposure level or disease category. Stat Med 27(7):954–70. doi:10.1002/sim.3013
Additional information
Meiyun Wang and Xiubo Jiang equally contributed to this study.
About this article
Cite this article
Wang, M., Jiang, X., Wu, W. et al. A meta-analysis of alcohol consumption and the risk of gout. Clin Rheumatol 32, 1641–1648 (2013). https://doi.org/10.1007/s10067-013-2319-y
Received:

Revised:

Accepted:

Published:

Issue Date:

DOI: https://doi.org/10.1007/s10067-013-2319-y
Keywords