Abstract
To investigate the association between human papillomavirus (HPV) vaccination and autoimmune manifestations compatible with systemic lupus erythematosus (SLE) or SLE-like disease, the medical history of six women who presented with SLE or SLE-like disease following HPV immunization was collected. Data regarding type of vaccine, number of immunization, family and personal, clinical and serological features, as well as response to treatments were analyzed. In the reported cases, several common features were observed, such as personal or familial susceptibility to autoimmunity or adverse response to a prior dose of the vaccine, both of which may be associated with a higher risk of post-vaccination autoimmunity. Favorable response to immunosuppressant was observed in all patients. In the current study, a temporal association between immunization with HPV vaccine and the appearance of a spectrum of SLE-like conditions is reported. Additionally, among the patients described, several common features were observed that may enable better identification of subjects at risk. Further studies are required to assess the safety of immunization with the HPV vaccine in patients with autoimmune-rheumatic diseases or in subject at risk of autoimmunity as well as the potential beneficial effect of preventive immunosuppressants.
Access options
Buy single article
Instant access to the full article PDF.
USD 39.95
Price excludes VAT (USA)
Tax calculation will be finalised during checkout.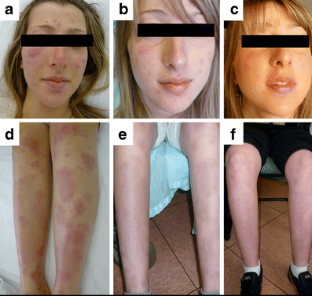 References
Paavonen J (2007) Human papillomavirus infection and the development of cervical cancer and related genital neoplasias. Int J Infect Dis 11(Suppl 2):S3–S9

Carter JR, Ding Z, Rose BR (2011) HPV infection and cervical disease: a review. Aust N Z J Obstet Gynaecol 51:103–108

Jamal A, Bray F, Center MM et al (2011) Global cancer statistics. CA Cancer J Clin 61:69–90

Balofsky A, Agmon-Levin N, Shoenfeld Y (2010) The new H1N1 and HPV vaccines and old fears. Curr Opin Rheumatol 22:431–436

Descamps D, Hardt K, Spiessens B et al (2009) Safety oh human papilloma virus (HPV)-16/18 AS04-adjuvanted vaccine for cervical cancer prevention: a pooled analysis of 11 clinical trials. Hum Vaccine 5:332–340

Ault KA (2007) Future II study group. Effect of prophylactic human papillomavirus L1 virus-like-particle vaccine on risk of cervical intraepithelial neoplasia grade 2, grade 3, and adenocarcinoma in situ: a combined analysis of four randomised clinical trials. Lancet 369:1861–1868

Garland SM, Hernandez-Avila M, Wheeler CM et al (2007) Quadrivalent vaccine against human papillomavirus to prevent anogenital diseases. N Engl J Med 356:1928–1943

Brown DR, Kjaer SK, Sigurdsson K et al (2009) The impact of quadrivalent human papillomavirus (HPV; types 6, 11, 16, and 18) L1 virus-like particle vaccine on infection and disease due to oncogenic nonvaccine HPV types in generally HPV-naive women aged 16–26 years. Infect Dis 199:926–935

Harper DM, Franco EL, Wheeler CM et al (2006) Sustained efficacy up to 4.5 years of a bivalent L1 virus-like particle vaccine against human papillomavirus types 16 and 18: follow-up from a randomised control trial. Lancet 367:1247–1255

Slade BA, Leidel L, Vellozzi C et al (2009) Postlicensure safety surveillance for quadrivalent human papillomavirus recombinant vaccine. JAMA 302:750–757

Franco EL, Harper DM (2005) Vaccination against human papillomavirus infection: a new paradigm in cervical cancer control. Vaccine 23:2388–2394

Tomljenovic L, Shaw CA (2012) Too fast or not too fast: the FDA's approval of Merck's HPV vaccine Gardasil. J Law Med Ethics 40:673–681

Orbach H, Agmon-Levin N, Zandman-goddard G (2010) Vaccines and autoimmune diseases of the adult. Discov Med 9:90–97

Verstraeten T, Descamps D, David MP et al (2008) Analysis of adverse events of potential autoimmune aetiology in a large integrated safety database of AS04 adjuvanted vaccines. Vaccine 26:6630–6638

Soldevilla HF, Briones SF, Navarra SV (2012) Systemic lupus erythematosus following HPV immunization or infection? Lupus 21:158–161

Cui H, Xue H, Yang L, Liu D, Qi L, Zhang N (2012) Missense polymorphisms within IL-10R1 exons are not associated with systemic lupus erythematosus in Chinese. Lupus 21:1232–1236

Agmon-Levin N, Mosca M, Petri M, Shoenfeld Y (2012) Systemic lupus erythematosus one disease or many? Autoimmun Rev 11:593–595

Strickland FM, Hewagama A, Lu Q et al (2012) Environmental exposure, estrogen and two X chromosomes are required for disease development in an epigenetic model of lupus. J Autoimmun 38:J135–J143

Gatto M, Zen M, Ghirardello A et al (2013) Emerging and critical issues in the pathogenesis of lupus. Autoimmun Rev 12(4):523–536

Bijl M, Agmon-Levin N, Dayer JM, Israeli E, Gatto M, Shoenfeld Y (2012) Vaccination of patients with auto-immune inflammatory rheumatic diseases requires careful benefit-risk assessment. Autoimmun Rev 11:572–576

Agmon-Levin N, Paz Z, Israeli E et al (2009) Vaccines and autoimmunity. Nat Rev Rheumatol 5:648–652

Doria A, Canova M, Tonon M et al (2008) Infections as triggers and complications of systemic lupus erythematosus. Autoimmun Rev 8:24–28

Agmon-Levin N, Zafrir Y, Paz Z et al (2009) Ten cases of systemic lupus erythematosus related to hepatitis B vaccine. Lupus 18:1192–1197

Stübgen JP (2012) Immune-mediated myelitis following hepatitis B vaccination. Autoimmun Rev 12(2):144–149

Nohynek H, Jokinen J, Partinen M et al (2012) AS03 adjuvanted AH1N1 vaccine associated with an abrupt increase in the incidence of childhood narcolepsy in Finland. PLoS One 7:e33536

Saad CG, Borba EF, Aikawa NE et al (2011) Immunogenicity and safety of the 2009 non-adjuvanted influenza A/H1N1 vaccine in a large cohort of autoimmune rheumatic diseases. Ann Rheum Dis 70(6):1068–1073

Shoenfeld Y, Agmon-levin N (2011) 'ASIA'—autoimmune/inflammatory syndrome induced by adjuvants. J Autoimmun 36:4–8

Israeli E, Agmon-Levin N, Blank M et al (2009) Adjuvants and autoimmunity. Lupus 18:1217–1225

Doria A, Iaccarino L, Ghirardello A et al (2006) Long-term prognosis and causes of death in systemic lupus erythematosus. Am J Med 119:700–706

Lyrio LD, Grassi MF, Santana IU et al (2013) Prevalence of cervical human papillomavirus infection in women with systemic lupus erythematosus. Rheumatol Int 33(2):335–340

Klumb EM, Pinto AC, Jesus GR et al (2010) Are women with lupus at higher risk of HPV infection? Lupus 19:1485–1491

Doria A, Briani C (2008) Lupus: improving long-term prognosis. Lupus 17:166–170

Doria A, Zen M, Canova M et al (2010) SLE diagnosis and treatment: when early is early. Autoimmun Rev 10:55–60

Mok CC, Ho LY, Fong LS, To CH (2012) Immunogenicity and safety of a quadrivalent human papillomavirus vaccine in patients with systemic lupus erythematosus: a case–control study. Ann Rheum Dis [Epub ahead of print]

Conti F, Rezai S, Valesini G (2008) Vaccination and autoimmune rheumatic diseases. Autoimmun Rev 8:124–128

Chang J, Campagnolo D, Vollmer TL, Bomprezzi R (2011) Demyelinating disease and polyvalent human papillomavirus vaccination. J Neurol Neurosurg Psychiatry 82:1296–1298

Souayah N, Michas-martin PA, Nasar A et al (2011) Guillain–Barré syndrome after Gardasil vaccination: data from vaccine. Adverse Event Reporting System 2006–2009. Vaccine 29:886–889

Sutton I, Lahoria R, Tan I, Clouston P, Barnett M (2009) CNS demyelination and quadrivalent HPV vaccination. Mult Scler 15:116–119

Future I/II Study Group, Dillner J, Kjaer SK, Wheeler CM et al (2010) Four year efficacy of prophylactic human papillomavirus quadrivalent vaccine against low grade cervical, vulvar, and vaginal intraepithelial neoplasia and anogenital warts: randomised controlled trial. BMJ 341:c3493

Chao C, Klein NP, Velicer CM et al (2012) Surveillance of autoimmune conditions following routine use of quadrivalent human papillomavirus vaccine. J Intern Med 271:193–203

Tomljenovic L, Shaw CA (2012) No autoimmune safety signal after vaccination with quadrivalent HPV vaccine Gardasil? J Intern Med 271(2):193–203

van Assen S, Agmon-Levin N, Elkayam O et al (2011) EULAR recommendations for vaccination in adult patients with autoimmune inflammatory rheumatic diseases. Ann Rheum Dis 70:414–422

van Assen S, Bijl M (2012) Immunization of patients with autoimmune inflammatory rheumatic diseases (the EULAR recommendations). Lupus 21:162–167

Soriano A, Manna R (2012) Quantifying the efficacy of influenza vaccine. Lancet Infect 12:659–660
Disclosure
YS appears in court defending subjects afflicted by immunization. All other authors: disclosure: none.
Additional information
Mariele Gatto and Nancy Agmon-Levin have equally contributed to this manuscript.
About this article
Cite this article
Gatto, M., Agmon-Levin, N., Soriano, A. et al. Human papillomavirus vaccine and systemic lupus erythematosus. Clin Rheumatol 32, 1301–1307 (2013). https://doi.org/10.1007/s10067-013-2266-7
Received:

Revised:

Accepted:

Published:

Issue Date:

DOI: https://doi.org/10.1007/s10067-013-2266-7
Keywords
Anti-phospholipids antibodies

ASIA

Autoimmunity

Human papillomavirus

Systemic lupus erythematosus

Vaccine