Abstract
The aim of this study was to summarize published results on the association between vitamin D intake and the development of rheumatoid arthritis (RA) and between serum vitamin D levels and RA activity. Evidence of a relationship between vitamin D intake and the development of RA and between serum vitamin D levels and RA activity was studied by summarizing published results using a meta-analysis approach. Three cohort studies including 215,757 participants and 874 incident cases of RA were considered in this meta-analysis, and eight studies on the association between serum vitamin D levels and RA activity involving 2,885 RA patients and 1,084 controls were included. Meta-analysis showed an association between total vitamin D intake and RA incidence (relative risk (RR) of the highest vs. the lowest group = 0.758, 95 % confidence interval (CI) 0.577–0.937, p = 0.047), without between-study heterogeneity (I 2 = 0 %, p = 0.595). Individuals in the highest group for total vitamin D intake were found to have a 24.2 % lower risk of developing RA than those in the lowest group. Subgroup meta-analysis also showed a significant association between vitamin D supplement intake and RA incidence (RR 0.764, 95 % CI 0.628–0.930, p = 0.007), without between-study heterogeneity. All studies, except for one, found that vitamin D levels are inversely associated with RA activity. One study found no correlation between vitamin D levels and disease activity among 85 RA patients, but these patients had a high incidence of vitamin D deficiency, which might have influenced the study outcome. Meta-analysis of 215,757 participants suggests that low vitamin D intake is associated with an elevated risk of RA development. Furthermore, available evidence indicates that vitamin D level is associated with RA activity.
This is a preview of subscription content,
to check access.
Access this article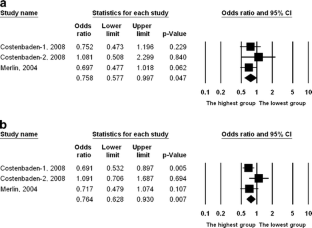 Similar content being viewed by others
References
Harris ED Jr (1990) Rheumatoid arthritis. Pathophysiology and implications for therapy. N Engl J Med 322:1277–1289

Kim HR, Park MK, Cho ML et al (2010) Induction of macrophage migration inhibitory factor in ConA-stimulated rheumatoid arthritis synovial fibroblasts through the P38 map kinase-dependent signaling pathway. Korean J Intern Med 25:317–326

Cantorna MT (2000) Vitamin D and autoimmunity: is vitamin D status an environmental factor affecting autoimmune disease prevalence? Proc Soc Exp Biol Med 223:230–233

Maruotti N, Cantatore FP (2010) Vitamin D and the immune system. J Rheumatol 37:491–495

Boonstra A, Barrat FJ, Crain C, Heath VL, Savelkoul HF, O'garra A (2001) 1alpha,25-Dihydroxyvitamin D3 has a direct effect on naive CD4(+) T cells to enhance the development of Th2 cells. J Immunol 167:4974–4980

Koizumi T, Nakao Y, Matsui T et al (1985) Effects of corticosteroid and 1,24R-dihydroxy-vitamin D3 administration on lymphoproliferation and autoimmune disease in MRL/MP-lpr/lpr mice. Int Arch Allergy Appl Immunol 77:396–404

Kamen D, Aranow C (2008) Vitamin D in systemic lupus erythematosus. Curr Opin Rheumatol 20:532–537

Cutolo M, Otsa K, Paolino S, Yprus M, Veldi T, Seriolo B (2009) Vitamin D involvement in rheumatoid arthritis and systemic lupus erythaematosus. Ann Rheum Dis 68:446–447

Wen H, Baker JF (2011) Vitamin D, immunoregulation, and rheumatoid arthritis. J Clin Rheumatol 17:102–107

Lee YH, Bae SC, Choi SJ, Ji JD, Song GG (2011) Associations between vitamin D receptor polymorphisms and susceptibility to rheumatoid arthritis and systemic lupus erythematosus: a meta-analysis. Mol Biol Rep 38:3643–3651

Costenbader KH, Feskanich D, Holmes M, Karlson EW, Benito-Garcia E (2008) Vitamin D intake and risks of systemic lupus erythematosus and rheumatoid arthritis in women. Ann Rheum Dis 67:530–535

Merlino LA, Curtis J, Mikuls TR, Cerhan JR, Criswell LA, Saag KG (2004) Vitamin D intake is inversely associated with rheumatoid arthritis: results from the Iowa Women's Health Study. Arthritis Rheum 50:72–77

Rossini M, Maddali Bongi S, La Montagna G et al (2010) Vitamin D deficiency in rheumatoid arthritis: prevalence, determinants and associations with disease activity and disability. Arthritis Res Ther 12:R216

Welsh P, Peters MJ, Mcinnes IB et al (2011) Vitamin D deficiency is common in patients with RA and linked to disease activity, but circulating levels are unaffected by TNFalpha blockade: results from a prospective cohort study. Ann Rheum Dis 70:1165–1167

Braun-Moscovici Y, Toledano K, Markovits D, Rozin A, Nahir AM, Balbir-Gurman A (2011) Vitamin D level: is it related to disease activity in inflammatory joint disease? Rheumatol Int 31:493–499

Craig SM, Yu F, Curtis JR et al (2010) Vitamin D status and its associations with disease activity and severity in African Americans with recent-onset rheumatoid arthritis. J Rheumatol 37:275–281

Haque UJ, Bartlett SJ (2010) Relationships among vitamin D, disease activity, pain and disability in rheumatoid arthritis. Clin Exp Rheumatol 28:745–747

Kerr GS, Sabahi I, Richards JS et al (2011) Prevalence of vitamin D insufficiency/deficiency in rheumatoid arthritis and associations with disease severity and activity. J Rheumatol 38:53–59

Cutolo M, Otsa K, Laas K et al (2006) Circannual vitamin d serum levels and disease activity in rheumatoid arthritis: Northern versus Southern Europe. Clin Exp Rheumatol 24:702–704

Kröger H, Penttilä IM, Alhava EM (1993) Low serum vitamin D metabolites in women with rheumatoid arthritis. Scand J Rheumatol 22:172–177

Lee YH, Rho YH, Choi SJ, Ji JD, Song GG (2006) Association of TNF-alpha-308G/A polymorphism with responsiveness to TNF-alpha-blockers in rheumatoid arthritis: a meta-analysis. Rheumatol Int 27:157–161

Choi SJ, Rho YH, Ji JD, Song GG (2006) LEE YH: Genome scan meta-analysis of rheumatoid arthritis. Rheumatology (Oxford) 45:166–170

Davey P, Grainger D, Macmillan J, Rajan N, Aristides M, Gliksman M (1997) Clinical outcomes with insulin lispro compared with human regular insulin: a meta-analysis. Clin Ther 19:656–674

Dersimonian R, Laird N (1986) Meta-analysis in clinical trials. Control Clin Trials 7:177–188

Jadad AR, Moore RA, Carroll D et al (1996) Assessing the quality of reports of randomized clinical trials: is blinding necessary? Control Clin Trials 17:1–12

Higgins JP, Thompson SG (2002) Quantifying heterogeneity in a meta-analysis. Stat Med 21:1539–1558

Cantorna MT, Hayes CE, Deluca HF (1998) 1,25-Dihydroxycholecalciferol inhibits the progression of arthritis in murine models of human arthritis. J Nutr 128:68–72

Szodoray P, Nakken B, Gaal J et al (2008) The complex role of vitamin D in autoimmune diseases. Scand J Immunol 68:261–269

Cutolo M, Plebani M, Shoenfeld Y, Adorini L, Tincani A (2011) Vitamin D endocrine system and the immune response in rheumatic diseases. Vitam Horm 86:327–351

Linker-Israeli M, Elstner E, Klinenberg JR, Wallace DJ, Koeffler HP (2001) Vitamin D(3) and its synthetic analogs inhibit the spontaneous in vitro immunoglobulin production by SLE-derived PBMC. Clin Immunol 99:82–93

Derdemezis CS, Voulgari PV, Drosos AA, Kiortsis DN (2011) Obesity, adipose tissue and rheumatoid arthritis: coincidence or more complex relationship? Clin Exp Rheumatol 29:712–27

Awad AB, Alappat L, Valerio M (2012) Vitamin D and metabolic syndrome risk factors: evidence and mechanisms. Crit Rev Food Sci Nutr 52:103–12

Cutolo M, Otsa K, Uprus M, Paolino S, Seriolo B (2007) Vitamin D in rheumatoid arthritis. Autoimmun Rev 7:59–64

van der Veen MJ, Bijlsma JW (1992) Effects of different regimes of corticosteroid treatment on calcium and bone metabolism in rheumatoid arthritis. Clin Rheumatol 11:388–392
Acknowledgments
This study was supported by a grant from the Korean Healthcare Technology R&D Project, Korean Ministry of Health and Welfare (A102065).
Disclosures
None.
About this article
Cite this article
Song, G.G., Bae, SC. & Lee, Y.H. Association between vitamin D intake and the risk of rheumatoid arthritis: a meta-analysis. Clin Rheumatol 31, 1733–1739 (2012). https://doi.org/10.1007/s10067-012-2080-7
Received:

Revised:

Accepted:

Published:

Issue Date:

DOI: https://doi.org/10.1007/s10067-012-2080-7
Keywords