Abstract
There is equivocal evidence regarding the benefits of aquatic aerobic exercise for non-specific chronic low back pain (NSCLBP) in addition to standard care in general practice consisting of education and advice. The purpose of this study was to compare the addition of deep water running (DWR) to standard general practice (GP) on NSCLBP versus GP care alone on pain, physical and mental health and disability. In this single-blind randomised controlled trial, 58 subjects with NSCLBP were recruited from primary care. The control group received GP care consisting of a physician's consultation and educational booklet only. The experimental group received additional 30-min sessions of DWR three times a week for 15 weeks at the individualized aerobic threshold. Measurements were made pre- and post-intervention and at 1-year follow-up. Both groups showed improvement. The difference between treatment effects at longest follow-up of 1 year was −26.0 (−40.9 to −11.1) mm on the VAS (p < 0.05), −2.5 (−5.7 to −0.2) points in RMQ for disability (p < 0.05), 3.3 (10.0 to 24.7) points on physical health in the physical summary component of the Spanish Short Form 12 (SF-12; p < 0.05) and 5.8 (8.6 to 34.7) points on the mental summary component of the SF-12 (p < 0.05), in favour of the DWR group. For patients with NSCLBP, the addition of DWR to GP was more effective in reducing pain and disability than standard GP alone, suggesting the effectiveness and acceptability of this approach with this group of patients.
This is a preview of subscription content, log in to check access.
Access options
Buy single article
Instant access to the full article PDF.
US$ 39.95
Price includes VAT for USA
Subscribe to journal
Immediate online access to all issues from 2019. Subscription will auto renew annually.
US$ 99
This is the net price. Taxes to be calculated in checkout.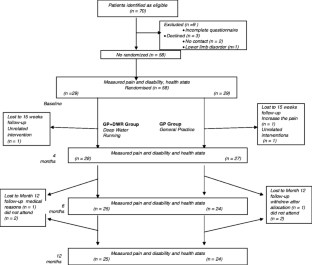 References
1.

Maniadakis N, Gray A (2000) The economic burden of back pain in the UK. Pain 84:95–103

2.

Foster NE, Thompson KA, Baxter GD, Allen JM (1999) Management of nonspecific low back pain by physiotherapists in Britain and Ireland. A descriptive questionnaire of current clinical practice. Spine 24:1332–1342

3.

Gracey JH, McDonough SM, Baxter GD (2002) Physiotherapy management of low back pain: a survey of current practice in Northern Ireland. Spine 27:406–411

4.

Airaksinen O, Brox JI, Cedraschi C, Hildebrandt J, Klaber-Moffett J, Kovacs F, Mannion AF, Reis S, Staal JB, Ursin H, Zanoli G (2006) Chapter 4. European guidelines for the management of chronic non-specific low back pain. Eur Spine J 15(suppl 2):192–300

5.

Chatzitheodorou DL, Kabitsis C, Malliou P, Mougios V (2007) A pilot study of the effects of high-intensity aerobic exercise versus passive interventions on pain, disability strain, and serum cortisol concentrations in people with chronic low back pain. Phys Ther 87(3):304–312

6.

Branderberger G (1985) Cortisol responses to exercise and interaction with diurnal secretory peaks. In: Fortherby K, Pals S (eds) Exercise endocrinology. Walter de Gruyter, Berlin, pp 47–54

7.

Dowzer CN, Reilly T, Cable NT (1998) Effects of deep and shallow water running on spinal shrinkage. Br J Sports Med 32(1):44–48

8.

Waller B, Lambeck J, Daly D (2009) Therapeutic aquatic exercise in the treatment of low back pain: a systematic review. Clin Rehabil 23:3–14

9.

Cuesta-Vargas AI, Adams N (2011) A pragmatic community-based intervention of multimodal physiotherapy plus deep water running (DWR) for fibromyalgia syndrome: a pilot study. Clin Rheumatol 30(11):1455–1462, Epub 2011 Aug 25

10.

Dundar U, Solak O, Yigit I, Evcik D, Kavuncu V (2009) Clinical effectiveness of aquatic exercise to treat chronic low back pain. A randomized controlled trial. Spine 34(14):1436–1440

11.

Reilly T, Dowzer C, Cable N (2003) The physiology of deep-water running. J Sports Sci 21:959–972

12.

McIlveen B, Robertson VJ (1998) A randomised controlled study of the outcome of hydrotherapy for subjects with low back pain and leg pain. Physiotherapy 84(1):17–26

13.

Sjogren T, Long N, Storay I, Smith J (1997) Group hydrotherapy versus group land-based treatment for chronic low back pain. Phys Res Int 2(4):212–222

14.

Cuesta-Vargas AI, García-Romero JC, Arroyo-Morales M, deDiego-Acosta AM, Daly DJ (2011) Exercise, manual therapy and education with or without high intensity deep water running for non-specific chronic low back pain: a pragmatic randomised controlled trial. Am J Phys Med Rehabil 90(7):526–538

15.

Altman DG (1996) Better reporting of randomised controlled trials: the CONSORT statement. BMJ 313:570–571

16.

Huskisson EC (1974) Measurement of pain. Lancet 2:1127–1131

17.

Kovacs FM, Llobera J, Gil del Real MT, Abraira V, Gestoso M, Fernández C (2002) Validation of the Spanish version of the Roland Morris Questionnaire. Spine 27:538–542

18.

Luo X, Lynn George M, Kakouras I, Edwards C, Pietrobon R, Richardson W (2003) Reliability, validity and responsiveness of the short form 12-item survey (SF-12) in patients with back pain. Spine 28:1739–1745

19.

Cuesta-Vargas A, Garcia-Romero JC, Kuisma R (2009) Maximum and resting heart rate in treadmill and deep-water running in male international volleyball players. Int J Aquat Res Educ 3:398–405

20.

Cuesta-Vargas AI, Heywood S (2011) Aerobic fitness testing in chronic nonspecific low back pain: a comparison of deep-water running with cycle ergometry. Am J Phys Med Rehabil 90:1030–1035

21.

Fernández-Pastor VJ, Pérez F, García JC, Diego AM, Guirado F, Noguer N (1997) Maintenance of the threshold/maximum heart rate quotient in swimmers. Rev Esp Fisiol 53:327–334

22.

Von Korff M (1994) Studying the natural history of back pain. Spine 19(18 Suppl):2041S–2046S

23.

Koes BW, Bouter LM, van Mameren H, Essers AH, Verstegen GM, Hofhuizen DM et al (1992) The effectiveness of manual therapy, physiotherapy, and treatment by the general practitioner for nonspecific back and neck complaints. A randomized clinical trial. Spine 17:28–35

24.

Cherkin DC, Deyo RA, Battie M, Street J, Barlow W (1998) A comparison of physical therapy, chiropractic manipulation, and provision of an educational booklet for the treatment of patients with low back pain. N Engl J Med 339:1021–1029

25.

Andersson GB, Lucente T, Davis AM et al (1999) A comparison of osteopathic spinal manipulation with standard care for patients with low back pain. N Engl J Med 341:1426–1431

26.

Carey TS, Garrett J, Jackman A, McLaughlin C, Fryer J, Smucker D (1995) The outcomes and costs of care for acute low back pain among patients seen by primary care practitioners, chiropractors, and orthopedic surgeons. The North Carolina Back Pain Project. N Engl J Med 333:913–917

27.

Hazard RG, Reid S, Haugh LD, McFarlane G (2000) A controlled trial of an educational pamphlet to prevent disability after occupational low back injury. Spine 25:1419–1423

28.

Roland M, Dixon M (1989) Randomized controlled trial of an educational booklet for patients presenting with back pain in general practice. J R Coll Gen Pract 39:244–246

29.

Indahl A, Haldorsen EH, Holm S, Reikeras O, Ursin H (1998) Five-year follow-up study of a controlled clinical trial using light mobilization and an informative approach to low back pain. Spine 23:2625–2630
Acknowledgments
Ian Johnstone contributed to the translation of the paper. The Staff of the Physiotherapy Department, Patronato Municipal de Deportes de Torremolinos contributed to facilities/equipment and delivery of therapy. This study received funds from the National Health Service of Andalusia.
Disclosures
None.
Additional information
Clinical trial.gov register identification number NCT00888524
About this article
Cite this article
Cuesta-Vargas, A.I., Adams, N., Salazar, J.A. et al. Deep water running and general practice in primary care for non-specific low back pain versus general practice alone: randomized controlled trial. Clin Rheumatol 31, 1073–1078 (2012). https://doi.org/10.1007/s10067-012-1977-5
Received:

Revised:

Accepted:

Published:

Issue Date:
Keywords
Deep water running

General practice

Low back pain

Primary care