Abstract
An increasing number of women have been diagnosed with spondyloarthritis (SpA) in recent decades. While a few studies have analyzed gender as a prognostic factor of the disease, no studies have addressed this matter with a large number of patients in South America, which is a peculiar region due to its genetic heterogeneity. The aim of the present study was to analyze the influence of gender on disease patterns in a large cohort of Brazilian patients with SpA. A prospective study was carried out involving 1,505 patients [1,090 males (72.4%) and 415 females (27.6%)] classified as SpA according to the European Spondyloarthropaties Study Group criteria who attended at 29 reference centers for rheumatology in Brazil. Clinical and demographic variables were recorded and the following disease indices were administered: Bath Ankylosing Spondylitis Disease Activity Index (BASDAI), Bath Ankylosing Spondylitis Functional Index (BASFI), Bath Ankylosing Spondylitis Radiologic Index (BASRI), Maastricht Ankylosing Spondylitis Enthesitis Score (MASES), and Ankylosing Spondylitis Quality of Life (ASQoL). Ankylosing spondylitis (AS) was the most frequent disease in the group (65.4%), followed by psoriatic arthritis (18.4%), undifferentiated SpA (6.7%), reactive arthritis (3.3%), arthritis associated to inflammatory bowel disease (3.2%), and juvenile SpA (2.9%). The male-to-female ratio was 2.6:1 for the whole group and 3.6:1 for AS. The females were older (p < 0.001) and reported shorter disease duration (p = 0.002) than the male patients. The female gender was positively associated to peripheral SpA (p < 0.001), upper limb arthritis (p < 0.001), dactylitis (p = 0.011), psoriasis (p < 0.001), nail involvement (p < 0.001), and family history of SpA (p = 0.045) and negatively associated to pure axial involvement (p < 0.001), lumbar inflammatory pain (p = 0.042), radiographic sacroiliitis (p < 0.001), and positive HLA-B27 (p = 0.001). The number of painful (p < 0.001) and swollen (p = 0.006) joints was significantly higher in the female gender, who also achieved higher BASDAI (p < 0.001), BASFI (p = 0.073, trend), MASES (p = 0.019), ASQoL (p = 0.014), and patient's global assessment (p = 0.003) scores, whereas the use of nonsteroidal anti-inflammatory drugs (p < 0.001) and biological agents (p = 0.003) was less frequent in the female gender. Moreover, BASRI values were significantly lower in females (p < 0.001). The female gender comprised one third of SpA patients in this large cohort and exhibited more significant peripheral involvement and less functional disability, despite higher values in disease indices.
Access options
Buy single article
Instant access to the full article PDF.
US$ 39.95
Tax calculation will be finalised during checkout.
Subscribe to journal
Immediate online access to all issues from 2019. Subscription will auto renew annually.
US$ 79
Tax calculation will be finalised during checkout.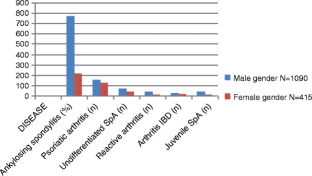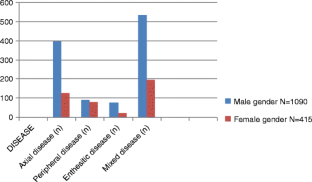 References
1.

Sieper J, Rudwaleit M, Baraliakos X, Brandt J, Braun J, Burgos-Vargas R et al (2009) The Assessment of SpondyloArthritis International Society (ASAS) handbook: a guide to assess spondyloarthritis. Ann Rheum Dis 68(Suppl 2):i1–i44

2.

Weisman M, Learch TJ, Baraliakos X, Chandran V, Gladman DD, Raychauduri SP et al (2010) Current controversies in spondyloarthritis: SPARTAN. J Rheumatol 37:2617–2623

3.

Roussou E, Sultana S (2011) Spondyloarthritis in women: differences in disease onset, clinical presentation, and Bath Ankylosing Spondylitis Disease Activity and Functional indices (BASDAI and BASFI) between men and women with spondyloarthritides. Clin Rheumatol 30:121–127

4.

Gran JT, Ostensen M, Husby G (1985) A clinical comparison between males and females with ankylosing spondylitis. J Rheumatol 12:126–129

5.

Will R, Edmunds L, Elswood J, Calin A (1990) Is there sexual inequality in ankylosing spondylitis? A study of 498 women and 1202 men. J Rheumatol 17:1649–1652

6.

Carbone LD, Cooper C, Michet CJ, Atkinson EJ, O'Fallon WM, Melton LJ (1992) Ankylosing spondylitis in Rochester, Minnesota, 1935–1989: is the epidemiology changing? Arthritis Rheum 35:1476–1482

7.

Kennedy LG, Will R, Calin A (1993) Sex ratio in the spondylarthropathies and its relationship to phenotypic expression, mode of inheritance and age at onset. J Rheumatol 20:1900–1904

8.

Sampaio-Barros, Gonçalves CR, Da Silva JAB, Ximenes AC, Azevedo VF, Bianchi W et al (2008) Registro Iberoamericano de Espondiloartritis (RESPONDIA): Brasil. Informe del Registro Brasileño de Espondiloartritis. Reumatol Clin 4(Supl. 4):S30–S35

9.

Dougados M, Van der Linden S, Juhlin R, Huitfeldt AB, Calin A et al (1991) The European Spondyloarthropathy Study Group preliminary criteria for the classification of spondyloarthropathy. Arthritis Rheum 34:1218–1227

10.

Vázquez-Mellado J, Font-Ugalde P, Muñoz-Gomáriz E, Collantes-Estevez E (2008) Registro Iberoamericano de Espondiloartritis (RESPONDIA): que es, como surgió, quiénes somos y que hacemos? Metodologia general. Reumatol Clin 4(suppl 4):S17–S32

11.

Van der Linden S, Valkenburg HA, Cats A (1984) Evaluation of diagnostic criteria for ankylosing spondylitis. A proposal for modification of the New York criteria. Arthritis Rheum 27:361–368

12.

Moll JMH, Wright V (1973) Psoriatic arthritis. Semin Arthritis Rheum 3:55–78

13.

Kingsley G, Sieper J (1996) Third International Workshop on Reactive Arthritis, 23–26 September 1995, Berlin, Germany. Ann Rheum Dis 55:564–584

14.

Jones SD, Porter J, Garrett SL, Kennedy LG, Whitelock H, Calin A (1995) A new scoring system for the Bath Ankylosing Spondylitis Metrology Index (BASMI). J Rheumatol 22:1609

15.

Heuft-Dorenbosch L, Spoorenberg A, van Tubergen R, Landewé R, van der Tempel H, Mielants H et al (2003) Assessment of enthesitis in ankylosing spondylitis. Ann Rheum Dis 62:127–132

16.

Garrett S, Jenkinson T, Kennedy LG, Whitelock H, Gaisford P, Calin A (1994) A new approach to defining disease status in ankylosing spondylitis: the Bath Ankylosing Spondylitis Disease Activity Index. J Rheumatol 21:2286–2291

17.

Calin A, Garrett S, Whitelock H, Kennedy LG, O'Hea J, Malorie P et al (1994) A new approach to defining functional ability in ankylosing spondylitis: the development of the Bath Ankylosing Functional Index. J Rheumatol 21:2281–2285

18.

Doward LC, Spoorenberg A, Cook SA, Whalley D, Helliwell PS, Kay LJ et al (2003) Development of the ASQoL: a quality of life instrument specific to ankylosing spondylitis. Ann Rheum Dis 62:20–26

19.

Cusmanich KG (2006) Validação para a língua portuguesa dos instrumentos de avaliação de índice funcional e índice de atividade de doença em pacientes com espondilite anquilosante. Master Degree Dissertation. Faculdade de Medicina da Universidade de São Paulo

20.

Wanders AJ, Landewe RB, Spoorenberg A, Dougados M, van der Linden S, Mielants H et al (2004) What is the most appropriate radiologic scoring method for ankylosing spondylitis? A comparison of the available methods based on the Outcome Measures in Rheumatology Clinical Trials filter. Arthritis Rheum 50:2622–2632

21.

Gran JT, Husby G (1990) Ankylosing spondylitis in women. Semin Arthritis Rheum 19:303–312

22.

Lee W, Reveille JD, Weisman MH (2008) Women with ankylosing spondylitis: a review. Arthritis Rheum 59:449–454

23.

Lee W, Reveille JD, Davis JC Jr, Learch TJ, Ward MM, Weisman MH (2007) Are there gender differences in severity of ankylosing spondylitis? Results from the PSOAS cohort. Ann Rheum Dis 66:633–638

24.

Slobodin G, Reyhan I, Avshovich N, Balbir-Gurman A, Boulman N, Elias M et al (2011) Recently diagnosed axial spondyloarthritis: gender differences and factors related to delay in diagnosis. Clin Rheumatol 30(8):1075–1080

25.

Dernis E, Said-Nahal R, D'Agostino MA, Aegerter P, Dougados M, Breban M (2009) Ann Rheum Dis 68:502–507

26.

Sampaio-Barros PD, Bertolo MB, Kraemer MHS, Marques Neto JF, Samara AM (2001) Primary ankylosing spondylitis: patterns of disease in a Brazilian population of 147 patients. J Rheumatol 28:560–565

27.

Bonfiglioli R, Conde RA, Sampaio-Barros PD, Louzada-Junior P, Donadi EA, Bertolo MB (2008) Frequency of HLA-B27 alleles in Brazilian patients with psoriatic arthritis. Clin Rheumatol 27:709–712

28.

Sampaio-Barros PD, Conde RA, Donadi EA, Bonfiglioli R, Costallat LT, Samara AM et al (2008) Frequency of HLA-B27 and its alleles in patients with Reiter syndrome: comparison with the frequency in other spondyloartrhropathies and a healthy control population. Rheumatol Int 28:483–486

29.

Lanna CC, Ferrari ML, Rocha SL, Nascimento E, Carvalho MA, Cunha AS (2008) A cross-sectional study of 130 Brazilian patients with Crohn´s disease and ulcerative colitis: analysis of articular and ophthalmologic manifestations. Clin Rheumatol 27:503–509

30.

Sampaio-Barros PD, Bortoluzzo AB, Conde RA, Costallat LT, Samara AM, Bértolo MB (2010) Undifferentiated spondyloarthritis: a long-term followup. J Rheumatol 37:1195–1199

31.

Rudwaleit M, van der Heijde D, Landewé R, Akkoc N, Brandt J, Chou CT et al (2011) The assessment of SpondyloArthritis International Society classification criteria for peripheral spondyloarthritis and for spondyloarthritis in general. Ann Rheum Dis 70:25–31

32.

Gladman DD, Brubacher B, Buskila D, Langevitz P, Farewell VT (1992) Psoriatic spondyloarthropathy in men and women: a clinical, radiographic, and HLA study. Clin Invest Med 15:371–375

33.

Queiro R, Sarasqueta C, Torre JC, Tinturé T, López-Lagunas I (2001) Comparative analysis of psoriatic spondyloarthropathy between men and women. Rheumatol Int 21:66–68

34.

Barlow JH, Macey SJ, Struthers GR (1993) Gender, depression, and ankylosing spondylitis. Arthritis Care Res 6:45–51

35.

Aloush A, Ablin J, Reitblat T, Caspi D, Elkayan O (2007) Fibromyalgia in women with ankylosing spondylitis. Rheumatol Int 27:865–868

36.

Azevedo VF, Paiva ES, Felippe LR, Moreira RA (2010) Occurrence of fibromyalgia in patients with ankylosing spondylitis. Rev Bras Reumatol 50:646–650

37.

Wallenius M, Skomsvoll JF, Koldingnes W, Rodevand E, Mikkelsen K, Kaufmann C et al (2009) Work disability and health-related quality of life in males and females with psoriatic arthritis. Ann Rheum Dis 68:685–689

38.

Lord PA, Farragher TM, Lunt M, Watson KD, Symmons DP, Hyrich KL, Biologics Register BSR (2010) Predictors of response to anti-TNF therapy in ankylosing spondylitis: results from the British Society for Rheumatology Register. Rheumatology 49:563–570

39.

Glintborg B, Ostergaard M, Krogh NS, Dreyer L, Kristensen KL, Hetland ML (2010) Predictors of treatment response and drug continuation in 842 patients with ankylosing spondylitis treated with anti-tumour necrosis factor: results from 8 years´ surveillance in the Danish nationwide DANBIO registry. Ann Rheum Dis 69:202–208

40.

Arends S, Brower E, van der Veer E, Groen H, Leijsma MK, Houtman PM et al (2011) Baseline predictors of response and discontinuation of TNF-alpha blocking therapy in anakylosing spondylitis: a prospective longitudinal observational cohort study. Arthritis Res Ther 13:R94
Acknowledgments
The electronic version of the Brazilian Registry of Spondyloarthritis is maintained by an unrestricted grant of Wyeth/Pfizer Brazil that did not influence in the statistical analysis and in the writing of the manuscripts. Dr. Sampaio-Barros is a recipient of a research grant from Federico Foundation, Switzerland.
Disclosures
None.
About this article
Cite this article
de Carvalho, H.M.S., Bortoluzzo, A.B., Gonçalves, C.R. et al. Gender characterization in a large series of Brazilian patients with spondyloarthritis. Clin Rheumatol 31, 687–695 (2012). https://doi.org/10.1007/s10067-011-1890-3
Received:

Revised:

Accepted:

Published:

Issue Date:
Keywords
Gender

Prognosis

Spondyloarthritis