Abstract
A prospective, open-labelled, multicentre 6-month study was designed to assess three categories that have high impact on Health-Related Quality of Life (HR-QoL). These categories were: satisfaction, preference and drug tolerability in postmenopausal patients with osteoporosis in Croatia, at first treated with weekly oral bisphosphonates, followed by monthly oral ibandronate. Three hundred eighty-five postmenopausal women who were treated with one of the weekly bisphosphonates for at least 6 months were included into the study and after they had signed written informed consent, the therapy was changed to monthly ibandronate. Satisfaction with the treatment was assessed with the Osteoporosis Patient Satisfaction Questionnaire (OPSAT-Q). Patients completed OPSAT-Q at the baseline visit before the change of therapy (visit 1) and 6 months after the change of therapy (visit 2). Following 6 months ibandronate therapy, the values in all four domains of the OPSAT-Q (convenience, confidence with daily activities, overall satisfaction, side effects) as well as in the Composite Satisfaction Score were higher in visit 2 (p < 0.001). Values in subjects enrolled into the patient assistance programme did not differ significantly from the values in subjects that were not (p = 0.399) except for the domain convenience (p = 0.026). This study demonstrates significantly higher satisfaction in patients who switched from the weekly bisphosphonate therapy regimen to monthly ibandronate in all observed aspects of treatment. Patients expressed preference for monthly bisphosphonate (ibandronate) in comparison with weekly bisphosphonates and found it to be a more convenient method of treatment. At the time of study, however, it was not known that the anti-fracture effect of ibandronate was smaller for hip fractures than with other bisphosphonates.
Access options
Buy single article
Instant access to the full article PDF.
US$ 39.95
Tax calculation will be finalised during checkout.
Subscribe to journal
Immediate online access to all issues from 2019. Subscription will auto renew annually.
US$ 79
Tax calculation will be finalised during checkout.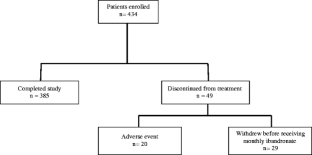 References
1.

Kanis JA, Burlet N, Cooper C, Delmas PD, Reginster JY, Borgstrom F et al (2008) European guidance for the diagnosis and management of osteoporosis in postmenopausal women. Osteoporos Int 19(4):399–428

2.

Cotté FE, Fardellone P, Mercier F, Gaudin AF, Roux C (2010) Adherence to monthly and weekly oral bisphosphonates in women with osteoporosis. Osteoporos Int 21:145–155

3.

Papaioannou A, Kennedy CC, Dolovich L, Lau E, Adachi JD (2007) Patient adherence to osteoporosis medications: problems, consequences and management strategies. Drugs Aging 24(1):37–55

4.

Carr AJ, Thompson PW, Cooper C (2006) Factors associated with adherence and persistence to bisphosphonate therapy in osteoporosis: a cross-sectional survey. Osteoporos Int 17(11):1638–1644

5.

Lewiecki EM, Babbitt AM, Piziak VK, Ozturk ZE, Bone HG (2008) Adherence to and gastrointestinal tolerability of monthly oral or quarterly intravenous ibandronate therapy in women with previous intolerance to oral bisphosphonates: a 12-month, open-label, prospective evaluation. Clin Ther 30:605–621

6.

Emkey R, Koltun W, Beusterien K, Seidman L, Kivitz A, Devas V, Masanauskaite D (2005) Patient preference for once monthly ibandronate versus once-weekly alendronate in a randomized, open-label, cross-over trial: the Bonviva Alendronate Trial in Osteoporosis (BALTO). Curr Med Res Opin 21:1895–1903

7.

Hadji P, Minne H, Pfeifer M, Bourgeois P, Fardellone P, Licata A, Devas V, Masanauskaite D, Barrett-Connor E (2008) Treatment preference for monthly oral ibandronate and weekly oral alendronate in women with postmenopausal osteoporosis: a randomized, crossover study (BALTO II). Joint Bone Spine 75:303–310

8.

Kastelan D, Lozo P, Stamenkovic D, Miskic B, Vlak T, Kolak Z, Milas Ahic J, Altabas V, Crncevic Orlic Z, Korsic M (2009) Preference for weekly and monthly bisphosphonates among patients with postmenopausal osteoporosis: results from the Croatian PROMO Study. Clin Rheumatol 28:321–326

9.

Grazio S, Babic-Naglic D, Kehler T, Curkovic B (2008) Persistence of weekly alendronate: a real-world study in Croatia. Clin Rheumatol 27(5):651–653

10.

Cook DJ, Guyatt GH, Adachi JD, Clifton J, Griffith LE, Epstein RS, Juniper EF (1993) Quality of life issues in women with vertebral fractures due to osteoporosis. Arthritis Rheum 36:750–756

11.

Martin AR, Sornay-Rendu E, Chandler JM, Duboeuf F, Girman CJ, Delmas PD (2002) The impact of osteoporosis on quality-of-life: the Ofely Cohort. Bone 31:32–36

12.

de Oliveira FN, Arthuso M, da Silva R, Pedro AO, Neto AM, Costa-Paiva L (2009) Quality of life in women with postmenopausal osteoporosis: correlation between QUALEFFO 41 and SF-36. Maturitas 62:85–90

13.

Silverman SL, Minshall ME, Shen W, Harper KD, Xie S, Health-Related Quality of Life Subgroup of the Multiple Outcomes of Raloxifene Evaluation Study (2001) The relationship of health-related quality of life to prevalent and incident vertebral fractures in postmenopausal women with osteoporosis: results from the Multiple Outcomes of Raloxifene Evaluation Study. Arthritis Rheum 44:2611–2619

14.

Strampel W, Emkey R, Civitelli R (2007) Safety considerations with bisphosphonates for the treatment of osteoporosis. Drug Saf 30:755–763

15.

Bonnick SL, Silverman S, Tanner SB, Martens M, Bachmann G, Kohles JD, Civitelli R (2009) Patient satisfaction in postmenopausal women treated with a weekly bisphosphonate transitioned to once-monthly ibandronate. J Womens Health (Larchmt). doi:10.1089/jwh.2008.1064

16.

Lambrinoudaki I, Christodoulakos G, Botsis D (2006) Bisphosphonates. Ann N Y Acad Sci 1092:397–402

17.

Harris ST, Reginster JY, Harley C, Blumentals WA, Poston SA, Barr CE, Silverman SL (2009) Risk of fracture in women treated with monthly oral ibandronate or weekly bisphosphonates: the eValuation of IBandronate Efficacy (VIBE) database fracture study. Bone 44(5):758–765
Disclosures
TV has received lectures fees from Aventis, Eli Lilly and Roche. DK has received lectures fees from Merck Sharp & Dohme, Roche and Eli Lilly. BM has received lectures fees from Roche. ŽCO has received lectures fees from Merck Sharp & Dohme, Elli Lilly and Roche. MK has received lectures fees from Merck Sharp & Dohme, Aventis, Roche and Servier. PL, JA, MG, ŠM, TN, DC, GT, TD, ZJ, FG, TP, MB, FDž, MSU, MK, MR, MV, ŽK, MP, ER and LJL have no disclosures.
About this article
Cite this article
Vlak, T., Kaštelan, D., Lozo, P. et al. Monthly or weekly bisphosphonate? Evaluation of satisfaction in patients with postmenopausal osteoporosis using OPSAT-Q questionnaire during the BOOSTER study in Croatia. Clin Rheumatol 30, 1549–1554 (2011). https://doi.org/10.1007/s10067-011-1858-3
Received:

Revised:

Accepted:

Published:

Issue Date:
Keywords
Bisphosphonates

Ibandronate

OPSAT-Q

Osteoporosis

Quality of life