Abstract
The aim of this study was to investigate the process of coping in people living with chronic inflammatory arthritis. Semi-structured individual face-to-face interviews with 26 persons having rheumatoid arthritis, psoriatic arthritis or unspecified polyarthritis were performed. The informants were asked how they experienced to live with arthritis and how they coped with challenges due to the arthritis. The main finding was that the informants experienced the process of coping with arthritis as a dynamic, iterative, balancing process. They balanced between different states, entitled "go on as usual", "listen to the body", "adjustments" and "attitude towards life". The informants preferred to be in a "go on as usual" state as this was seen as normal life. However, disease fluctuations with pain, fatigue and stiffness disturbed the balance and made the informants "listen to the body", a state where they became aware of how the disease affected them, followed by the "adjustment" state. Adjustments were composed of different efforts to ease the arthritis influence and for regaining balance. The "attitude towards life" influenced the overall process of coping. A redefined view of what the informants considered to be normal life thus happened through longer periods of imbalance. The process of coping with arthritis was found to be a dynamic, iterative, balancing process where patients redefined what they considered as normal life through the course of the disease.
Access options
Buy single article
Instant access to the full article PDF.
USD 39.95
Price excludes VAT (USA)
Tax calculation will be finalised during checkout.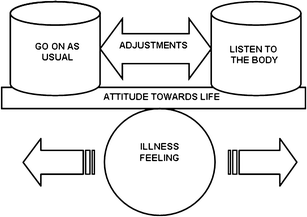 References
Zink A, Thiele K, Huscher D, Listing J, Sieper J, Krause A et al (2006) Healthcare and burden of disease in psoriatic arthritis. A comparison with rheumatoid arthritis and ankylosing spondylitis. J Rheumatol 33:86–90

Akil M, Amos RS (1995) ABC of rheumatology. Rheumatoid arthritis–I: clinical features and diagnosis. BMJ 310:587–590

Gladman DD (2004) Psoriatic arthritis. Dermatol Ther 17:350–363

Uhlig T, Heiberg T, Mowinckel P, Kvien TK (2008) Rheumatoid arthritis is milder in the new millennium: health status in patients with rheumatoid arthritis 1994–2004. Ann Rheum Dis 67:1710–1715. doi:10.1136/ard.2007.084673

Husted JA, Gladman DD, Farewell VT, Cook RJ (2001) Health-related quality of life of patients with psoriatic arthritis: a comparison with patients with rheumatoid arthritis. Arthritis Rheum 45:151–158

Arne M, Janson C, Janson S, Boman G, Lindqvist U, Berne C et al (2009) Physical activity and quality of life in subjects with chronic disease: chronic obstructive pulmonary disease compared with rheumatoid arthritis and diabetes mellitus. Scand J Prim Health Care 27:141–147. doi:10.1080/02813430902808643

Coty MB, Wallston KA (2008) Roles and well-being among healthy women and women with rheumatoid arthritis. J Adv Nurs 63:189–198. doi:10.1111/j.13652648.2008.04661.x

Zyrianova Y, Kelly BD, Sheehan J, McCarthy C, Dinan TG (2010) The psychological impact of arthritis: the effects of illness perception and coping. Ir J Med Sci. doi:10.1007/s11845-010-0522-2

Lempp H, Scott D, Kingsley G (2006) The personal impact of rheumatoid arthritis on patients' identity: a qualitative study. Chronic Illn 2:109–120. doi:10.1177/17423953060020020601

Lazarus RS, Folkman S (1984) Stress, appraisal and coping. Springer, New York

Lazarus RS (1993) Coping theory and research: past, present, and future. Psychosom Med 55:234–247

Albano MG, Giraudet-Le Quintrec JS, Crozet C, d'Ivernois JF (2010) Characteristics and development of therapeutic patient education in rheumatoid arthritis: analysis of the 2003–2008 literature. Joint Bone Spine 77:405–410

Treharne GJ, Lyons AC, Hale ED, Goodchild CE, Booth DA, Kitas GD (2008) Predictors of fatigue over 1 year among people with rheumatoid arthritis. Psychol Health Med 13:494–504

Aujoulat I, Marcolongo R, Bonadiman L, Deccache A (2008) Reconsidering patient empowerment in chronic illness: a critique of models of self-efficacy and bodily control. Soc Sci Med 66:1228–1239. doi:10.1016/j.socscimed.2007.11.03415

Stamm T, Lovelock L, Stew G, Nell V, Smolen J, Jonsson H et al (2008) I have mastered the challenge of living with a chronic disease: life stories of people with rheumatoid arthritis. Qual Health Res 18:658–669. doi:10.1177/1049732308316348

Kralik D (2004) Chronic illness self-management: taking action to create order. J Clin Nurs 13:259–267

Barlow J, Wright C, Sheasby J, Turner A, Hainsworth J (2002) Self-management approaches for people with chronic conditions: a review. Patient Educ Couns 48:177–187

Sinclair VG, Blackburn DS (2008) Adaptive coping with rheumatoid arthritis: the transforming nature of response shift. Chronic Illn 4:219–230. doi:10.1177/1742395308095356

Iversen MD, Hammond A, Betteridge N (2010) Self-management of rheumatic diseases: state of the art and future perspectives. Ann Rheum Dis 69:955–963. doi:10.1136/ard.2010.129270

Makelainen P, Vehvilainen-Julkunen K, Pietila AM (2009) Rheumatoid arthritis patient education: RA patients' experience. J Clin Nurs 18:2058–2065

Kvale S (1996) Interviews: an introduction to qualitative research interviewing. Sage, Thousand Oaks

Hammond A, Bryan J, Hardy A (2008) Effects of a modular behavioural arthritis education programme: a pragmatic parallel-group randomized controlled trial. Rheumatology (Oxford) 47:1712–1718

Malterud K (1993) Shared understanding of the qualitative research process. Guidelines for the medical researcher. Fam Pract 10:201–206

Malterud K (2001) Qualitative research: standards, challenges, and guidelines. Lancet 358:483–488

QSR I (2007) NVIVO 8. QSR International Pty Ltd

Sanderson T, Morris M, Calnan M, Richards P, Hewlett S (2010) 'It's this whole picture, this well-being': patients' understanding of 'feeling well' with rheumatoid arthritis. Chronic Illn 6:228–240. doi:10.1177/1742395310377672

Ostlie IL, Johansson I, Moller A (2009) Struggle and adjustment to an insecure everyday life and an unpredictable life course. Disabil Rehabil 31:666–674. doi:10.1080/09638280802305986

Mengshoel AM (2008) Living with a fluctuating illness of ankylosing spondylitis: a qualitative study. Arthritis Rheum 59:1439–1444. doi:10.1002/art.24103

Ahlmen M, Nordenskiold U, Archenholtz B, Thyberg I, Ronnqvist R, Linden L et al (2005) Rheumatology outcomes: the patient's perspective. A multicentre focus group interview study of Swedish rheumatoid arthritis patients. Rheumatology (Oxford) 44:105–110. doi:10.1093/rheumatology/keh412

Sanderson T, Morris M, Calnan M, Richards P, Hewlett S (2010) What outcomes from pharmacologic treatments are important to people with rheumatoid arthritis? Creating the basis of a patient core set. Arthritis Care Res (Hoboken) 62:640–646. doi:10.1002/acr.20034

Barlow JH, Turner AP, Wright CC (1998) Long-term outcomes of an arthritis self management programme. Br J Rheumatol 37:1315–1319

Barlow JH, Turner AP, Wright CC (2000) A randomized controlled study of the Arthritis Self-Management Programme in the UK. Health Educ Res 15:665–680

Townsend A (2006) Self-managing and managing self: practical and moral dilemmas in accounts of living with chronic illness. Chronic Illn 2:185–194. doi:10.1177/17423953060020031301
Acknowledgements
The authors wish to thank the informants who participated in this study.
Funding
This work was supported by a research grant from The Research Council of Norway.
Disclosures
None.
About this article
Cite this article
Grønning, K., Lomundal, B., Koksvik, H.S. et al. Coping with arthritis is experienced as a dynamic balancing process. A qualitative study. Clin Rheumatol 30, 1425–1432 (2011). https://doi.org/10.1007/s10067-011-1836-9
Received:

Revised:

Accepted:

Published:

Issue Date:

DOI: https://doi.org/10.1007/s10067-011-1836-9
Keywords
Arthritis

Coping

Patient perspective

Qualitative study

Self management