Abstract
It has been suggested that yoga has a positive effect on low back pain and function. The objective of this systematic review was to assess the effectiveness of yoga as a treatment option for low back pain. Seven databases were searched from their inception to March 2011. Randomized clinical trials were considered if they investigated yoga in patients with low back pain and if they assessed pain as an outcome measure. The selection of studies, data extraction and validation were performed independently by two reviewers. Seven randomized controlled clinical trials (RCTs) met the inclusion criteria. Their methodological quality ranged between 2 and 4 on the Jadad scale. Five RCTs suggested that yoga leads to a significantly greater reduction in low back pain than usual care, education or conventional therapeutic exercises. Two RCTs showed no between-group differences. It is concluded that yoga has the potential to alleviate low back pain. However, any definitive claims should be treated with caution.
We're sorry, something doesn't seem to be working properly.
Please try refreshing the page. If that doesn't work, please contact support so we can address the problem.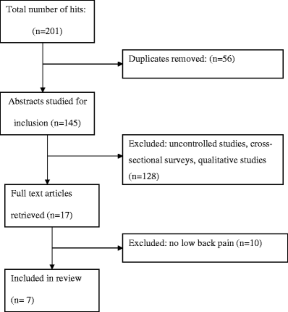 References
1.

Shannahoff-Khalsa DS (2004) An introduction to Kundalini yoga meditation techniques that are specific for the treatment of psychiatric disorders. J Altern Complement Med 10:91–101

2.

Williams K, Abildso C, Steinberg L et al (2009) Evaluation of the effectiveness and efficacy of Iyengar yoga therapy on chronic low back pain. Spine 34(19):2066–2076

3.

Posadzki P, Parekh S (2009) Yoga and physiotherapy: a speculative review and conceptual synthesis. Chin J Integr Med 15(1):66–72

4.

Pilkington K, Kirkwood G, Rampes H, Richardson J (2005) Yoga for depression: the research evidence. J Affect Disord 89(1–3):13–24

5.

Nespor K (1989) Psychosomatics of back pain and the use of yoga. Int J Psychosom 36:72–78

6.

Furlan AD, Clarke J, Esmail R, Sinclair S, Irvin E, Bombardier C (2001) A critical review of reviews on the treatment of chronic low back pain. Spine 26:E155–E162

7.

Pradhan BB (2008) Evidence-informed management of chronic low back pain with watchful waiting. Spine J 8(1):253–257

8.

Furlan AD, Brosseau L, Imamura M, Irvin E (2002) Massage for low-back pain: a systematic review within the framework of the Cochrane Collaboration Back Review Group. Spine 27:1896–1910

9.

Seidler A, Liebers F, Latza U (2008) Prevention of low back pain at work. Bundesgesundheitsblatt Gesundheitsforschung Gesundheitsschutz 51(3):322–333

10.

Hammill RR, Beazell JR, Hart JM (2008) Neuromuscular consequences of low back pain and core dysfunction. Clin Sports Med 27(3):449–462

11.

Jadad AR, Moore A, Carroll D, Jenkinson C, Reynolds DJ, Gavaghan DJ, McQuay HJ (1996) Assessing the quality of reports of randomized clinical trials: is blinding necessary? Control Clin Trials 17(1):1–12

12.

Saper RB, Sherman KJ, Cullum-Dugan D, Davis RB, Phillips RS, Culpepper L (2009) Yoga for chronic low back pain in a predominantly minority population: a pilot randomized controlled trial. Altern Ther Health Med 15(6):18–27

13.

Tekur P, Singphow C, Nagendra HR, Raghuram N (2008) Effect of short-term intensive yoga program on pain, functional disability, and spinal flexibility in chronic low back pain: a randomized control study. J Altern Complement Med 14(6):637–644

14.

Sherman KJ, Cherkin DC, Erro J, Miglioretti DL, Deyo RA (2005) Comparing yoga, exercise, and a self-care book for chronic low back pain—a randomized, controlled trial. Ann Intern Med 143(12):849–856

15.

Williams KA, Petronis J, Smith D et al (2005) Effect of Iyengar yoga therapy for chronic low back pain. Pain 115(1–2):107–117

16.

Galantino ML, Bzdewka TM, Eissler-Russo JL et al (2004) The impact of modified Hatha yoga on chronic low back pain: a pilot study. Altern Ther Health Med 10:56–59

17.

Cox H, Tilbrook H, Aplin J et al (2010) A randomised controlled trial of yoga for the treatment of chronic low back pain: results of a pilot study. Complementar Ther Clin Pract 16:187–193

18.

Kelly Z (2011) Treatment for low back pain: a research review. Int J Yoga Therap 19:103–112

19.

Chou R, Huffman LH (2007) Nonpharmacologic therapies for acute and chronic low back pain: a review of the evidence for an American Pain Society/American College of Physicians clinical practice guideline. Ann Intern Med 147(7):492–504

20.

Slade SC, Keating JL (2007) Unloaded movement facilitation exercise compared to no exercise or alternative therapy on outcomes for people with nonspecific chronic low back pain: a systematic review. J Manipulative Physiol Ther 30(4):301–311
Disclosures
None.
Source of funding
PP has a fellowship from The Pilkington Family Trusts.
About this article
Cite this article
Posadzki, P., Ernst, E. Yoga for low back pain: a systematic review of randomized clinical trials. Clin Rheumatol 30, 1257 (2011). https://doi.org/10.1007/s10067-011-1764-8
Received:

Accepted:

Published:
Keywords
Complementary and alternative medicine

Effectiveness

Low back pain

Systematic review