Abstract
Association between autoimmune liver diseases and scleroderma has been described. The purpose of this study was to study the prevalence of antimithocondrial antibody (AMA), antismooth muscle antibodies (SMA), and liver-kidney-microsomal (LKM-1) autoantibody in a cohort of 63 scleroderma patients and 100 healthy controls. The autoantibodies AMA, SMA, and LKM were determined by indirect immunofluorescence. Patients' charts were reviewed for demographic data, scleroderma form, and clinical and anti-nuclear antibody profile, aiming a comparison between patients with and without liver autoantibodies. Nine patients (14.3%) were positive for at least one of the liver autoantibodies; only one patient had both AMA and SMA positive. Antibody SMA was positive in 6.4% (4/63) patients; AMA was present in 9.52% (6/63) of them; none were positive to LKM-1. In the control group just one patient (1%) was SMA positive; the other autoantibodies were negative. There is an increased prevalence of liver autoantibodies in patients with scleroderma than in control population. These patients should be carefully followed for liver dysfunction.
Access options
Buy single article
Instant access to the full article PDF.
USD 39.95
Price includes VAT (USA)
Tax calculation will be finalised during checkout.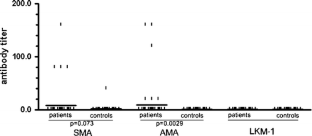 References
1.

Levesque ML, Levesque H, Tranvouez JL, François A, Riachi G, Cailleux et al (2001) Autoimmune hepatitis and systemic sclerosis: a new overlap syndrome? Rheumatology 40:102–106

2.

Abu-Shakra M, Guillemin F, Lee P (1994) Gastrointestinal manifestation of systemic sclerosis. Semin Arthritis Rheum 24:28–39

3.

D'Angelo WA, Fries JF, Masi AT, Schulman LE (1969) Pathologic observations in systemic sclerosis (scleroderma). A study of fifty-eight autopsy cases and fifty-eight matched controls. Am J Med 46:428–440

4.

Marasini B, Gagetta M, Rossi V, Ferrari P (2001) Rheumatic disorders and primary biliary cirrhosis: an appraisal of 170 Italian patients. Ann Rheum Dis 60:1046–1049

5.

Rigamonti C, Shand LM, Feudjo M, Bunn CC, Danton CP, Burroughs AK (2006) Clinical features and prognosis of primary biliary cirrhosis associated with systemic sclerosis. Gut 55:388–394

6.

Valera JM, Smok GS, Poniachick J, Oksenberg D, Silva G, Ferrario M et al (2006) Cirrosis biliar primaria: experience de trece años em dos centros de referencia. Rev Med Chile 469–74

7.

Abraham S, Begum S, Isenberg D (2004) Hepatic manifestations of autoimmune rheumatic diseases. Ann Rheum Dis 63:123–129

8.

Kogawa H, Migita K, Ito M, Takii Y, Daikoku M, Nakao M et al (2005) Idiopathic portal hypertension associated with systemic sclerosis and Sjögren Syndrome. Clin Rheumatol 24:544–547

9.

Pope JE, Thompson A (1999) Antimitochondrial antibodies and their significance in diffuse and limited scleroderma. J Clin Rheumatol 5:206–209

10.

Hudson M, Rojas-Villarraga A, Coral-Alvarado P, López-Guzmán S, Mantilla RD, Challem P et al (2008) Polyautoimmunity and familial autoimmunity in systemic sclerosis. J Autoimmun 31:156–159

11.

Fleming CKS, CR DJ, Baldus WP, Dickson ER (1982) Autoimmune associations with primary biliary cirrhosis. Mayo Clin Proc 57:365–370

12.

Clark AK, Galbraith RN, Hamilton EBD, Willians R (1978) Rheumatic disease in primary biliary cirrhosis. Ann Rheum Dis 37:42–47

13.

Launay D, Hebbar M, Janin A, Hachulla E, Hatron PY, Devulder B (1998) Cirrhose biliaire primitive et sclérodemie systémique (syndrome de Reynolds): à propos de huit nouveaux cas. Apport de la biopsie des glandes salivaires accessories. Rev Méd Interne 393–398

14.

Assassi S, Fritzler MJ, Arnett FC, Norman GL, Shah KR, Gourh P et al (2009) Primary biliary cirrhosis (PBC) autoantibodies and hepatic parameter abnormalities in a large population of systemic sclerosis patients. J Rheumatol 36:2250–2256

15.

Powell FC, Schoereter AL, Dickson ER (1987) Primary biliary cirrhosis and the CREST syndrome: a report of 22 cases. Q J Med 62:75–82

16.

Muratori L, Granito A, Muratori P, Pappas G, Bianchi FB (2008) Antimitochondrial antibodies and other antibodies in primary biliary cirrhosis: diagnostic and prognostic value. Clin Liver Dis 12:261–276

17.

Metcalf JV, Mitchison HC, Palmer JM, Jones DE, Bassendine MF, James OF (1996) Natural history of early primary biliary cirrhosis. Lancet 348:1399–1402

18.

Khalifa M, Ben Jazia E, Hachfi W, Sriha B, Bahri F, Letaief A (2008) Autoimmune hepatitis and morphea: a rare association. Gastroenterol Clin Biol 30:917–918

19.

Gregorio GV, Portmann B, Reid F, Donaldson PT, Doherty DG, McCartney M (1997) Autoimmune hepatitis in childhood: a 20 year experience. Hepatology 25:541–547

20.

Furst DE, Clements PJ, Wong WK, Mayes MD, Wigley F, White BE et al (2001) Effects of the American College of Rheumatology systemic sclerosis trial guidelines on the nature of systemic sclerosis patients entering a clinical trial. Rheumatol 40:615–622

21.

Clements P, Lachenbrush P, Seibold J, White B, Weiner S, Martin R et al (1995) Inter and intraobserver variability of the total thickness score (modified Rodnan TSS) in systemic sclerosis. J Rheumatol 22:1281–1285

22.

Modena V, Marengo C, Amoroso A, Rosina F, Costantini P, Bellando P et al (1986) Primary Biliary cirrhosis and rheumatic disease: a clinical, immunological and immunologenetical study. Clin Exp Rheumatol 4:129–134

23.

West M, Jasin HE, Medhekar S (2006) The development of connective tissue diseases in patients with autoimmune hepatitis: a case series. Semin Arthritis Rheum 35:344–348
About this article
Cite this article
Skare, T.L., Nisihara, R.M., Haider, O. et al. Liver autoantibodies in patients with scleroderma. Clin Rheumatol 30, 129–132 (2011). https://doi.org/10.1007/s10067-010-1586-0
Received:

Revised:

Accepted:

Published:

Issue Date:
Keywords
Anticentromere antibody

Antimitochondrial antibody

Antismooth muscle antibody

Scleroderma

Systemic sclerosis