Abstract
Andrographis paniculata (Burm. f.) Wall ex Nees (Acanthaceae) possesses anti-inflammatory effects, attributed to the main constituent andrographolide proposed as alternative in the treatment of autoimmune disease. A prospective, randomized, double blind, and placebo-controlled study in patients with rheumatoid arthritis (RA) was performed. Tablets (Paractin®) made of an extract of A. paniculata (30% total andrographolides) were administered three times a day for 14 weeks, after a 2-week washout period to 60 patients with active RA. The primary outcomes were pain intensity measured using a horizontal visual analog pain scale (VAPS). In addition, ACR, EULAR, and SF36 clinical parameters were recorded. The intensity of joint pain decreased in the active vs placebo group at the end of treatment, although these differences were not statistically significant. A significant diminishing for week in tender joint −0.13 95% confidence interval (CI; −0.22 to 0.06; p = 0.001), number of swollen joints −0.15 95%CI (−0.29 to −0.02; p = 0.02), total grade of swollen joint −0.27 95%CI (−0.48 to −0.07; p = 0.010), number of tender joints −0.25 95%CI (−0.48 to −0.02; p = 0.033), total grade of swollen joints −0.27 95%CI (−0.48 to −0.07; p = 0.01), total grade of tender joints −0.47 95%CI (−0.77 to −0.17; p = 0.002) and HAQ −0.52 95%CI (−0.82 to −0.21; p < 0.001) and SF36 0.02 95%CI (0.01 to 0.02; p < 0.001) health questionnaires was observed within the group with the active drug. Moreover, it was associated to a reduction of rheumatoid factor, IgA, and C4. These findings suggest that A. paniculata could be a useful "natural complement" in the treatment of AR; however, a larger trial and a more extended period of treatment is necessary in order to corroborate these results.
This is a preview of subscription content, log in to check access.
Access options
Buy single article
Instant access to the full article PDF.
US$ 39.95
Price includes VAT for USA
Subscribe to journal
Immediate online access to all issues from 2019. Subscription will auto renew annually.
US$ 99
This is the net price. Taxes to be calculated in checkout.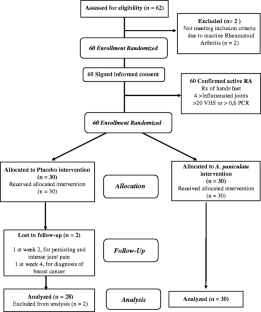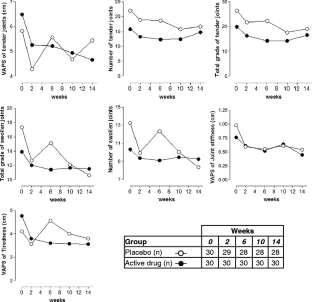 References
1.

Alamanos Y, Drosos AA (2005) Epidemiology of adult rheumatoid arthritis. Autoimmun Rev 4:130–136

2.

Gabriel SE (2001) The epidemiology of rheumatoid arthritis. Rheum Dis Clin North Am 27:269–281

3.

Luque C, Cisternas FA, Araya M (2006) Changes in the patterns of disease after the epidemiological transition in health in Chile, 1950–2003. Rev Med Chile 134:703–712

4.

O'Dell JR (2004) Therapeutic strategies for rheumatoid arthritis. N Engl J Med 350:2591–2602

5.

No authors (1996) Guidelines for the management of rheumatoid arthritis. American College of Rheumatology Ad Hoc Committee on Clinical Guidelines. Arthritis Rheum 39: 713–722.

6.

No authors (2002) Guidelines for the management of rheumatoid arthritis: 2002 Update. Arthritis Rheum 46: 328–346.

7.

Borchers AT, Keen CL, Cheema GS, Gershwin ME (2004) The use of methotrexate in rheumatoid arthritis. Semin Arthritis Rheum 34:465–483

8.

Coon JT, Ernst E (2004) Andrographis paniculata in the treatment of upper respiratory tract infections: a systematic review of safety and efficacy. Planta Med 70:293–298

9.

Poolsup N, Suthisisang C, Prathanturarug S, Asawamekin A, Chanchareon U (2004) Andrographis paniculata in the symptomatic treatment of uncomplicated upper respiratory tract infection: systematic review of randomized controlled trials. J Clin Pharm Ther 29:37–45

10.

Habtemariam S (1998) Andrographolide inhibits the tumour necrosis factor-alpha-induced upregulation of ICAM-1 expression and endothelial-monocyte adhesion. Phytother Res 12:37–40

11.

Chiou WF, Chen CF, Lin JJ (2000) Mechanisms of suppression of inducible nitric oxide synthase (iNOS) expression in RAW 264.7 cells by andrographolide. Br J Pharmacol 129:1553–1560

12.

Hidalgo MA, Romero A, Figueroa J, Cortes P, Concha II et al (2005) Andrographolide interferes with binding of nuclear factor-kappaB to DNA in HL-60-derived neutrophilic cells. Br J Pharmacol 144:680–686

13.

Wang T, Liu B, Zhang W, Wilson B, Hong JS (2004) Andrographolide reduces inflammation-mediated dopaminergic neurodegeneration in mesencephalic neuron-glia cultures by inhibiting microglial activation. J Pharmacol Exp Ther 308:975–983

14.

Qin LH, Kong L, Shi GJ, Wang ZT, Ge BX (2006) Andrographolide inhibits the production of TNF-alpha and interleukin-12 in lipopolysaccharide-stimulated macrophages: role of mitogen-activated protein kinases. Biol Pharm Bull 29:220–224

15.

Burgos RA, Seguel K, Perez M, Meneses A, Ortega M et al (2005) Andrographolide inhibits IFN-gamma and IL-2 cytokine production and protects against cell apoptosis. Planta Med 71:429–434

16.

Iruretagoyena MI, Tobar JA, Gonzalez PA, Sepulveda SE, Figueroa CA et al (2005) Andrographolide interferes with T cell activation and reduces experimental autoimmune encephalomyelitis in the mouse. J Pharmacol Exp Ther 312:366–372

17.

Chen JH, Hsiao G, Lee AR, Wu CC, Yen MH (2004) Andrographolide suppresses endothelial cell apoptosis via activation of phosphatidyl inositol-3-kinase/Akt pathway. Biochem Pharmacol 67:1337–1345

18.

Tsai HR, Yang LM, Tsai WJ, Chiou WF (2004) Andrographolide acts through inhibition of ERK1/2 and Akt phosphorylation to suppress chemotactic migration. Eur J Pharmacol 498:45–52

19.

Adler B, Weber GF, Cantor H (1998) Activation of T cells by superantigen: cytokine production but not apoptosis depends on MEK-1 activity. Eur J Immunol 28:3749–3754

20.

Dumont FJ, Staruch MJ, Fischer P, DaSilva C, Camacho R (1998) Inhibition of T cell activation by pharmacologic disruption of the MEK1/ERK MAP kinase or calcineurin signaling pathways results in differential modulation of cytokine production. J Immunol 160:2579–2589

21.

Carretta MD, Alarcón P, Jara E, Solis L, Hancke JL, Concha II, Hidalgo MA, Burgos RA (2009) Androgrpholide reduces IL-2 production in T-cells by intefering with NFAT and MAPK activation. Eur J Pharmacol 602:413–421

22.

Bacher S, Schmitz ML (2004) The NF-kappaB pathway as a potential target for autoimmune disease therapy. Curr Pharm Des 10:2827–2837

23.

Pessler F, Dai L, Cron RQ, Schumacher HR (2006) NFAT transcription factors—new players in the pathogenesis of inflammatory arthropathies? Autoimmun Rev 5:106–110

24.

Schopf L, Savinainen A, Anderson K, Kujawa J, DuPont M et al (2006) IKKbeta inhibition protects against bone and cartilage destruction in a rat model of rheumatoid arthritis. Arthritis Rheum 54:3163–3173

25.

Gremese E, Ferraccioli GF (2004) Benefit/risk of cyclosporine in rheumatoid arthritis. Clin Exp Rheumatol 22:S101–S107

26.

Wells G, Haguenauer D, Shea B, Suarez-Almazor ME, Welch VA, et al. (2000) Cyclosporine for rheumatoid arthritis. Cochrane Database Syst Rev 2: CD001083.

27.

Arnett FC, Edworthy SM, Bloch DA, McShane DJ, Fries JF et al (1988) The American Rheumatism Association 1987 revised criteria for the classification of rheumatoid arthritis. Arthritis Rheum 31:315–324

28.

Caceres DD, Hancke JL, Burgos RA, Sandberg F, Wikman GK (1999) Use of visual analogue scale measurements (VAS) to assess the effectiveness of standardized Andrographis paniculata extract SHA-10 in reducing the symptoms of common cold. A randomized double blind-placebo study. Phytomedicine 6:217–223

29.

Panossian A, Hovhannisyan A, Mamikonyan G, Abrahamian H, Hambardzumyan E et al (2000) Pharmacokinetic and oral bioavailability of andrographolide from Andrographis paniculata fixed combination Kan Jang in rats and human. Phytomedicine 7:351–364

30.

Burgos RA, Schroeder RA, Hancke JL (1999) Determination of andrographolide from Andrographis paniculata in serum of rats by high performance liquid chromatography. Acta Hortic 501:83–86

31.

Felson DT, Anderson JJ, Boers M, Bombardier C, Chernoff M et al (1993) The American College of Rheumatology preliminary core set of disease activity measures for rheumatoid arthritis clinical trials. The Committee on Outcome Measures in Rheumatoid Arthritis Clinical Trials. Arthritis Rheum 36:729–740

32.

van Gestel AM, Prevoo ML, van't Hof MA, van Rijswijk MH, van de Putte LB et al (1996) Development and validation of the European League Against Rheumatism response criteria for rheumatoid arthritis. Comparison with the preliminary American College of Rheumatology and the World Health Organization/International League Against Rheumatism Criteria. Arthritis Rheum 39:34–40

33.

Kosinski M, Keller SD, Hatoum HT, Kong SX, Ware JE Jr (1999) The SF-36 Health Survey as a generic outcome measure in clinical trials of patients with osteoarthritis and rheumatoid arthritis: tests of data quality, scaling assumptions and score reliability. Med Care 37:MS10–MS22

34.

Farrar JT, Portenoy RK, Berlin JA, Kinman JL, Strom BL (2000) Defining the clinically important difference in pain outcome measures. Pain 88:287–294

35.

Farrar JT, Young JP Jr, LaMoreaux L, Werth JL, Poole RM (2001) Clinical importance of changes in chronic pain intensity measured on an 11-point numerical pain rating scale. Pain 94:149–158

36.

Mayer-Hamblett N, Kronmal RA (2005) Improving the estimation of change from baseline in a continuous outcome measure in the clinical trial setting. Contemp Clin Trials 26:2–16

37.

Dahmen G, Rochon J, Konig IR, Ziegler A (2004) Sample size calculations for controlled clinical trials using generalized estimating equations (GEE). Methods Inf Med 43:451–456

38.

Twisk JWR, Smidt N, de Vente W (2005) Applied analysis of recurrent events: a practical overview. J Epidemiol Community Health 59:706–710

39.

Zeger SL, Liang KY (1986) Longitudinal data analysis for discrete and continuous outcomes. Biometrics 42:121–130

40.

STATA (2007) Corporation. Intercooled STATA for Windows, College Station, TX

41.

Uwe S (2008) Anti-inflammatory interventions of NF-kappaB signaling: potential applications and risks. Biochem Pharmacol 75:1567–1579

42.

Karin M, Greten FR (2005) NF-kappaB: linking inflammation and immunity to cancer development and progression. Nat Rev Immunol 5:749–759

43.

Handel ML, McMorrow LB, Gravallese EM (1995) Nuclear factor-kappa B in rheumatoid synovium—localization of p50 and p65. Arthritis Rheum 38:1762–1770

44.

Furst DE (1997) The rational use of methotrexate in rheumatoid arthritis and other rheumatic diseases. Br J Rheumatol 36:1196–1204

45.

Xia YF, Ye BQ, Li YD, Wang JG, He XJ et al (2004) Andrographolide attenuates inflammation by inhibition of NF-kappa B activation through covalent modification of reduced cysteine 62 of p50. J Immunol 173:4207–4217

46.

Daoud KF, Jackson CG, Williams HJ (1999) Basic therapy for rheumatoid arthritis: nonsteroidal anti-inflammatory drugs. Compr Ther 25:427–433

47.

Alarcon GS, Schrohenloher RE, Bartolucci AA, Ward JR, Williams HJ et al (1990) Suppression of rheumatoid factor production by methotrexate in patients with rheumatoid arthritis. Evidence for differential influences of therapy and clinical status on IgM and IgA rheumatoid factor expression. Arthritis Rheum 33:1156–1161

48.

Cush JJ, Lipsky PE, Postlethwaite AE, Schrohenloher RE, Saway A et al (1990) Correlation of serologic indicators of inflammation with effectiveness of nonsteroidal antiinflammatory drug therapy in rheumatoid arthritis. Arthritis Rheum 33:19–28

49.

He Y, Zha Q, Liu D, Lu A (2007) Relations between serum IgA level and cartilage erosion in 436 cases of rheumatoid arthritis. Immunol Invest 36:285–291

50.

Vittecoq O, Pouplin S, Krzanowska K, Jouen-Beades F, Menard JF et al (2003) Rheumatoid factor is the strongest predictor of radiological progression of rheumatoid arthritis in a three-year prospective study in community-recruited patients. Rheumatology 42:939–946

51.

Olsen NJ, Teal GP, Brooks RH (1991) IgM-rheumatoid factor and responses to second-line drugs in rheumatoid arthritis. Agents Actions 34:169–171

52.

Yazdani-Biuki B, Stadlmaier E, Mulabecirovic A, Brezinschek R, Tilz G et al (2005) Blockade of tumour necrosis factor alpha significantly alters the serum level of IgG- and IgA-rheumatoid factor in patients with rheumatoid arthritis. Ann Rheum Dis 64:1224–1226

53.

Bensen W, Weaver A, Espinoza L, Zhao WW, Riley W et al (2002) Efficacy and safety of valdecoxib in treating the signs and symptoms of rheumatoid arthritis: a randomized, controlled comparison with placebo and naproxen. Rheumatology 41:1008–1016

54.

Melchior J, Spasov AA, Ostrovskij OV, Bulanov AE, Wikman G (2000) Double-blind, placebo-controlled pilot and phase III study of activity of standardized Andrographis paniculata Herba Nees extract fixed combination (Kan jang) in the treatment of uncomplicated upper-respiratory tract infection. Phytomedicine 7:341–350

55.

Liu J, Wang ZT, Ji LL, Ge BX (2007) Inhibitory effects of neoandrographolide on nitric oxide and prostaglandin E2 production in LPS-stimulated murine macrophage. Mol Cell Biochem 298:49–57

56.

Chiou WF, Lin JJ, Chen CF (1998) Andrographolide suppresses the expression of inducible nitric oxide synthase in macrophage and restores the vasoconstriction in rat aorta treated with lipopolysaccharide. Br J Pharmacol 125:327–334

57.

Thalhamer T, McGrath MA, Harnett MM (2008) MAPKs and their relevance to arthritis and inflammation. Rheumatology 47:409–414
Acknowledgments
The authors would like to thank Herbal Powers (Miami, USA) for providing the Andrographis paniculata extract (PARACTIN®), Mr. Andrea Giori INDENA SpA (Milano, Italy) for the HPLC and phytochemical characterization of the product, and Mrs. Paola Montenegro for her skillful administrative assistance and devoted concern for all patients of this study.
Disclosures
None
Additional information
Registration trial no. NCT00749645 (ClinicalTrials. Gov)
This work was financed by CONICYT/FONDEF D04I1240 grant and INNOVA CHILE CORFO 06FC01IPC-91, Patagonia Clinical Trial-CRO, Valdivia, Chile.
About this article
Cite this article
Burgos, R.A., Hancke, J.L., Bertoglio, J.C. et al. Efficacy of an Andrographis paniculata composition for the relief of rheumatoid arthritis symptoms: a prospective randomized placebo-controlled trial. Clin Rheumatol 28, 931–946 (2009). https://doi.org/10.1007/s10067-009-1180-5
Received:

Revised:

Accepted:

Published:

Issue Date:
Keywords
Andrographis

Rheumatoid arthritis